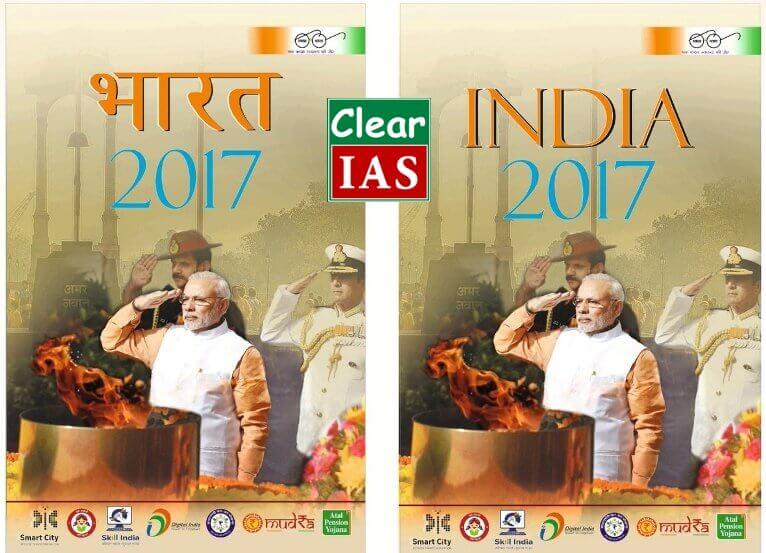 'India Year Book 2017' – India 2017 (English) or Bharat 2017 (Hindi) – is a reference book published annually by the Publication Division of the Indian Government. Popularly known as the 'India Year Book', this reference book is an authoritative compilation of the complete information about the almost everything associated with India – with the latest data corresponding to this year.
In this post, we review the India Year Book 2017. We shall see how useful India 2017 for UPSC Civil Services Aspirants.
What's special about India Year Book 2017?
India Year Book 2017, covers most of the government policies and schemes of the Government of India. This would give the readers clear-cut and authentic information. Moreover, aspirants will get a whole picture idea.
What are the contents of India Year Book 2017?
The book covers current affairs of the country, which includes important dignitaries, state policy, public schemes and important data related to demographics, trade, economy and others.
Though the book has 32 chapters, which runs into 1056 pages, India 2017 can be easily covered if you prioritize important chapters.
How can you buy India 2017?
You can either buy the hardcopy (paperback) or use the softcopy (Kindle edition). If you buy online, the book is available at a great discount. The Hindi version of the book is available as Bharat 2017. Links for both English and Hindi versions of India Year Book are given below:
7 Reasons why aspirants should refer India Year Book 2017?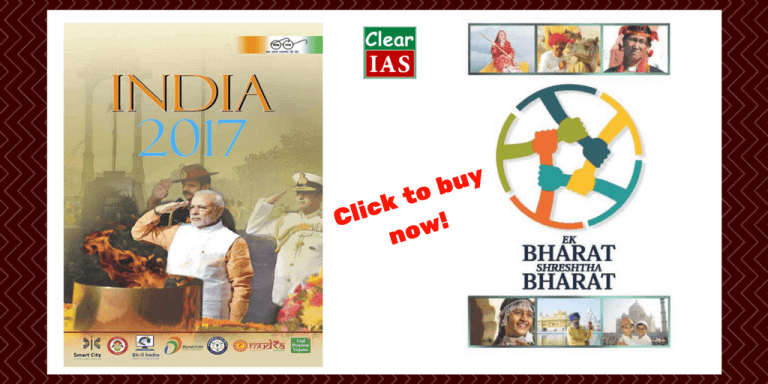 Being a government publication, the information presented is authentic that is also used as a reference source by researchers, media and reputed publications.
The book is brought out on a yearly basis and updates all the data related to development in the country regularly. Information ranging from urban to rural India, industry to infrastructure, art and culture, technology and science to economy, health, defence, education and mass communication is put together.
Information about sports, national events and international events having relevance to India are also presented in this book.
The sections on Current Affairs and General Knowledge portion presented in India 2017 is one of the most authentic information sources as it is officially stamped and released by government publishing house.
A clear, precise and updated population table even presents the latest population estimates of the nation, for a census is only done once in a decade.
Although the book contains much information about the working of the Government, it's functioning, and its various agencies, it is written in easy to understand language that is precise and updated.
Apart from being the most reliable source of information and knowledge about the workings of the Indian Government, the book also proves to a Bible of facts and figures for those competing at the UPSC conducted examinations, be they the civil services examination (IAS, IPS etc.), Indian Economic Services, Indian Military Academy or other competitive examinations held regularly for national and state services jobs.
Review of 'India Year Book 2017' - by ClearIAS Team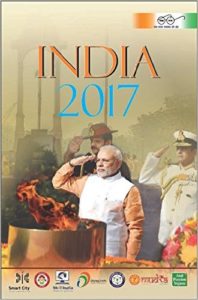 Book Title: India 2017
Book Description: India 2017 (English) or Bharat 2017 (Hindi) is a reference book published annually by the Publication Division of the Indian Government.
Book Author: Publication Division of the Indian Government
Book Edition: 1
Book Format: Paperback
ISBN: 8123023286
Number Of Pages: 1056
Content

Ease of Reading

Exam Relevance

Flowcharts, Pictures, and Maps

Authority

Coverage of UPSC Syllabus

Language and Presentation
Summary
India Year Book 2017 is an authentic book from the Government of India. It not only gives you facts and figures but also an idea about latest government schemes and policies. The book can supply a lot of filler points - which may turn extremely handy for UPSC Main exam. Worth buying - the choice can be a hardcopy or softcopy.