India Year Book (titled as India 2016, India 2017, India 2018 … etc) is released by Publication Division, under Ministry of Information and Broadcasting, Government of India. It is one of the most useful books for IAS exam preparation. In this post let's see how you should cover the important areas in the book, as the book is quite bulky and runs into hundreds of pages.
Why should you need a Year Book?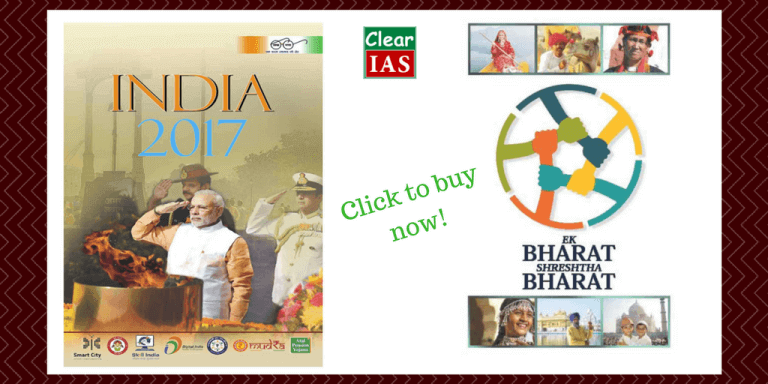 There are many yearbooks in the market. India YearBook, Manorama YearBook, Mathrubhumi YearBook etc are some of the most popular. ClearIAS suggests UPSC aspirants read maximum Year Books possible. This is because you will get almost a full coverage of almost all hot fields or topics today.
But you don't have to mug up all facts and figures. Yes, you should not.
Year Book should be used to get a comprehensive idea about different spheres – for example – health, infrastructure, new technologies, controversial issues etc. As articles in the Year Books are written by experts in the field, that would give a good and authentic coverage.
What does India Year Book contain?
India Year Book is a comprehensive digest of country's progress in different fields. The book deals with all aspects of development from rural to urban, industry to infrastructure, science and technology, art and culture, economy, health, defense, education and mass communication. Being an official product, the schemes and policies of Government of India are covered in detail. It is already among the best selling books in many online bookstores.
Which are the important topics in India Year Book?
India Year Book is bigger when compared to other traditional yearbooks with 32 chapters, and it is not an easy task to cover all the topics inside if you start from Page 1. The skill of prioritization can turn helpful, and we are just trying to give an overview of important chapters from India Year Book in a Civil Services Exam perspective (Prelims).
Color Codes – Green: Most Important; Blue: 2nd Priority; Orange: 3rd Priority
Chapters Inside India Year Book
Land and the People

 

National Symbols 

Polity  

— Comments: Focus more on Laxmikanth —

Agriculture 

Culture and Tourism 

Basic Economic Data 

— Comments: Focus more on Economic Survey —

Commerce 

Communications and Information Technology 

Defence 

Education 

Energy

 

Environment 

— Comments: Focus more on extra reading, particularly The Hindu–

Finance 

Corporate Affairs 

Food and Civil Supplies 

Health and Family Welfare

 

Housing

India and the World

 

Industry 

Justice and Law 

Labour 

Mass Communication 

Planning 

Rural and Urban Development 

Scientific and Technological Developments 

Transport 

Water Resources 

Welfare 

Youth Affairs and Sports

 

States and Union Territories 

Diary of National Events 

General Information
How To Buy India Year Book?
India Year Book is available at many online bookstores like Amazon and Flipkart. The Hindi version of the book is available as Bharat 2017. Links for both English and Hindi versions of India Year Book are given below: