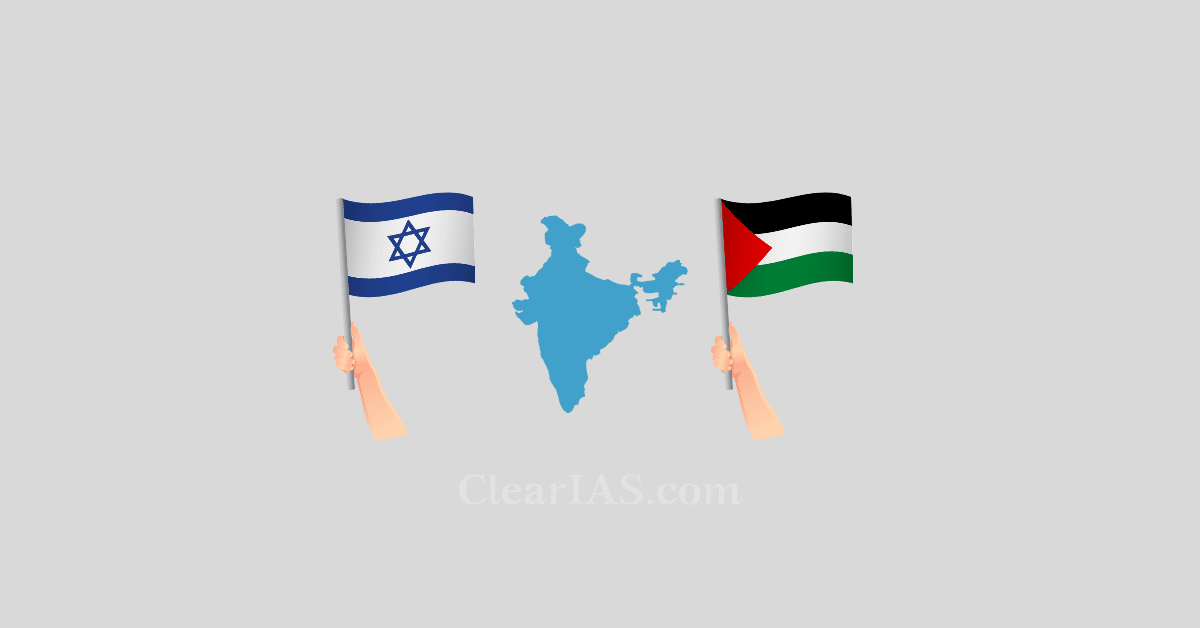 What is India's stand on the Israel-Palestine conflict?
We have covered the Israel-Palestine conflict in one of our previous notes.  In this post let's cover India's stand on the Israel-Palestine conflict.
There has been much debate in recent times about whether India has changed its pro-Arab historical stance on the Israel-Palestine conflict. Let's try to understand India's relationship with both countries first. This would help you understand India's stand on the Israel-Palestine conflict.
India-Palestinian relations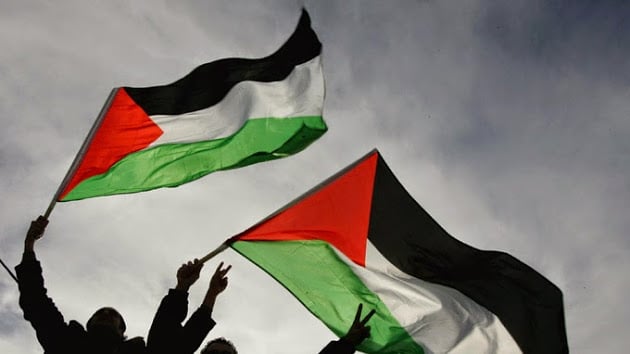 India's solidarity with the Palestinian people and its attitude towards the Palestinian cause was taken shape during our freedom struggle against British colonialism. In 1938, on the proposal to create a homeland for Jews in Palestine, Mahatma Gandhi wrote, "my sympathy for the Jews does not blind me to the requirements of Justice. It is wrong and inhuman to impose the Jews on the Arabs'.
In 1947, having been the victim of Partition and going through its horrific scenes, India voted against the partition of Palestine at the United Nations General Assembly. It should be noted that India was the only non-Arab and Non-Muslim country to do so.
Post Independence also, empathy with Palestine became an essential part of our foreign policy.
India has always played a proactive role in garnering support for the Palestinian cause at multilateral forums.
And in 1974, India became the first non-Arab country to recognise the Palestine Liberation Organisation (PLO) as the sole representative of the Palestinian.
India was one of the first countries to recognise the state of Palestine in 1988.
When Palestine Authority (PA), a self Government body, was created as a result of the Oslo Peace accord, India opened her Representative Office for it in Gaza, which later was shifted to Ramallah in 2003.
India voted in favour of UN Resolution against constructing the West Bank wall by Israel in 2003.
India voted in favour for accepting Palestine as a full member of UNESCO in 2011.
India voted in favour of upgrading the status of Palestine to a  'non-member state ' in the UN in 2012.
In 2014, India supported a UNHRC resolution to launch a probe into Isreal's offensive in Gaza.
India's cooperation with Palestine in other areas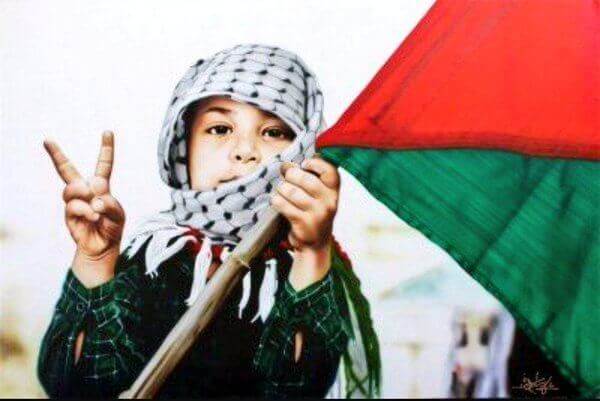 Along with Political support, India has been contributing material and technical assistance to the Palestinian people. India has offered budgetary assistance to a tune of US$ 30 million since 1995 till date for different development initiatives in Palestine. Construction of a library in Al-Azhar university, library – cum activity centre in Palestine technical college etc. to name a few.
In 2016 India pledged USD 1.25 million to the UN relief agency for Palestinian refugees as it voiced concern over the fragile situation and ongoing conflicts in the Middle East.
India has always been a leading partner in educational support and cooperation to Palestine. It has been at the forefront of the capacity building process, extending hundreds of scholarships to Palestinian students under the ITEC (Indian Technical & Economic Cooperation)
India-Palestine cultural connections draw strength from India's cultural and civilizational linkages with the Arab world. Due to the cultural similarities of both countries, Indian Arts and Culture is very popular in Palestine. Several cultural activities such as Kalarippayattu (Indian Martial Art), Kathak etc. were organised in Palestine in the recent past. Indian films, yoga, Indian cuisines etc are also popular in Palestine.
Reasons behind India's pro-Palestine policy
India with a considerable Muslim Population has been always sympathetic to the Muslim population in Palestine. Indian politicians also followed a pro- Palestine approach without hurting the minority sentiments.
India did not want to jeopardise the interest of its citizens (more than 7 million) working in Arab countries which are a good source of forex reserves.
India is dependent on the Arab nations for its larger oil imports.
India's co-operation with the Soviet Union during the cold war era and our desire to counter Pakistan with the support of Arab nations was another reason for our pro-Palestine policy.
India-Israel Relations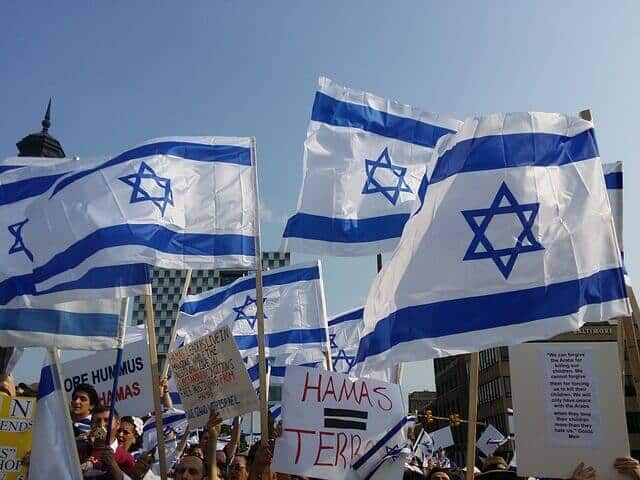 Though India voted against a UN resolution for the creation of Israel, once Israel is created, India officially recognised Israel (in 1950). But full diplomatic ties were established only in 1992.
The reasons for this tectonic shift in the foreign policy stand were:
During these years, the popular perception of Israel was negative as it was a state formed on religion and analogous to Pakistan. However, the formation of an Organisation of Islamic Cooperation (OIC) in 1969 which neglected the sentiments of Indian Muslims by blocking of India's membership to this group by Pakistan is one of the primary triggers for the change in stance. (Even today India is not a member of OIC).
India has received no backing from the Arab countries on Kashmir Issue. There have been no serious attempts by the Arab world to put pressure on Pakistan to reign in the cross-border insurgency in Kashmir.
Israel supported India during the Indo-Pak wars even before full diplomatic ties were established.
With the collapse of the Soviet Union and the rise of the US as a superpower, India started aligning itself with the US and this further added to our improved relations with Israel.
After decades of Non-Alignment and Pro-Arab policy, in 1992 India changed its stance and established full diplomatic ties with Israel.
India-Israel Relations post 1992
By 1992, the stage was ready for a new beginning in the history of the India-Israel relationship. As mentioned earlier, the first steps towards de-hyphenation were initiated in 1992 when the government established full diplomatic relations with the bilateral relationship between the two countries has blossomed at the economic, military, agricultural, space research and political levels.
Israel was one of the rare countries to directly help India during the Kargil War. The Kargil conflict revealed some important deficiencies in India's intelligence and military forces. In the efforts to rectify these problems, India turned towards Israeli assistance and technologies.
Since then Israel became an important defence importer for India. When India was planning to undertake a military strike against Pakistan in June 2002 as part of Operation Parakram (response to our Parliament attack), Israel supplied hardware through special planes.
Now, India is the world's largest buyer of Israeli weaponry and in 2013 India was the third-largest trading partner of Israel in Asia.
Apart from defence cooperation, Israel has intensified its cooperation with Indian agriculture, helping farmers multiply their income by the adoption of modern agricultural technologies to increase productivity.
Recent years have been witnessing a major boost in cooperation in other areas such as S&T, Space research, Commerce, and trade etc.
Indian President Pranab Mukherjee's Israel visit in 2015 was another milestone in bilateral relations, as this was the first visit by an Indian president to Israel. Our PM is planning to visit Israel in 2017.
What is India's stand on the Israel-Palestine Conflict?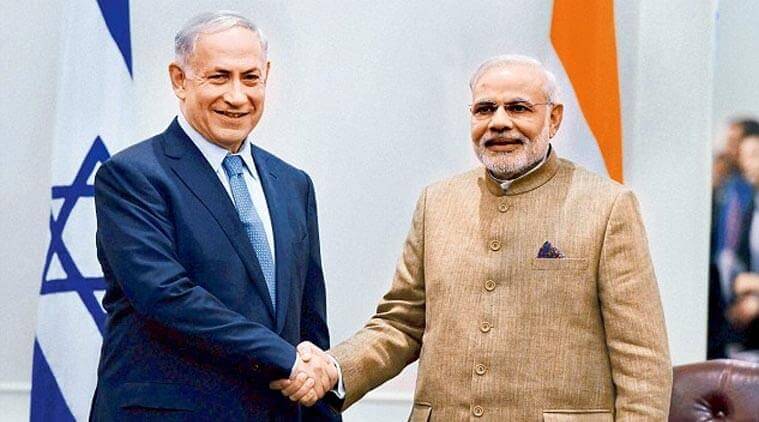 India traditionally believes in the 2-state solution and supports the establishment of a sovereign independent and the viable state of Palestine.
India's support for Palestine has not deterred its growing relationship with Israel.
However, over the years, the Indian government has diluted its reaction to Israel's treatment of the Palestinians.
In 2014 India favoured a UN resolution which established a Commission of Inquiry to investigate a violation of international humanitarian and human rights law in the 'Occupied Territories' during ' Operation Protective Edge'. (Please refer to article on Israel-Palestine Conflict). But our Government was reluctant to pass a resolution in Parliament condemning the Israeli action deviating from its earlier practice.
In 2015 India abstained at the UN Human Rights Commission (UNHRC) on a resolution welcoming the report of the same Commission of Inquiry. It was the first time India refused to vote against Israel.
Later on, our Government clarified that there was no change in India's traditional support to the Palestinian cause and it was the reference to the ICC (International criminal court) which made India abstain from voting. (India has not signed the Rome statute on ICC).
However, with an increased focus on closer ties with Israel, there is little doubt that India has diluted its support to Palestine.
What are the things India must keep in mind before endorsing Israel?
The important areas of concern by India before endorsing Israel are as follows:
India's energy security still relied upon the Arab Nations.
India should consider its relations with Saudi Arabia and Iran before going for closer ties with Israel. Saudi has not yet recognised Israel as a country and Iran supports the Palestinian cause. Any direct stake in Israel would affect our relationship with these countries.
Way ahead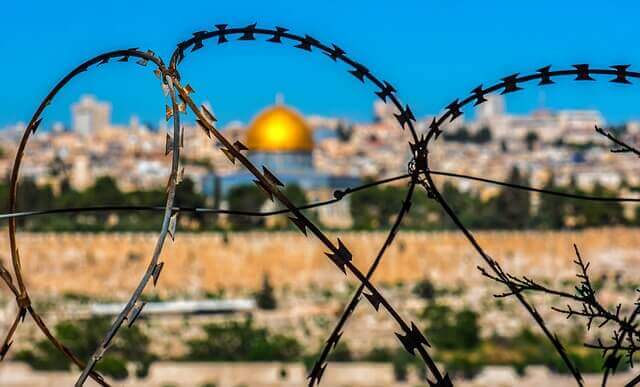 Israel wants India to end its pro-Palestine policy. Considering the defence and technological ties with Israel, India can't ignore Israel too.  However, while going beyond strategic relations with Israel, India cannot afford to ignore its crucial energy ties with Iran and the Gulf countries. Also, it should not be forgotten that India requires the firm endorsement of its candidature from the Arab countries that form a large group in the UN General Assembly.
It is to be noted that India has been very keen to preserve a pragmatic balancing act between regional players in the West Asian region like Saudi Arabia and Iran. On similar lines, India should be cautious enough while backing Israel and should adopt a more balanced and pragmatic approach while dealing with Israel and Palestine.
Also read: India-Greece Relations
Article by: Sreeresmi S