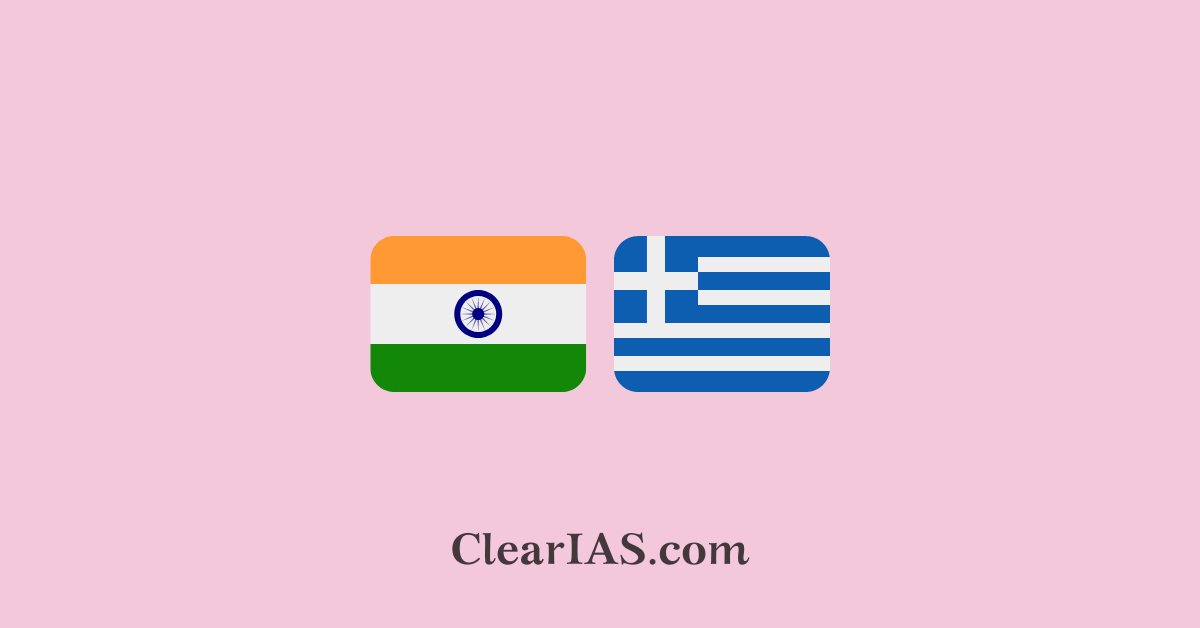 India-Greece relations date back to historical times, though diplomatic relations in modern times were established in 1950. In modern times, the two countries have developed a warm relationship based on a common commitment to democracy, peace, and development in the world and to a social system imbued with principles of justice and equality. Read here to learn more about the bilateral ties.
The Prime minister of India will be visiting Athens, and it will be the first visit to Greece by an Indian prime minister in four decades.
India and Greece established diplomatic relations in May 1950. India opened its resident Embassy in Athens in March 1978. Interaction between India and Greece goes back to antiquity.
In modern times, the two countries have developed a warm relationship based on a common commitment to democracy, peace, and development in the world and to a social system imbued with principles of justice and equality.
History of India-Greece relations
India and Greece have a long history of cultural and trade interactions that date back to ancient times. While direct political relations between the two civilizations may not have been extensive, there were significant cultural exchanges and trade connections that shaped their historical ties.
Ancient Period:
Alexander's Campaign: The most notable early contact between India and Greece was through Alexander the Great's campaign in the 4th century BCE. Alexander's forces reached the northwestern regions of India, establishing contact with Indian rulers and leaving an impact on the cultural landscape.
Seleucus I and Chandragupta Maurya: After Alexander's conquests, Seleucus I Nicator, one of his successors, established diplomatic and trade relations with the Mauryan Empire. Chandragupta Maurya's alliance with Seleucus is recorded in the Edicts of Ashoka.
Greco-Bactrian Kingdom and Indo-Greek Kingdoms:
Indo-Greek Cultural Exchange: The establishment of the Greco-Bactrian and Indo-Greek Kingdoms in the 2nd century BCE marked an era of direct interaction. Greek rulers, including Demetrius I and Menander I, ruled parts of northern India, resulting in a blend of Greek and Indian cultures.
Art and Architecture: The Indo-Greek period witnessed cultural exchanges in art, sculpture, and architecture. The Gandhara School of Art, centered in present-day Pakistan and Afghanistan, showcased the fusion of Greek and Indian artistic styles.
Buddhism and Greek Influence:
Conversion of Menander I: Menander I is known to have embraced Buddhism, indicating the influence of Indian spiritual traditions on Greek rulers.
Graeco-Buddhist Art: Greek artistic techniques and motifs influenced Buddhist art in India, leading to the creation of sculptures and reliefs that combined Greek and Indian elements.
Later periods:
Byzantine Influence: In the later periods of the Byzantine Empire, there were interactions with India through trade routes, especially along the Silk Road.
Ptolemaic Egypt: Greek influence in the Eastern Mediterranean also connected with India through trade routes that extended into Egypt.
During the European exploration period, Greek scholars contributed to the study of Indian languages, philosophy, and cultural traditions.
India-Greece political relations
India and Greece established diplomatic relations after India's independence in 1947. Both countries are members of international organizations and maintain bilateral ties.
Greece opened its embassy in New Delhi in 1950, and India established its embassy in Athens in 1978.
India and Greece maintain diplomatic ties and have engaged in various high-level visits, including exchanges between heads of state and government officials.
The countries collaborate on international platforms, including the United Nations, Kashmir, and Cyprus issue. Greece participated with India in the Six-National Delhi Declaration on Nuclear Disarmament in 1985.
The relationship has progressed smoothly over the last 65 years. President A.P.J. Abdul Kalam visited Greece in April 2007.
During the visit of EAM in June 2021, the Framework Agreement on the International Solar Alliance was signed, which was ratified by the Greek Parliament on 15 March 2022.
India-Greece Trade and Economic Relations
Trade between India and Greece has been growing steadily. The trade relationship encompasses sectors like pharmaceuticals, textiles, machinery, and agricultural products.
Both countries have expressed interest in enhancing economic cooperation, exploring investment opportunities, and increasing bilateral trade volumes.
The main Export items from India to Greece are Aluminum, organic chemicals; fish and crustaceans; iron and steel; plastic; textile articles; edible fruit and nuts;  peel or citrus fruit; onions, sesame seeds, spices, coffee, tea, cashew nuts; electrical machinery and equipment and parts; boilers, machinery and mechanical appliances;  apparel and clothing accessories; optical, medical or surgical instruments; automobiles and automobile components;  carpets and other floor coverings; paper and paperboard; leather goods; handbags; and articles of animal gut etc.
The main import items from Greece are Aluminium foil; mineral fuels, mineral oils and products of their distillation; sulfur; lime and cement; nuclear reactors, boilers, machinery, and mechanical appliances; cotton; chemical products; edible fruit and nuts, citrus fruits, melons, kiwi; copper scrap; electrical machinery and equipment; building stones – mainly marble and travertine; ships, boats, and floating structures, etc.
Also read: India-Philippines Relations
India-Greece Defence and Security Cooperation
The two countries have cooperated in the area of defence and security through exchanges, training programs, and discussions on regional and global security challenges.
Bilateral defence cooperation received an impetus after the visit of Raksha Mantri to Greece in 1994.
The MoU on defence cooperation was signed in 1998 during the Greek defence minister's visit to India.
Indian and Hellenic Air Forces participated in the 'Blue Flag' exercise, held in Israel in 2021.
Indian Air Force participated in the multinational air exercise INIOCHOS-23 hosted by the Hellenic Air Force with four Su-30 MKI and two C-17 aircraft.
According to the Commonwealth War Graves Commission, 518 identified soldiers of undivided India, who sacrificed their lives, defending the Allied cause in Southern Europe during World War I were buried/commemorated in different cemeteries in the territory of Greece.
International Forums
Both India and Greece are members of international forums, including the United Nations, where they collaborate on various issues of common concern.
Greece supports our quest for a permanent seat in an expanded UNSC.
It supported India at the NSG in 2008 and 2016, MTCR, WASSENAAR arrangements, Australia Group, and India's candidature for ICJ, ITLOS, IMO, Postal Operations Council (POC), World Heritage Committee and for the position of the External Auditor of the IAEA for the term 2022-27.
Following India's nuclear tests in May 1998, when most Western countries were contemplating sanctions against India, the Greek Defence Minister visited India in December 1998 (the first Defence Minister from a NATO country to visit India after the tests) and signed an MOU on Defence Cooperation.
Other areas of relations
Cultural and Academic Ties:
Cultural exchanges between India-Greece have fostered greater understanding and appreciation of each other's heritage.
Academic collaborations, seminars, and conferences have facilitated dialogue on areas of mutual interest, such as history, philosophy, and archaeology.
Tourism and People-to-People Ties:
Tourism between India and Greece has been on the rise, with travelers exploring each other's historical sites, landscapes, and cultural attractions.
The Indian diaspora in Greece and the Greek community in India contribute to people-to-people connections.
Diaspora Connections: The Indian diaspora in Greece and the Greek community in India contribute to the social and cultural fabric of their respective countries.
Way forward
While India and Greece have built a solid foundation for their diplomatic ties, there is potential for further deepening cooperation in trade, investment, tourism, and other sectors.
Both countries can leverage their historical and cultural connections to enhance collaboration in various fields.
Also read: India's stand on Israel-Palestine conflict: Recent Changes
-Article by Swathi Satish