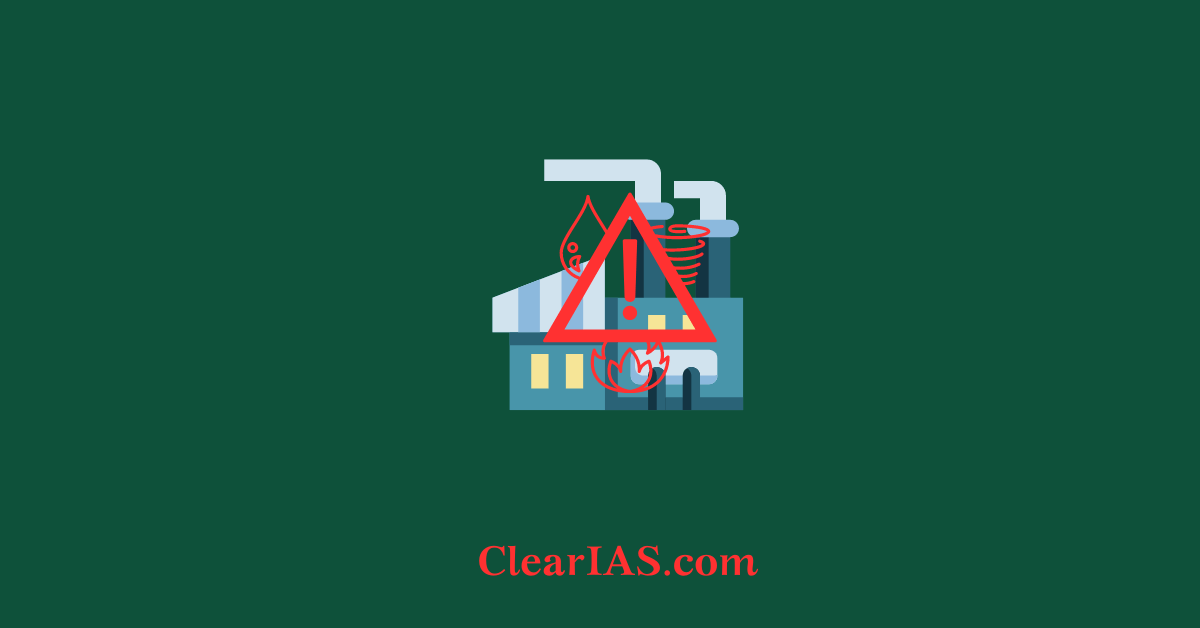 What is an industrial disaster? What are Chemical Disasters? What is Chemical Terrorism? Why do industrial disasters occur? What are the factors Causing Chemical Disasters? What were the major industrial disasters in the past? What are the Legal Safeguards against Chemical Disasters in India? Read further to know.
India's chemical sector makes up 7% of its GDP. Yet, significant chemical catastrophes, which are relatively avoidable, halt its expansion.
The National Disaster Management Authority (NDMA) reports that over 130 large chemical mishaps have occurred recently in the nation, causing 259 fatalities and more than 560 serious injuries. Chemical disasters can severely affect people, have a high death toll, and cause extensive property and environmental damage.
The industrial plant, its staff, hazardous chemical vehicles, the citizens of adjoining settlements, adjacent buildings, occupants, and the surrounding community are the elements most at risk from chemical disasters.
What is an industrial disaster?
According to the 1948 Factories Act, an industrial accident is defined as a situation in which an employee is killed or suffers serious physical harm, rendering them incapable of returning to work within 48 hours.
The severe events that result from industrial mishaps are known as industrial catastrophes. They could lead to property damage, environmental degradation, human and animal injury or death.
Such catastrophes can be categorised as:

'Routine' catastrophes: They are mostly understood by experts and pose the greatest hazard of industrial disaster. Issues can be handled with ease by following accepted guidelines and procedures.
Disasters that come as a "surprise": Examples of these include the Minamata disaster in Japan and the Chornobyl accident in Ukraine.

Any of the production stages—manufacturing, processing, transportation, storage, utilisation, or disposal—can be affected by the risks that lead to such catastrophes.
These catastrophes have the potential to release a wide range of hazardous substances into the environment, including radioactive materials, toxic chemicals, radiation, and toxic radiation.
It may also result in fires, explosions, and other types of harm.
In India, there are about 1,861 MAH (major accident hazard) units. Thousands of additional dangerous factories and unorganised sector units also increase the likelihood of industrial disaster.
Chemical Disasters
Chemical catastrophes are the result of the emission, fire, or explosion of one or more hazardous chemicals during an industrial operation, such as handling, storing, or transporting the chemicals, or as a result of a natural disaster.
The NDMA develops recommendations for the various ministries and state authorities for the drafting of disaster management plans, while the Ministry of Environment and Forest (MoEF) serves as the nodal ministry for the management of chemical disasters.
As chemicals are at the core of contemporary industrial systems, the government, the commercial sector, and the larger community have severe concerns about disaster management.
The industrial plant, its staff, workers, people of surrounding villages, etc., are at the greatest risk from chemical mishaps.
The following three factors could be the main causes of chemical disasters: mistakes made by people, technology, and management
Significant losses of life, injuries, suffering, property damage, and environmental harm result from these accidents. There were other chemical mishaps in India even after the Bhopal tragedy.
Chemical Terrorism
Chemical terrorism is convenient for anti-national elements to use and is inexpensive. As they are implementing new strategies, they are also acting more aggressively. Terrorists mostly seek to terrify the populace, attract attention, or persuade an officially recognised government or group to take action or do nothing.
Chemical terrorism refers to the employment of chemicals to take lives, harm people and animals, and so spread fear, anarchy, and unrest.
Chemical terrorism agents can be solids or liquids with a variety of hazardous effects on people, pets, and plants. They can endanger the environment and humans by being sprayed from aircraft, dropped as bombs, or used in liquid form.
Why do industrial disasters occur?
Chemical disasters have several causes, some of which can be somewhat prevented. India's vulnerability to such disasters is somewhat lessened by the implementation of legal measures against Chemical Disaster Risk.
Unsafe conditions, unsafe acts, and other acts are three major categories under which the causes might be grouped.
They can be divided into two categories:

Technical causes: the use of faulty machinery, tools, or materials; insufficient lighting and ventilation; storage without sufficient safety precautions; etc. might cause such accidents.
Working conditions: Such accidents may be caused by psychological factors such as monotony at work, exhaustion, working overtime, frustration, etc. It is also noteworthy that the majority of accidents (about one-third) take place in the sectors with the highest levels of risk.

Unsafe acts: Some actions by employees, resulting from a variety of factors such as a poor attitude, physical limitations, or a lack of expertise or knowledge, might result in such accidents.

unauthorised activity
dangerous operation at high speeds
sloppy disposal
not wearing PPE or other safety equipment
Distractions, disputes, mistreatment, etc.

Additional causes include the presence of dust, pollutants, an unhygienic atmosphere, and climate factors like heat and humidity.
Factors Causing Industrial disaster
The Indian chemical sector is more vulnerable to chemical disasters due to ageing process plants, design flaws, and a lack of actions to keep up with contemporary technologies.
In the chemical industry, fires and explosions are frequently caused by organic solvents.
Because Standard Operating Procedures aren't followed, human error accounts for the bulk of industrial accidents (SOPs).
The Piper Alpha tragedy, in which a worker mistakenly activates a pump during maintenance without a safety valve in place, resulting in a gas leak and subsequent explosion, is a classic illustration of how human error can cause chemical disasters.
Terrorist activity and sabotage have escalated the threat. Natural catastrophes like floods and earthquakes have also resulted in significant
Equipment that has not been properly maintained is another major factor in chemical catastrophes. It's crucial to do planned maintenance according to the manufacturer's instructions to maintain the equipment's efficiency and safety. The Flixborough tragedy, which resulted in 28 fatalities and several injuries, is a prime example of poor maintenance.
Major disasters have also occurred in various sites in India as a result of the lack of an emergency reaction team to prevent accidents during the shipment of hazardous chemicals.
Processing hazardous waste and disposing of it properly require extra care because they can also result in fires, explosions, and harmful releases into the environment.
attack by terrorists or rioting that results in sabotage.
What were the major industrial disasters in the past?
India has witnessed several chemical disasters in the past few years, including the Vizag gas leak tragedy and Neyveli and Visakhapatnam disasters. According to the National Disaster Management Authority (NDMA), in the recent past, over 130 significant chemical accidents have been reported in the country.
Bhopal Gas Tragedy:
The greatest industrial accident in history is thought to have occurred in 1984 when a gas leak occurred at the Union Carbide India Ltd. pesticide facility.
Like the breach in Vizag, this one happened in the early hours and had an impact on more than 5 lakh people.
According to reports, the spill caused the deaths of over 3,700 people and crippled or rendered permanently incapacitated many more.
Methyl isocyanate was found to be a hazardous substance. The gas produced cerebral oedema, liver damage, and kidney and lung damage, among other things. The incident saw a 300% spike in stillbirth rates and a 200% increase in infant deaths in the region.
The healthcare system was overburdened, and the staff wasn't ready for the emergency.
Chasnala Mining Disaster:
In 1975, a coal mine in Jharkhand experienced the Chasnala mining accident, one of the worst in India's mining history.
A pocket of methane gas was ignited by malfunctioning equipment, which caused an explosion.
The mine collapse caused by the explosion allowed millions of gallons of water from a nearby reservoir to enter.
Due to the explosion, mine collapse, or reservoir flooding, about 700 people died.
Jaipur Oil Depot Fire:
The oil store owned by the Indian Oil Company in Rajasthan had this industrial accident in 2009.
It caused 12 fatalities and further injuries. Over a week, which was required to put out the fire, 500,000 people were evacuated from the area.
The administration lacked a disaster management strategy, and the firefighters lacked the tools they needed to put out the fires.
Korba Chimney Collapse:
In 2009, 45 construction workers were killed when a chimney for a thermal plant in Chhattisgarh that was under BALCO's contract fell. The rescue operations were hampered by extreme weather (torrential rainfall).
The use of subpar materials, technical design flaws, incorrect water curing, and supervisor incompetence were identified as the causes.
Mayapuri Radiological Incident:
An unused research irradiator was disassembled in 2010 at a scrapyard in Delhi's Mayapuri by workers who were not aware of its radioactive nature.
The scrapyard lacked radiation detectors and other essential tools for safe operation.
Bombay Docks Explosion:
In Mumbai's Victoria Port in 1944, a cargo carrying weapons exploded, killing about 800 people.
The crew was told to leave the freighter when the initial fire on the ship proved to be uncontrollable.
Following the explosions that damaged neighbouring boats, including numerous navy warships, several nearby economically developed districts, and a shower of flaming debris that caused fires to erupt in the nearby slums.
Legal Safeguards against Chemical/ Industrial disaster in India
The Indian Criminal Code (IPC) was the only applicable legislation defining criminal liability for such situations at the time of the Bhopal gas tragedy. Section 304: Guilty homicide that is not murder. The maximum penalty under Section 304A, which deals with negligent death, is two years in prison and a fine. The government quickly after the tragedy created several laws governing the environment, prescribing and defining precautions and penalties. These are a few of these laws:
Bhopal Gas Leak (Processing of Claims) Act, 1985:
which gives powers to the central government to secure the claims arising out of or connected with the Bhopal gas tragedy. Under the provisions of this Act, such claims are dealt with speedily and equitably.
The Environment Protection Act, 1986:
which gives powers to the central government to undertake measures for improving the environment and set standards and inspect industrial units.
Hazardous Waste (Management Handling and Transboundary Movement) Rules, 1989:
Industry-required to identify major accident hazards, take preventive measures and submit a report to the designated authorities
Manufacture, Storage And Import Of Hazardous Chemicals Rules, 1989:
The importer must furnish complete product safety information to the competent authority and must transport imported chemicals by the amended rules.
The Public Liability Insurance Act, 1991:
which is an insurance meant to provide relief to persons affected by accidents that occur while handling hazardous substances.
Chemical Accidents (Emergency, Planning, Preparedness and Response) Rules, 1996:
The Centre is required to constitute a central crisis group for the management of chemical accidents; set up a quick response mechanism termed the crisis alert system. Each state is required to set up a crisis group and report on its work.
The National Environment Appellate Authority Act, 1997:
under which the National Environment Appellate Authority can hear appeals regarding the restriction of areas in which any industries, operations or processes or class of industries, operations or processes shall not be carried out or shall be carried out subject to certain safeguards under the Environment (Protection) Act, 1986.
The National Green Tribunal, 2010:
provides for the establishment of a National Green Tribunal for effective and expeditious disposal of cases related to environmental protection and conservation of forests.
Recommendations of ILO on Industrial disaster
To strengthen the national system for preventing occupational accidents in certain industrial activities. The Ministry of Labour implemented the ILO's recommendations:
A list of hazardous chemicals and flammable gases should be established, each having a specific quantity such that any factory handling any substance above the stated quantity should be a major hazard work black by definition.
An inventory of major hazard works should be obtained for each state.
The list of hazardous chemicals and the inventory of the major hazardous works should be maintained in a computerized data bank.
NDMA Guidelines on Chemical/ Industrial disaster:
There are roughly 1,861 significant accident risk (MAH) units in all country zones, dispersed throughout 301 districts, 25 states, and three centrally controlled territories, according to the website of the National Disaster Management Authority.
However, there are several unorganised sectors and thousands of recognised hazardous industries (below MAH norms) that deal with a wide variety of harmful products that offer serious and intricate catastrophic threats.
The National Disaster Management Authority (NDMA) has released specific recommendations for managing chemical disasters. These recommendations are intended to help state authorities, ministries, and departments create comprehensive disaster management strategies.
These recommendations offer a proactive, interdisciplinary, multi-sectoral, participative approach to various stages of catastrophe preparedness and response.
Enhancing technical support services and strengthening the current regulatory framework to conform to the established national policies and ambitions
Establishing supportive, technology-neutral regulations
Laws governing land use policy (buffer zone around the chemical industry)
national codes and practises uniformity
There is a focus on locating and choosing professional organisations, as well as on their accreditation and ongoing safety evaluations.
Chemical industry commissioning and decommissioning
planning for both on-site and off-site readiness
routine drill testing of emergency plans
To deal with specific chemical mishaps at the affected site, medical personnel and supplies are required.
Strategies for Hospital Crisis Handling of Chemical Emergencies
Mobile hospital and mobile team concept
Response to public health concerns, medical rehabilitation, and negative consequences on the environment
documentation and analysis following a disaster
Way forward
Although India has sufficient legislation to address industrial disasters, their efficacy needs to be reviewed.
Buffer zones must be established around factories that handle dangerous materials. By doing so, calamities may be contained and fewer people and property would be lost.
The supreme court had underlined that financial compensation ought to serve as a deterrent against similar catastrophes. It must be in proportion to the violating enterprise's capabilities.
The local authorities need to be made aware of the disaster management plan, particularly because CBRN (chemical, biological, radiological, and nuclear) catastrophes call for a specific response.
It should be required of all such industrial facilities to maintain an effective disaster management plan. Through recurring safety drills, the person must also be informed of the plan and instructed on how to handle similar circumstances.
The local population must be informed of the industries' disaster management plans.
By gradually transferring industry away from populous regions, the "sitting of the industries" problem can be resolved.
Moreover, planning must be done to keep expanding cities away from such industrial facilities.
Given the rising frequency of natural disasters that hit India, infrastructure resilience needs to be improved. For instance, the 2001 Bhuj earthquake damaged a containment system for phosphoric acid sludge, while the 1991 super-cyclone in Odisha caused an ammonia gas leak from a fertiliser plant.
Under numerous efforts, such as Make in India, industrial expansion must be accompanied by proper safety precautions and regulations; in other words, growth must be sustainable.
Following the gas spill in Vizag, the centre issued some instructions. The NDMA requested that businesses approach the first week of resuming operations following the lockout as a test period. High output goals for the first week were discouraged.
Additionally, it requested that the sectors teach their employees to recognise anomalies that can result in such mishaps. Complete safety audits should be conducted before restarting production.
Conclusion
Chemicals, which are at the core of modern industrial processes, have grown to be a major source of concern for disaster management in the public sector, the business community, and society at large.
Chemical disasters may have devastating impacts on people, including deaths as well as damage to the environment and property. The parties most at risk from a chemical mishap include the industrial plant, its personnel, hazardous chemical vehicles, residents of neighbouring towns, inhabitants of adjacent buildings, and the neighbourhood.
In the chemical business, disasters are uncommon, but carelessness or bad luck can easily have disastrous effects. A chemical disaster has impacts on communities that last for decades and are nearly irreparable, and the cost of that
Article written by Aseem Muhammed