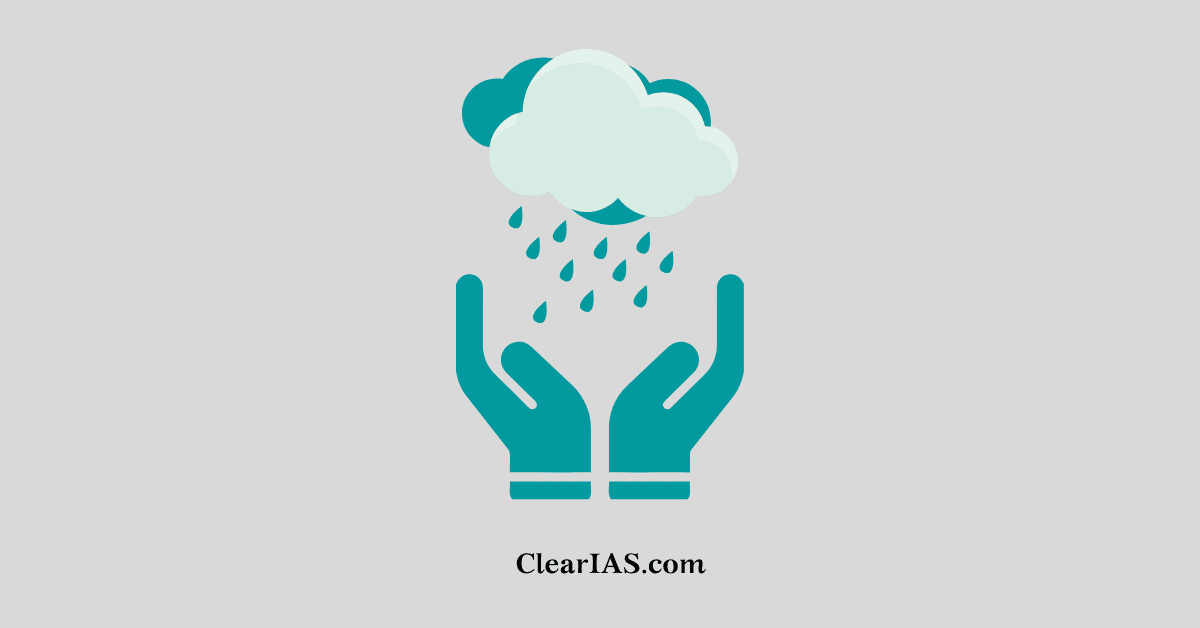 Despite having 18% of the world's population, India only has 4% of the freshwater resources in the world. Accessibility of this available water is likewise erratic and highly reliant on the weather. Climate change is threatening our water security, which is manifesting itself through changes in the water cycle.
To address this issue, the Government of India started the Jal Shakti Abhiyan (JSA) in 2019. Campaigns that had been revamped in 2021 and 2022.
JSA primarily aims to create water-secure communities. In addition to this, India has a vast store of traditional knowledge in water conservation that can be used to help the nation's water predicament.
The JSA will run in two phases:
Phase 1: During the southwest monsoon from 1st July to 15th September for all states and Union Territories.
Phase 2: During the northeast retreating monsoon from 1st October to 30th November  for States and UTs receiving the retreating monsoon (Andhra Pradesh, Karnataka, Puducherry, and Tamil Nadu)
Salient Features Of Jal Shakthi Abhiyaan
Using a comprehensive strategy to accelerate the programmatic implementation of water conservation activities
Is a mission-mode campaign with a time limit to improve groundwater conditions in the 256 districts' water-stressed blocks
Intervention with five goals: water conservation and rainfall harvesting; rehabilitation of conventional and non-conventional waterbodies/tanks; reuse and recharging of bore wells; and intense afforestation.
Providing a significant boost in infrastructure responsiveness to water conservation
Incorporating citizen participation along with community involvement throughout the monsoon season
Carrying on as a Jan-Andolan along the lines of the Swachh Bharat Mission; assisting people in working for the collection of rainwater and maintenance of ponds and village tanks.
This campaign drives to make check dams, water harvesting pits, rooftop RWHS, etc
Removal of encroachments and de-silting of tanks to increase their storage capacity
Remove obstructions in the channels which bring water to them from the catchment areas etc
Repairs to step-wells and using defunct bore wells and unused wells to put water back to aquifers etc are to be taken up with the active participation of people.
To facilitate these activities, states have been requested to open "Rain Centers" in each district
The basic aim should be that No or only limited will water flows out of the compound.
This will help in improving soil moisture and rising ground water table. In urban areas it will reduce water gushing onto roads, damaging them, and will prevent urban flooding.
About Jal Shakthi Abhiyan 2019
Under Jal Shakti Abhiyan -I, officers, groundwater experts, and scientists from the Government of India have worked with State and District officials in these water-stressed districts of the country to promote water conservation and water resource management.
Implemented in the July – November 2019 period in 1,592 blocks of 256 water-stressed districts of the country.
These blocks fell under the critical or over-exploited groundwater category, where the groundwater was being extracted faster than it could be replenished.
The work mainly focuses on the accelerated implementation of five target interventions, viz. water conservation & rainwater harvesting, renovation of traditional and other water bodies/tanks, reuse and recharge of bore wells, watershed development and intensive afforestation.
With this campaign, huge awareness has been generated and various stakeholders have started taking steps for water conservation.
The outcome of JSA-I is improved water conservation.
Achievements of Jal Shakthi Abhiyan 2019
2.73 lakh water conservation and rainwater harvesting structures have been built
45000 water bodies and tanks have been renovated
1.43 lakh reuse and recharge structures have been built
1.59 lakh watershed development-related works have been completed
12.36 crore trees have been planted
1372 block water conservation plans have been created.
Beyond these figures, the initiative strengthened the environment by bringing together all parties involved in water management and recharge.
About Jal Shakthi Abhiyan 2021
The Jal Shakti Abhiyan: Catch The Rain Campaign primarily focuses on water conservation in 734 districts and 1592 water-stressed blocks during the pre-monsoon and monsoon periods. Additionally, it guarantees five crucial water conservation measures such as:
Rainwater harvesting
Renovation of traditional and other water bodies/tanks
Reuse bore well recharge structures
Watershed development
Intensive afforestation.
This campaign converged funds of all water conservation-related schemes (MGNREGS, AMRUT, CAMPA Funds, etc) of central and state governments, funds raised locally and from corporate sectors also.
Achievements of Jal Shakthi Abhiyan 2021
The amount of development from the debut on March 22, 2021, to the end of March 20, 2022, including both urban and rural areas:
10,69,649 water conservation and rainwater harvesting structures have been completed
 1,79,950 traditional water bodies have been renovated while 1,17,716 works are on-going
8,32,596 reuse and recharge structures were created
19,18,913 watershed development activities have been undertaken
36,76,60,580 afforestation activities carried out under the campaign
374 Jai Shakti Kendras were set up in various States/UTs
15.32 lakh water bodies have been enumerated with details like their location, ownership, state of health, photos, etc under the campaign.
The mission received information, education, and communication (IEC) resources on water harvesting and conservation that were created in regional languages by expert organizations.
It was then posted on NWM's official website for stakeholders to utilize.
About Jal Shakthi Abhiyan 2022
"Catch the Rain: where it falls, when it falls", is the core subject, and it is being implemented in all districts both rural and urban of the nation.
The program run from 29 March 2022 to 30 November 2022, throughout the country's pre-monsoon and monsoon seasons.
Along with the previous actions of the campaign for 2021, the following new interventions are also carried out as part of this campaign. This comprises:
The development and management of spring sheds
The creation and management of wetlands
The development and protection of catchment areas.
In every district, 75 new or revitalized waterbodies will be built as part of the Amrit Sarovar program, which coincides with India's 75th anniversary of independence.
Objectives of Jal Shakti Ministry
The Jal Shakti Ministry concentrates on topics including interstate and international water disputes, cleaning the Ganga and its tributaries, as well as strives to provide clean drinking water.
This ministry was established in response to India's growing water woes over the previous few decades.
The Jal Shakti Ministry oversees several significant initiatives, programs, and schemes, including the following:
Jal Jeevan Mission
Jal Shakti Abhiyan
Atal Bhujal Yojana
Namami Ganga Programme
National Aquifer Mapping Programme
PM Krishi Sinchayee Yojana
Conclusion
Jal Shakti Abhiyan's targeted strategy by the government is producing fruitful results. A persistent effort is needed, nonetheless, considering the severity of the water situation and the possibility of further aggravation owing to climate change.
A broad-based effort including all of India will be needed to address the water crisis. Therefore, the government needs to step up its efforts to raise awareness about water conservation.
Article written by Aryadevi E S