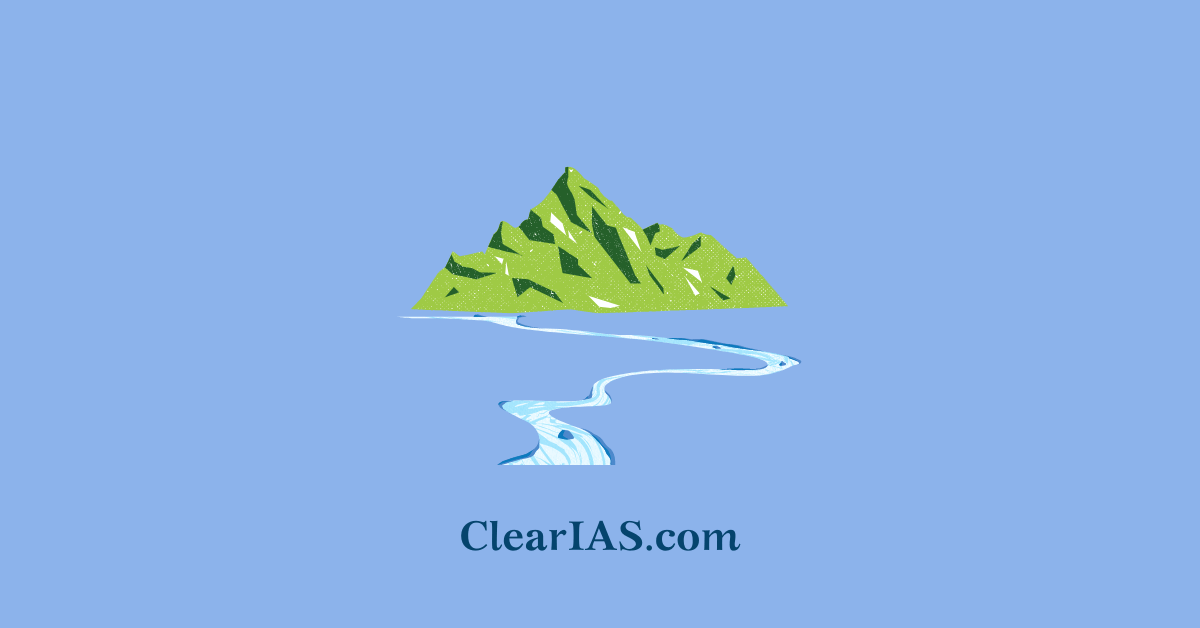 The Integrated Watershed Management Program of the Government of India (now known as WDC-PMKSY) is the second-largest watershed program in the world, after China (World Bank Report, July 2014).
Every body of water has a watershed, including rivers, lakes, ponds, streams, and estuaries.
The area of land known as the watershed is responsible for draining or shedding water into a specific receiving water body, such as a lake or river.
In the watershed, as rainwater or melted snow flows downward, silt and other elements are picked up, transported, and dumped into the receiving waterbody.
Types of Watershed
They are categorized based on their size, drainage, shape, and pattern of land use.
Macro watershed (> 50,000 Ha)
Sub-watershed (10,000 to 50,000 Ha)
Milli-watershed (1000 to 10,000 Ha)
Micro watershed (100 to 1000 Ha)
Mini watershed (1-100 Ha)
What is Watershed Management?
Using land, forests, and water resources in a way that doesn't impair the local wildlife and plant life are known as "watershed management."
It is the process of putting land use practices and water management practices into place to safeguard and enhance the quality of the water and other natural resources within a watershed.
As a measure, reducing the amount of pesticides and fertilizers that wash off farm fields and into surrounding waterbodies is one of the objectives of watershed management.
It is important to realize that conservation and watershed management are interconnected.
Why Watershed Management is Important?
To reduce the runoff from rainwater or snowmelt that significantly contributes to the pollution of lakes or rivers.
By identifying the various types of pollution present in the watershed, how those pollutants are transported, and making recommendations on how to reduce or eliminate those pollution sources, watershed management aids in the control of pollution of the water and other natural resources in the watershed.
Protecting the health of the watershed's resources depends on thorough planning for the resources throughout the entire watershed, with participation and commitment from all municipalities in the watershed.
What is the Aim and Objective of Watershed Management?
Through a comprehensive approach, watershed management aims to stop land degradation and maximize agricultural production. It involves the wise use of land and water resources for maximum and sustained productivity with the least amount of risk to the environment.
The following objectives mentioned below will assist Watershed Management to achieve its primary purpose of managing natural resources sustainably.
ensuring the public has access to clean, enough drinking water;
safeguarding and providing access to sanitary facilities;
boosting productivity rates through soil quality restoration and enhancement;
minimizing the effects of natural disasters (particularly in light of climate change);
an increase in population income while simultaneously regenerating the environment;
enhancement of the infrastructure for agricultural marketing, transportation, and storage;
improvement of physical health (aided by the availability to clean water for drinking, sanitary conditions, and better nutrition);
development of self-help and environmental education;
Watershed management programs in India
In 1992, the Ministry of Rural Development and Poverty Alleviation established a separate Department of Wastelands Development to accelerate the development of wastelands and degraded lands. The Department of Wastelands Development was renamed the Department of Land Resources in April 1999 to serve as the central organization for managing land resources.
As a result, this department was given control over the Land Reforms Division and all land-based development initiatives. The department implemented several watershed management programs and later consolidated them under the name of Watershed Development Component of Prime Minister Krishi Sinchayee Yojna (WDC-PMKSY).
Watershed Development Component of Prime Minister Krishi Sinchayee Yojna (WDC-PMKSY)
The Government of India has charged the Department of Land Resources (DoLR) with carrying out the Pradhan Mantri Krishi Sinchayee Yojana's Watershed Development Component (WDC-PMKSY).
The major goals of the WDC-PMKSY are to restore ecological balance through the utilization, conservation, and development of degraded natural resources like soil, vegetation, and water. The outcomes include a reduction in soil erosion, natural vegetation regeneration, rainwater conservation, and recharge of the groundwater table.
Key Facts Related to WDC-PMKSY
The state governments themselves plan, finance, carry out, and maintain water resources projects in accordance with their own resources and priorities. The Government of India's role is restricted to giving technical assistance and, in certain cases, partial financial aid.
The State Governments are responsible for addressing the monitoring and redress systems to guarantee maintenance and quality control of irrigation projects that they are implementing.
Additionally, it has been mandated for the Central Water Commission and a specific Project Management Unit (PMU) within this Ministry to routinely supervise the projects getting central assistance from this Ministry.
The Ministry of Jal Shakti's Management Information System, backed by a dedicated dashboard, is used to track the physical and financial development of these projects.
WDC-PMKSY 1.0 was successfully concluded in March 2022 and its achievements are-
increase in groundwater table up to 3 m,
increase in the cultivated area by up to 30%,
increase in farmer's annual income by up to 70.13%,
increase in milk production by up to 40% and
increase in cropping intensity up to 18.3%.
Springshed Development under WDC-PMKSY 2.0
Springshed development has been added as a new activity within the project areas of the WDC-PMKSY 2.0. It was based on the NITI Aayog's recommendation.
This may be of utmost significance, particularly for the Himalayan States/UTs and other mountainous areas of the country, which are highly significant from a strategic, ecological, economic, sociopolitical, and societal perspective.
Ironically, during the monsoon season, the Himalayan States/UTs receive a substantial amount of rain, but during the dry season, they face a severe shortage of drinking water.
On the other hand, the fragile Himalayan scenery frequently experiences ecological degradation and landslide issues. All States/UTs could greatly benefit from revitalizing springs in mountainous locations under the project areas of WDC-PMKSY 2.0.
Article Written By: Priti Raj