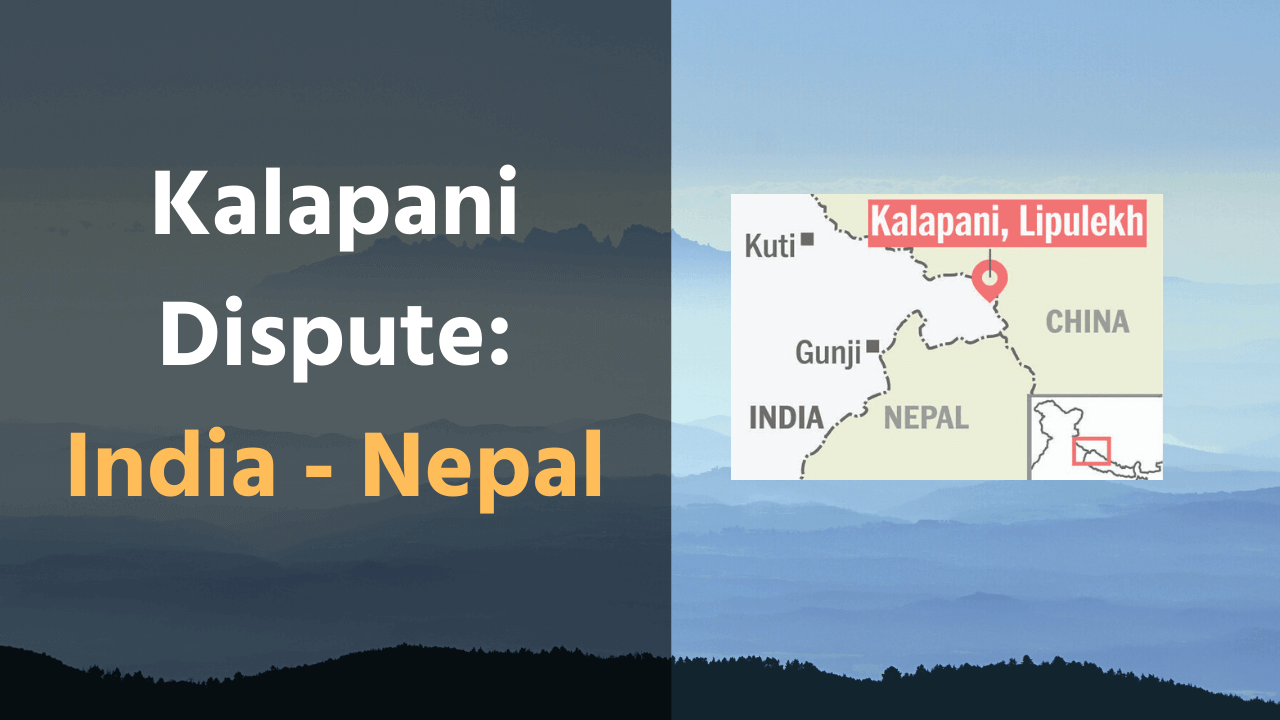 What is the reason behind the Kalapani Dispute? What is the strategic importance of Kalapani region?
Kalapani is a region located in the state of Uttarakhand in India (in the easternmost corner of Uttarakhand's Pithoragarh district).
The Kalapani area is in India's control but Nepal claims the region because of historical and cartographic reasons.
Kalapani Dispute: India-Nepal
Why are India and Nepal fighting over Kalapani?
Kalapani is a 35 square kilometre area, which is claimed by both India and Nepal.
India in November 2019 published a revised political map showing the newly created Union Territories of Jammu and Kashmir and Ladakh. The map showed Kalapani as part of Pithoragarh district (Uttarakhand, India).
Nepal protested immediately.
On May 8 2020, India inaugurated the Darchula-Lipulekh pass link road, passing through the disputed Kalapani area. This route helps the Indian pilgrims to reach Kailash Mansarovar (Tibet, China) faster.
Nepal expressed the displeasure by summoning the Indian Ambassador to Nepal.
Nepal now is trying to give constitutional status to a revised official map incorporating the territory from the Limpiyadhura source of the Kali to Kalapani and Lipulekh pass in the northeast of the triangular region as its territory.
Indian observers say this move makes any future solution on the Kalapani issue nearly impossible as a constitutional guarantee will make Kathmandu's position inflexible. (Source: The Hindu)
The present status is that both India and Nepal claim Kalapani as an integral part of their territory — India as part of Uttarakhand's Pithoragarh district and Nepal as part of Darchula district. (Source: The Print)
River Kali as the boundary of Nepal: Treaty of Sugauli (1816)
Nepal considers river Kali as its boundary. This view is based on the treaty of Sugauli.
The treaty was signed between the Gurkha rulers of Kathmandu and the East India Company after the Gurkha War/Anglo-Nepal War (1814-16).
Origin of river Kali: Two interpretations
In essence, the source of river Kali (Mahakali) is at the heart of the dispute between the countries.
River Kali has several tributaries, all of which merge at Kalapani (according to India).
India claims that the river begins in Kalapani as this is where all its tributaries merge. But Nepal claims that it begins from Lipu Lekh Pass, the origin of most of its tributaries.
While Nepal's claim of the territory east of Kali is based on the Limpiyadhura origin, India says the river actually takes the name Kali near Kalapani.
Kalapani Dispute: India's stand
The new map of India accurately depicts the sovereign territory of India.

The new map has in no manner revised our boundary with Nepal.

The boundary delineation exercise with Nepal is ongoing under the existing mechanism.