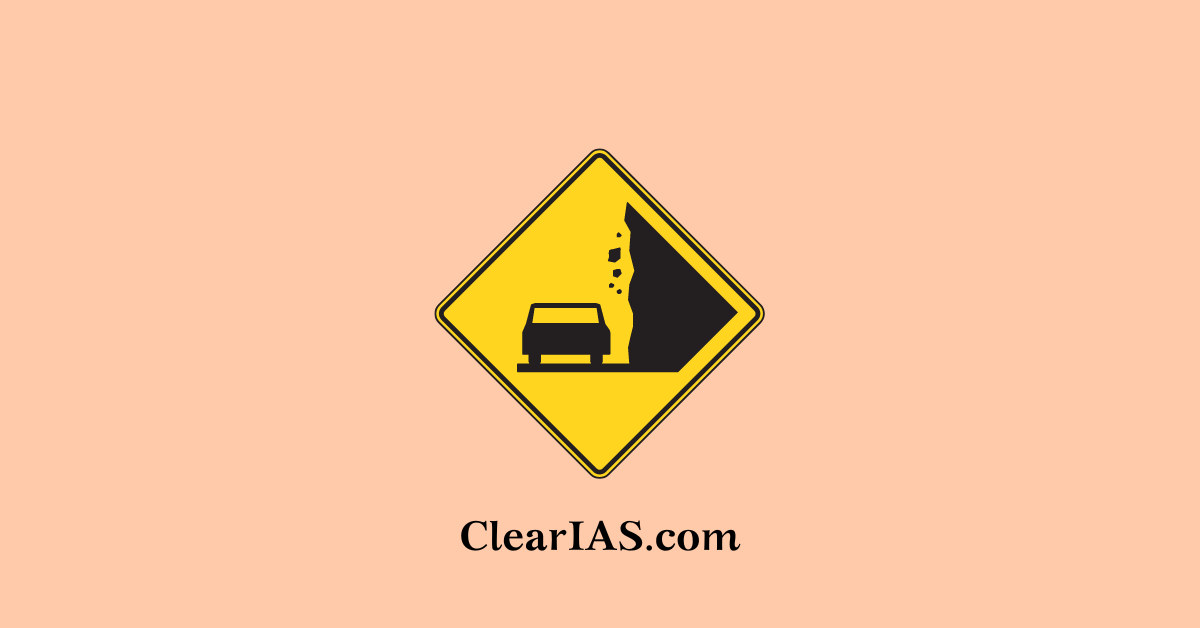 What are landslides? What are the causes and how are they managed? Read further to know more.
Landslides are simply defined as the mass movement of rock, debris, or earth down a slope. They often take place in conjunction with earthquakes, floods, and volcanoes.
Moreover, a prolonged spell of rainfall can cause a heavy landslide that can block the flow of the river for quite some time.
Landslides
The Himalayas, are formed due to the collision of the Indian and Eurasian plates. The northward movement of the Indian plate towards China causes continuous stress on the rocks rendering them friable, weak, and prone to landslides and earthquakes.
The slow motion of the Indian crust, about 5 cm/year accumulates stress to which natural disasters are attributed. Some landslides make unique and unparalleled catastrophes.
Landslides and avalanches are among the major hydro-geological hazards that affect large parts of India besides the Himalayas, the Northeastern hill ranges, the Western Ghats, the Nilgiris, the Eastern Ghats, and the Vindhyans, in that order, covering about 15 % of the landmass.
Landslide Vulnerability Zones
India has been categorized into a number of zones based on historical data, frequency, and specific causal relationships with the governing elements including geology, geomorphic agents, slope, land use, vegetation cover, and human activities.
1. Very High Vulnerability Zone
This zone includes the Himalayas, Andaman, and Nicobar, high rainfall regions with steep slopes in the Western Ghats and Nilgiris, the northeastern regions, along with regions that frequently experience ground shaking due to earthquakes, etc. It also includes regions that have a high concentration of human activity, especially that related to building roads, dams, etc.
2. High Vulnerability Zone
This group also includes areas with almost identical conditions to those found in the very high vulnerability zone. The only difference between these two is how the governing factors are integrated, how intensely, and how frequently they occur. Except for the Assam plains, all of the Himalayan states and those from the northeastern areas are included in the high vulnerability zones.
3. Moderate to Low Vulnerability Zone
Areas that receive less precipitation such as TransHimalayan areas of Ladakh and Spiti (Himachal Pradesh), undulated yet stable relief and low precipitation areas in the Aravali, rain shadow areas in the Western and Eastern Ghats and Deccan plateau also experiences occasional landslides. The states of Jharkhand, Orissa, Chhattisgarh, Madhya Pradesh, Maharashtra, Andhra Pradesh, Karnataka, Tamil Nadu, Goa, and Kerala are those where subsidence and mining-related landslides occur most frequently.
A Case Study
A significant landslide damaged a 200-meter section of the historic Hindustan-Tibet road, National Highway 22 when it hit the Pangi village near Reckong Peo in the Kinnaur region of Himachal Pradesh. The intense blasting at Pangi village caused this landslide. The blasting caused this slope's weak spot to collapse, severely damaging the road and the nearby villages.
National Disaster Management Authority
As per the Disaster Management Act, of 2005 the National Disaster Management Authority (NDMA), a statutory and apex body under the Chairmanship of the Prime Minister, is mandated to lay down the policies, plans, and guidelines for disaster management to ensure a timely and effective response to disasters.
National Landslide Risk Management Strategy
A Task Force of Experts has been made for the formulation of a National Landslide Risk Management Strategy. The Task Force comprised of six Sub-Groups of experts addressing different components of landslide disaster risk reduction.
The Task Force was divided into six Sub-Groups as under:-
Sub-Group I: Generation of User-Friendly Landslide Hazard Maps
Sub-Group II: Development of Landslide Monitoring and Early Warning System
Sub-Group III: Awareness Programmes
Sub-Group IV: Capacity Building and Training of Stakeholders
Sub-Group V: Preparation of Mountain Zone Regulations & Policies
Sub-Group VI: Stabilization and Mitigation of Landslides and Creation of Special Purpose Vehicle (SPV) for Landslide Management
Causes of Landslides
Landslides can be triggered by both natural and anthropogenic means.
Natural Causes of Landslide
Climate: Soil stability may be significantly impacted by long-term climatic changes.
Earthquakes: Seismic activities have, for a long time, contributed to landslides across the globe. Any moment tectonic plates move, the soil covering them also moves along.
Weathering: Weathering is the natural procedure of rock deterioration that leads to weak, landslide-susceptive materials.
Erosion: Slope support is destroyed by erosion brought on by sporadic running water, such as streams, rivers, wind, currents, ice, and waves, which makes landslides more likely to happen.
Volcanoes: Volcanic eruptions can trigger landslides. The stratovolcano is a typical example of a volcano responsible for most landslides across the globe.
Human causes of landslides
Mining: Landslides are greatly amplified by mining activities that use blasting techniques. The explosives' vibrations have the potential to damage the soil in other regions prone to landslides.
Timber Harvesting: Clearcutting is a method of harvesting timber that involves cutting all old trees from the area. This method is hazardous since it completely destroys the local mechanical root system.
Effects of Landslides
Impact on the Economy: Landslide causes destruction of the property. Its rehabilitation and rebuilding cost millions.
Damages to infrastructure: The force flow of mud, debris, and rocks as a result of a landslide can cause serious damage to personal property and other significant infrastructures such as roads, railways, leisure destinations, buildings, and communication systems.
Loss of life: Communities living at the foot of hills and mountains are at greater risk of landslides. Most of the disaster-prone areas are highly populated which makes lives more miserable.
Affects the beauty of landscapes: The flow of mud, rock, and debris disturbs the natural sight or beauty of a place.
Decline river ecosystems: The substances landslide carries with themselves block or hinder their natural flow. It causes a serious impact on many river habitats like fish as they can die due to interference with the natural flow of water.
Trigger Flood: It can lead to the diversion of river water that can lead to flood in areas and loss of properties as well.
Impact on Livelihood: Communities depending on the river water or coasts for household activities, livelihood, and irrigation will suffer from it.
Affect Development: Landslides make the development and other infrastructural projects risky as well as costly, which, in turn, adversely affects the developmental activities in these areas.
Mitigation
The following are the mitigation measures.
Area-Specific Measures: It is always advisable to adopt area-specific measures to deal with landslides.
Restriction on the Construction in Certain Areas: Restriction on the construction and other developmental activities such as roads and dams, limiting agriculture to valleys and areas with moderate slopes, and control on the development of large settlements in the high vulnerability zones, should be enforced.
Hazard Maps: Hazard mapping to locate areas prone to landslides. Hence, such areas can be avoided for building settlements.
Afforestation: Some positive actions like promoting large-scale afforestation programs and the construction of bunds to reduce water flow.
Terrace Farming: Terrace farming should be encouraged in the northeastern hill states where Jhumming (Slash and Burn/Shifting Cultivation) is still prevalent.
Landslide Monitoring and Early Warning System: To warn people residing in landslide-prone areas in advance.
Scientific Technique Advancement: Advancement in scientific techniques will empower us to understand what factors cause landslides and how to manage them.
Conclusion
Landslide-related disasters are typically much less dramatic than those brought on by earthquakes, volcanic eruptions, tsunamis, and cyclones, but their effects on the environment and the country's economy are no less catastrophic.
They are mostly influenced by extremely localized factors, in contrast to other disasters that are sudden or unpredictable, and are generally controlled by macro or regional factors.
Therefore, gathering information and keeping an eye on the probability of a landslide is not only challenging but also quite expensive. However, certain mitigation methods can undoubtedly aid in lowering the cause and effect related to them.
Article Written By: Priti Raj