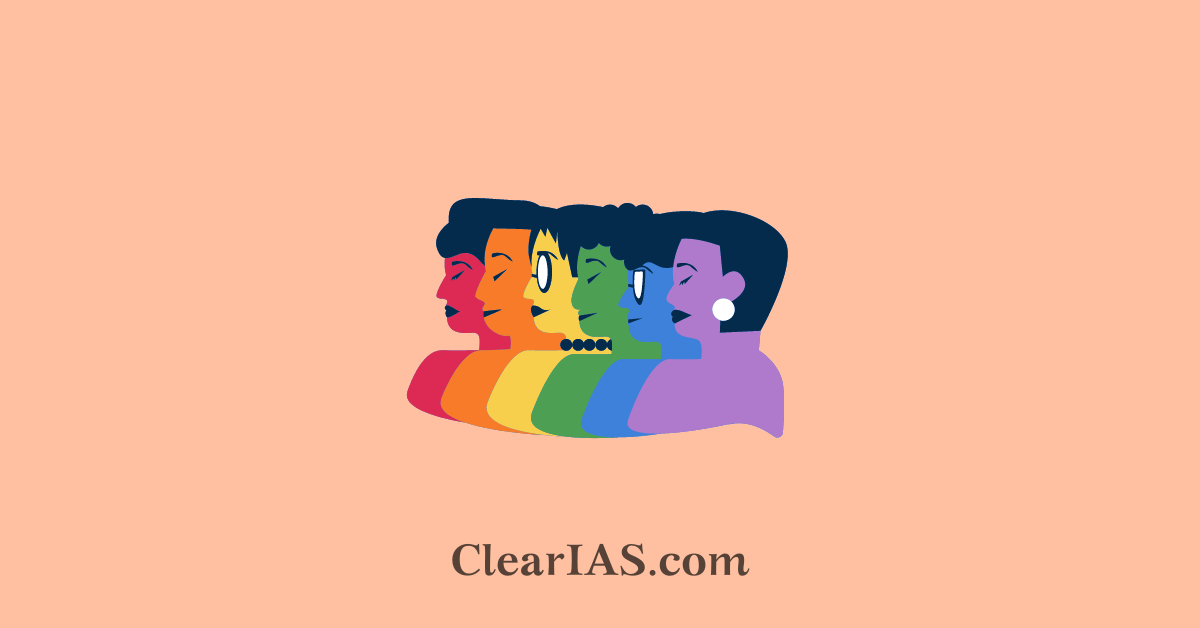 LGBTQIA+ is an abbreviation for lesbian, gay, bisexual, transgender, queer or questioning, intersex, asexual, and more. These terms are used to describe a person's sexual orientation or gender identity. The community through long struggles and movements has been officially recognized for its rights in several nations. Read here to understand more.
Several countries, including India, have formally recognized third sex and homosexuals as equal citizens after a protracted campaign that included several protests and demonstrations in various areas of the world.
In September 2018, as part of its review of Section 377 of the Indian Penal Code, the Supreme Court of India issued a decision legalizing adult same-sex marriages based on consent.
This ruling is largely recognized as a historic one because of how broadly it interprets constitutional rights and the authority it gives the LGBTQIA+ community.
What does LGBTQIA+ signify?
The acronym LGBTIQ+ primarily refers to people who identify as being lesbian, gay, bisexual, transgender, queer/questioning (one's sexual or gender identity), intersex, and asexual.
It is even though no single phrase can adequately describe the various genders and sexual identities that exist in the world today.
Here is a general idea to understand what each term stands for, even though what follows is a by-no-means inclusive list of vocabulary, it will give one the basic understanding:
Lesbian: A woman whose enduring physical, romantic, and/or emotional attraction is to other women. Some lesbians may prefer to identify as gay or as gay women.
Gay: The adjective describes people whose enduring physical, romantic, and/or emotional attractions are to people of the same sex. Sometimes lesbian is the preferred term for women.
Bisexual: A person who can form enduring physical, romantic, and/or emotional attractions to those of the same gender or more than one gender.
Transgender: An umbrella term for people whose gender identity and/or gender expression differs from what is typically associated with the sex they were assigned at birth. People under the transgender umbrella may describe themselves using one or more of a wide variety of terms- including transgender or nonbinary. Some transgender people are prescribed hormones by their doctors to align their bodies with their gender identity. Some undergo surgery as well. But not all transgender people can or will take those steps, and a transgender identity is not dependent upon physical appearance or medical procedures.
Queer: An adjective used by some people whose sexual orientation is not exclusively heterosexual or straight. This umbrella term includes people who have nonbinary, gender-fluid, or gender-nonconforming identities. Once considered a pejorative term, queer has been reclaimed by some LGBTQIA+ people to describe themselves; however, it is not a universally accepted term even within the LGBTQIA+ community.
Intersex: An adjective used to describe a person with one or more innate sex characteristics, including genitals, internal reproductive organs, and chromosomes, that fall outside of traditional conceptions of male or female bodies. Intersex people are assigned a sex at birth as either male or female and that decision by medical providers and parents may not match the gender identity of the child. Not all intersex people identify as being part of the LGBTQIA+ community.
Asexual: The adjective describes a person who does not experience sexual attraction. Sometimes shortened to "ace," it is an umbrella term that can also include people who are demisexual, meaning they do experience some sexual attraction; graysexual, meaning those who may not fit the strictest definition of the word asexual; and aromantic, meaning they experience little to no romantic attraction and/or has little to no desire to form romantic relationships.
+ Plus: The 'plus' is used to signify all of the gender identities and sexual orientations that letters and words cannot yet fully describe.
History LGBTQIA+ community in India
The foundation of ancient Indian culture was the acceptance and celebration of all forms of love, as well as a de facto acceptance of the idea of homosexuality.
The Khajuraho Temple in the Indian state of Madhya Pradesh is one specific example of the existence of sexual fluidity among homosexuals.
The British thought that sexual behavior was "outside the order of nature" and as a result, there is a clause in the Indian Penal Code that makes it unlawful to act in any gay manner which was added in the 1800s.
Shakuntala Devi published "The World of Homosexuals" in 1977, which is regarded as the country's first in-depth analysis of homosexuality.
In 1994, they gained legal recognition as a third sex and were given the ability to vote.
In 1999, Kolkata hosted India's first Gay Pride Parade. The parade, with only 15 attendees, was named Calcutta Rainbow Pride.
In 2014, the Supreme Court of India issued its ruling declaring that transgender people should be treated as a third category of gender.
The LGBTQIA+ community in this country was granted the right to express their sexual orientation in safety by the Supreme Court in 2017. The sexual orientation of an individual was protected by the right to privacy.
On September 6, 2018, the Supreme Court overturned the portion of Section 377 that made consenting to homosexuality illegal.
In order to protect transgender people's rights, their welfare, and other connected issues, Parliament passed the Transgender Persons (Protection of Rights) Act in 2019.
Discrimination faced by the LGBTQIA+ community
LGBTQI+ people are discriminated against in the labor market, in schools, and in hospitals, and mistreated and disowned by their own families. They are singled out for physical attack – beaten, sexually assaulted, tortured, and killed.
In some 77 countries, discriminatory laws criminalize private, consensual same-sex relationships – exposing individuals to the risk of arrest, prosecution, imprisonment, and even, in at least five countries, the death penalty.
Due to the marginalization the LGBTQIA+ group experiences, access to necessary services is frequently denied. These resources include access to healthcare, legal and judicial assistance, and educational opportunities.
Many LGBTQIA+ youngsters and teenagers avoided talking about their feelings with their parents because they were afraid of their reactions. If they do not have the support of their families in a society that is constrained by a restrictive set of social and cultural standards, LGBTQIA+ people can suffer serious harm to both their mental and physical health.
Due to a lack of exposure, comfort, and internet availability in their area, LGBTQIA+ people who live in rural locations may repress their feelings. This is due to the possibility that physical violence will rise if you choose not to get married.
The majority of LGBTQIA+ children have either run away from violent conditions or relationships or been expelled from their homes because they are queer. In their most formative years, they are robbed of formal education and the required social support.
Due to terminology issues, LGBTQIA+ persons frequently receive disparaging labels and are made fun of, which stops them from accomplishing their goal of receiving recognition and causes them to feel socially isolated.
School uniforms, dress codes, and travel entry points (such as ticket purchase forms, security screening, and restrooms) are frequently biased toward one gender. People who identify as LGBTQIA+ are frequently obliged to discuss their gender identity in front of an audience when taking public transportation.
When it is difficult to obtain the proper documentation relating to one's gender identity, especially school records, employment chances are significantly harmed.
Way forward
In recent years, many States have made a determined effort to strengthen human rights protection for LGBTQIA+ people. An array of new laws has been adopted, including laws banning discrimination, penalizing homophobic and transphobic hate crimes, granting recognition of same-sex relationships, and making it easier for transgender individuals to obtain official documents that reflect their preferred gender.
Alterations in the general public's attitude toward LGBTQIA+ individuals are one most crucial steps to be taken. This can be achieved by more policies and laws in support of their rights. Also, the media can play an important role in making the voices of LGBTQIA+ heard for better awareness among common people.
The same should start from home itself, each child should be given a safe space to express their identity freely. If they accept the child as a member of that community, they will transform society into one that values diversity and respects the individuality of every person.
India still lacks a basic law that recognizes the protection of the rights of people belonging to the LGBTQIA+ community or criminalizes any harassment or discrimination against them.
The next step should be to make the society LGBTQIA+ community friendly and deter any form of discrimination or cruelty against them. This can be achieved by incorporating various practices like introducing sex education in schools.
The LGBTQIA+ community deserves to receive equal treatment in all walks of life.
­-Article written by Swathi Satish