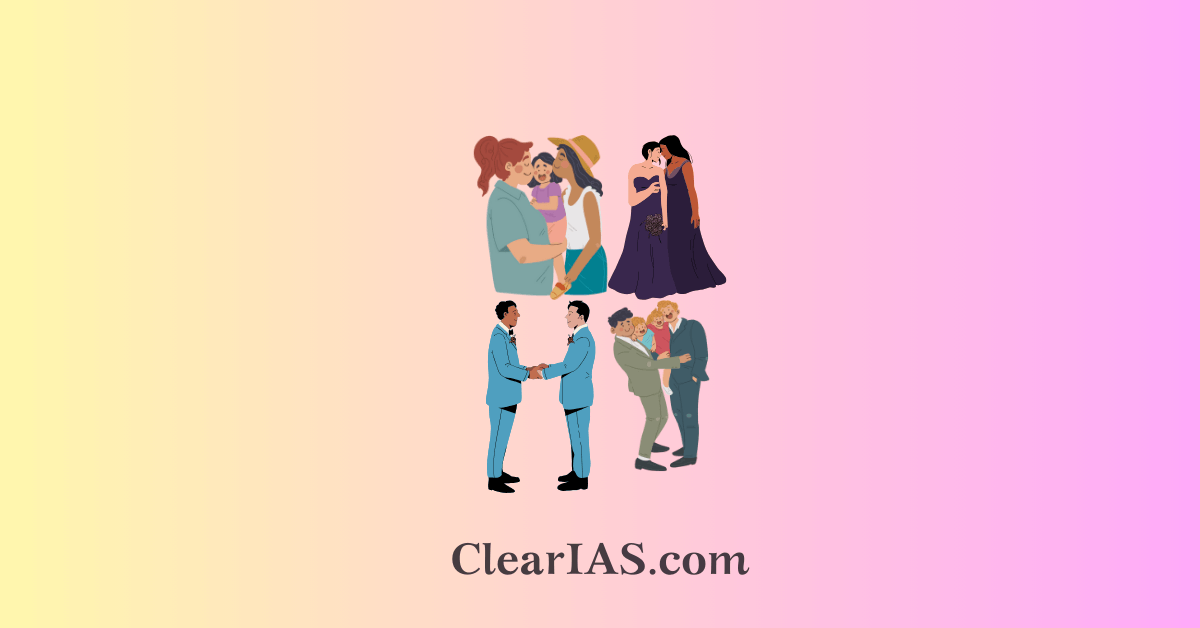 The legal status of same-sex marriage varies significantly around the world. While progress has been made in recent years, there is no universal standard, and laws continue to evolve. Read here to learn about the legality of same-sex marriage in India in the wake of the latest Supreme Court judgment.
The Supreme Court has delivered its long-awaited verdict rejecting petitions to legalize same-sex marriage.
The SC looked into the provisions of the Special Marriage Act, of 1954 to examine the issue thoroughly, which has convergence and interrelationship with homosexuality.
Same-sex Marriage in India
In a historic decision, the Supreme Court of India had partially struck down Section 377 in September 2018. This decriminalized consensual same-sex relations between adults.
While the decriminalization of homosexual acts was a significant step forward for LGBTQ+ rights in India, it did not grant legal recognition to same-sex marriages. India did not have specific legislation that allowed same-sex couples to marry or afforded them the same legal rights and protections as opposite-sex couples.
Some activists and legal experts had called for the introduction of civil union or domestic partnership laws that could provide legal recognition and rights to same-sex couples. However, no such laws were in place as of my last update.
Marriage laws in India are primarily governed by personal laws that are specific to different religious communities. Some states, such as Kerala and Goa, had shown support for LGBTQ+ rights and had called for the legal recognition of same-sex marriages, but this remained a state-specific initiative and was not applicable nationwide.
Despite the lack of legal recognition for same-sex marriage, some LGBTQ+ activists and individuals continued to advocate for their rights, and there were legal challenges and petitions seeking equal marriage rights in various Indian courts.
Latest development
A five-judge bench of the Supreme Court that was headed by Chief Justice of India DY Chandrachud unanimously ruled against legalizing same-sex marriage in India. The bench also ruled in a 3:2 verdict against civil unions for non-heterosexual couples.
The Chief Justice concluded that the court could neither strike down nor read words into the Special Marriage Act (SMA) 1954 to include same-sex members within the ambit of the SMA 1954.
The top court said it is for Parliament and state Legislature to formulate laws on it.
However, at the same time, the SC noted that the relationship of marriage is not a static one and that queer persons have an equal right and freedom to enter into a "union".
All five judges on the Bench agreed that there is no fundamental right to marry under the Constitution.
Note:
A civil union refers to the legal status that allows same-sex couples specific rights and responsibilities that are normally conferred upon married couples. Even though a civil union resembles a marriage, it does not have the same recognition in personal law as marriage.
The Special Marriage Act, of 1954, is a legislation in India that provides a legal framework for the registration of marriages that are solemnized between individuals of different religions, castes, or communities. This act allows couples to marry without regard to their individual religious beliefs or customs. The Special Marriage Act is applicable throughout India, except in the state of Jammu and Kashmir, where different laws apply.
Global status of same-sex marriage
Countries Where Same-Sex Marriage is Legal:
North America:
Canada was one of the first countries to legalize same-sex marriage in 2005.
The United States legalized same-sex marriage in 2015 following the Supreme Court's ruling in Obergefell v. Hodges.
South America:
Several South American countries, including Argentina, Brazil, Colombia, Uruguay, and Ecuador, have legalized same-sex marriage.
Europe:
Many European countries have legalized same-sex marriage, including the Netherlands (2001, the first in the world), Belgium, Spain, Norway, Sweden, Iceland, Portugal, France, the United Kingdom (except Northern Ireland), Ireland, Germany, and others.
Oceania:
New Zealand and Australia have legalized same-sex marriage.
Africa:
South Africa is the only country in Africa where same-sex marriage is legal.
Asia:
Taiwan became the first Asian country to legalize same-sex marriage in 2019, following a Constitutional Court ruling.
Countries with Limited Recognition:
Mexico: Same-sex marriage is legal in some states of Mexico, such as Mexico City and Quintana Roo, while other states may have various forms of recognition.
Israel: Same-sex marriages conducted outside Israel are recognized, but the country does not perform same-sex marriages.
Countries with No Legal Recognition:
Most of Asia: Many Asian countries do not recognize same-sex marriage, and it remains illegal in most of the continent.
Russia: Russia has enacted laws that explicitly ban same-sex marriage.
Middle East and North Africa: Most countries in the Middle East and North Africa do not recognize same-sex marriage, and it can even be criminalized in some places.
Eastern Europe: Many Eastern European countries do not legally recognize same-sex marriage and have implemented anti-LGBTQ+ policies.
Caribbean: Several Caribbean nations do not legally recognize same-sex marriage.
It's important to note that even in countries where same-sex marriage is legal, there can be variations in the level of recognition and acceptance. Some regions may have provisions for civil partnerships or other forms of legal recognition short of full marriage.
Way forward
Ensuring equal rights for the queer community, including the recognition of same-sex marriage, is a significant social and legal challenge in India.
Legal Reform:
Full decriminalization of Section 377 is still needed, as the remnants of it continue to be used for harassment.
Comprehensive legislation that explicitly recognizes same-sex marriage and provides legal rights, including property inheritance, adoption, and divorce, is essential. Indian legislature needs to pass a law that affirms the right to marry regardless of gender or sexual orientation.
Legal advocacy and strategic litigation can help push for equal rights. Legal organizations and NGOs working on LGBTQ+ issues can play a crucial role in advancing legal changes.
Public Awareness and Education:
Public awareness campaigns and educational programs are vital to challenge stereotypes, reduce discrimination, and create a more inclusive society.
The inclusion of LGBTQ+ issues in school curricula can help reduce prejudice and ensure that students grow up with a more informed and accepting perspective on diverse sexual orientations and gender identities.
Mental Health and Support:
The LGBTQ+ community often faces higher rates of mental health issues due to discrimination and stigma. Accessible mental health services and support groups can be beneficial.
Establishing helplines and crisis intervention services for individuals facing discrimination, harassment, or mental health crises can provide essential support.
These points were made by the Chief Justice of India during the latest judgment as well.
Corporate Inclusion:
Encourage companies to adopt inclusive and non-discriminatory workplace policies that protect LGBTQ+ employees from discrimination and harassment.
Promote training for human resources staff on LGBTQ+ issues and the creation of safe spaces within the workplace.
Community Building:
LGBTQ+ organizations and community groups play a crucial role in providing support, advocating for rights, and building a sense of community.
Pride parades and LGBTQ+ visibility events help create a sense of community and raise awareness of LGBTQ+ issues.
Engaging religious and cultural leaders in dialogues about LGBTQ+ rights can help reduce prejudice and gain support from influential voices.
Engaging with the international community and organizations that support LGBTQ+ rights can provide moral and diplomatic pressure for change.
Encourage media representation that portrays LGBTQ+ individuals in a positive and non-stereotypical manner. Accurate and sensitive representation can influence public opinion.
Collaborate with women's rights organizations, human rights groups, and other social justice movements. These alliances can provide additional support for LGBTQ+ rights.
Conclusion
The legal status of same-sex marriage continues to evolve globally as societies grapple with issues of equality, human rights, and social acceptance. Laws are subject to change, and ongoing advocacy efforts aim to expand legal recognition in regions where it is not yet recognized.
Related article: Transgender Rights
-Article written by Swathi Satish