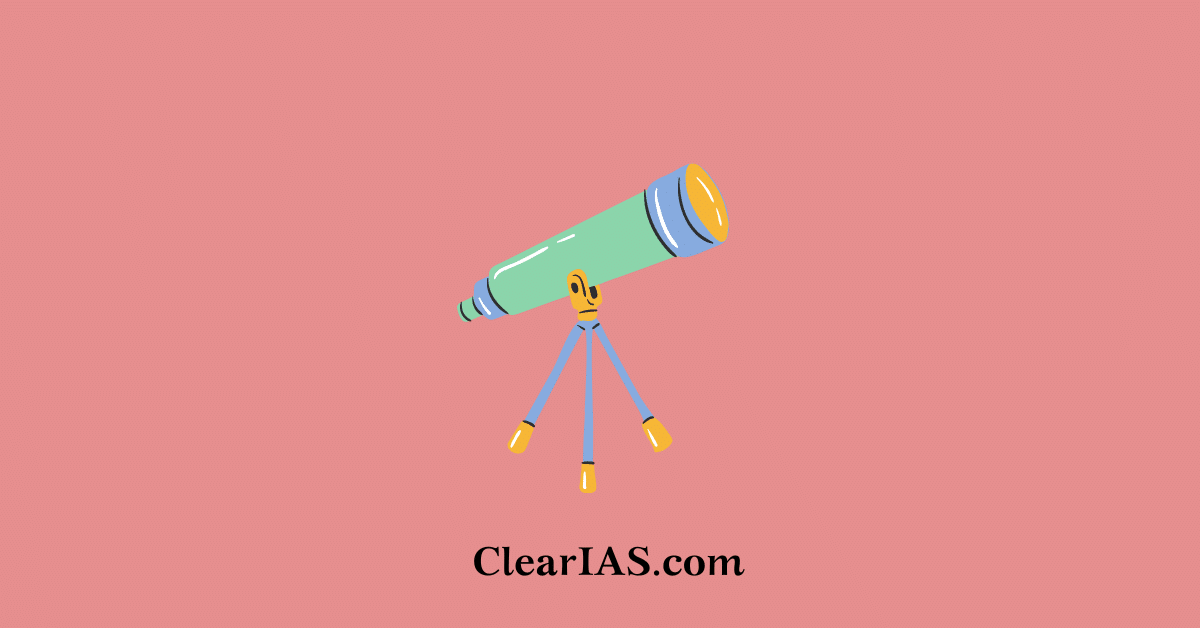 A telescope is a device used to observe distant things by gathering electromagnetic radiation (such as visible light). Which are the major telescopes in India and the world? How are they different from each other? Read the article to know more about major telescopes in India and the world.
A telescope is a device used to observe distant things by gathering electromagnetic radiation (such as visible light).
The term "telescope" today describes a broad range of devices that can detect various parts of the electromagnetic spectrum, as well as in some circumstances, other kinds of detectors.
Also read: SARAS Radio Telescope
Operation of a telescope
The intense light from the focal point is magnified by a smaller lens (the eyepiece lens) so that more of the retina is used.
The size of the objective lens, which is used to gather and focus light from a specific area of the sky, determines how much light can be collected by a telescope.
Similar to how a magnifying glass enlarges text on a page, the eyepiece enlarges the light that the objective lens has captured. However, the size of the objective lens, sometimes referred to as the aperture, determines a telescope's performance almost entirely.
To study objects in space, astronomers use a variety of telescopes sensitive to various regions of the electromagnetic spectrum.
Different light wavelengths are detected by various detectors differently.
 Need of telescopes
We need a larger eye so that we can collect more light coming from an object in order to see distant objects.
With more light, we can make brighter and larger images to occupy more area on our retinas.
The telescopes step in at this point; the telescope lens functions as a large eye to gather more light coming from an object.
The large lens in the telescope, known as the objective lens, gathers considerably more light from a far-off object than the eye can handle and concentrates it onto a single point inside the telescope, known as the focal point.
Types of telescopes
Different types of telescopes are discussed below.
Gamma-ray
High-energy individual gamma rays are gathered and measured by gamma-ray telescopes from astronomical sources. These must be observed via high-altitude balloons or space missions because they are absorbed by the atmosphere. Supernovae, neutron stars, pulsars, and black holes can all produce gamma rays. Extremely energetic gamma-ray bursts have also been seen, although their identities have not yet been established.
X-ray telescopes
X-ray telescopes use high-energy photons known as X-rays for measurement. These can only be seen high in the atmosphere or in space because they cannot go very far through the atmosphere. Black holes in active galactic nuclei, galaxy clusters, stars, supernova remnants, and binary stars with a white dwarf (cataclysmic variable stars), neutron star, or black hole are only a few examples of astronomical objects that generate X-rays (X-ray binaries).
The Moon is the most notable body in the Solar System that emits X-rays, albeit most of its X-ray brightness comes from reflected solar X-rays. The observed X-ray background is assumed to be the result of a concatenation of numerous unresolved X-ray sources.
Ultra-violet
Ultraviolet telescopes collect data at wavelengths between 10 to 320 nm, or ultraviolet wavelengths. These wavelengths require observations to be made from the high atmosphere or from space since the light at these wavelengths is absorbed by the Earth's atmosphere. The Sun, other stars, and galaxies all emit UV radiation.
Visible light
The earliest branch of astronomy, known as optical or visible-light astronomy, studies light with wavelengths between 400 and 700 nm. Higher resolution images are produced when an optical telescope is placed in space since the distortions and restrictions that are present on the earth are removed.
Among many other things, optical telescopes are used to observe planets, stars, galaxies, planetary nebulae, and protoplanetary discs.
Since infrared light has lesser energy than visible light, it is typically given off by sources that are either cooler or rapidly moving away from the observer (in this case, Earth). As a result, cold stars (including brown dwarves), nebulae, and redshifted galaxies can all be seen in the infrared.
Microwave telescopes
In order to detect cosmological parameters from the Cosmic Microwave Background, microwave space telescopes have mostly been used. Additionally, they use the Sunyaev-Zeldovich effect to assess synchrotron radiation, free-free emission, spinning dust, extragalactic compact sources, and galaxy clusters.
Radio telescopes
Since the atmosphere is transparent to radio waves, very long baseline interferometry—which involves simultaneously observing a source with a satellite and a ground-based telescope and correlating their signals to simulate a radio telescope the size of the separation between the two telescopes—makes use of radio telescopes in space. Supernova remnants, masers, gravitational lenses, starburst galaxies, and a variety of other objects can all be observed.
Square Kilometre Array
A global effort is underway to construct the Square Kilometre Array (SKA), which will eventually have a collecting area larger than one square kilometre (one million square metres).
The size of the SKA reflects a significant advancement in engineering and research & development toward creating and delivering a special instrument, with the specific design and planning already well along.
Importance of the SKA telescope:
The telescope, which is expected to be the biggest radio telescope in the world, will be built and operated by SKAO and will be situated in Australia and Africa.
The birth of the cosmos, how and when the first stars were born, and the galactic life cycle are a few of the topics that scientists want to answer using this telescope.
It would investigate the potential for finding highly advanced civilizations outside of our galaxy and figuring out where gravitational waves originate.
In order to precisely time the signals from pulsars in the Milky Way, the telescope will measure neutral hydrogen over cosmic time, according to NASA, and achieve its scientific objectives.
Spitzer Space Telescope
As observed by the Spitzer Space Telescope, infrared light is represented by red hues. These regions exhibit the heat that the galaxy's dusty star-forming lanes release.
The infrared radiation from cosmic objects, including as distant galaxies, black holes, and even comets in our solar system, is collected by the Spitzer telescope. The first telescope to detect light from an exoplanet was Spitzer.
Hubble Space Telescope
The first significant optical telescope to be installed in space was Hubble, the observatory. Visible light, as seen by the Hubble Space Telescope, is the component that appears yellow. The majority of this light is emitted by stars, which follow the same spiral pattern as the dust lanes visible in infrared.
Hubble has provided insight into the size of the universe, the evolution of black holes and galaxies, and the life cycles of stars. Black holes, which swallow up everything in their vicinity, including light, have been discovered by Hubble. The discovery of dark energy, a puzzling component that propels the universe's expansion at an accelerating rate as time passes, was made possible in large part by the telescope.
And it has provided information about gamma-ray bursts, which are intense energy explosions that happen when huge stars collapse. Planets, stars, and galaxies are just a few of the sky objects that Hubble captures in clear images. More than one million observations have been made by Hubble. Hubble has aided in the understanding of galaxies and planet formation. The furthest galaxies ever observed are depicted in an image dubbed "Hubble Ultra Deep Field."
The James Webb Space Telescope
It will investigate every stage of the evolution of our Solar System, from the earliest bright glimmers after the Big Bang to the formation of solar systems capable of supporting life on Earth-like planets. Webb is a global partnership involving the Canadian Space Agency, NASA, and the European Space Agency (ESA) (CSA).
Fermi Gamma-ray Space Telescope
Dark matter, black holes, and spinning pulsars are just a few of the energetic and enigmatic phenomena that gamma rays can illuminate.It quickly obtained an all-sky map of gamma rays from several sources, including our own sun, after entering orbit.
The Kepler Space Telescope
Although this is the first Earth-sized planet found by TESS, additional Earth-sized exoplanets have been found in the past, mostly by NASA's Kepler Space Telescope, which has since been retired and watched over 530,000 stars. In the end, the Kepler mission found 2,662 planets, many of which were Earth-sized. A small number of these were determined to be in their star's habitable zone, where a variety of factors may be favourable for supporting life.
ARIES telescope
Scientists from India, Russia, and Belgium worked together to create the ARIES telescope.The telescope is situated at a height of 2,500 metres near Devasthal, Nainital. The telescope uses cutting-edge technology that allows it to be controlled remotely from any location in the world. The telescope will be used to investigate astronomical debris, magnetic fields, planets, and stars.The scientists will contribute to the study of star structures and magnetic field structures.
Indian telescopes
The type of telescopes developed by India is discussed here.
Astrosat
On September 28, 2016, AstroSat, India's first specialised astronomy satellite, successfully completed its first year of service.The Chandra observatory can only observe in the X-ray spectrum, whereas NASA's Hubble Telescope gives data in the visible range. Astrosat, on the other hand, would be a multi-wavelength space telescope.
Unlike other space telescopes, ASTROSAT can observe wavelengths across the entire spectrum.In order to avoid having to undergo repairs as HUBBLE did, ASTROSAT was only designed to last for five years.
The scientific goal of Astrosat:
To comprehend the high-energy processes occurring in binary star systems that contain neutron stars, black holes, and stars.
To calculate the neutron star's magnetic field.
To investigate the high-energy star-forming regions and stellar systems outside of our galaxy.
To find new, momentarily brilliant X-ray sources
Thirty Meter Telescope
One of the largest visible-light telescopes in the world, with a 30 m prime mirror diameter, would be created as a result of this project. It would be three times broader and nine times larger than the greatest telescope now in existence.
The telescope will provide more opportunities for those who are studying and conducting astrophysical research.
To oversee the building, upkeep, and management of the telescope, TMT International Observatory LLC (TIO) was founded as a non-profit organisation.
Compared to the Hubble Space Telescope, which is now the biggest and most versatile telescope in the world, it will capture images that are 12 times sharper.
SARAS Telescope
The SARAS radio telescope in India was built to investigate the galaxy and to deliver many astronomical discoveries as a result.
The SARAS 3 radio telescope developed and constructed by astronomers at RRI is the first telescope to do so globally.
Prof. Ravi Subrahmanyan and Prof. N. Udaya Shankar are the creators and principal investigators of SARAS, a specialised high-risk, high-gain experimental effort of RRI.
To detect incredibly faint radio wave signals from the depths of time, from our "Cosmic Dawn," when the first stars and galaxies formed in the early Universe, SARAS plans to design, build, and deploy in India a precise radio telescope.
The Cosmic Dawn signal is anticipated to reach Earth with a wavelength of several metres and a frequency in the radio frequency range of 50–200 MHz due to the universe's expansion.
Also Read: ISRO's World Record PSLV C37 Launch: Top 10 Facts You Should Know – Clear IAS
Liquid-Mirror Telescope
The liquid-Mirror Telescope (LMT), the first of its kind to be operational anywhere in the world, will be commissioned for astronomy.
The ILMT will be used to observe asteroids, supernovae, space debris, and all other astronomical objects from a height of 2,450 metres in the Himalayas.
Previously constructed telescopes were either used for military operations or to track satellites.
The third telescope facility to be built at Devasthal will be ILMT.
One of the first locations in the globe to collect astronomical observations is Devasthal.
The LMT will begin full-scale scientific operations in October 2022.
Alongside India's largest operational Devasthal Optical Telescope, it will be in operation (DOT).
India, Belgium, Canada, Poland, and Uzbekistan are among the nations contributing to the development of ILMT.
Article Written By: Atheena Fathima Riyas