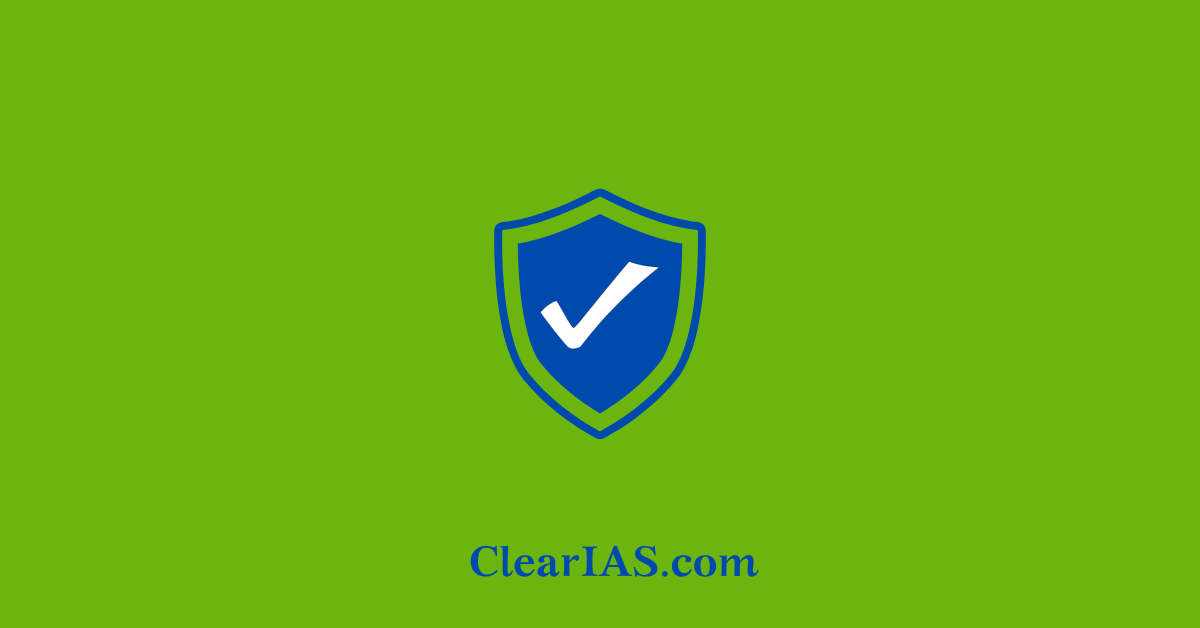 What are Marine Protected Areas? How are Marine Protection areas classified? What are the challenges faced by Marine Protection areas? What is the Importance of Marine Protection areas? Read further to know more.
India's shoreline spans 8118 km, or 2.02 million square kilometres, of its exclusive economic zone. India's 372,424 square km continental shelf is made up of 9 states and 7 union regions. As one of the world's 17 mega-biodiverse nations, it confronts particular difficulties in preserving its biodiversity.
With 600 protected areas spread across 161,221 sq. km., India's biodiversity protection initiatives have been incredibly successful. 4.9% of the overall geographic area of the nation is made up of protected areas.
Currently, only a tiny portion of the ocean, or 6%, is designated as a marine protected area, of which 2.4% is completely protected and the remaining 3.6% is protected to some degree.
What are Marine Protected Areas?
A region of the ocean or the littoral where human activities are subject to stricter regulations than those that apply to the surrounding waters is known as a marine protected area. The federal, state, local, and regional governments have provided these areas extra protection for marine wildlife.
The marine variety of India has been identified by the International Union for Conservation of Nature as one of the top twenty biodiversities worldwide. As a result, stringent regulations have been enacted to protect wildlife in national parks and marine water bodies spread across nine states and all of the nation's union territories.
An oceanic region designated as a marine protected area (MPA) has restrictions on human activity. Many MPAs permit residents to use the region in environmentally friendly ways. Some ban fishing. Some don't let anyone in the neighbourhood at all.
Because the ocean and the creatures that live there are in danger frequently, MPAs have been created. Overfishing, litter, river pollution, and climate change are all dangers to the ocean. Numerous fish, marine mammals, and other water creatures have seen population declines due to these dangers.
Marine parks, marine conservation zones, marine reserves, marine sanctuaries, and no-take zones are just a few of the names given to marine protected regions. Around the globe, more than 5,000 MPAs have been created. They enclose 0.8 per cent of the water as a whole.
There are numerous aquatic habitats where marine protected areas can be created. There are some MPAs in the open seas. A lot of MPAs safeguard coasts. Others deal with estuaries, which are where waterways meet the ocean. Freshwater and saltwater combine in estuaries. Some freshwater habitats, such as the Great Lakes' protected zones, are also regarded as MPAs.
Marine Protected Areas in India
According to IUCN Recommendations, India has marine protected areas. They restrict human activity and resource exploitation in these regions. The IUCN's definition of a protected area has received widespread acceptance around the globe.
India has designated sections of its oceans and estuaries as marine protected areas to preserve the country's native wildlife. The abundant biodiversity in these areas enables local and national governments to make significant earnings from marketing and tourism.
The shoreline of India is home to 31 marine protected areas. Within the next seven years, there must be a significant increase in the number of new MPAs established to meet the goal of 30% protection.
A few examples of marine protected areas in India are the Andaman and Nicobar Islands, the Gulf of Munnar in Tamil Nadu, Thane creek in Maharashtra, Sundarbans in West Bengal, etc.
Under the provisions of the Wild Life (Protection), Amendment Act of 2002, the Maine protected area seeks to preserve and protect the natural marine ecosystems in their pristine state.
Local, state, territorial, native, regional, or national officials have granted these areas special protection for their natural or historic marine resources.
The Wildlife Institute of India has designated 106 coastal and marine locations as Important Coastal and Marine Areas (ICMBAs) to help India meet National Biodiversity Target 2 and Aichi Biodiversity Target 11.
Numerous kinds of fish, mammals, birds and other marine organisms live in India's vast and varied marine ecosystem.
India has created a network of marine protected areas (MPAs) to conserve and sustainably manage its marine resources in response to the critical importance of the marine environment.
India defines marine protected areas (MPAs) as areas of land put aside for the preservation and sustainable use of marine and coastal biodiversity.
The unique ecosystems and the species that rely on them are protected and preserved in these areas.
India has passed laws for coastal and marine conservation, including the Wildlife (Protection) Act of 1972, the Environment (Protection) Act of 1986, the Coastal Regulation Zone Notification of 1991, the National Biodiversity Act of 2002, and the Environment (Protection) Act of 1986.
Classification of Marine Protection area
Marine Protection Areas (MPA) are classified are below,
Category I: covers National Parks and Sanctuaries having entire areas in intertidal/sub-tidal or mangroves, coral reefs, creeks, seagrass beds, algal beds, estuaries, and lagoons.
Category II: includes Islands, which have major parts in the marine ecosystem and some parts in the terrestrial ecosystem.
Category IIIA: includes sandy beaches beyond the intertidal line but occasionally interacting with the seawater.
Category IIIB: includes evergreen or semi-evergreen forests of islands.
Coastal Regulation Zone (CRZ)
CRZ notification was first issued in 1991, then amended in 2011 and again in 2018. CRZ notification, 2018 came after considering the recommendations made by Dr Shailesh Nayak's Committee (constituted by MOEFCC).
CRZ-I: Ecologically sensitive areas like Mangroves, Coral Reefs, Salt Marshes, Turtle nesting grounds, nesting grounds of birds, seagrass beds, Sand Dunes, NP, Marine Park, WS etc.
CRZ-II: Areas which are developed up to or close to the shoreline and falling within municipal limits.
CRZ-III: Areas that fall neither in CRZ I nor CRZ II and also include rural and urban areas that are not substantially developed.
CRZ-IV: Aquatic area from low tide line up to territorial limits.
List of some of the major Marine Protected Areas
The following is the list of marine protected areas in or near the mainland of India:
State/ UT's
Name of Marine Protected Area
Marine National Parks in India
Odisha
Bhitarkanika
Gujarat
Gulf of Kachchh
West Bengal
Sundarbans
Tamil Nadu
Gulf of Mannar
Marine Sanctuary in India
Maharashtra
Thane Creek Flamingo Sanctuary
West Bengal
West Sundarbans
Dadra & Nagar Haveli
Dadra & Nagar Haveli Wildlife Sanctuary
Odisha
Gahirmatha
Daman & Diu
Fudam
Andhra Pradesh
Krishna
Goa
Chorao Island
Maharashtra
Malvan Marine Wildlife Sanctuary
Odisha
Chilika (Nalabana)
Odisha
Balukhand Konark
Gujarat
Khijadia
Andhra Pradesh/Tamil Nadu
Pulicat Lake
Andhra Pradesh
Coringa
West Bengal
Holiday Island
West Bengal
Sajnakhali
West Bengal
Lothian Island
Odisha
Bhitarkanika
Tamil Nadu
Point Calimere
Kerala
Kadalundi-Vallikkunnu (Community Reserve)
Importance of MPAs
Biodiversity Conservation: For threatened and endangered species, such as fish, marine mammals, birds, and other aquatic organisms, MPAs provide essential habitats.
Ecosystem protection: Important maritime ecosystems like coral reefs, mangroves, and seagrass beds are safeguarded by MPAs.
Sustainable resource use: MPAs can aid in ensuring that marine resources are used sustainably and that future generations will have access to these resources by preserving marine ecosystems and species.
Climate change mitigation: By protecting marine ecosystems and the species that depend on them, MPAs can lessen the effects of climate change. These ecosystems and species are crucial for regulating the Earth's temperature and weather patterns.
Economic benefits: MPAs can offer both commercial advantages like boosted fish stocks and better water quality as well as economic advantages like increased tourism and recreational possibilities.
Challenges of MPAs
Lack of enforcement: Regulations within MPAs can be difficult to implement, especially in places that are far away and have scant patrols.
Porous boundary: It makes it challenging to stop illicit fishing, poaching, and other practices that may seriously harm ecosystems and marine life.
Conflicts with local communities: MPAs may occasionally interfere with local fishing groups' and other coastal users' ability to maintain their way of life.
Limited financial and institutional support: MPAs need a lot of money to be managed effectively, including money for enforcement, monitoring, and study.
Limited scientific understanding: The intricate marine ecosystems and the species that inhabit them are poorly understood from a scientific standpoint. This makes it challenging to manage MPAs successfully and to develop conservation strategies that are supported by sound scientific evidence.
Global Efforts
The Convention on Biological Diversity (CBD) is a global treaty signed by 196 countries, including India, to conserve biodiversity, promoting sustainable use of its components, and ensuring the fair sharing of benefits from genetic resources.
Previously, the 15th Conference of Parties (COP15) to the CBD held in Kunming, China in 2021, emphasized the role of marine protected areas (MPAs) in conserving marine biodiversity and promoting sustainable use of marine resources.
Way ahead
MPAs are essential for maintaining India's coastal communities and preserving its unique marine heritage. However, MPAs must operate effectively to be successful.
Despite these difficulties, MPAs are becoming increasingly important for protecting and effectively managing India's marine resources.
Conclusion
India's marine protected areas are home to a wide array of wildlife that draws tourists from around the world. The Wildlife Conservation Society has worked hard to protect marine biodiversity ever since the Wildlife Protection Act was enacted in 1972. Large swaths of land are still vulnerable. The animals that make our country proud and are a part of our rich heritage must be protected, and that is something that we Indians must resolve to do.
Greater cooperation between governmental organisations, academic schools, and local communities is required to address these issues.
Article written by Aseem Muhammed