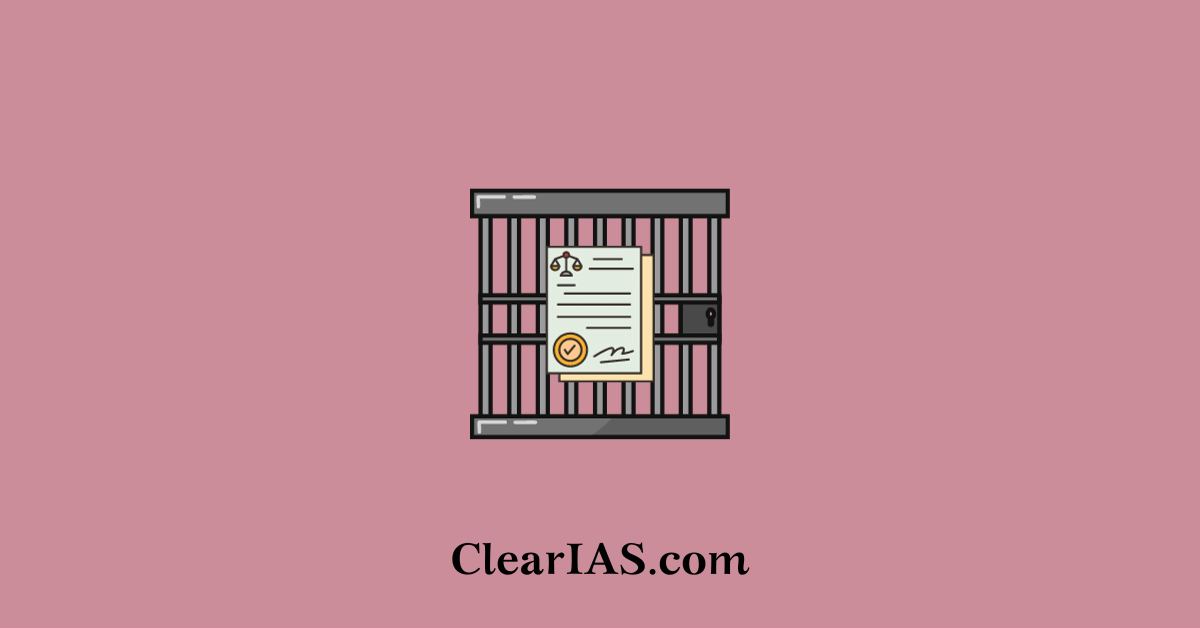 The Model Prisons Act, of 2023 addresses the lack of provisions for reform, rehabilitation, and integration of prisoners into society, which is a major drawback of the current law. Read here to learn more about the act.
In the last few decades, an altogether new perspective has evolved about prisons and prison inmates, globally.
Prisons today are not looked at as places of retributive deterrence but are considered as reformative and correctional institutions where the prisoners are transformed and rehabilitated back into society as law-abiding citizens.
As per the provisions of the Constitution of India, 'prisons'/ 'persons detained therein' is a 'State' subject. The responsibility of prison management and prisoners' administration solely vests with State Governments who alone are competent to make appropriate legislative provisions in this regard.
However, given the critical role that efficient prison management plays in the criminal justice system, the Government of India attaches a high degree of importance to supporting the States/UTs in this regard.
History of Prison Governance
The formal prison system in India began to take shape during British colonial rule. The East India Company established the first modern prison in India in Calcutta (now Kolkata) in 1799.
The British introduced a penitentiary system and established prisons across the country.
The Cellular Jail in the Andaman and Nicobar Islands, constructed in the late 19th century, was used to exile political prisoners.
The Prison Act of 1894 was a significant piece of legislation that outlined the rules for the management and administration of prisons in British India.
After gaining independence in 1947, India inherited the prison system established by the British. The Prison Act of 1894 continued to govern the administration of prisons in the early post-independence period.
Efforts were made to reform and modernize the prison system. The Mulla Committee on Prison Reforms (1980) and the Justice Krishna Iyer Committee (1987) made recommendations for improving prison conditions and administration.
The Prisons Act, of 1894, has been amended, and states have their own prison manuals and rules.
The Model Prison Manual for the Superintendence and Management of Prisons in India was prepared by the Bureau of Police Research and Development (BPR&D) to serve as a guide for states to reform and improve prison administration.
Efforts have been made to introduce technology for prison management, such as the e-prisons project, which aims to computerize prison records and processes.
The focus has shifted towards rehabilitation and reformation of inmates, with the introduction of vocational training and skill development programs.
Human rights considerations and international standards for the treatment of prisoners have gained prominence in prison governance.
Model Prisons Act, 2023
The present 'Prisons Act, of 1894' is a pre-independence era Act and is almost 130 years old.
The Act mainly focuses on keeping criminals in custody and enforcement of discipline and order in prisons. There is no provision for reform and rehabilitation of prisoners in the existing Act.
Over the past few years, the Ministry of Home Affairs (MHA) noted that there are several lacunae in the existing Prisons Act, which regulates the prison administration in all States and Union territories, except a few States that have enacted a new Prisons Act.
Besides the conspicuous omission of the correctional focus in the existing Act, a need was felt to revise and upgrade the Act in tune with modern-day needs and requirements of prison management.
Along with 'The Prisons Act, 1894', 'The Prisoners Act, 1900' and 'The Transfer of Prisoners Act, 1950' have also been reviewed by the Ministry of Home Affairs and relevant provisions of these Acts have been assimilated in the 'Model Prisons Act, 2023.'
State Governments and Union Territory Administrations can benefit from the Model Prisons Act, 2023 by adopting it in their jurisdictions, with such modifications which they may consider necessary, and repeal the existing three Acts in their jurisdictions.
Some salient features of the new Model Prisons Act are as follows:
Provision for security assessment and segregation of prisoners, individual sentence planning,
Grievance redressal, prison development board, attitudinal change towards prisoners.
Provision of separate accommodation for women prisoners, transgender, etc.
Provision for the use of technology in prison administration to bring transparency in prison administration.
Provision for video conferencing with courts, scientific and technological interventions in prisons, etc.
Provision of punishment for prisoners and jail staff for use of prohibited items like mobile phones etc. in jails.
Provision regarding establishment and management of high-security jails, open jails (open and semi-open), etc.
Provision for protecting society from the criminal activities of hardened criminals and habitual offenders, etc.
Provision for legal aid to prisoners, provision of parole, furlough and premature release, etc. to incentivize good conduct.
Focus on vocational training and skill development of prisoners and their reintegration into society.
Significance of Model Act
The Model Act is a comprehensive document that covers all relevant aspects of prison management, viz. security, safety, scientific & technological interventions, segregation of prisoners, special provision for women inmates, taking appropriate action against criminal activities of prisoners in the prison, grant of parole and furlough to prisoners, their education, vocational training, and skill development, etc.
The Model Act has appropriate provisions for the reformation, rehabilitation, and integration of prisoners in society. It also has provisions for 'Welfare Programs for Prisoners' and 'After-Care and Rehabilitation Services', as an integral part of institutional care.
It provides for the classification and security assessment of prisoners and for lodging them in separate barracks/enclosures/cells by the assessment.
Other prison reforms
Modernization of Prisons Scheme: The scheme for the modernization of prisons was launched in 2002-03 to improve the condition of prisons, prisoners, and prison personnel.
Modernization of Prisons Project (2021-26): The government has decided to provide financial assistance to States and UTs, through the Project for using modern-day security equipment in Prisons to enhance the security of jails and to facilitate the task of reformation and rehabilitation of prisoners through correctional administration programs.
E-Prisons Project: The E-Prisons project aims to introduce efficiency in prison management through digitization.
Model Prison Manual 2016: The manual provides detailed information about the legal services (including free services) available to prison inmates.
Read: Prison reforms
Challenges of the Prison System
The prison system in India faces several challenges that impact the administration, conditions, and outcomes of incarceration. Some of the key challenges include:
Many prisons in India suffer from severe overcrowding. Overpopulation can lead to poor living conditions, increased tension among inmates, and difficulties in maintaining discipline.
Aging and inadequate prison infrastructure a common issues. Inmates may be housed in poorly maintained facilities with insufficient sanitation, healthcare, and other essential services.
Prisons often suffer from understaffing, leading to difficulties in maintaining order, providing adequate services, and implementing rehabilitation programs.
Limited resources and focus on rehabilitation programs result in a lack of skill development opportunities for inmates. This can hinder their reintegration into society upon release.
A significant number of individuals in prisons are in pretrial detention, awaiting trial. Delayed justice and a backlog of cases contribute to prolonged periods of incarceration for some individuals.
The juvenile justice system faces challenges in providing appropriate facilities and rehabilitation for young offenders. There are concerns about the mixing of juveniles with adults in some prison environments.
Corruption within the prison system, including among staff, can contribute to various issues, including violence among inmates and the smuggling of contraband.
Violations of human rights, including issues related to custodial deaths, torture, and lack of access to legal representation, have been reported in some instances.
Limited educational and vocational training opportunities within prisons can hinder inmates' ability to acquire new skills that could aid their rehabilitation and reintegration into society.
Substance abuse issues among inmates are a concern. Rehabilitation programs for individuals with substance abuse problems may be limited.
Facilities for women and children in prisons may not adequately address their specific needs. There is a need for improved conditions and programs tailored to the rehabilitation of female and juvenile offenders.
Conclusion
Addressing the challenges requires a comprehensive and multi-faceted approach, involving reforms in legal procedures, increased investment in prison infrastructure, emphasis on rehabilitation and skill development, and a commitment to upholding human rights within the prison system.
Efforts are ongoing to bring about positive changes and improvements in the Indian prison system.
The Model Prison Act, of 2023 may be the step that will change the present condition of the prison system in India.
-Article by Swathi Satish