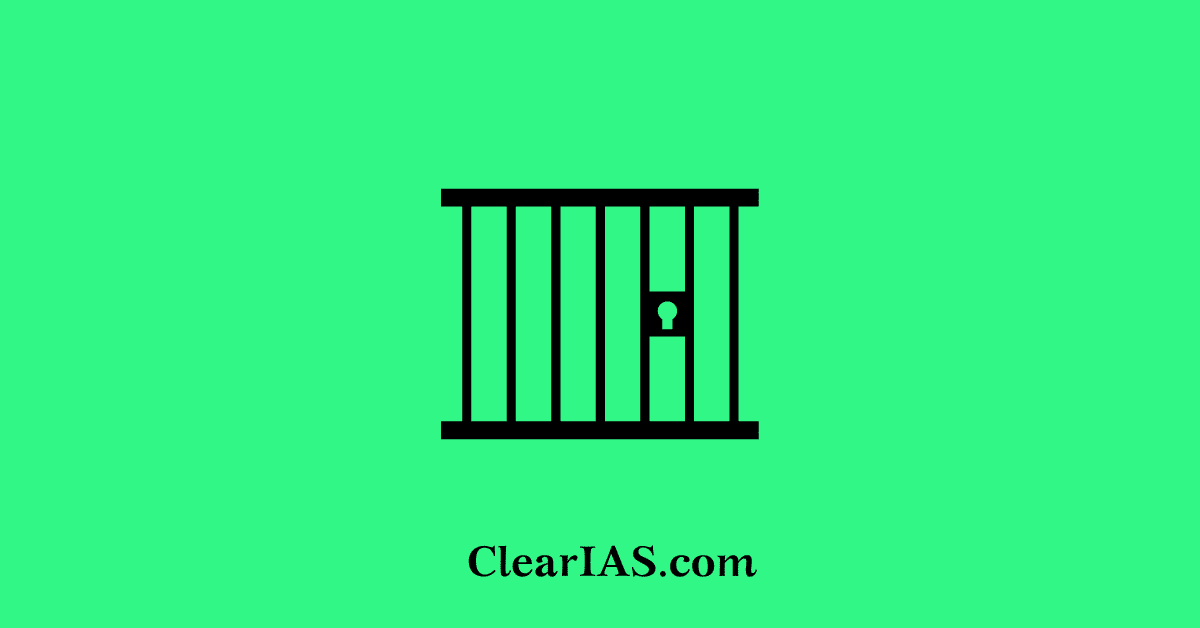 What is the Status and structure of Prison reforms in India? What are the issues related to Prisons in India?? What are the steps taken by the government for the administration of prisons in India? Read further to know more.
According to Entry 4 of List II (State List) of the 7th Schedule of the Indian Constitution, "prison" and the "persons confined inside" are State Subjects.
The respective state governments are responsible for managing and administering prisons. Nevertheless, the Ministry of Home Affairs regularly counsels States and UTs on a range of prison- and inmate-related concerns.
What is the Status of Prison Administration in India?
The administration of prisons is a crucial part of the criminal justice system. In the past century, the way society views convicts has undergone a fundamental shift.
With a shift in the way society views jail and convicts, the previous penal system, which involved forcibly confining inmates and depriving them of their freedoms as a form of punishment, has been altered.
It is now regarded as a correctional or improvement centre, which shows that reforming criminals is given more priority than punishing them.
Structure of the Criminal Justice System in India:
The government organisations that uphold the law, decide on criminal cases and deter illegal behaviour make up the Indian Criminal Justice System. Prison reforms works in connection with this.
There are four of them:

Legislature (Parliament)
Enforcement (Police)
Adjudication (Courts)
Corrections (Prisons, Community Facilities)
Issues Related to Prison in India
Following are some serious issues with the jail system that the Supreme Court cited in the Ramamurthy v. State of Karnataka judgement.
Overcrowding:
India has several overcrowded jails, with institutions built to house a specific number of inmates being crammed to the jails.
The prisoners' resources are impacted by the overcrowding. It primarily has to do with the various prisoner classes.
For instance, it was claimed in 2020 that more than 15,000 offenders were housed in Delhi's Tihar Jail, which has a capacity of about 7,000 inmates.
Under-trials:
Indians make up a disproportionately large portion of those in prison awaiting sentencing.
Additionally, according to National Crime Records Bureau (NCRB)-Jail Statistics India, trial prisoners make up 67.2% of the entire prison population in India, which leads to unusual circumstances where undertrials serve longer sentences than they would have if a trial had taken place.
For instance, 67 percent of offenders in India, 20 percent of criminals in the United States, and 11 percent of criminals in the United Kingdom are awaiting trial.
Pendency of Cases:
According to records from 2022, there are currently over 4.7 billion cases pending in Indian courts at all levels of the legal system.
Shortage of staff:
The prison reforms are really understaffed and underfunded, and this causes violence, a lack of security, and other criminal activity inside jails since there is insufficient oversight.
According to the Prison Act of 1894 and the Prisoner Act of 1900, each jail is required to have a welfare officer and a law officer, but these positions have not yet been filled.
For instance, the ratio of inmates to prison staff in India is roughly 1:7, but in the UK, there are two guards for every three inmates.
One guard was reportedly assigned to every 100 inmates at the Puzhal Central Prison in Chennai, Tamil Nadu, in the year 2020.
Condition of women prisoners:
Women prisoners confront a number of difficulties, including inadequate dietary intake, poor sanitation and hygiene, and certain instances of custodial rape in which victims are pressured to remain silent. In 2018, there were 19,242 women incarcerated in Indian prisons.
Instances of torture and sexual abuse:
Prisoners are occasionally subjected to violent altercations, indignable bodily pain, and cruel psychological torment.
Custodial violence is the "worst type of excesses by public personnel entrusted with the task of law enforcement," according to the National Human Rights Commission. There were 6,623 inmates with mental diseases in prison as of 2018.
Prison inmates living with infectious diseases:
According to case studies done at several jails in India, offenders were exposed to infectious diseases including HIV and tuberculosis while incarcerated, endangering the general public.
Colonial Nature and Obsolete Laws:
The Indian criminal justice system was created with the intention of governing the country during British colonial rule, both in terms of substance and procedure.
Given this, it is questionable if certain rules from the 19th century still apply in the modern era.
Committee and suggestions on Prison Reforms
The following are the various suggestions
All India Committee on Prison Reforms Report (Mulla Committee)
Making proper accommodations for items like clothing, hygiene, food, and ventilation can help the state of jails around the nation.
The personnel at the prison needs to have the proper training and be divided into various cadres. To hire jail staff nationwide, it would make sense to create an All-India Service named the Indian Prisons and Correctional Service.
Regular visits by the public and the media to prisons and other correctional facilities are necessary so that they can learn firsthand about the conditions inside and demonstrate their willingness to collaborate with prison administrators on rehabilitation initiatives.
The number of prisoners awaiting trial should be maintained to a minimal and separated from those who have already been found guilty.
Because undertrials make up a significant proportion of the prison population, their numbers can be reduced through expedited trials and the liberalization of bail provisions.
The government should try to give enough funding and resources for prison reforms.
It was advised that open jails akin to the Sanganer open camp in Rajasthan be established and developed by the government in each state and UT.
It was also advised that lifers with a positive prognosis be sent to semi-open and open prisons.
Recommendations of Law Commission of India in its 268th report of Prison Reforms:
The Commission suggested that persons arrested for crimes carrying sentences of up to seven years in prison be freed after serving one-third of that time and those accused of crimes carrying lengthier sentences be released after serving half of that time.
Additionally, it was advised that the magistrates should not issue mechanical remand orders and that the police should avoid making unnecessary arrests.
Justice Amitava Roy Committee Prison reform recommendations:
Amitava Roy, a former judge of the Supreme Court, will serve as the chairman of the three-person committee that the Supreme Court established in 2018 to study jail reforms nationwide and give suggestions on a variety of issues, including prison overpopulation.
It suggested that special fast-track courts be established to handle only minor offences that had been outstanding for more than five years.
Additionally, those who have been charged with minor crimes and have been granted bail but are unable to secure surety should be freed on a Personal Recognizance (PR) Bond.
Establishing a national mission for legal reforms and justice delivery.
The Krishna Iyer Committee on Prison Reforms
The Justice Krishna Iyer Committee was established by the Indian government in 1987 to evaluate the conditions of women prisoners there.
Due to their special role in dealing with women and child criminals, it has argued for the recruitment of more women into the police force.
The National Expert Committee on Women Prisoners, presided over by Justice V. R. Krishna Iyer, delivered its report to the government in February 1988.
Steps Taken by Government of India for Administration of Prison Reforms in India:
The state governments and various union territories were asked to implement modifications by the Indian government in order to ensure proper implementation of the Measures for Prison Reforms.
Such recommendations have occasionally been made in the prison manuals of various states. The recommendations or measures for prison reform are as follows:
To appoint Review Committees for the under-trial prisoner population at the state and district levels.
To hire part-time or full-time law officers in prison and give legal help to impoverished and vulnerable prisoners
To closely abide by the Code of Criminal Procedure, 1973 rules regarding the allotted amount of time for an investigation and inquiry
Creating a time-bound strategy for enhancing the living conditions of convicts with a focus on water supply, sanitary facilities, and electrical and submitting it to the Ministry of Home Affairs for approval (MHA)
To create a State Board of Visitors to regularly inspect prisons and provide the State Government with a report on their conditions
Conclusion
Since the Mulla Committee, other significant committees have been established to examine the state of prisons in India and recommend reforms, including the Malimath Committee, the Justice Krishna Iyer Committee, and most recently, the Justice Roy Committee (2018).
The reforms haven't been implemented well, though, and the required political will to bring about change isn't evident.
Governments must value and appreciate the potential of prisoners as members of our society who may contribute in the future, given proper correctional and reformative treatment, in order to recognise the value of every human life.
To solve the main problems, structural adjustments are required for Indian prisons, which have been branded as a university for breeding criminals. Otherwise, jails will continue to be both heaven and hell for criminals with connections to the political system and socioeconomically disadvantaged defendants.
Finally, it must be remembered that the problem of prison management and inmate reformation is only a small part of the larger issue of societal recovery.
UPSC Civil Services Examination, Previous Year Question (PYQ)
Q.1 Instances of the President's delay in commuting death sentences has come under public debate as denial of justice. Should there be a time specified for the President to accept/reject such petitions? Analyse. (2014)
Q.2 National Human Rights Commission (NHRC) in India can be most effective when its tasks are adequately supported by other mechanisms that ensure the accountability of a government. In light of above observation assess the role of NHRC as an effective complement to the judiciary and other institutions in promoting and protecting human rights standards. (2014)