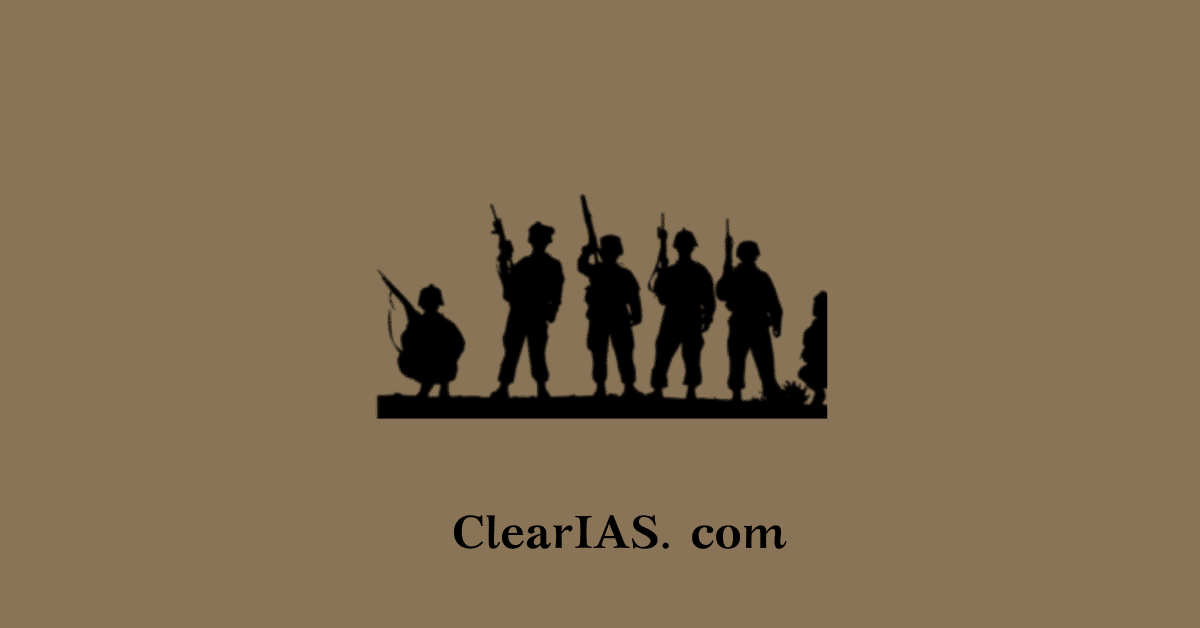 Central Government has approved the scheme – Modernisation Plan-IV for Central Armed Police Forces (CAPFs). What really is CAPF? What are its components? Do they face some issues? Continue reading the article to know more about Central Armed Police Forces and the major reforms that are taking place there.
Domestic problems, illness and financial problems are some of the contributory factors for the suicide of Central Armed Police Force (CAPF) personnel who died during the Covid-19 pandemic years of 2020 and 2021. This sector faces a lot of issues and requires certain reforms.
The government of India has initiated certain reform policies like The "Ayushman CAPF" program to use the Ayushman Bharat PM-JAY IT platform to provide cashless health services to CAPF troops and their dependents.
Let's discuss more on Central Armed Police Forces and the reforms there.
Central Armed Police Forces
The term Central Armed Police Forces (CAPFs) designates the seven central armed police organisations that operate under the direction of the Ministry of Home Affairs.
Components of The Central Armed Police Forces
The Central Reserve Police Force (CRPF), supports counterinsurgency and internal security.
 Central Industrial Security Force (CISF), which guards public sector organisations and crucial infrastructure (including airports).
A specialised counterterrorism group called the National Security Guards (NSG).
The Border Security Force (BSF), the Indo-Tibetan Border Police (ITBP), the Sashastra Seema Bal (SSB), and the Assam Rifles are the four border guarding organisations (AR).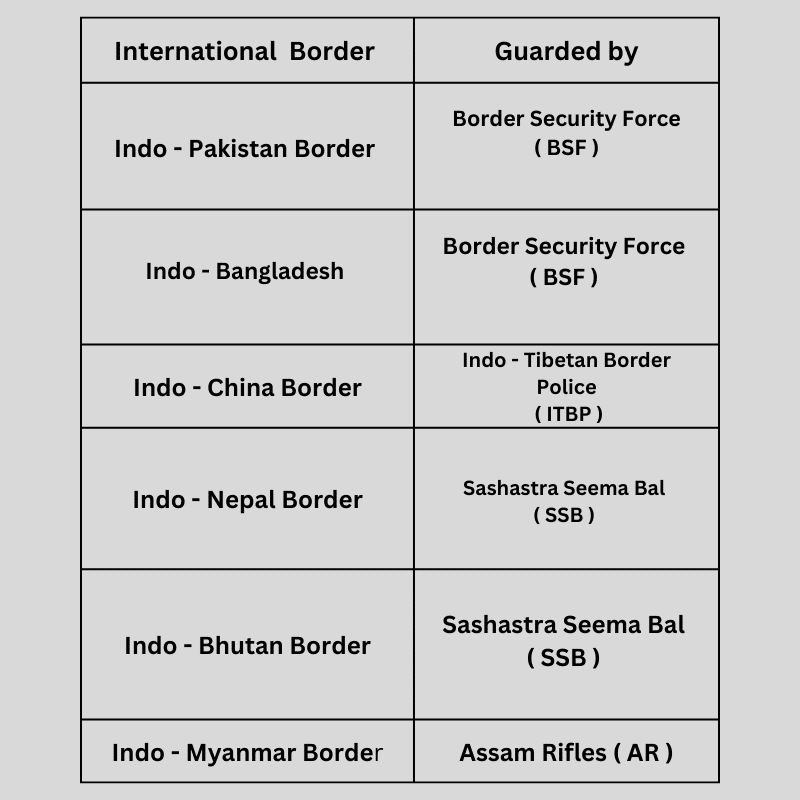 Importance of Central Armed Police Forces CAPFs
When threats of terrorism and Naxalism materialise within the nation, CAPFs are the first line of defence and help in counter-terrorism and insurgency. For instance, CoBRA forces are adept in jungle warfare and guerilla tactics, making them a key component in countering Maoist threats.
Since 1947, nearly all important issues relating to internal and border security have involved paramilitary troops thereby strengthening national peace. For example, the RAF, the CRPF's specialised anti-riot team, was essential in controlling the riots in Delhi in 2020 and saving many people who were trapped inside burning homes.
Functions of  The Central Armed Police Forces
Border Security: Ensure the safety of India's borders and foster a sense of security among those who live near them. To stop any other criminal activity as well as transnational crimes, smuggling, and unauthorised entry into or escape from Indian territory.
Industrial security: Protect vulnerable individuals and sensitive installations.
Additional duties include counter-insurgency operations, anti-Naxal operations, internal security responsibilities, VIP protection, lead intelligence agency, security for diplomatic missions abroad, disaster management, and civic action nodal agency for UN police missions.
Issues associated with CAPF
Security forces are losing members due to direct encounters with terrorists and the lack of technology to find deeply buried mines, especially in LWE-affected areas.
CAPFs offer assistance to the armed forces with manpower, supplies, and intelligence.
IPS officers on deputation hold the top positions in CAPFs. The officers of the CAPFs become demoralised as a result, which reduces the efficiency of the troops.
The lack of a cadre review and the standstill in promotion rates frustrated CAPFs. These cause the highest rates of attrition within the forces.
 Although the armed forces and CAPFs share comparable goals, and conditions of employment, and are occasionally subject to Army functional supervision, there is a significant pay and benefits gap between the two groups. The CAPF members are discouraged by this.
CAPFs' delayed modernisation is addressed through the Modernization Plans, which attempt to financially assist CAPFs in updating their weapons, attire, and equipment. However, the Plan's procurement procedure is laborious and drawn out.
 A lot of CAPF employees are experiencing mental health problems as a result of job dissatisfaction, a lack of advancement opportunities, housing options, permission to take time off, and inadequate medical care. Suicide and fratricide have resulted from this.
CAPFs have grown significantly during the past few decades. But whether it's winter gear or shoes or spare parts for armoured vehicles, their resources, gear, and support system are insufficient.
Lack of a reliable internal grievance procedure. Some CAPF soldiers have been posting complaints on social media and disobeying instructions because the force's grievance process is inadequate.
In 2017, the Standing Committee on Home Affairs voiced concern about the working conditions for border patrol agents. The Committee noted that they had little time for rest or sleep and had to labour 16 to 18 hours a day.
The medical facilities that had been offered at border areas had not pleased the staff either.
The Standing Committee also noted that in terms of pay and benefits, CAPF employees had not received the same treatment as members of the armed forces.
States heavily rely on CAPFs, even for routine law and order problems. In addition to reducing the requirement for training for these forces, this impacts anti-insurgency and border patrol operations.
Modernization Plan-IV of Central Armed Police Forces (CAPFs)
The continuation of the "Modernization Plan-III for CAPFs" concept has received government approval.
The duration is from 2022 to 2026.
The Ministry of Home Affairs will carry out the CAPF Modernization Plan-IV, which would cost Rs. 1,523 crores in total.
It will provide the CAPFs with cutting-edge weaponry and gear in accordance with their operational needs, taking into account their deployment patterns in various theatres. In addition, CAPFs will receive modernised IT solutions.
The scheme's implementation will improve the government's capacity to resolve issues on the international border, the LoC, and the LAC as well as in various theatres, such as places impacted by left-wing extremism and the Union Territories of Jammu and Kashmir, Ladakh and insurgency affected North Eastern States.
Ayushman CAPF program
The "Ayushman CAPF" program's goal is to use the Ayushman Bharat PM-JAY IT platform to provide cashless health services to CAPF troops and their dependents.
At first, it was solely relevant to the state of Assam. It is now valid across all of India.
The programme will cover all CAPF officials, serving members, and their dependents from seven forces. The National Health Authority and the Ministry of Home Affairs collaborated to create the programme.
The programme will replace the paper-based manual procedure of claiming healthcare benefits with a paperless service on MHA's IT platform, which is one of the program's distinguishing features.
Suggestions for Reforming CAPF
The infrastructure and curriculum at CAPF training facilities urgently need to be updated. A blend of traditional subjects and modern technologies, such as IT, cyber security, and cybercrime, should be covered in training.
States must create their own systems and provide their police forces with the necessary tools and training should increase their capacity. By offering financial aid and other forms of support that states require for the capacity building of their forces, the federal government should support the efforts of the state governments.
Corrective Measures should be adopted in Cadre Policy. The Joshi Committee advised that high positions be filled from the appropriate cadre of the CAPF, citing the discontent with the Cadre policy. The Committee also suggested that a timeframe be established for the cadre reviews of all CAPFs.
Government should improve CAPF's infrastructure capabilities in areas like AI, cyber security, drones, and other technologies through technology infusion. Private enterprises and research institutions like DRDO should be supported for this.
Procurement bottlenecks should be located and fixed. Negotiations between the Ministry of Home Affairs and CAPFs and ordnance factories and manufacturers, whether in the public or private sector, are necessary to guarantee a continuous flow of supplies for tools and other infrastructure.
The organisational structure should be reformed. Top posts should be filled from each CAPF's particular cadre, and all CAPFs should have their cadres reviewed within a set timeframe.
Stress management initiatives like Yoga and meditation should be incorporated into the daily exercise routine for CAPF personnel, and workshops on stress management should be conducted on a regular basis.
It is important to offer to house close to the deployment of the relevant force so that personnel can visit with their families. To do this, the Ministry of Home Affairs and CAPFs should have frequent meetings with state governments and expedite the allotment of land for building CAPF personnel's homes.
 Information exchange across agencies should be synchronised, and there should be no delays in acquiring intelligence. Furthermore, the hiring of staff should be left up to the discretion of the organisations involved in intelligence collecting.
States must create their own systems and appropriately equip and train their police forces. By offering financial aid and other forms of support that states require for the capacity building of their forces, the federal government should support the efforts of the state governments.
Even in the farthest reaches of the nation, CAPF members provide a veneer of government administration. Their broad experience can be used for the benefit of the country. However, it is important to address the underlying problems that prevent CAPFs from operating effectively.
Article Written By: Atheena Fathima Riyas