How Mountains are formed? How can they be classified? What is the Significance of Mountain Ranges? Read further to know more.
A mountain is a landform that sharply protrudes above its surroundings and has notable local relief, steep slopes, and a tiny peak region. It's common knowledge that mountains are bigger than hills.
Nearly 27% of the world's land surface is covered by mountains. 80% of the planet's fresh surface water comes from mountans.
Mountains can be divided into a wide variety of categories according to, their time of origin, their height and how they formed.
Classification on the Basis of Mode of Origin
These were created as a result of the tectonic plates colliding and bending as a result of large-scale plate movements.
There are further classified into :
Block mountains
Fold mountains
Dome mountains
Mountains of Accumulations
Circum-erosional/Relict
Block Mountains
Block Mountains are also formed by the internal or endogenic earth movements which cause the force of tension and faulting.
The down-lifting or uplifting of land in between two parallel faults results in the formation of Block Mountains.
A block mountain is also called a Horst and the rift valley formed as a result of faulting is called Graben.
Higher blocks are referred to as horsts, and troughs as grabens.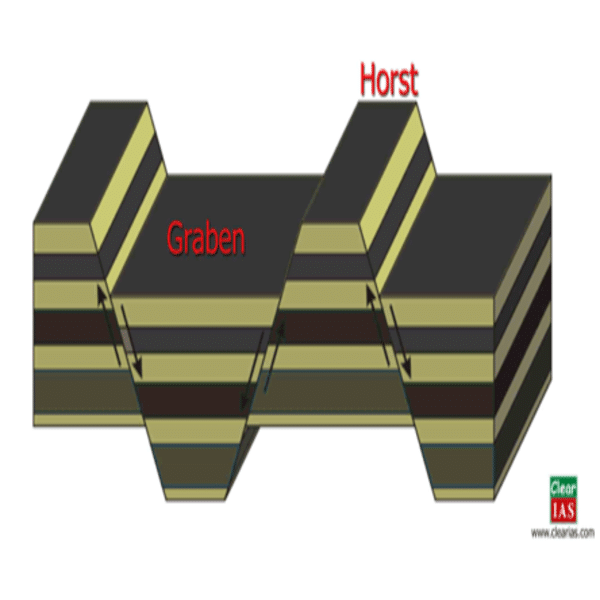 Examples include the Rhila Rhodope Mountain Range, Satpura Range, Sierra Nevada Range, and Vindhya Range.
Fold Mountains
Large-scale tectonic plate collisions cause folding and subduction of land, which leads to the formation of fold mountains.
They are formed due to the force of compression arising from endogenic or internal forces.
Synclines (trough) and anticlines (crest) are part of the Fold Mountains.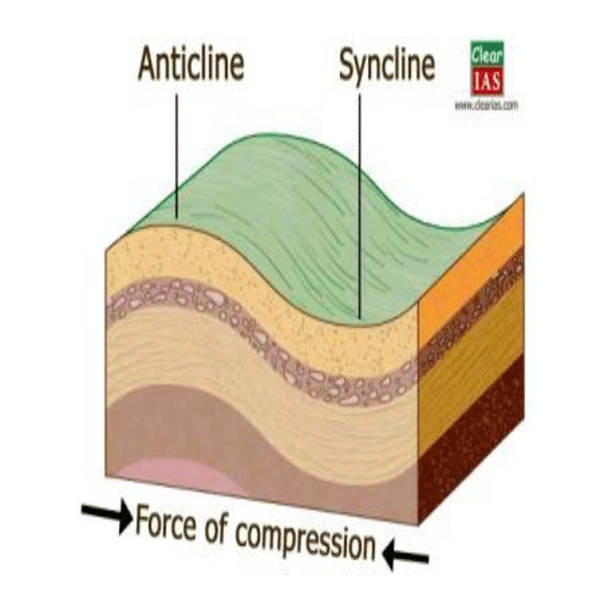 The Himalayas, Rockies, Andes, Balkan, Jura Mountains, and Zagros are the most prominent fold mountains of the world.
Rocks that formed under intense pressure and at low temperatures, such as sedimentary and metamorphic rocks, make up the majority of fold mountains.
Many fold mountains develop when a layer of ductile minerals, like salt, is underlain.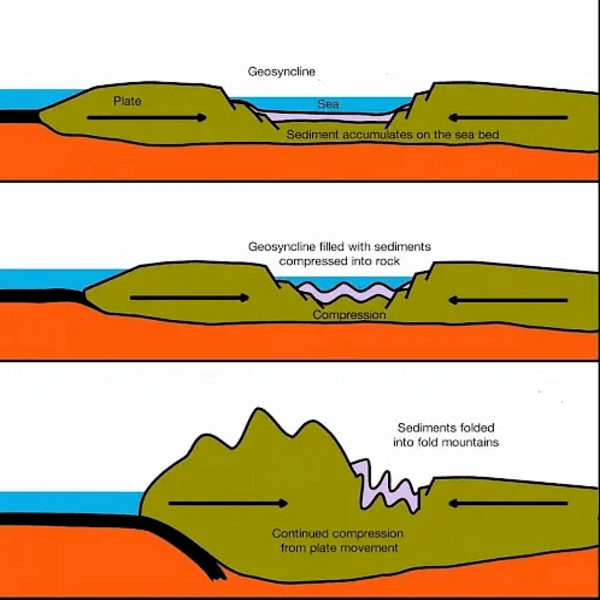 Mountains Dome
These are created when the top sedimentary rock layers are forced upward by the hot, molten material (magma) emerging from the Earth's mantle into the crust.
They consequently take the shape of a "dome."
Magma rarely reaches the Earth's surface here, unlike a volcano.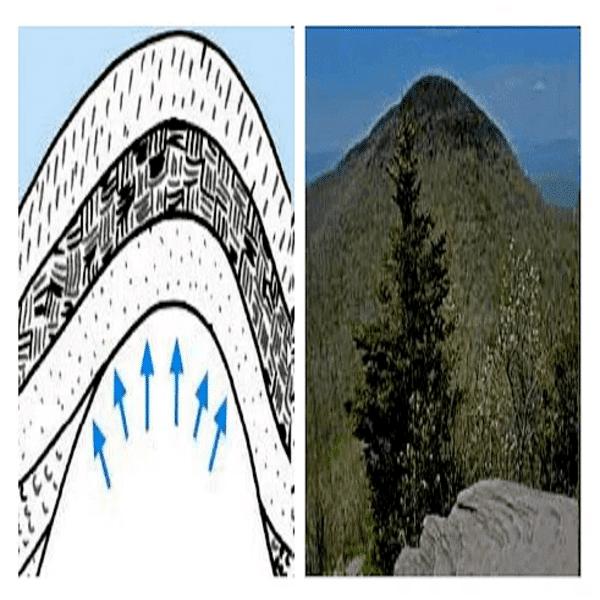 Mountains of Accumulations (Volcanic Mountains)
The accumulation of volcanic material creates volcanoes, sometimes referred to as Mountains of Accumulations.
The thrown-out volcanic debris settles in the form of a mountain range around the crater.
A flatter cone with a lower elevation and a softer slope results from thin, simple-composition lava spreading across a vast area.
If the composition is thick and acidic, the result will be a little volcanic cone that protrudes abruptly.
Sometimes the lava is sent out along with ash.
Mount Mauna Loa on the Hawaiian Island of Hawaii, Mount Popa in Myanmar, and Fujiyama in Japan are examples of it.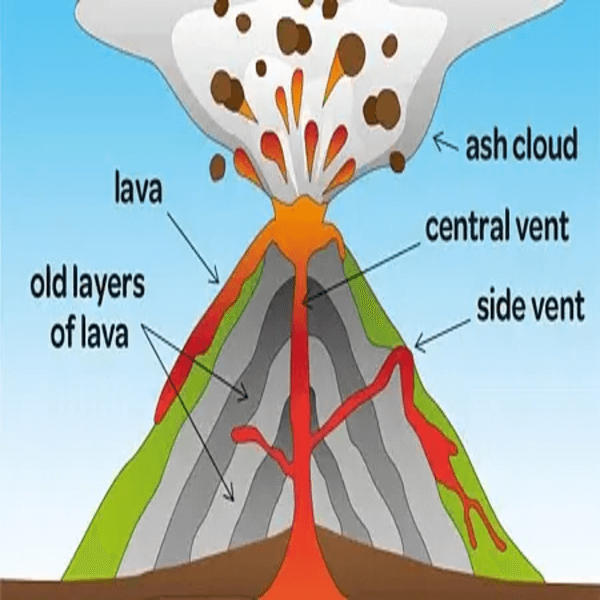 Circum-erosional/ Relict /Residual Mountains
These are the exposed remains of ancient fold mountains caused to denudation (strip of covering).
These can also develop from plateaus that have been eroded into hills and valleys by rivers.
These can be found in India on hills like the Nilgiri, Palkonda, Parasnath, and Rajmahal, as well as on mountains like the Aravalli, Vindhya, and Satpura.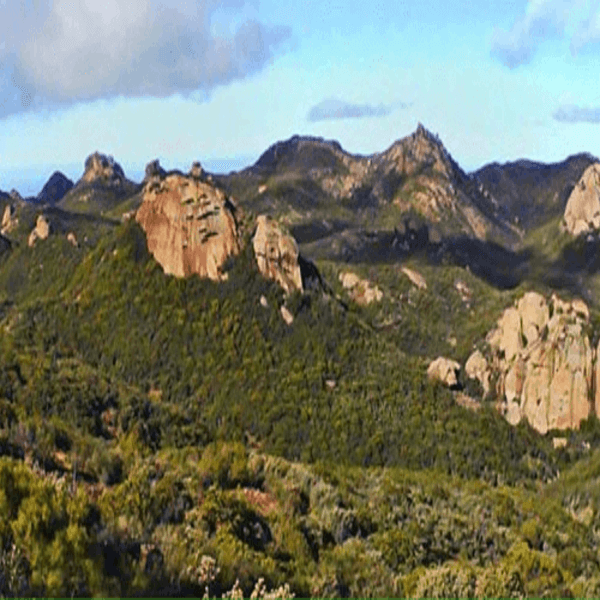 Classification on the Basis of Period of Origin
Nine orogenic movements have taken occurred altogether to date.
Some of them took place in the Precambrian era, between 600 and 3,500 million years ago.
The three most recent orogenies are the Caledonian, Hercynian, and Alpine.
Pre-Cambrian Mountains
The Precambrian era, which lasted more than 4 billion years, is when these mountains first appeared.
The rocks have been metamorphosed, denuded, and uplifted.
As a result, the relics resemble residual mountains.
Algoman and the Laurentian mountains are two examples of this.
Caledonian Mountain
Massive orogenic activities and associated tectonic movements throughout the late Silurian and early Devonian periods led to the formation of the Caledonian Mountains, approximately 430 million years to 380 million years ago.
Examples include the Appalachians, Aravallis, Mahadeo, and others.
Hercynian Mountains
The Carboniferous and Permian periods are when these mountains first appeared in Europe, approximately 340 million years and 225 million years ago.
The Altai, Asia's Tien Shan, The Vosges, Black Forest Mountains, and the Ural Mountains are only a few examples of them.
Alpine Mountains
The Alps, which span over 1,200 kilometres across Eight Alpine nations—France, Switzerland, Monaco, Italy, Liechtenstein, Austria, Germany, and Slovenia—are the highest and broadest mountain range system in all of Europe.
These were created by the collision of the African and Eurasian tectonic plates tens of millions of years ago.
Extreme shortening brought on by this event caused marine sedimentary materials to shove and fold into high peaks like the Matterhorn and Mont Blanc.
Classification on the Basis of Height
On the basis of height, mountains can be classified as:
Low Mountains
Low mountains are those that are less than 700 metres high.
Mount Chimneytop in Tennessee, USA is an example..
Rough Mountains
Between 1000 and 1500 metres high is called Rough Mountains.
Australia's Mount Donna Buang is an excellent example of this.
Rugged Mountains
Mountains that are rough range in height from 1500 to 2000 metres.
India's Agastya Mala is an illustration of a rugged mountain.
High Mountains
The high mountains, as their name implies, are often higher than 2000 metres.
Kanchenjunga is a typical example for this.
Classification on the Basis of Location
On the basis of location, mountains can be classified as:
Coastal Mountains
Coastal refers to everything that is in the water or on land that is close to the coast. As the name suggests, coastal mountains are ones that are close to a coastline.
Examples include the Rocky, Appalachians, The Alpine  Ranges, The Western Ghats, and The Eastern Ghats.
Inland Mountains
The mountains that are landlocked are known as inland mountains.
They make up the majority of the mountains we come across.
Examples include The Vosges and The Black Forest in Europe, The Kunlun, Tienshan, and Altai ranges in Asia, and The Urals in Russia.
The Aravallis, Himalayas, and Satpura are a few examples of this.
Oceanic Mountains
Oceanic mountains are those that are found on oceanic and continental shelves.
If mountains were measured from the ocean floor, Mauna Kea (9140 m) would be the highest peak. It is a dormant volcano in the volcanic chain of Hawaii.
Significance of Mountains
Following are the significance of mountains:
 A storehouse of natural resources
Large resources of minerals like petroleum, coal, and limestone are found in mountains. The mountains are the main source of timber, lac, medical herbs, etc.
Act as Water Towers
Mountains are referred to as "water towers" because they act as significant headwaters for several rivers and other freshwater sources.
Snowmelt produces streamflow, which eventually finds its way into streams, rivers, lakes, and oceans, where it becomes fresh water. Rehydrating aquifers is another use for this meltwater.
Source of Freshwater
Perennial rivers, which originate in the snow- or rain-covered mountains, are regarded as a crucial source of water. They also perform a variety of functions, including providing water for local residents and aiding with agriculture.
Formation of Fertile plain
When rivers emerge from high mountains, they convey water to lower valleys along with silt. This is in charge of creating fertile plains and supporting operations related to agriculture.
Control Speed of Wind
They aid in reducing the wind's velocity. The wind blows up the steep slopes, carrying air and clouds with it. As the air pressure keeping them in increases, warm, moist air masses travel up and over a mountain swell.
Natural Political Frontiers
The mountains can also act as natural boundaries between the two countries. They have a prominent role in protecting the country from external threats.
Effects on Climate
They serve as a climatic divide between two adjoining regions. The mountains cause orogenic rainfalls, diversion, and blocking of cold winds, etc.
Major Tourist Destination
The climate, pure air, distinctive flora and fauna, scenic beauty, local culture, history, and tradition, as well as the opportunity to experience snow and engage in winter sports, are just a few of the factors that make mountain regions attract tourists.
Conclusion
One-fifth of the world's area is made up of mountains, and at least one-tenth of all people live there. 26.5 per cent of the continental land area of the earth is made up of mountain ranges. 197 of the 237 countries in the world have mountains. In terms of biodiversity, water, clean air, research, cultural variation, recreation, landscape, and spiritual aspects, mountains are highly valued.
To get more Geography Notes Click Here
Article written by: Aryadevi E S