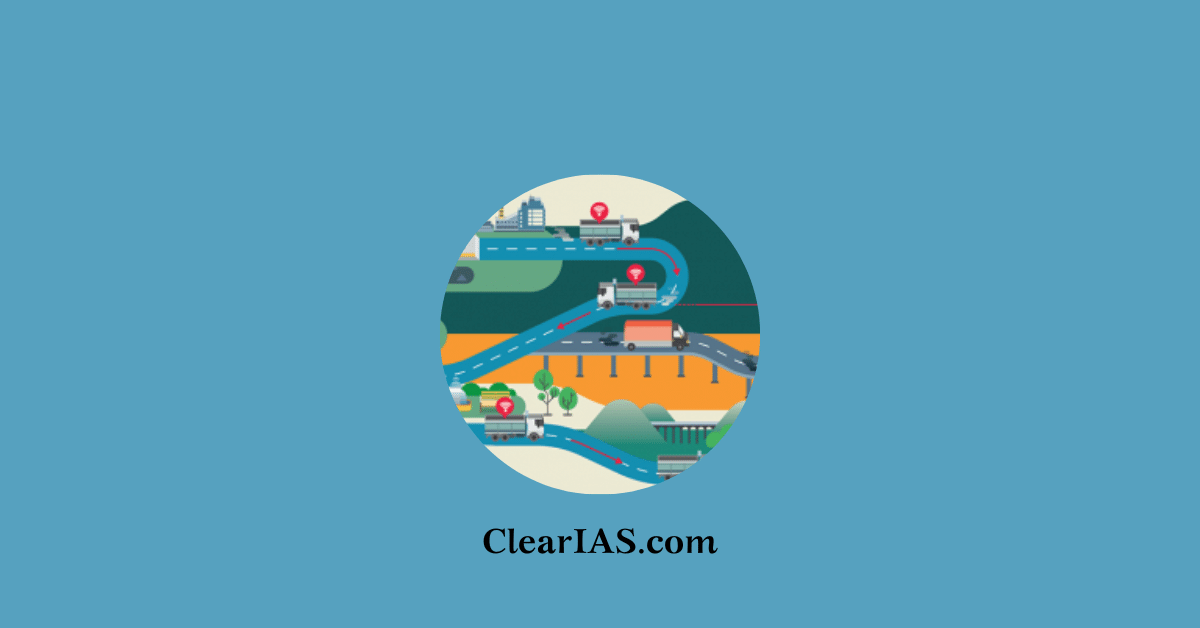 The projected Multi Modal Logistics Parks (MMLP) under the Bharatmala scheme are subject to a 45-year concession period, which the government recently expanded for 30 years. What are Multi-Modal Logistics Parks (MMLP)? What is its focus? How is it designed? Read further to read about Multi Modal Logistics Parks.
A government program called Multi-Modal Logistics Parks (MMLPs) aims to create these parks throughout the nation's many logistics hubs.
The National Highways Authority of India and National Highways Logistics Management Limited, both part of the Ministry of Road Transport and Highways (MoRTH), are in charge of the initiative (NHAI).
Multi-Modal Logistics Park
The upgraded version of a logistics park, MMLP offers a variety of value-added services in addition to rail and road transportation. Nowadays, supply management is a widely recognised concept that goes by various names across the globe. India has never before had a comprehensive strategy for creating logistic parks.
The MMLPs was designed to provide several capabilities, including freight gathering and distribution, and to provide seamless intermodal freight transportation. Users will also receive value-added services including custom clearances and IT services, as well as storage and warehousing solutions.
About Multi-Modal Logistics Park
The MMLP will combine several types of freight transportation through highways, railroads, and inland waterways. It was developed using a "Hub and Spoke" paradigm. To enhance the nation's freight logistics industry, these MMLPs will be created using a hub-and-spoke network, which connects every location through a single intermediary point known as a hub.
The development of the MMLP is anticipated to have a major positive impact on the transportation industry. These include decreased warehousing expenses, decreased traffic congestion and pollution, improved tracking and traceability of transit shipments, and lower overall freight prices.
Through interventions in infrastructure, procedures, and information technology, all of these are feasible in various ways. The MMLPs also offer auxiliary services including storage, warehousing options, value-added services like custom clearances, and IT services.
A one-stop shop for all services linked to cargo movement, such as warehousing, customs clearance, parking, truck repair, etc., the Multi-Modal Logistic Park project is prepared to construct cutting-edge large-scale warehouse facilities for all types of commodities.
It will feature all the necessary amenities, including warehouses, rail sidings, cold storage, a customs clearing house, yard space, workshops, gas stations, truck parking, office space, boarding houses, restaurants, a water treatment facility, etc.
Focus of MMLP
The MMLPs' deployment of a cutting-edge freight management system will be driven by technology. These projects will include many value-added services, including packaging, repackaging, and labelling. Along with other related facilities, MMLP will be a freight-handling facility for automated material handling and value-added services.
Design of Multi-Modal Logistics Parks
In October 2017, the Cabinet Committee on Economic Affairs (CCEA) gave MoRT&H permission to build 35 Multi-Model Logistics Parks (MMLP) across the nation. These 35 MMLPs, which are being implemented by MoRTH, will be made using the Design, Build, Finance, Operate, and Transfer (DBFOT) model of Public Private Partnership (PPP).
The majority of the projected MMPLs will be built through public-private partnerships (PPPs), according to the National Highways and Logistics Management (NHLML), an SPV that is completely owned by the National Highways Authority of India (NHAI). The funding strategy for the parks will be 50:50.
A total of 35 multi-modal logistics parks with a capital budget of Rs 50,000 crore are planned for the country. The 35 MMLPs being planned are at North Gujarat, Jaipur, Kolkata, Ambala, Jagatsinghpur, Nashik, Kota, Panaji, Hisar, Visakhapatnam, Bhopal, Sundargarh, Bhatinda, Solan, Rajkot, Raipur, Jammu, Kandla, Cochin, Delhi-NCR, Bangalore, Indore, Mumbai, Hyderabad, Coimbatore, Pune, Surat, Sangrur, and Delhi-NCR.
For the quick creation of contemporary Multi Modal Logistics Parks (MMLP), the Government of India recently signed a tripartite agreement under Bharatmala Pariyojna.
A tripartite agreement under Bharatmala Pariyojna
The goal is to consolidate freight centrally and lower logistics spending from 14% of GDP to less than 10%, in line with international standards.
The Inland Waterways Authority of India (IWAI), National Highways Logistics Management Limited (NHLML), and Rail Vikas Nigam Limited inked the trilateral agreement.
It is a 100% publicly owned company that reports to the Ministry of Railways.
The agreement highlights the three organisations' concepts of collaboration and cooperation for achieving efficiency in domestic logistics movement.
By ensuring that cargo is switched/shifted from and to waterways, dedicated freight corridors, and road transport, it will provide a seamless modal shift.
MMLP advantages
The government hopes to lower logistic expenditures from the present 14–16% of the nation's gross domestic product (GDP) to roughly 9% with the 53 MMLPs that are planned overall.
Additionally, it believes that these mega logistic parks would result in the development of manufacturing or assembly clusters close to these facilities, which will significantly reduce the expense and duration of freight transportation.
The programme also emphasises on the effectiveness of freight and passenger transportation across the nation by filling up important infrastructure gaps with practical solutions like economic corridors and multi-modal integration using roads, logistic parks, ports, and ropeways among others.
In addition to offering effective trans-shipment and processing facilities, the series of MMLPs has a complete plan in place to meet every aspect of the logistics industry.
Need for  the MMLPs
The Asian Development Bank (ADB) claims that India's logistics industry is less efficient and more expensive than that of other nations. As a result, the economy's general efficiency has decreased, and the cost structure of all commodities has climbed.
Road freights are more expensive in India than in other nations, yet freight vehicle average speeds are around 50% to 60% slower. According to the ADB, the following variables have a negative impact on freight movement in India.
A skewed mix of modes of transportation. 60% of freight in India is transported by road, which is a much higher percentage than in many other economies. Inland rivers and coastal transport are still in their infancy
Despite being 45% less expensive per ton-km than roads, rail transportation is only negligible because of unfair pricing and rake booking practises, as well as a lack of intermodal infrastructure to facilitate the simple transfer.
Infrastructure for material handling is underdeveloped. Due to the prevalence of several tiny, private, disorganised warehouses that offer little to no value-added services, the warehousing environment is very disorganised.
In contrast to more efficient line haul freight, more point-to-point freight movement on smaller trucks occurs when logistical hubs are not present to serve as zones for freight consolidation and disaggregation.
Ineffective and outdated service model.
Efficiency is also hampered by the fact that many businesses compete on the basis of hiring low-skilled labour at low salaries, forgoing investments in information technology and equipment technology, and thereby giving up productivity increases and service quality.
The institutional and governmental structure is fragmented. Different ministries presently oversee various facets of the logistics value chain. Leading nations with efficient logistics, including Malaysia, Germany, Japan, and the Republic of Korea, adopt a fully integrated approach to logistics, and the government coordinates control of the entire logistical value chain.
Conclusion
Costs associated with logistics are now more precise than they were before the deregulation of diesel pricing. Numerous programs, like Bharatmala and Sagarmala, aim to enhance the nation's logistics industry. Creating specialized freight corridors, such as the east-west and north-south Dedicated Freight Corridors. GST implementation, which resulted in a decrease in regulatory compliance.
This would guarantee a change in the location of the warehouse facilities and lower the cost of transportation. The manufacturing industry, which is heavily dependent on transportation, is the focus of the Make-in-India initiative.
Article Written By: Atheena Fathima Riyas