A village named as Neduvasal in Pudukkottai district in Tamil Nadu is recently in the news headlines. The reason being the launch of a hydrocarbon project. In this post, we cover everything you need to know about Neduvasal Hydrocarbon Project controversy and policies like Discovered Small Field Policy, NELP, and HELP.
What is a Hydrocarbon Project?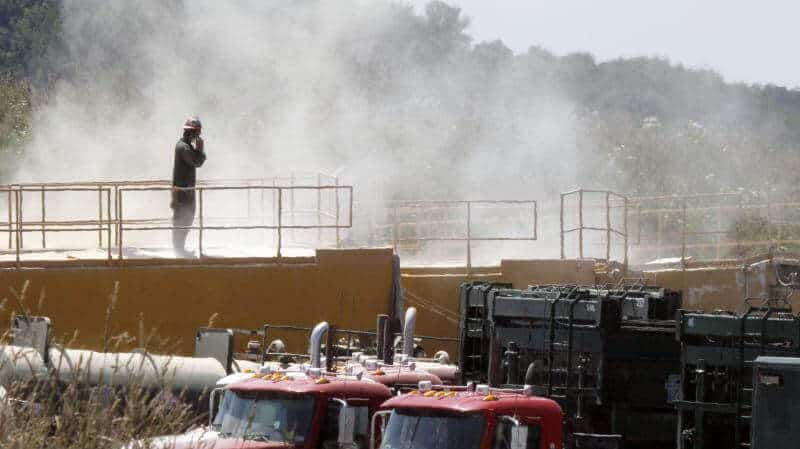 In organic chemistry, a hydrocarbon is an organic compound consisting entirely of hydrogen and carbon.
Hydrocarbon exploration (or oil and gas exploration) is the search or hydrocarbon deposits beneath the Earth's surface, such as oil and natural gas.
What is Neduvasal Hydrocarbon Project Controversy?
The central government is planning to extract the hydrocarbon (oil and natural gas) in Neduvasal village in Pudukkottai district, Tamil Nadu.
Many villagers are protesting against the proposed Hydrocarbon project.
Their fear is due to the possible impact the project can result in the village life and agriculture.
Similar to Jallikattu Ban, this protest is also getting momentum.
Neduvasal Hydrocarbon Project: The Background
The Cabinet Committee on Economic Affairs chaired by Prime Minister on February 15, 2015, gave its approval for all the hydrocarbon projects including Neduvasal Hydrocarbon Project as a part of the Centre's 2015 'Discovered Small Fields policy'.
The two contract areas, Karaikal (10.4 Sq km) located in Puducherry and Neduvasal (10.0 Sq km) located in Tamil Nadu were awarded under Discovered Small Field (DSF) bidding round.
They have an in-place volume of 4,30,000 metric tons of oil and oil equivalent gas.
The proposed Hydrocarbon Project at Neduvasal village in Pudukkottai district was recommended for award to GEM laboratories Private Limited, a company based out of Davangere in Karnataka for extracting both oil and natural gas from hydrocarbon sediments in an area of about 10.0 sq km.
What is Discovered Small Field Policy?
The Cabinet Committee on Economic Affairs chaired by the Prime Minister Shri Narendra Modi (CCEA) has approved the award of 31 contract areas as part of the Discovered Small Field (DSF) Bid Round 2016.
The contract was for 44 oilfields (in 31 contract areas), including 28 on-land and 16 offshore fields discovered by Oil and Natural Gas Corp. (ONGC) and Oil India Ltd (OIL)
These fields were offered under the new policy for small fields known as Discovered Small Field (DSF) policy, 2015, which offers improved fiscal terms with the aim to enhance Oil and gas production and reducing import dependency of the country.
These fields were offered through a transparent international competitive bidding process. And the bidding was open to all, including National Oil Companies (i.e. ONGC and OIL) and other central and state PSUs.
The Hydrocarbon Exploration and Licensing Policy (HELP) replaced the previous licensing format (NELP) which was already in place for 18 years.
The New Exploration Licensing policy (NELP) had issued separate licenses to different types of hydrocarbons, whereas HELP covered all hydrocarbons such as oil, gas, coal bed methane, etc.
Currently, there are three Operational Exploration Blocks (Approximately 1461 sq km), under Production Sharing Contract System in Tamil Nadu where hydrocarbon exploration is going on.
Under the Nomination regime, 31 Mining leases (approximately 3500 sq km) have been granted in the State from where 600 tonnes of Oil and 30 lakhs cubic meter of Natural Gas are produced per day.
Till date, more than 700 wells have been drilled for extraction of Oil and Gas in the Tamil Nadu.
Neduvasal Hydrocarbon Project: Who are the protestors?
The villagers along with students, environmental activists, and farmers of Neduvasal, resorted to fast at four centers across the district as a protest against the upcoming Hydrocarbon project.
The movement got momentum when it attracted several people from the nearby villages to voice their support for the cause of the farmers.
The protest got support from social media.
Residents of Vadakadu, where ONGC had sunk an exploratory well but abandoned the project, joined the protests.
Political leaders and film personalities like Samathuva Makkal Katchi leader Sarath Kumar, film directors Pandiraj and Thangar Bachan, DMK MLAs C. Ve. Meyyanathan, S. Ragupathy, and Durai Chandrasekaran expressed their wholesome support to the protest.
The state had witnessed similar protests in Thanjavur and Tiruvarur districts in the Cauvery Delta region from 2011 against the coal bed methane and shale gas extraction project— for extracting methane gas using hydraulic fracturing— leading the Centre to scrap the project in November 2016.
Neduvasal Hydrocarbon Project: What is the mode of protest?
A large contingent of students from Chennai, Erode, Namakkal and Pudukkottai districts took part in a fast at Neduvasal village.
Similar fasting protests were held in Thilagar Thidal, Nallandarkollai and Kottaikadu villages.
A group of activists from 'Thaneer' (an organization based in Tiruchi) taken out a bike rally to Neduvasal to express their opposition to the project. But they were arrested by the police before reaching the destination place.
Neduvasal Hydrocarbon Project: What are the reasons put forward by the protestors?
This hydrocarbon project would pose severe environmental problems and adversely affect the livelihood of farmers in and around Neduvasal.
The farmers also claimed that the fertility of the land will be affected.
There is also apprehension regarding the lowering of ground water level.
The displacement of habitation of the people in the village.
The villagers also fear that this project may disturb the interface of the seawater and groundwater that may later on results in the intrusion of saline water to the fresh water sources.
There may be no agricultural activity while the hydrocarbon exploration is on. The villagers in and around Neduvasal are completely dependent on agriculture for their livelihood and this may seriously affect their life pattern.
The government didn't have any information related to the exact location of hydrocarbon exploration and there is no clarity in how the crude oil will be extracted.
What are the possible advantages of Neduvasal Hydrocarbon Project?
This is a major step towards self-sufficiency in the crude oil production.
The Government of India aims to use the Hydrocarbon Exploration and Licensing Policy (HELP) to reduce India's crude imports by 10% by 2022.
It aims to net revenue of Rs 9,300 crore from this project out of which the state is expected to get Rs 5,000 crore.
This project is believed to pass economic benefits to the State and its people in the form of royalty, VAT, additional employment generation and economic development as per the petroleum ministry.
The extraction of Oil and Gas from sub-surface is a well-established practice and the Exploration and Production industry uses state-of-the-art technology for the operations and takes maximum care for environmental effects.
The operators also get Environment Impact Assessment is done before carrying out any drilling activities and other activities.
The process of drilling and production requires very limited surface land area (120X120 square meters) which will not affect agriculture or the soil of the entire lease area.
Additionally, operators are required to follow strict environmental norms for the use of operational land.
The oil and gas extraction is being carried out from deeper earth area (more than 1000m) and thus doesn't affect ground water aquifers which are located at much shallower levels.
Hydrocarbon extraction method is being used worldwide which has not seen any direct impact to water resources of the mining area.
And while drilling for oil and gas, cement casing is used; hence, there is no impact on groundwater as such.
Summary
Neduvasal, a fertile village of the Cauvery delta bordering Pudukottai and Thanjavur districts, is one of the 31 contract areas of small fields where exploration of hydrocarbons is to be taken up as per a recent decision of the Cabinet Committee on Economic Affairs.
Villagers claim that no information had been given to them on the project so far. They are apprehensive that the project would lead to a depletion of the water table and deprive them of their livelihood.
Chief Minister Edappadi K Palaniswami's gave assurances that any project which negatively affects farmers would not be allowed in the State.
Article by: Priyanka Sunil