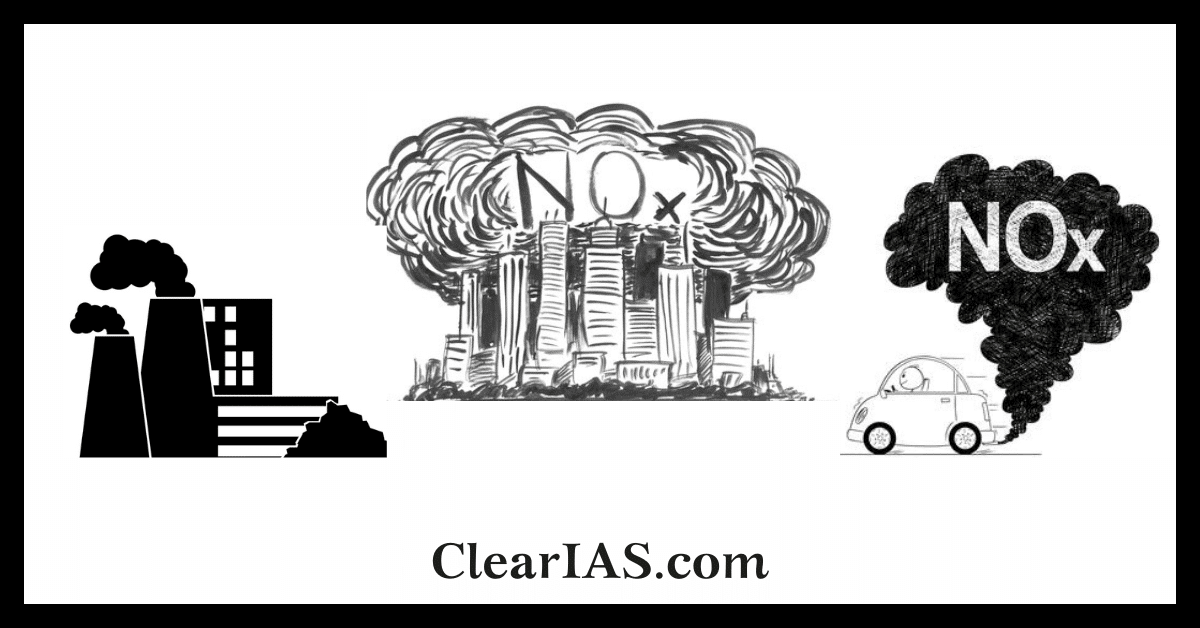 What is Nitrogen Pollution? What are the causes of Nitrogen Pollution? What are the steps taken by the government? Read more about this topic.
Nitrogen is essential for life, right?
However, the excess nitrogen pollution has huge consequences on humans and the environment.
It is 300 times more potent than CO2 as a greenhouse gas besides its negatives effects on air quality and the ozone layer.
Let's discuss all about Nitrogen Pollution.
What is Nitrogen Pollution?
78% of the air on Earth is composed of nitrogen, which is regarded as an inert gas.
The fact that nitrogen is a necessary ingredient for plant growth and the life of many different organisms on Earth is of utmost importance.
However, when it is present in excess in the natural environment, it becomes a problem and is essentially what causes nitrogen pollution.
Nitrogen pollution is the term used to describe the harm that excess nitrogen and nitrogen compounds, such as nitrous oxides, nitrogen oxide, and ammonia, do to the environment, wildlife, and human health.
Importance of Nitrogen
Nitrogen is a naturally occurring element that is necessary for both animal and plant growth and reproduction.
Agriculture is the main source of nitrogen pollution in India followed by Sewage and organic solid wastes.
Due to its huge cow population and extensive fertilizer use, India has the highest ammonia concentration in the world.
Nitrogen emission in India
NOx emissions grew by 52% from 1991 to 2001 and 69% from 2001

to 2011 in India.

Agriculture is the largest contributor to nitrogen emissions.

Sewage and the burning of fossil fuels for transportation, industry, and power generation were leading the trend in the rapidly increasing non-agricultural emissions of nitrogen oxides and nitrous oxide.

The United Nations (UN) has added a chapter on nitrogen pollution to its 2019 edition of the annual Frontiers Report.
It emphasizes how rising demands on the livestock, agricultural, transportation, industrial, and energy sectors have caused a dramatic rise in the quantities of reactive nitrogen in our ecosystems, including ammonia, nitrate, nitric oxide (NO), and nitrous oxide (N2O).
According to the report, nitrogen pollution costs the global ecosystem and healthcare systems over $340 billion annually.
Causes of Nitrogen Pollution
Nitrogen Pollution are caused by fossil fuels, stormwater, waste water treatment, fertilizers, food and wastewater. And vehicular pollution is also a cause of nitrogen pollution.
1. Nitrogen from food and wastewater: An enormous amount of nitrogen-rich waste is generated during the food supply and production cycle by both people and animals.
2. Stormwater: When rain or snow falls on our cities and towns, it runs through hard surfaces like sidewalks, roads, and rooftops and dumps pollutants into nearby waterways, including nitrogen and phosphorus.
3. Fossil Fuels: Through the usage of fossil fuels, nitrogen levels in the atmosphere have increased in the production of electric power, industry, transportation, and agriculture.
4. Wastewater treatment: Facilities that do not specifically remove nitrogen can also lead to excess levels of nitrogen on the surface or groundwater.
5. Nitrous oxide emissions from fertilizer use: When used in excess, nitrogen fertilizers can be oxidized and lost to the air as nitrous oxide.
6. Vehicular pollution: mostly as a result of trucks, tempos, and other diesel-powered cars. The effects of cleaner fuel and pollution technology are countered by these automobiles.
Impact of Nitrogen Pollution
Impacts of nitrogen pollution includes acid rain, abnormal growth of algae on water bodies, deterioration of soil microbes and acidification, intensifying the greenhouse effect, leads to photochemical smog, decrease in biodiversity level, groundwater pollution, high cost of water treatment etc.
1. Acid Rain
During precipitation, surplus nitrogen oxide compounds and sulphate oxides mix with oxygen molecules and other atmospheric components to produce acid rain.
Infrastructure as well as cattle, plants, aquatic plantations, and animals are all harmed by nitric acid rain.
2. Abnormal growth of algae on water bodies
Nitrogen pollution often results in Eutrophication – the abnormal growth of algae on water bodies.
Algae produce harmful neurotoxins that are harmful to livestock, aquatic animals, and humans.
There is a higher danger of respiratory illnesses and other potentially life-threatening problems including cancer when people consume fish and other aquatic creatures that have eaten algae.
3. Deterioration of soil microbes and acidification
The PH of the soil can be either acidic or alkaline depending on the kind of fertilizer applied.
Due to their advantages for the expansion of plants, nitrogen-based fertilizers are one of the most popular choices for farmers.
The excess nitrogen that plants cannot absorb slowly leaches out through water runoffs.
Ammonium-based fertilizer products generate high levels of acidity in soils.
Which drains all water molecules from the soil and leaves behind a large number of salt residues that dehydrate plants.
4. Intensifying the greenhouse effect
Solar energy released to the earth's surface penetrates the atmosphere, and normally, it eventually rises back into space.
However, the process of the sun's heat bouncing back to space is limited by the existence of large concentrations of chemicals in the atmosphere from greenhouses, especially nitrous oxides.
Instead, it gets absorbed by these gases and is released back to the earth's surface.
The outcome of this is the intensification of the greenhouse effect (rising global temperatures).
5. Leads to photochemical smog
This is created when the sun's radiation interacts with nitrogen oxides and other gases.
That is released into the atmosphere as a result of the combustion of fossil fuels.
6. The decrease in biodiversity levels
Studies conducted in Europe in 2010 revealed that the environment is highly exposed to nutrient pollution, posing a significant threat to the survival of various plant and animal species.
When nutrient nitrogen levels are too high, plants, animals, and wildlife are exposed to contaminants that harm their life cycles and change the food chain.
7. Groundwater pollution
High levels of nitrogen are found in subterranean water in locations where farming is often practiced as a result of penetration from the soil brought on by water runoffs.
Most often used for residential purposes, underground water can get contaminated by nitrogen-based fertilizers.
The high nitrogen content of drinking water and even animal protein that grazes on pastures nearby has been observed in reports from many parts of the world, particularly from regions that heavily employ nitrogen-based fertilizers.
8. High costs of water treatment
Cleaning water to make it safe for plants and animals as well as for human consumption requires a lot of money from the government and environmental conservation organizations.
Reverse osmosis, distillation, and ion exchange units are used because simply boiling will not allow nitrate to be released from water.
9. Loss in the tourism industry
The effects of nitrogen pollution, particularly eutrophication and the deterioration of coral reefs, make it difficult to engage in activities.
That would be a major tourist attraction for the aquamarine, such as recreational fishing, deep-sea diving, taking in the aesthetic qualities of nature, and other boat activities.
10. Low revenue for fish farming
The primary cause of dead zones in aquatic bodies is an algal bloom.
The amount of fish produced by fish farming is decreased because fish are deprived of oxygen when algae decompose.
Fish-harming neurotoxins are released by certain types of algae, including blue-green and red-tide algae.
Steps were taken to control Nitrogen Pollution
1. Mandatory neem-coated urea production: Nitrogen is used most effectively when it is released from urea that has been coated with neem because it takes longer for plants to absorb.
2. Soil Health Card: It informs farmers about the nutritional state of their soil and offers suggestions for the right amount of nutrients to add to improve soil health and fertility.
It has caused the consumption of nitrogen in agriculture to decline.
3. Bharat Stage Norms: It aims to regulate the harmful emission from vehicles, like carbon monoxide (CO), unburnt hydrocarbons (HC), Nitrogen Oxides (NOx) and Particulate matter (PM).
4. National Air Quality Index (NAQI) has been put into place, and nitrogen dioxide is one of the eight pollutants whose emission needs to be managed and tracked.
International Initiatives
Gothenburg Protocol: 

It aims to Abate Acidification, Eutrophication

and Ground-level Ozone and is a part of the Convention on Long-

Range Transboundary Air Pollution.

To control and reduce emissions of sulphur dioxide (SO2),

nitrogen oxides (NOx), ammonia (NH4), volatile organic

compounds (VOCs), and Particulate Matter (PM) that are caused

by human activities.

International Nitrogen Initiative (INI): 

The goal of this global initiative is to maximize nitrogen's advantageous contribution to the production of sustainable food.

It was established in 2003 with support from the International Geosphere-Biosphere Program (IGBP) and the Scientific Committee on Problems of the Environment (SCOPE). The Indian government is also involved in this project.

Colombo Declaration on Sustainable Nitrogen Management:

The declaration

 aims to halve nitrogen waste by 2030.
Way forward
1. Fertilizer production regulations
Governments all across the world should implement rigorous regulations that regulate the manufacture of fertilizers to decrease the amount of nutrient-based fertilizer that is circulating in the economy.
2. Use of animal manure fertilizers
Manure from livestock such as cows should be a go-to option as opposed to the use of synthetic fertilizers because the contents of synthetics are not at all-time safe for farm use.
The bodies of animals contain more than enough nutrients to support normal bodily functioning, and a significant portion is frequently excreted as manure.
3. Frequent water monitoring
It may be possible to find any unexpected nutrient levels by keeping a proactive routine check-up of the water quality.
This will prevent nutrient contamination from getting out of control by helping to manage it.
 The government can collaborate with organizations.
This will have access to laboratories and the right tools to check the nitrogen content of the water and the levels of nutritional nutrients to stop the abnormal growth of algae.
4. Water aeration channels
Water bodies with aeration, such as waterfalls, have a moving surface that discourages the formation of algae by preventing stagnant water.
Normal conditions for algae blooming include warm, sunlit water that is not too turbulent and has a build-up of muck at the bottom.
5. Use of safe herbicides
The market is flooded with herbicides with high nitrogen contents, making it difficult to control the algae situation.
To deal with the issue, significantly safer herbicides with low nitrogen concentrations need to be developed and regularly applied.
This plan should also include using the right amount of safe herbicides to help control algae growth.
Which will help avoid pollution and the contamination of water for domestic, agricultural, and industrial use.
This strategy should not just be limited to the introduction of safe herbicides.
6. Establish a beneficial buffer
Establishing a buffer between water bodies and deep-rooted vegetation helps stop waste and undesired nutrients from entering runoffs into the water.
This prevents the growth of algae as well as reduces water pollution by creating barriers that control infiltration.
7. Biological augmentation
This is a reference to the process of introducing good bacteria to water bodies.
By breaking down fish waste and decomposing plants, it helps to diminish the food source for algae and also improves water clarity. This purifies the water.
8. Control of sewer systems
If sewage is to be discharged into water systems, it should not only be dumped far from water bodies but also be treated to remove toxins and nutrients before being discarded.
To read more about Water Pollution and conservation methods click here
Article Written by: Remya