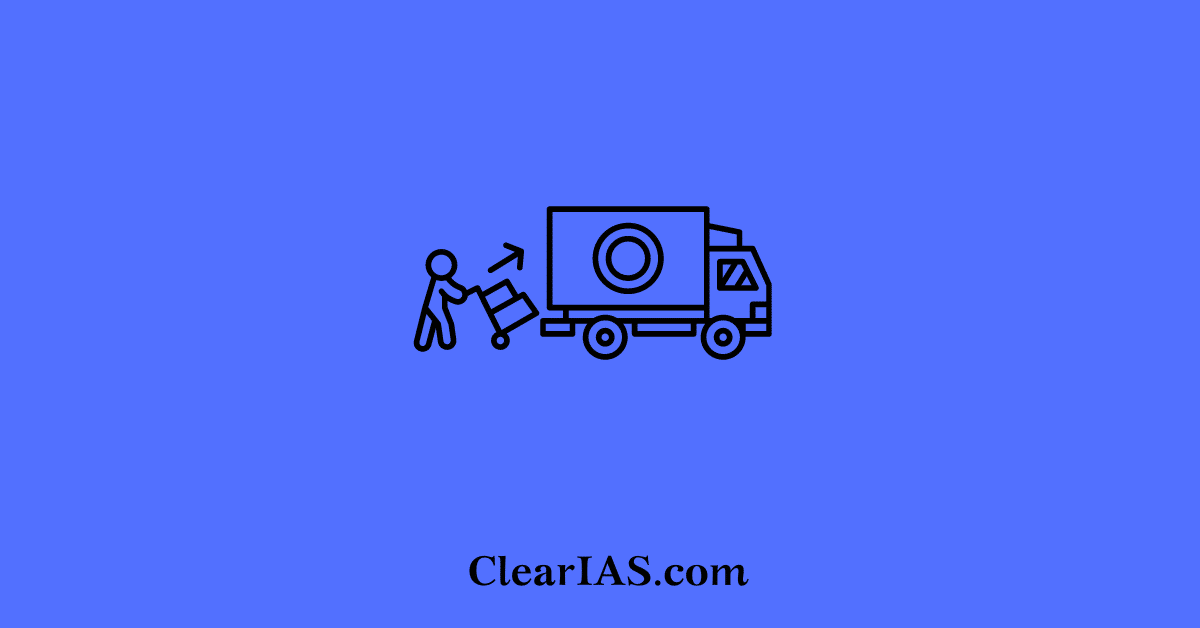 The need for a National Logistics Policy (NLP) was felt since the logistics cost in India is high as compared to other developed economies. Reduced logistics cost improves efficiency cutting across various sectors of the economy, encouraging value addition and enterprise. Read more about NLP in this regard.
Logistics costs are all of the expenses incurred moving products from sourcing raw materials to delivering customer orders and every step in between.
It accounts for 13 to 14% of India's GDP, almost double of what the costs are in developed countries.
According to the World Bank Logistics Index of 2018, India was ranked 44th in logistics costs when compared to China at 26 and Taiwan at 27th ranks respectively.
What is National Logistics Policy (NLP) 2022?
The National Logistics policy (NLP) 2022 is a comprehensive effort to address cost and inefficiency by issues lying down an overarching interdisciplinary, cross-sectoral, and multi-jurisdictional framework for developing the entire logistics ecosystem.
NLP was made for quick last-mile delivery, ending transport-related issues, saving manufacturers time and money, and preventing wasting of agricultural products.
The NLP aims to promote seamless movement of goods and enhances the competitiveness of Indian industries.
Vision and Mission:
The policy will create a single window e-logistics market and focus on the generation of employment, and skills and make MSMEs competitive.
All this will augment the economy in various ways like employment generation, inter-state, and international exchange of goods. This policy move will bring India closer to becoming a global manufacturing powerhouse and pave its way to becoming a logistics hub.
Goals of NLP:
The policy aims to lower the cost of logistics from the existing 13-14% and lead it to par with other developed countries.
The goal of this policy is to make the logistics industry more efficient and lower its costs and small businesses and the people who work in them gain profit.
The strategy aims to boost economic growth, provide employment opportunities, and make Indian products more competitive in the global market.
To create a modern infrastructure of a world-class standard by including all relevant stakeholders in the process of holistic planning and implementation. This will allow for greater efficiency and synergy during the project's execution.
The government's latest policy comes with a Comprehensive Logistics Action Plan (CLAP) which details the NLP's specific targets. These include: Reducing India's logistics cost to be comparable to global benchmarks by 2030 and aiming to be among the top 25 countries by 2030 in the Logistics Performance Index (LPI).
Present condition of Indian logistics sector :
India's logistics sector is very complex with more than 20 government agencies, 40 PGAs, 37 export promotion councils, 500 certifications, 10000 commodities, 160 billion market size. It also involves 12 million employment base, 200 shipping agencies, 36 logistics services, 129 ICDs, 168 CFSs, 50 IT ecosystems and banks & insurance agencies. Further, 81 authorities and 500 certificates are required for EXIM.
The Indian logistics sector provides livelihood to more than 22 million people and improving the sector will facilitate 10 % decrease in indirect logistics costs leading to the growth of 5 to 8% in exports.
 Further, it is estimated that the worth of the Indian logistics market will be around USD 215 billion in the next two years compared to about USD 160 billion at present.
Investment Information and Credit Rating Agency of India Limited (ICRA) estimates that the sector will develop at a Compound Annual Growth Rate (CAGR) of 10.5 per cent through 2025 after growing at a CAGR of 7.8 per cent over the past five years. This sector employs more than 22 million people in India, which through skill development is expected to grow at the rate of 5 per cent in 5 years.
The four significant steps to be undertaken for National Logistics Policy (NLP) include:
Integration of Digital System (IDS): There will be digital integration of 30 different systems of seven various departments (like road transport, railways, aviation, commerce ministries and foreign trade).
Unified Logistics Interface Platform (ULIP): This ensures shorter and smoother cargo movement and enables the exchange of information confidentially on a real-time basis. This National Industrial Corridor Development Corporation (NICDC) Logistics Data Bank Project has been leveraged.
Ease of Logistics (ELOG): will enable and ensure the ease of logistics business through transparency and accessibility. Similarly, a new digital platform Ease of Logistics Services (E-Logs) has also been started for industry associations to resolve issues by reaching out to the government.
System Improvement Group: will monitor all logistics-related projects regularly.
Combined Programmes with National Logistics Policy (NLP):
The NLP's transformational capacities further increase when combined with previous connectivity and infrastructure improvement programs like:
The Gati Shakti Programme:
"Gatishakti and National Logistics Policy together are now taking the country towards a new work culture" -PM
PM GatiShakti, also known as the National Master Plan for multi-modal connectivity, which was introduced in the previous year, was an essential first step. Establishing the National Logistics Policy will support the PM GatiShakti initiative and complementarity.
PM GatiShakti's goal is to implement infrastructure connectivity, including roadways and railways projects across the nation, in a coordinated manner.
While Gati Shakti focuses on the development of integrated infrastructure, the NLP is concerned with creating digital services and a regulatory framework that will help streamline the logistics ecosystem in India. The NLP also offers an e-handbook for standardisation of warehousing in the country.
The Sagarmala Programme:
Sagarmala Mission envisions using the potential of the coastline and waterways to reduce the amount of infrastructure needed to reach its targets.
The Bharatmala Programme:
The Bharatmala programme focuses on reducing critical infrastructure gaps to increase the effectiveness of road traffic circulation across the nation.
What is the Significance of the National Logistics Policy (NLP)?
This will increase the competitiveness of Indian products in both the Indian home market and the international market. Moreover, the reduced cost will also increase efficiency efforts cutting across all sectors of the economy, which encourages value addition and enterprise.
National Logistics Policy revitalises many fields. Today, India is preparing the ground before introducing any policy; only then can a policy be implemented successfully.
Coordination improvements will boost sector speed, value creation, and entrepreneurship.
The backbone of India's international trade is logistics, which aids in the diversification of not only the country's exports but also of products manufactured in the countries.
Article written by: Aseem Muhammed