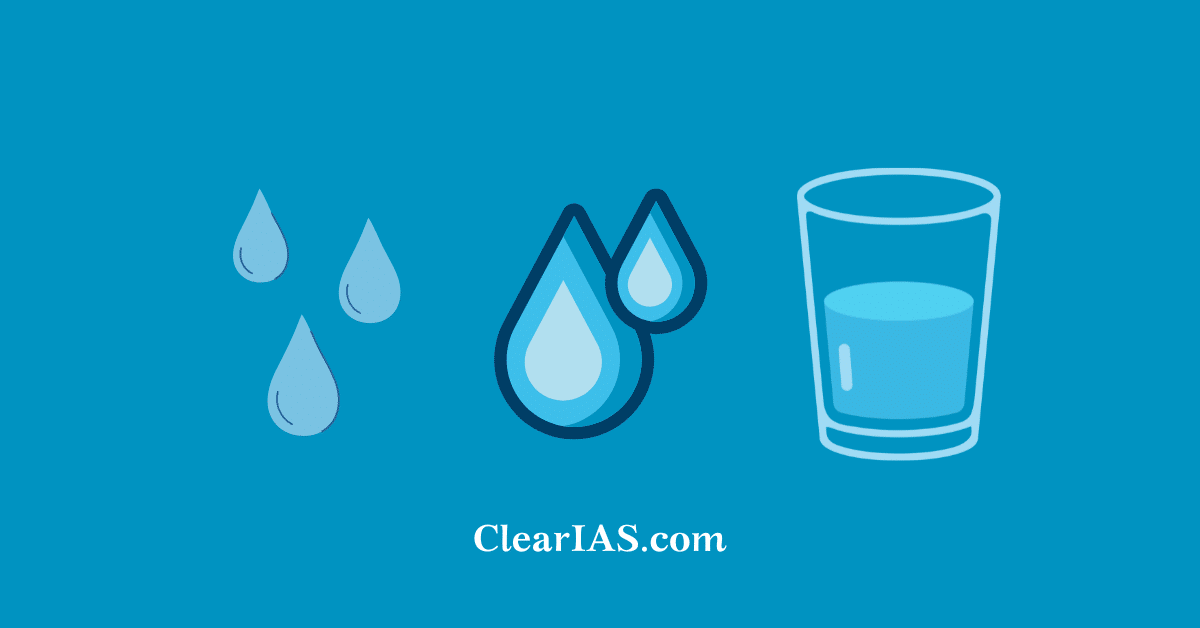 Reverse osmosis (RO) purifiers are not permitted where the total dissolved solids (TDS) in the supplied water are less than 500 mg per litre, according to a ruling made by the National Green Tribunal a few years ago. Are you curious to know more about the process of osmosis and reverse osmosis? If yes, read on.
Basics first. Do you know what is a solution?
A solution is a homogeneous mixture of two or more substances in chemistry.
A solute in such a mixture is a substance that has been dissolved in another substance known as a solvent.
In sugarwater, for example, sugar is the solute and water is the solvent.
Now let us understand what is Diffusion.
Diffusion is the natural movement of a substance from a high-concentration area to a low-concentration area.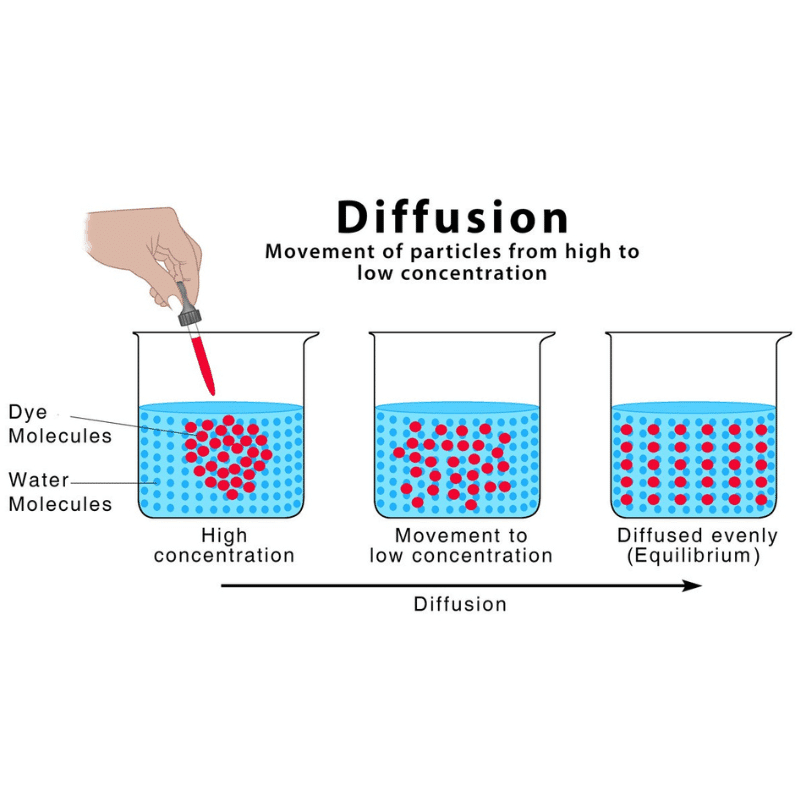 Diffusion of a substance (solute) through a permeable membrane transports it from a region of high solute concentration (hypertonic solution) to a region of low concentration (hypotonic solution).
Diffusion is important in the gaseous exchange between cells as well as between the cell and its external environment in living organisms.
Diffusion can be seen in the exchange of O2 and CO2 in alveoli (millions of tiny, balloon-shaped air sacs in the lungs).
Now let us expand our zone of learning.
Osmosis
Water is a substance that follows the law of diffusion.
Osmosis is the passage of water (diffusion of solvent molecules) through a semi-permeable membrane from a low solute concentration (hypotonic) region to a high solute concentration region (hypertonic).
Semi-permeable membranes allow small molecules and ions to pass through but act as a barrier to larger molecules or dissolved substances.
As a result, osmosis is a subset of diffusion through a selectively permeable membrane. Most unicellular freshwater organisms and plant cells obtain water via osmosis.
Water absorption by plant roots is another example of osmosis.
Reverse Osmosis
Reverse osmosis (RO) is a water purification technology that removes larger particles from drinking water using a semipermeable membrane.
In reverse osmosis, an applied pressure is used to overcome osmotic pressure, allowing pure water to flow from a region of high solute concentration (hypertonic) to a region of low solute concentration  (hypotonic).
Read more on topics related to Science and Technology here.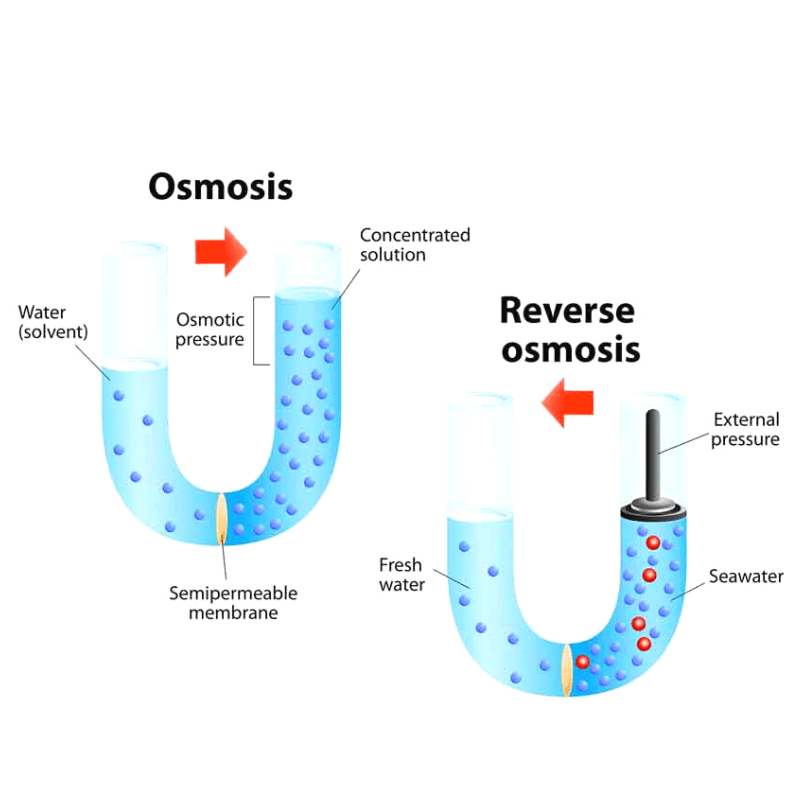 What are the applications of Reverse Osmosis?
RO was originally developed in the late 1950s to desalinate seawater. Currently, a diverse array of membranes and multiple stages of filters can be used to filter a wide range of solutes, including arsenic, fluoride, hexavalent chromium, nitrates, and bacteria.
This has given rise to a cottage industry of home-RO systems for drinking water. RO uses a pump and electric motors to generate external pressure.
It makes use of "activated carbon" components like charcoal and carbon black to filter out contaminants as well as organic substances like bacteria (UV light is also used to kill bacteria).
It all depends on the filtering material and the number of filters that must be passed through before incoming tap water can be used.
What are the threats associated with RO purifiers?
Reverse Osmosis systems waste a lot of water by forcing tap water through multiple stages of cleaning.
They waste three to five times the amount of water (high carbon footprint). The Reverse Osmosis system removes essential micronutrients such as calcium, zinc, and magnesium.
Drinking such water over time may be hazardous. Many manufacturers, however, claim to have overcome this challenge through "post-treatment" (added minerals).
The Reverse Osmosis system only reduces Total Dissolved Solids and ensures that the water is odorless and has a pH between 6.5 and 8.5. According to the National Institute of Virology (NIV), most RO methods do not eliminate the Hepatitis E virus.
RO systems diminish the incentive for government-funded water distribution systems, and the vast majority of the country cannot afford such systems.
The deposition of brine (highly concentrated salt water) along the shores of seawater desalination affects plankton, which is the primary food source for small fish species.
Conclusion
The ban was imposed by the National Green Tribunal on the grounds that RO filters frequently deprived drinking water of essential salts (thus compromising nutritional security) while also wasting a lot of water and power.
Current BIS regulations accept 500 mg/litre to 1,200 mg/litre of total dissolved solids, which include salts and some organic matter.
The Ministry of Environment and Forests had issued a draught notification that seeks to regulate membrane-based RO water filtration systems in areas where the source of water meets Bureau of Indian Standards drinking water norms.
Article written by: Jis John Sebastian