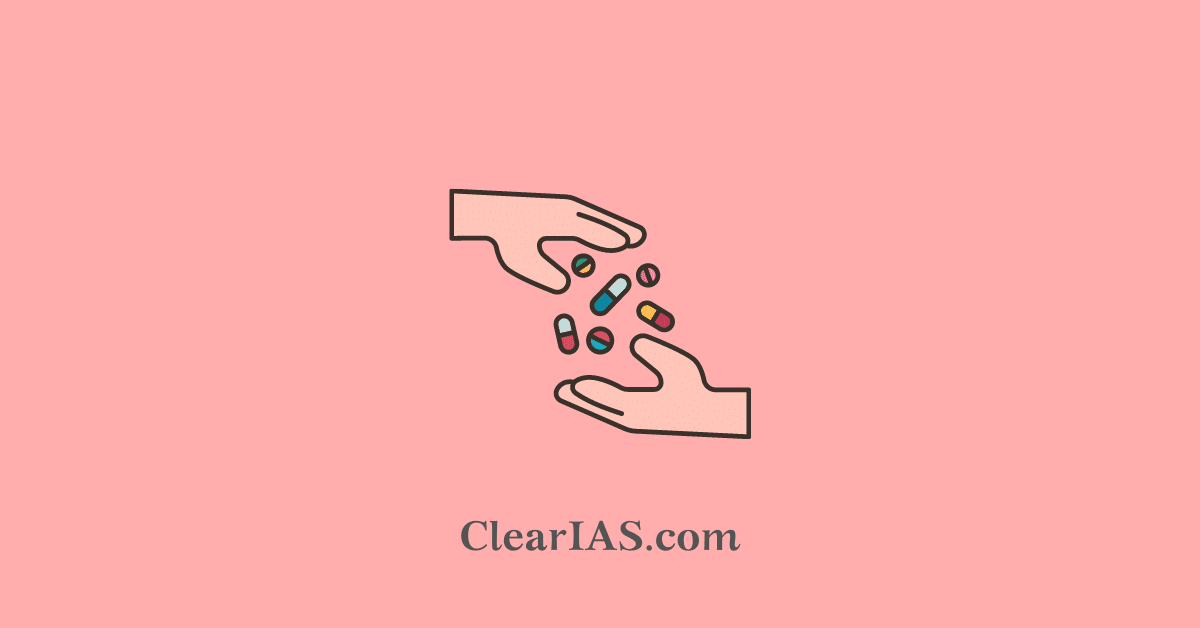 According to a paper published in The Lancet Planetary Health, Pharmaceutical pollution is an urgent matter of concern. It requires actions from across the pharmaceutical, healthcare, and environmental sectors.
Almost 43 percent of the rivers in the world are contaminated with active pharmaceutical ingredients at levels that could have catastrophic effects on health.
About Pharmaceutical Pollution
Wastewater from pharmaceutical manufacturers often fails to filter the chemical compounds or wastewater used in manufacturing plants and is also sometimes discharged into open fields and nearby water bodies like oceans, lakes, streams, and rivers. Thereby increasing the pharmaceutical waste or their by-product load in the environment, landfills, or dumping areas.
Current Status
Every year, more than 100,000 tonnes of pharmaceutical items are consumed worldwide. Active Pharmaceutical Ingredients (APIs),  along with other chemical constituents, are released into the environment during their production, usage, and disposal.
APIs are released in high amounts to the environment during human and veterinary consumption of drugs, as between 30 and 90% of an oral dose is excreted in the urine. As per a global review, over 600 different APIs have been found in the environment, and in some cases, the amount of substance is as high as it can pose a high risk to the environment.
Nowadays, pharmaceuticals have also been detected in drinking water, wastewater, sewage sludge, and soils.
What is API?
Active Pharmaceutical Ingredients (APIs) are biologically active non-biodegradable compounds present in the environment.
They are excreted in such a way as they are not easily metabolized in either human or animal bodies. In order to have the most impact possible on the target organisms, they are made to live longer inside the bodies of humans and animals. Due to this characteristic, these chemicals have a high level of environmental persistence, such as Amoxicillin.
Status of the Indian Pharmaceutical Industry
With a market value of $42 billion, India is one of the most significant players in the global pharmaceutical market as it is the third-largest drug producer in the world.
However, in terms of volume, India ranks fourteenth.
India is the largest supplier of generic drugs in the world, meeting around 60% of the demand for vaccines globally and contributing 20% of the global supply by volume.
The primary reason for India being one of the major countries producing most of the drugs is because of the:
Low-cost of production: It is estimated that the cost of production of medicine in India is 33% lower than that of the US.
Cost efficiency: India has the ability to produce high-quality, low-cost drugs for the domestic and global markets.
Increased private sector investment: There has been an increase in investments in the R and D sector.
Policy support: The government has been extending economic and other benefits to the industry to expand and increase the production capacity by allocating funds, land, and reduction in the project approval time, providing tax benefits, etc.
Causes of Pharmaceutical Pollution
Several factors are responsible for such kind of pollution.
Drug Ingestion and Excretion: Organisms expel the remaining metabolic waste products and other toxic substances from their body through urine or fecal matter that eventually be in the environment and pollute it.
Healthcare Institutions Disposal: Hospitals contribute a major portion to pharmaceutical pollution where the arrangement of the disposal may not be as per the standards.
Drug Manufacturer: Some of the manufacturers dispose of the drugs in a landfill, and some will flush them, among many other ways of disposing of the drugs. That leads to severe pollution of the surrounding body because of the wastewater runoff.
Domestication of Animals: Not all the drugs fed to domesticated animals are metabolized by their bodies so they also excrete the excess of it.
Agricultural Products: Several insecticides spray on agricultural products to save them from damage. A portion of it then pollutes the surrounding.
Domestic Drug Use and Disposal Behaviour: Consumers are responsible for a significant amount of pharmaceutical and personal care products that end up in streams, groundwater, lakes, and rivers. It is common to find plenty of expired medications in homes which then get disposed of without proper care which further hurt the environment.
Effect of Pharmaceutical Pollution
The effects of such pollution are:
On Human Health: As per World Health Organization, in 2016, 4,90,000 people developed multidrug-resistant TB globally and drug resistance is starting to complicate the fight against HIV and malaria, as well. Drug resistance is the reduction in a medication's ability to effectively treat a condition or disease, such as an antimicrobial or an antineoplastic. Drug-resistant infections are mostly brought on by the improper use and overuse of antibiotics.
On Aquatic Life: Various studies have shown that estrogen and substances that act similarly to it can change the female-to-male ratios in fish and have a feminizing effect on male fish. Additionally, concentrations of common antidepressants have been discovered in the fish brain tissue living downstream of wastewater treatment facilities.
On Sewage Treatment System: Antibiotics, that are used to treat infections contain substances that have the potential to interfere with the sewage treatment process and the surface water's microbial ecology. Therefore, antibiotics used in sewage treatment systems may significantly hinder the activities of sewage bacteria and thus have a negative impact on the decomposition of organic matter. Additionally, In the course of treating wastewater, antibiotics may potentially be hazardous to the nitrifying bacteria.
On Drinking Water: These medications' chemical components find their way into waterways. Due to the fact that most municipal sewage treatment systems do not remove these pharmaceutical substances from drinking water, we ingest them instead which could result in serious health issues.
On Environment: Some medicinal substances remain for a very long time in the water and the atmosphere. The chemicals start to have an impact on the environment once the concentration reaches a particular point, often around one part per million. Some medications, such as antiepileptics, are persistent, whereas others are pseudo-persistent, meaning that they eventually decay after quite some time.
Way Forward
There are a few solutions to curb pharmaceutical pollution.
Proper Drug Disposal: Invest in public education on the proper disposal of drugs, as part of the drug take-back programs can be effective in maintaining the health of the environment.
Proper Regulation: To limit large-scale medicine flushing in hospitals, nursing homes, and other healthcare institutions, a robust regulation is important.
Investment in Research and Development: To advance the process of disposal mechanism and further technological enhancement.
Limiting Waste and Bulk Purchases: The majority of individuals and companies buy them in quantity since doing so results in discounts that lower the price per unit. It's important to curb such actions to prevent waste.
Article Written By: Priti Raj