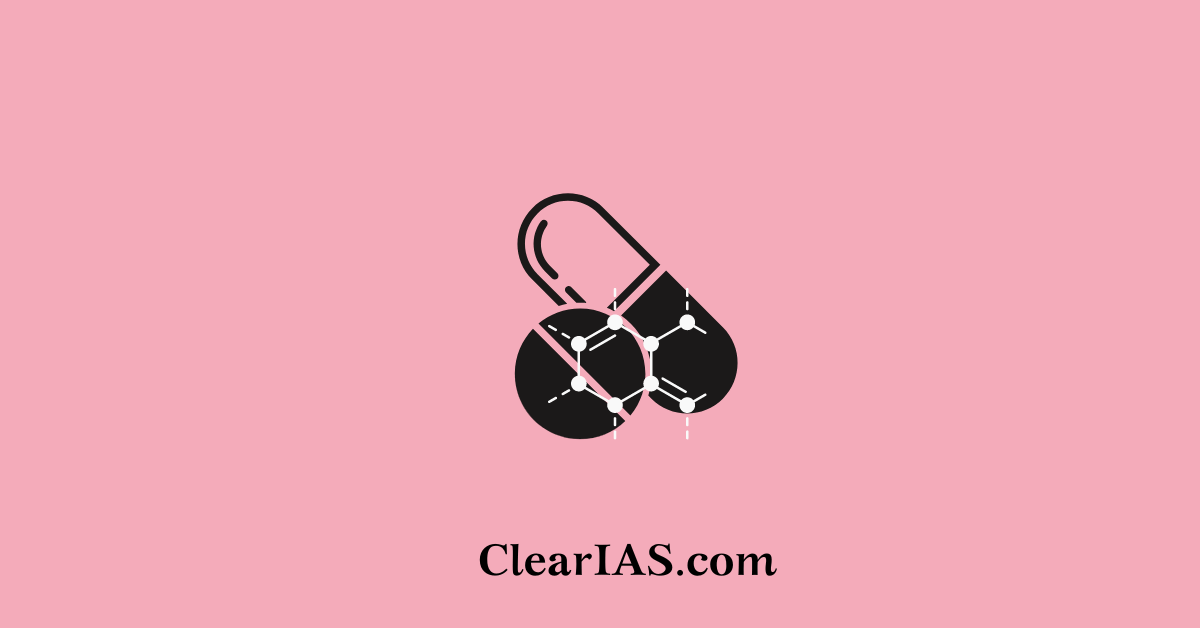 Active Pharmaceutical Ingredient (API) is the biologically active component of a drug product (tablet, capsule, cream, injectable) that produces the intended effects. The scaling up of the indigenous production on API has been in discussion for a few years. Read here to know more about APIs and their manufacturing.
Indian companies are slowly becoming the global favorite for the production and export of active pharmaceutical ingredients (API).
Indian companies are emerging in the wake of the China-plus-one strategy.
It is a strategy in which companies avoid investing only in China and diversify their businesses to alternative destinations.
China was an attractive investment location due to the low cost of labor and production and an increasing domestic consumer market.
It was coined in 2013 as a global business strategy.
Active Pharmaceutical Ingredient (API)
All drugs are made up of two core components:
The API is the central ingredient.
The excipient includes substances other than the drug that help deliver the medication to your system.
Active Pharmaceutical Ingredient (API) is the biologically active component of a drug product (tablet, capsule, cream, injectable) that produces the intended effects.
Excipients are chemically inactive substances, such as lactose or mineral oil in the pill. These materials are used to help the medication remain stable and to control absorption when you take the drug. Excipients should not have any effect on your health unless you are allergic to them.
The APIs are produced from raw materials, with a specified strength and chemical concentration. Some drugs, such as combination therapies, have multiple active pharmaceutical ingredients that may act in different ways or treat different symptoms.
APIs find application in high-quality drugs that treat diseases in oncology, cardiology, CNS and neurology, orthopedics, pulmonology, gastroenterology, nephrology, ophthalmology, and endocrinology.
APIs can potentially create a more sustainable healthcare system by introducing more innovative products.
The generic name of a drug is typically a derivative of the chemical name, which is used less often. For example, the chemical name for aspirin is acetylsalicylic acid.
Global Active Pharmaceutical Ingredient (API) manufacturers
The biggest pharmaceutical companies in the world, known as "big pharma", are American and European. The top five are Pfizer (US), Roche, Novartis (both Swiss), Merck (US), and GlaxoSmithKline (UK).
Yet these companies and the pharmaceutical industry as a whole rely on global supply chains which are dominated by India and China.
For more than a decade now, China has been the largest producer of APIs in the world.
The US, Europe, and Japan produced 90% of the world's APIs until the mid-1990s.
It is estimated that Chinese manufacturers make up around 40% of all APIs used worldwide and that China and India are the sources of 75% to 80% of the APIs.
India plays a prominent role in the formulation segment of the industry.
India is the third-largest producer of pharmaceuticals in the world by volume.
The country's Department of Pharmaceuticals reported that it supplies 20% of global exports of "generic" drugs. These are drugs that are no longer under patent and are open to any company to produce and sell and are thus usually priced at a relatively low level.
India has the largest number of FDA-approved plants outside the US and it is estimated to supply 40% of the generic formulations in America.
India is also the major supplier of medicines to countries in the global south. This led the humanitarian organization Médecins Sans Frontières to dub the country the "pharmacy to the developing world".
Indian companies, led by the likes of Cipla, Aurobindo, Emcure, Hetero, Macleods, Matrix, Ranbaxy, and Strides have played an enormous role in supplying anti-retroviral and anti-malarial medicines to the Global Fund to Fight AIDS, TB, and malaria.
India is also a major vaccine producer. While the largest vaccine manufacturers in the world are GSK, Sanofi, Merck, and Pfizer, India's Serum Institute is the world's largest vaccine producer by volume.
Global dependence on China for APIs:
The globalization of the pharmaceutical industry has led to fears of over-reliance on particular sources of supply, especially China, for APIs.
Top API Manufacturers
A leading manufacturer of APIs is TEVA Pharmaceuticals. Another leading manufacturer is Dr. Reddy's.
Other industry giants are Pfizer, Novartis, Sanofi, Boehringer Ingelheim, and Bristol-Meyers Squibb. Each of these companies specializes in different active pharmaceutical ingredients, with some offering generic products as well.
How India lost its API market to China?
India produced its APIs independently in the early 1990s.
But as China became a more significant supplier of API, it seized the Indian market with less expensive goods, which ultimately helped China achieve larger economies.
A low-cost API manufacturing sector was established in China.
Low cost of capital, strong government funding strategies, and tax incentives all supported the business.
Their operating costs are one-fourth of those of India. Even the cost of financing is lower in China, at 6%, than it is in India, at 13–14%.
Consequently, Indian pharmaceutical businesses over time stopped producing APIs as a result of low-profit margins and a non-lucrative market.
India's efforts for drug security
In a major move towards ensuring drug security, India's import dependence on raw materials to manufacture essential medicines is likely to reduce by 25% by about 2024.
Indian manufacturers -are dependent on China for the import of around 53 APIs. China caters to about 85-90 % of local demand for raw materials with a cost advantage.
Numerous production-linked incentive (PLI) schemes have been rolled out to support local production of these APIs and intermediaries used in medicine.
The government is also promoting a Scheme for the Promotion of Bulk Drug Parks.
The following factors are favoring Indian API Industry (along with the China Plus One Strategy)
Increase in cost of APIs and Intermediates by China.
Increased Drug Standards and Rising Labour wages in China.
Pandemic-led supply chain disruptions. Proven track record of high-quality research capabilities from the Indian API industry.
The large workforce in India with low wage costs.
Way forward
The recent pandemic scenario has shown the resilience of the pharma sector and hence work must be focussed on strengthening this further.
The industry and academia should be engaged to chalk the roadmap for Pharma & Medical Devices for the next 25 years.
Indian Pharma Industry is known globally for its affordable and quality Drugs, but We can get the Competitive Edge in Medical Devices too with Research & Innovation as well though this.
Apart from generic medicine, an Active Pharmaceutical Ingredient (API) focus should also be given to increase patented drug manufacturing. The pharma industry needs to brainstorm ideas on various fronts like policy, economics, research, and innovation to make the efforts fruitful.
-Article written by Swathi Satish