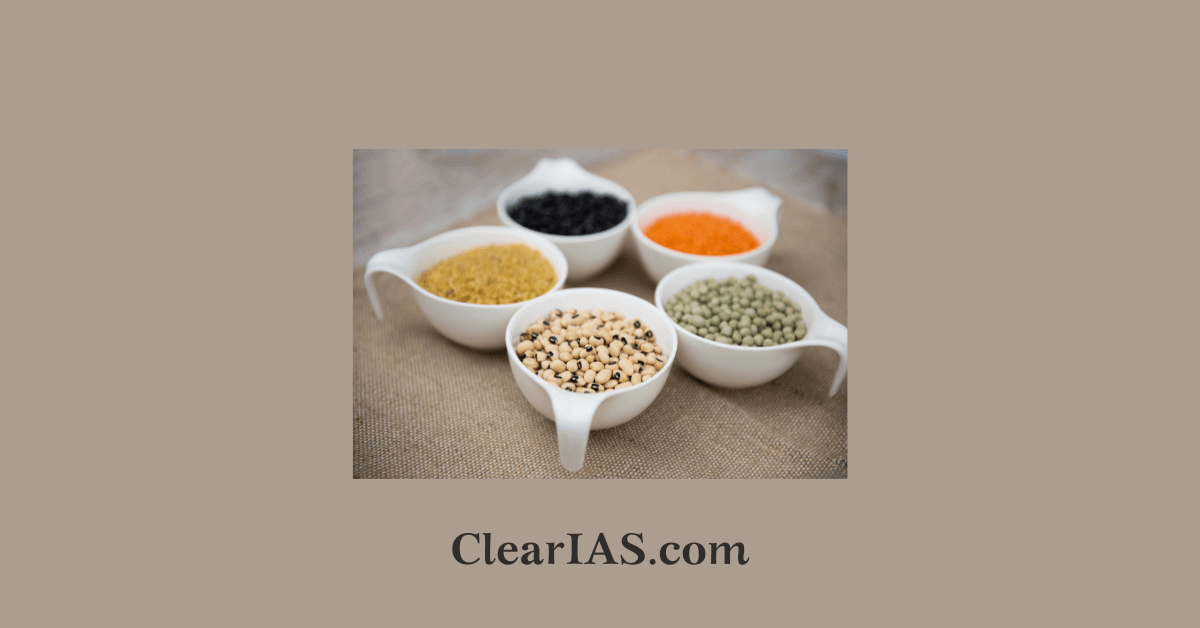 The pulses production in India has both economic and nutritional significance. Some of the major pulses produced in India include lentils, chickpeas (garbanzo beans), pigeon peas (tur dal), mung beans, and black gram. Read here to learn more about the pulses sector of India.
Pulses are an essential source of plant-based protein and are a staple in the Indian diet. India is one of the largest producers and consumers of pulses in the world.
Pulses are an important source of essential nutrients like protein, dietary fiber, and minerals, contributing to the nutritional security of the population.
India is the largest producer (25% of global production), consumer (27% of world consumption), and importer (14%) of pulses in the world.
Pulses production in India
Pulses are an important source of protein for a predominantly vegetarian population like India. They also contribute to soil fertility due to their ability to fix atmospheric nitrogen.
Pulses are typically grown during the Rabi (winter) season in India. They require moderate temperatures and well-distributed rainfall.
States like Madhya Pradesh, Uttar Pradesh, Maharashtra, Rajasthan, and Andhra Pradesh are the major pulse-producing states in India.
Pulses are often grown in rotation with other crops, as they can enrich the soil with nitrogen and reduce the need for chemical fertilizers.
Despite the significance of pulses, their production faces challenges such as low yields, vulnerability to pests and diseases, and fluctuations in prices.
Climate variability and changing weather patterns also affect production.
Agricultural research institutions are working to develop high-yielding, disease-resistant varieties of pulses to improve productivity.
India has a high per capita consumption of pulses. They are consumed in various forms, such as dal (lentil curry), sprouts, and snacks.
India is both an exporter and an importer of pulses. Depending on domestic production levels, the country may import pulses to meet its domestic demand.
Also read: Major Crops in India
Government Initiatives for Pulse Production in India
The Indian government has implemented various schemes and initiatives to support pulses production and enhance farmers' income.
The National Food Security Mission (NFSM) and the National Mission on Protein Supplements (NMPS) are examples of such initiatives.
Department of Agriculture & Farmers Welfare is implementing the National Food Security Mission (NFSM)-Pulses with the objectives of increasing production through area expansion and productivity enhancement in all the districts of 28 States and 2 Union Territories viz. Jammu & Kashmir and Ladakh of the Country.
Under NFSM-Pulses, assistance is given through States/UTs to the farmers for interventions like:
cluster demonstrations on an improved package of practices
demonstrations on cropping system
seed production and distribution of HYVs/hybrids, improved farm machinery/resource conservation machinery/tools
efficient water application tools, plant protection measures, nutrient management/soil ameliorants
processing & post-harvest equipment
cropping system-based training etc.
In order to increase the productivity potential of pulses crops in the country, the ICAR is undertaking basic and strategic research on these crops and applied research in collaboration with State Agricultural Universities for developing location-specific high-yielding varieties and matching production packages.
The government occasionally provides minimum support prices (MSPs) for pulses to ensure that farmers receive fair prices for their produce.
To ensure remunerative prices to farmers, Government implements an umbrella scheme PM-AASHA comprising-
Price Support Scheme (PSS)
Price Deficiency Payment Scheme (PDPS)
Private Procurement Stockist Scheme (PPSS) in order to ensure Minimum Support Price (MSP) to farmers for their produce of notified oilseeds, pulses, and copra.
Types of Pulses in India
India produces a wide variety of pulses, each with its unique characteristics and distribution patterns. Pulses are cultivated across different regions of the country, taking advantage of the diverse agro-climatic conditions.
Here are some of the major types of pulses produced in India and their distribution in cultivation:
Chickpeas (Channa dal)
Distribution: Major producing states include Madhya Pradesh, Maharashtra, Rajasthan, Uttar Pradesh, and Andhra Pradesh.
Varieties: There are two main types – Kabuli (larger-seeded) and Desi (smaller-seeded). Kabuli chickpeas are often used in salads and other dishes, while Desi chickpeas are commonly used to make traditional Indian dishes like chana masala.
Pigeon Peas (Tur Dal)
Distribution: Pigeon peas are grown in states like Maharashtra, Karnataka, Andhra Pradesh, and Madhya Pradesh.
Varieties: Pigeon peas are available in different colors, including red, yellow, and green. They are a crucial ingredient in Indian cuisine and are used to make dals and curries.
Red Lentils (Masoor Dal)
Distribution: Major producing states include Madhya Pradesh, Uttar Pradesh, Bihar, and West Bengal.
Varieties: Red lentils are used to prepare various types of dals, soups, and curries. They are known for their quick cooking time and distinctive flavor.
Green Gram (Mung Beans)
Distribution: Green gram is cultivated across states like Uttar Pradesh, Madhya Pradesh, Andhra Pradesh, and Tamil Nadu.
Varieties: Mung beans are used in a variety of dishes, including soups, salads, and traditional sweets like moong dal halwa.
Black Gram (Urad Dal)
Distribution: Black gram is grown in states like Uttar Pradesh, Madhya Pradesh, Andhra Pradesh, and Tamil Nadu.
Varieties: Black gram is used to make urad dal, a popular ingredient in Indian cuisine. It is also used to make dishes like dosa and idli.
Pulses from Minor Crops
Other pulses like horse gram, moth bean, cowpea, lentils, and rajma (kidney beans) are also cultivated in specific regions of India based on agro-climatic conditions.
The distribution of pulse cultivation in India is influenced by factors such as climate, soil type, water availability, and local agricultural practices.
The Rabi (winter) season is generally more favorable for pulse cultivation due to the climatic conditions during that time. However, the Kharif (summer) season also witnesses the cultivation of certain pulses in specific regions.
Also read: Should Agriculture Income be Taxed?
Way forward
Sustainable and increased production of pulses is crucial for ensuring food security, improving soil health, and providing affordable sources of nutrition for the population.
Efforts to address challenges, promote research, and support farmers through policies and initiatives play a vital role in enhancing pulses production in India.
Efforts to enhance pulse production in India include the adoption of modern agricultural practices, use of improved seed varieties, proper irrigation methods, and the implementation of government schemes to support farmers.
Pulse cultivation is not only essential for ensuring food and nutritional security but also for promoting sustainable agriculture and improving soil health through nitrogen fixation.
Previous year question
Q. With reference to pulse production in India, consider the following statements: (2020)
Black gram can be cultivated as both kharif and rabi crops.
Green gram alone accounts for nearly half of the pulse production.
In the last three decades, while the production of Kharif pulses has increased, the production of rabi pulses has decreased.
Which of the statements given above is/are correct?
(a) 1 only  
(b) 2 and 3 only
(c) 2 only
(d) 1, 2 and 3
-Article by Swathi Satish