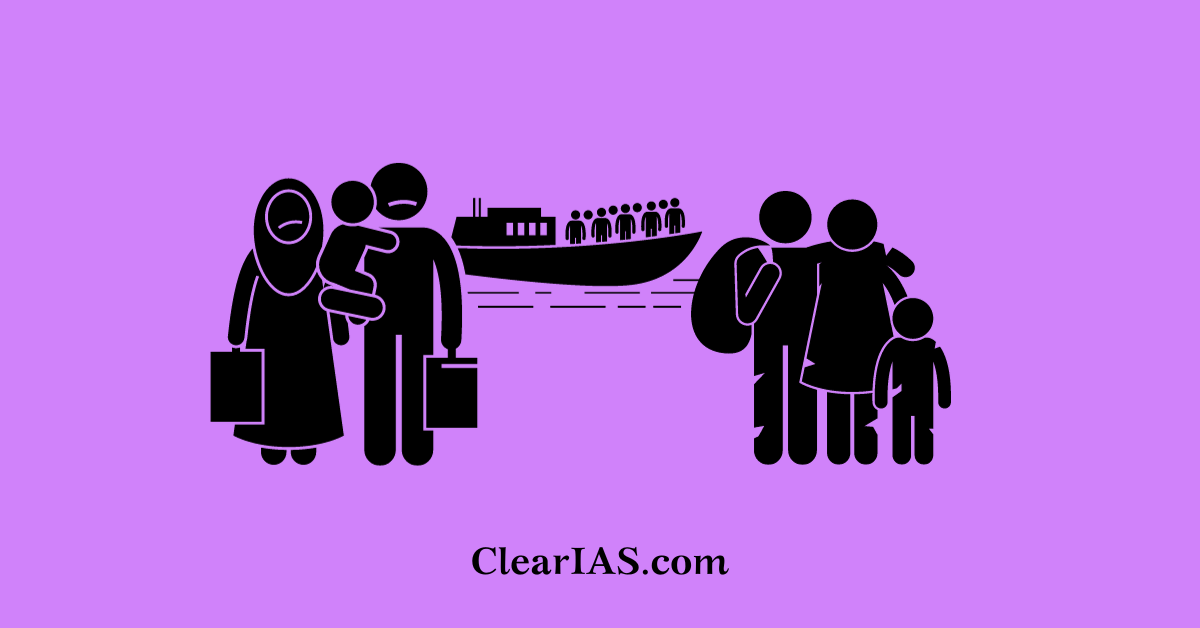 The Rohingya refugee crisis refers to the mass migration of Rohingyas (Rohingya Muslim people) from Myanmar (Burma) to Bangladesh, Malaysia, Thailand and Indonesia. In this article, we discuss the Rohingya Refugee Crisis and the concerns of India.
Who are Rohingyas?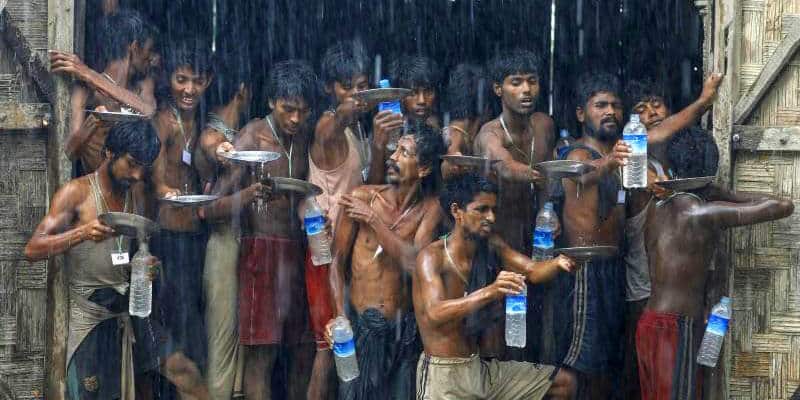 Rohingyas are indigenous to Rakhine state (also known as Arakan) in Myanmar settled since the 15th century.
Collectively they fall under the Muslim Indo-Aryans, a mixture of pre-colonial and colonial immigrations.
However, according to Myanmar government, they are illegal immigrants migrated to Rakhine following Burmese independence and Bangladesh liberation war.
They are victims of an organized genocide and are one of the world's most persecuted minorities.
The population of Rohingyas was around 1.1 to 1.3 million before the 2015 crisis.
The crisis received international attention followed to Rakhine state riot in 2012, Rohingya crisis in 2015 and 2016-17 military crackdown.
At present 40000 Rohingyas have their second home in India.
Through the timeline of crisis
2012
The crisis first started on June 10th of 2012 in northern Rakhine between ethnic Rakhine Buddhists and Rohingya Muslims.
This resulted in gang rape and murder of a Rakhine women by Rohingyas and killing of ten Burmese Muslims by Rakhines. In return, Rohingya burned a Rakhine's Buddhist and their houses.
As of August 22nd, 2012 it is officially estimated as the total of 88 causalities including 57 Muslims and 31 Buddhists. Nearly 90000 peoples lost their home and around 2500 houses were burned in the crisis.
2015
The government of Myanmar systematically isolates the ethnic minority.
This resulted in the migration of thousands of Rohingyas to Bangladesh, Malaysia, Indonesia and Thailand by rickety boats (hence called boat people).
According to United Nations from January to March in 2015, approximately 25000 people have been taken by boats to different countries and many of them died.
2016-17
The Myanmar Military started exploitation against Rohingyas in 2016.
In the initial attack, many of them died and many were arrested. This resulted in the migration of Rohingyas towards Bangladesh as refugees.
In November, approximately 1500 refugee houses in border villages of Myanmar was burned by special forces.
The scenarios after this were even worse. Many Rohingya women were gang raped, men and kids killed. The refugee boats in Naf river were under gun fire by Military.
In March 2017, 423 detainees were put arrested which includes women and children.
The crisis resulted in the displacement of nearly 92000 people from their home land. (Reference: TheDailyStar)
The legal status of Rohingyas
The Myanmar government never allowed a citizenship status to Rohingyas. Hence the majority of them do not have any legal documentations, making them stateless.
Until recently, they have been able to register as temporary residents with identification cards known as white cards which began issuing in the 1990s.
These cards gave some basic rights to Rohingyas such as the right to vote. But they were never recognized as a proof of citizenship.
These cards get cancelled in 2015 which effectively put an end to their right to vote.
In 2014, UN held a census, which was the first in Myanmar in 30 years. Initially, the Muslim minority were allowed to register as Rohingya. But after Buddhist threatened to boycott the census, the government issued a statement that Rohingyas can register only if they are identified as Bengalis.
What is being done to handle the refugee crisis?
In November 2015, Myanmar's first civilian government led by National League for Democracy (NLD) party were reluctant to talk for Rohingyas because of their interest to gain support from Buddhist nationalities.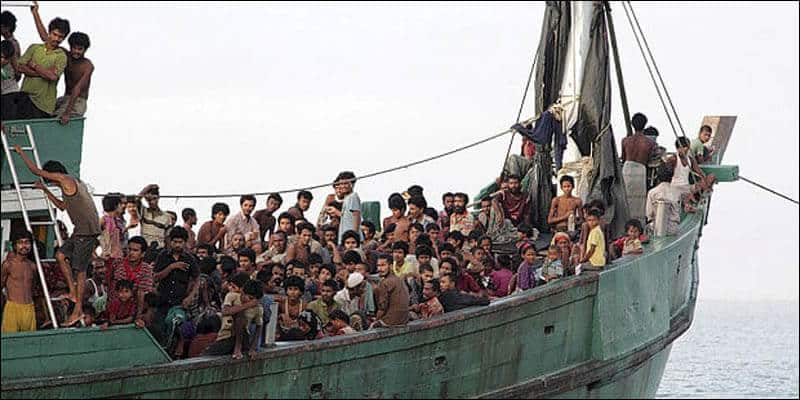 The UN Response
In August 2016 UN established a nine-person commission led by former UN Secretary – general Kofi Annan to discuss the options to propose a solution.
The committee submitted its final report to the Myanmar Government on Augst 23, 2017.
The committee's final report included recommendations to reduce communal tension and support much-needed development efforts in the impoverished state.
The ASEAN Response
There has been no coordinated response to the Rohingya problem from the ASEAN. The nature of the response indicates a divided region.
Till now, there remains a notable lack of pressure on Myanmar from the ASEAN.
Unlike the 1989 Comprehensive Plan of Action on Indochinese Refugees, which oversaw cooperation between recipient countries of 275000 Vietnamese refugees, no agreement has been made among the four largest destination countries of refugees from Myanmar.
At first, Malaysia refused to provide any kind of refuge to the people reaching its shore but agreed to "provide provisions and send them away". Later, Malaysia and Indonesia agreed to provide temporary refuge to the Rohingya. Thailand said, it would provide humanitarian assistance and would not turn away boats that wish to enter its waters.
Bangladesh
Bangladeshi Prime Minister Sheikh Hasina called her own country's economic migrants "mentally sick" and said that they could have better lives in Bangladesh, and complained they were discrediting Bangladesh by leaving.
Shortly thereafter, the Bangladeshi Government announced plans to relocate the 32,000 registered Rohingya refugees who have spent years in camps near the Myanmar border.
The 200,000 unregistered other refugees were not officially part of the government's relocation plan.
Initially, Thengar Char, an island 18 miles east of Hatiya Island was reportedly selected for the relocation. A subsequent report put the location as 200 hectares selected on Hatiya Island, a nine-hour, the land-and-sea journey from the camps.
The United States
The State Department of United States expressed its intent to take in Rohingya refugees as part of international efforts.
Since 2002 the United States has allowed 13,000 Myanmar refugees. Chicago, home to 'RefugeeOne', has one of the largest populations of Rohingyas in the United States.
India's response towards Rohingya Refugees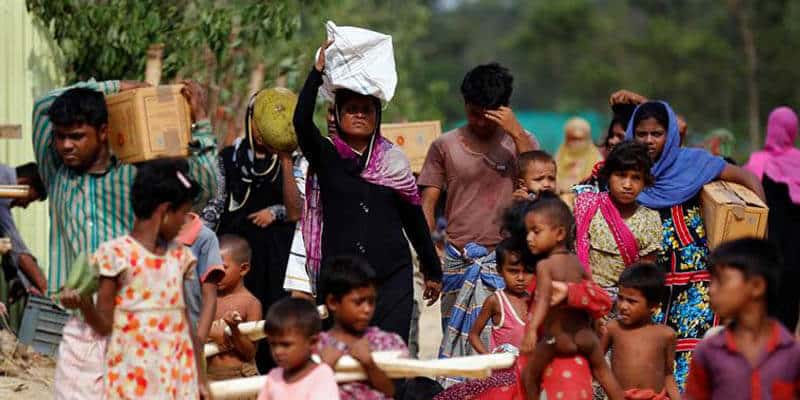 Nearly 40000 Rohingyas have their home in India now. India has been receiving Rohingya refugees and allowing them to settle in the different parts of the country over the years, especially after the communal violence in the state of Rakhine in 2012.
In 2012 December, India's external affairs Minister visited Rakhine and donated 1 million dollars for relief.
However, India considers the refugee crisis as an internal affair of Myanmar.
On August 9, 2017, Rajya Sabha MP Rajeev Gowda posed several questions to Union minister of state for home affairs Kiren Rijiju. The questions pertained to the condition of Rohingya refugees in the country and were framed as follows: (a) whether the (home) ministry has framed a policy with regard to Rohingya refugees in India; (b) if so, whether it involves other stakeholders, such as our neighboring countries; (c) whether reports stating that government plans to deport the 40,000 Rohingya refugees are true; and (d) if so, the reasons for such plans?
The minister's response was to outline a plan to deport around 40,000 Rohingya, or "illegally staying foreign nationals", from India. He said that the central government had directed the state governments to set up district task forces to "identify and deport" the foreign nationals.
Since India is not a signatory to the United Nations Convention on Refugees, refugee status granted by the United Nations High Commissioner for Refugees (UNHCR) to the Rohingya was irrelevant to their deportation.
According to the Government of India, there are no refugee camps established for either Bangladeshis or Rohingyas in India and there were only schemes of assistance for Tibetan and Sri Lankan refugees.
Why does India try to keep away from the issue?
India considers the issue as an internal affair of Myanmar.
Indian believes that ASEAN has an undeniable responsibility to resolve this crisis.
India does not want a conflict of interests with the new regime in Myanmar-Myanmar has a key role in India's Look East Policy.
India already has several issues like poverty, unemployment etc for her own people.
How the refugee crisis affects India's interests and values
India holds a strong history of welcoming refugees from Srilanka, Tibet, Afghanistan, Pakistan, Bangladesh and still they enjoy the freedom and rights here. The Rohingyas are now the most genocided community in recent past in South Asia, they are stateless and no place got to go.
16500 Rohingya refugees in India holds United Nations High Commissioner for Refugees (UNHCR)'s identity card and India consider it as irrelevant, and as far as they are illegal immigrants to India, they will be subjected to deport.
The refugees have to face the same situations like in the past if India sends them back, which will question India's policies in the global front. It considered as will rather die in India than return to Myanmar for Rohingyans.
Adding to this, recently an insurgent group – Haraquah Al-Yaqin formed in Saudi Arabia commanded by Rohingyas on the ground with tactical training and guerrilla operation skills. India had a history of Lankan refugee issue which eventually ended up in the Assassination of Rajiv Gandhi.
Along with security issue, it may lead to political, governance and economic problems in the country.
Article by: Amal Jose