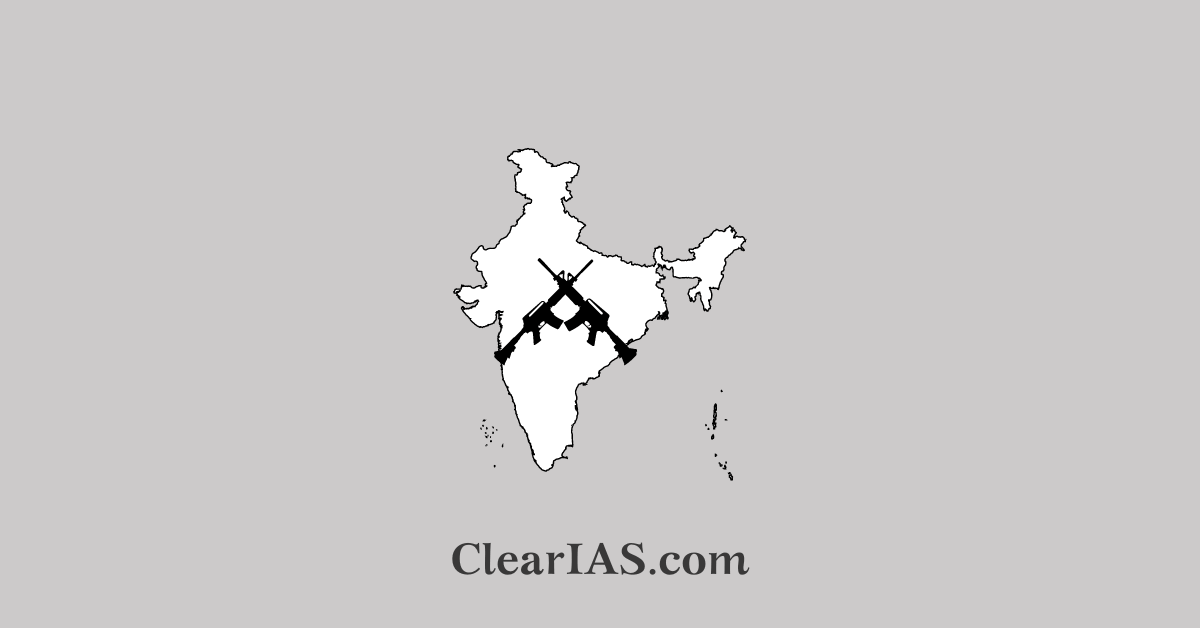 What is the role of external state and non-state actors in creating challenges to internal security? What are the measures to combat these challenges?
The act of maintaining peace within the boundaries of a sovereign state or other self-governing areas is known as internal security, and it is typically accomplished by preserving the law of the land and fending off threats to internal security.
Police, paramilitary groups, and in rare cases, the military may be in charge of maintaining domestic security.
For India, internal security has become of utmost importance. The security concerns are getting more complicated and intensified as India advances to take the top spot in the international community.
India's internal security is facing multiple challenges from state and non-state actors. State actors include the foreign government representative and their agencies. Non-state actors may consist of NGOs, multinational companies, terrorist and religious groups, hackers, etc.
Important Aspects of Internal Security
Upholding the rules and laws made by the authority.
Accepting the sovereign power of people.
Protecting India's national sovereignty.
Securing the territorial integrity of India.
Promoting India's rise to its rightful place in international affairs.
Ensuring a peaceful internal environment within India.
Creating a climate for our citizens that is just, equitable, prosperous, and shields them from risks to life and livelihood.
The 43rd Report to the concerned Parliamentary Standing Committee, the Ministry of Home Affairs has brought out that "210 of the 535 districts in the country are affected by serious internal security problems or public disorders" and almost 40 percent of areas facing serious disorders of one or the other kind.
Challenges
India faces various challenges to its internal security including Naxalism, Terrorism, insurgency, Separatist Movement, Illegal Migration, Cyber-driven crimes, Drug trafficking, Communalism and Growing Regional Assertiveness, Money Laundering, etc.
India's eight northeastern states comprise 4 percent of the national population and 8 percent of India's land mass. 96 percent of the borders of these eight states are international borders with China, Bangladesh, Nepal, and Bhutan.
This fact gives the region, great strategic significance, well beyond its size. The creation of a conducive environment that fosters peace and security in the region is one of the topmost priorities of the Government.
Since gaining its independence, India has fought five wars: four with Pakistan and one with China. Due in significant part to historical legacies, India's land borders are still open to external threats.
Along with defending its land borders, the country must also defend its extensive coastline and island holdings as they are prone to several threats by external states and non-state actors.
Challenges Created by External State Actors
A few of India's surrounding nations provide finance, training, or coordination to the insurgency organizations. For instance, it is alleged that China aids insurgents in the Northeast. Eg. ideological support by Pak Military and Islamists and Chinese support to NE groups.
In some cases, state actors have been in charge of waging cyber warfare through hacking and other forms of espionage.
To promote internal unrest and degrade India's reputation on international forums, state actors also finance their proxies inside and outside of India.
Pakistan: India's most significant external security challenge comes from Pakistan. The long-standing conflict over the disputed region of Jammu and Kashmir has led to a protracted insurgency. Pakistan has been accused of supporting and providing safe havens for militant groups that operate in Indian-administered Kashmir. This has resulted in terrorist attacks and cross-border infiltration.
China: India shares a contested border with China in the Himalayan region. Disputes over the border, particularly in areas like Doklam and Ladakh, have led to occasional tensions and skirmishes. China's assertive behavior in the region can pose a security challenge for India.
Proxy Warfare: Both Pakistan and China have been accused of using non-state actors and proxy groups to further their interests in India. These groups can carry out acts of terrorism and violence, contributing to internal security concerns.
Challenges Created by Non-State Actors
Destroying India's Unity in Diversity concept for some mere political gains and luring the population to fulfill their agenda.
Multinational Corporations (MNCs) may pose a threat to national security, particularly in the areas of data security and cyberspace, as well as by influencing the laws of the countries in which they operate. It is the cause of the recent blocking of various Chinese apps in India.
Potential risks to India's peaceful internal security environment include non-state organizations with anarchic and fundamentalist ideas that are incompatible with the country's reputation for secularism.
By tearing apart the socio-religious fabric of India and encouraging riots, propaganda is managed and supported by enemy nations and other non-state actors (NGOs and civil society organizations).
Terrorist Organizations: Various terrorist groups, such as Lashkar-e-Taiba (LeT), Jaish-e-Mohammed (JeM), and Hizbul Mujahideen, operate in India. These groups have links to external state actors and are responsible for attacks on Indian soil. They aim to create instability and undermine India's security.
Insurgency Movements: India faces several domestic insurgency movements in states like Jammu and Kashmir, the Northeastern states, and areas affected by left-wing extremism (Naxalism). These movements often receive support or inspiration from external non-state actors and benefit from cross-border sanctuaries.
Cyber Threats: Non-state actors, including hacktivists and cyber criminals, can pose a significant security threat in the digital domain. Cyberattacks, data breaches, and disinformation campaigns can have wide-ranging implications for India's internal security.
Transnational Crime: Non-state criminal organizations involved in drug trafficking, human smuggling, and arms smuggling can contribute to instability and insecurity in India. These criminal networks often operate across borders and can be difficult to counter.
Religious and Communal Extremism: Extremist groups promoting religious or communal violence can pose internal security challenges. Some of these groups have ideological or financial ties to external entities.
Environmental and Climate Factors: While not typically considered non-state actors, environmental changes and natural disasters can also have security implications. Climate change-induced events, such as floods, droughts, and resource scarcity, can lead to social unrest and displacement, creating security challenges.
Measures to Combat the Challenges of Internal Security
Addressing these challenges to India's internal security requires a multifaceted approach, including diplomatic efforts to manage relations with neighboring countries, intelligence, and law enforcement operations to counter terrorism and insurgency, cybersecurity measures to protect critical infrastructure, and efforts to address the root causes of extremism and social unrest.
International cooperation and intelligence sharing are also crucial in countering threats from external actors and non-state entities.
The cooperation and communication between intelligence and law enforcement services must be effective.
To stop any attempts at cyberattacks, sound cybersecurity procedures must be implemented.
For India, a comprehensive national security doctrine needs to be established so that, even in the event of a change in leadership, there will be no ambiguity.
The capability of police forces to manage internal security must be improved.
The equipment and facilities used by the border patrol forces need to be improved.
Delivering the right concept of nationalism to the masses so they can protect themselves from the trap of vicious activities for any kind of gain and not let them fight over non-relevant incidents.
The demographic balance must be preserved while illegal immigration should be minimized.
Corruption must be eradicated with efficiency, and the right use of money allocated for development must be ensured.
Government, media, and the general people should work together to facilitate the rapid and effective disclosure of information regarding questionable activities to law enforcement agencies.
Conclusion
The role of external state and non-state actors in creating challenges to internal security is immense and requires numerous multipronged actions at both national and international levels.
A serious threat to the country is posed by the deterioration of the federal government, rising economic inequality, and the spread of communalism. The only way to guarantee that India is protected from both internal and external vulnerabilities is by leading the people along the path of development and secularism.
Moreover, we need to have a broad understanding of national security rather than just a limited military perspective. While it is crucial to protect our borders and bolster our diplomatic efforts, we also need to keep an eye out for various non-state actors who come in hidden forms. In this hour, a national internal security doctrine is required to address a variety of issues.
Click here to read more internal security notes.
Article Written By: Priti Raj