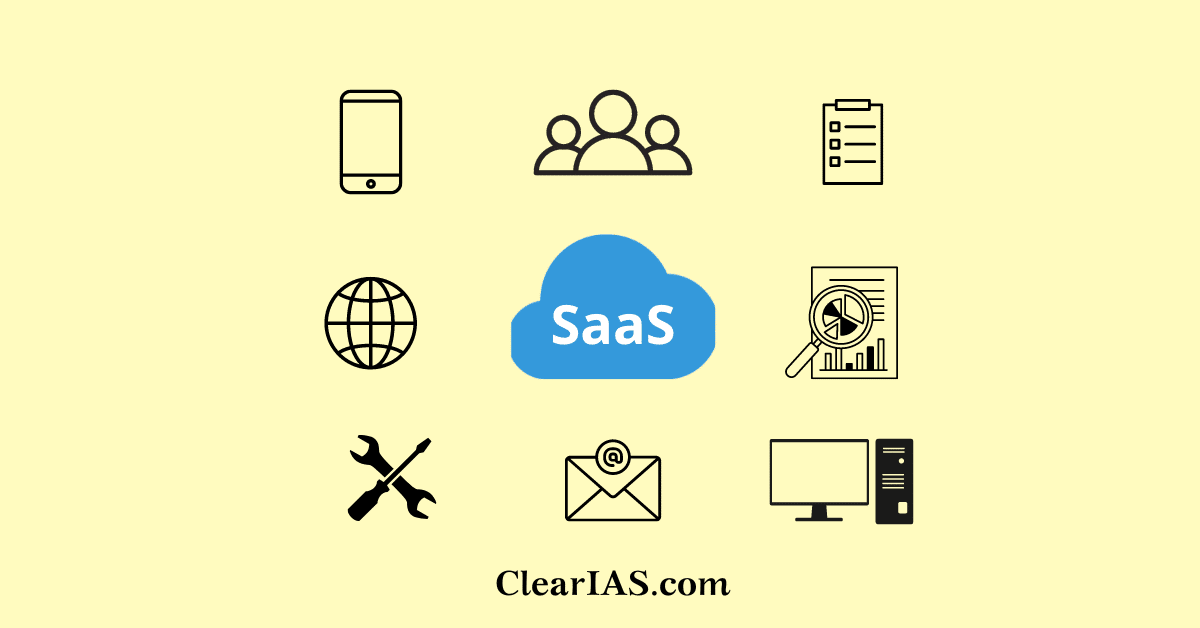 What is SaaS? What are its advantages? What are the various challenges associated with it? 
Software as a service (SaaS) is a method of software delivery. Read here to know more about SaaS
What is SaaS?
In this method, the data can be accessed with an internet connection or web browser on any device at any location. Vendors host and maintain servers and databases. It does not require proximity to the end user. The software is hosted exclusively by the provider.
The fundamental distinction between SaaS delivery and On-premise model is that, in SaaS, customers have to maintain hardware and not worry about upgrades and data security.
There is no need to pay the entire cost upfront, it can be bought through a subscription model.
Moreover, users' pay for SaaS is cost-effective instead of purchasing multiple software licenses for multiple computers. This is a very cost-effective advantage.
SaaS has many business applications. It includes file sharing, email, calendars, customer retention management, and human resources.
It is easy to implement, update and debug. This method  allows users to access the software through a web browser from multiple locations
Examples for SaaS
SaaS products may be primarily marketed to B2B, B2C markets, or both. Examples of popular SaaS products include:
Salesforce
Google Workspace apps
Microsoft 365
HubSpot
Trello
Netflix
Zoom
Zendesk
DocuSign
SaaS architecture
SaaS applications and services use a multi-tenant model. All customers, use the same version and configuration of the program.
The data from various clients will be separated even though they will run on the same cloud instance with a common platform and architecture.
The standard multi-tenant architecture of SaaS applications allows the cloud service provider to manage upgrades, bug fixes, and maintenance more quickly, simply, and effectively. By keeping the single, engineers also can make necessary changes for all customers by maintaining the one, shared instance.
Advantages
No need for organizations: SaaS eliminates the need for organizations to install and run apps on their computers or in their own data centres
Cost-effective: This removes the cost of purchasing, procuring, and maintaining hardware as well as purchasing, installing, and supporting software.
Flexible payments: Customers can buy software in a subscription manner, there is no need to pay the entire cost upfront.
Scalable usage: High scalability is a property of cloud services like SaaS that allows users to access more or fewer features or services as needed.
Automatic updates: Customers can rely on a SaaS provider to automatically carry out updates rather than buying new software.
Accessibility and persistence: Users can access SaaS apps from any internet-enabled device and location because SaaS companies deliver their products via the internet.
Customizable: SaaS applications are customizable and can be integrated with other business applications
 Challenges and Risks
SaaS also poses certain potential risks, because companies completely rely on outside software providers to deliver the software, maintain it, and manage it. It threatens the confidentiality of companies' data.
Issues beyond customer control: Issues may develop when service interruptions, unwelcome modifications to service offerings, or security breaches are experienced by the providers.
Customers lose control over versioning: Whether or not a consumer desires the newer version, if a provider adopts a new version of an application, it will roll out to all of its customers. The company might need to allocate more time and funds for training as a result.
Security: With the rapid adoption of cloud-based models for fully serviced software products, organizations still have certain concerns about SaaS products when it comes to security and privacy, it includes encryption, security monitoring, data privacy…etc
Factors that contribute to the growth of the SaaS market in India:
Less Startup cost: SaaS-based services do not require huge capital and a physical environment
Rise of business on Mobile devices: The industry like Healthcare, e-commerce, and education are some of the significant areas in SaaS adoption. Each of these sectors is expected to expand at a healthy pace shortly and the overall economic growth
Mobile Apps: Mobile app popularity adds significant demand for SaaS among big players to small businesses like salons, spas, and dance and yoga classes
India's proficiency in engineering, product management, and mobile skillset: It creates a highly advantageous opportunity for Indian SaaS business
Also read: Software sector
SaaS vs IaaS vs PaaS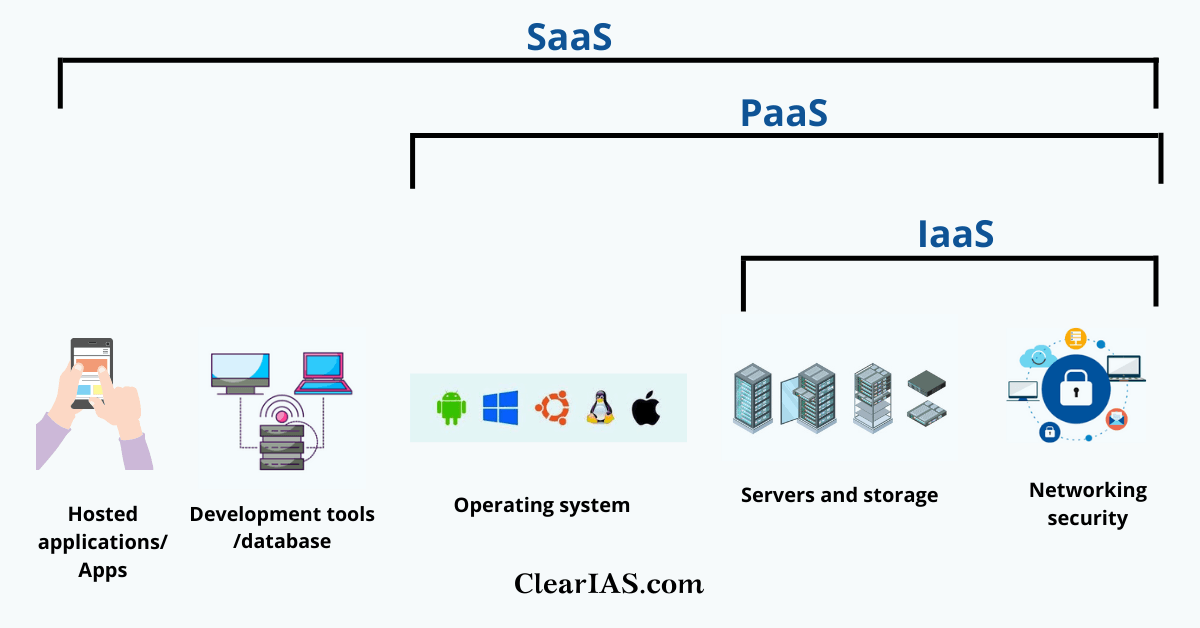 SaaS is one of the cloud service models along with IaaS (Infrastructure as a Service) and PaaS (Platform as a Service). All three models involve cloud providers that deliver their own hosted data centre resources to customers over the internet.
Where the models differ is in the completeness of the product.
IaaS primarily outsources data centre resources, While PaaS provides a development platform and other tools housed at the provider's data centre
Users of SaaS applications are not required to maintain any existing IT infrastructures, download software, or deal with any other aspects of software management.
Vendors take care of all facets of operating the software, including security, support, upgrades, and maintenance. SaaS applications are complete, fully managed products.
IaaS, or infrastructure as a service, is a method used by businesses to outsource their computer and data centre operations to a cloud provider.
Infrastructure as a service (IaaS) vendors offer servers, storage, and networking. It eliminates the cost and work of owning, managing, and maintaining on-premises infrastructure. Networking architectures use IaaS.
Platform as a Service, or PaaS, offers a whole cloud platform—including hardware, software, and infrastructure—for creating, deploying, and maintaining applications without the added expense or complexity.
The PaaS provider hosts everything—servers, networks, storage, operating system software, databases, and development tools—at their data centre.
Provides PaaS customers with the ability to develop, test, deploy, run, update, and grow applications more quickly and affordably than they had to create and manage their on-premises platform. The use of PaaS by developers.
Previous Year Question (2022)
Q. With reference to "Software as a Service (SaaS)", consider the following statements:
1. SaaS buyers can customise the user interface and can change data fields.
2. SaaS users can access their data through their mobile devices.
3. Outlook, Hotmail and Yahoo! Mail are forms of SaaS.
(a) 1 and 2 only
(b) 2 and 3 only
(c) 1 and 3 only
(d) 1,2 and 3
Answer: d
Article written by: Aryadevi E S