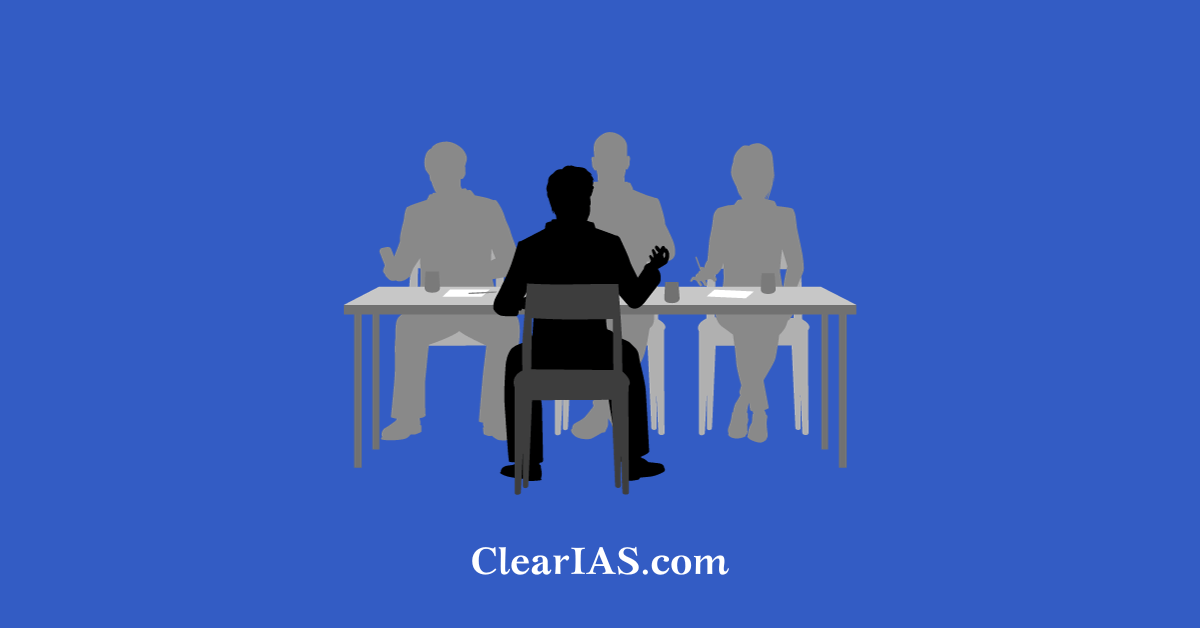 "Be like water", says, Sathish B Krishnan Rank 125 in UPSC Civil Services Exam 2017.  Sathish believes that aspirants should not confine himself/herself to any particular style/method alone. He also warns against sacrificing aspirants' happiness and pleasures completely for a single goal like clearing UPSC CSE.
Sathish was totally different from his fellow aspirants in his methods of preparation. However, his unique style proved extremely beneficial, as he emerged as a UPSC Topper this year. Let's hear more from him.
Brief Biodata: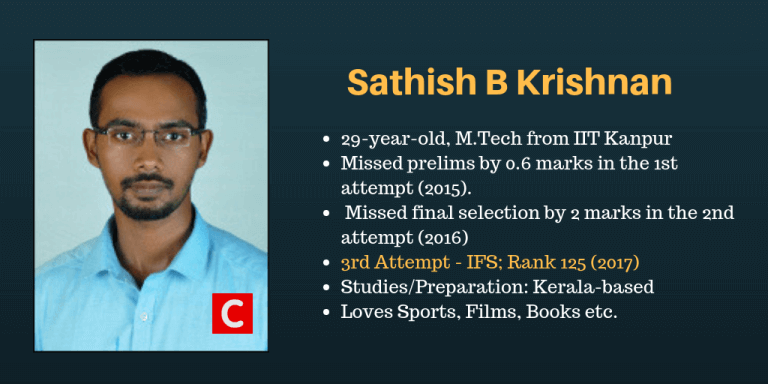 Name: Sathish B Krishnan
Age: 29
Name of the Exam and Year: UPSC Civil Service Examination, 2017
Rank: 125
Roll number: 0474285
Category (General/OBC/SC/ST): General
Graduation Background and College: B.Tech Mechanical Engineering, Govt Engineering College, Thiruvananthapuram
Post Graduation Background and College: M.Tech Aerospace Engineering, IIT Kanpur
Work Experience: Organization and Duration: Sr. Engineer, Defense & Aerospace Dept, Larsen & Toubro Ltd
UPSC Optional Subject: Malayalam Literature
UPSC Mains Medium: English
UPSC Interview Medium: English
The number of attempts taken to achieve this feat: 3
Performance in previous attempts: Missed prelims by 0.6 marks in the 1st attempt(2015), Missed final selection by 2 marks in the 2nd attempt(2016)
State and Place of Residence (Permanent): Kerala, Kannur
Percentage of Marks in 10th and Board: 90
Percentage of Marks in 12th and Board: 87
Percentage of Marks in Graduation and Board/University: 80
Percentage of Marks in Post Graduation and Board/University: 80
What's unique about your profile: Academic diversity, Corporate background and quite a late initiation into UPSC
Service Preference (Top 5): IFS, IAS, IPS
Cadre Preference (Top 5): Kerala, Gujarat, UP
Background + Inspirational Journey So Far:
ClearIAS.com: Hearty congratulations from ClearIAS.com for this exceptional achievement!  We are happy that your efforts are finally rewarded, that too in grand style! Let's start from the beginning. How did you come across the idea of writing UPSC Civil Services Examination? Was it your childhood dream?
Probably like every other Keralite, the scintillating movie dialogues did instil momentary likes towards the 'powers' of Dist. Collector, Police Commissioner etc. But Kerala and particularly the Malabar region had little exposure to civil service and hence the dream did not find any way forward.
However, after joining the corporate, the dream started coming back every now and then, thanks to the defence deals largely mediated by the IFS and IDS guys. Finally, I made up my mind and got the courage to resign after having a few discussions with my family as well.
ClearIAS.com: How did you feel when you came to know that your name is in the toppers list? Can you share the moments of happiness with our readers?
This is my 3rd attempt and the 2nd after resigning from the job. So, for a person like me who has been living in a state of stress and frustration (though managed and under control), the feeling is more like a relief rather than happiness. Particularly so because I still remember the day result came last year, finally landing me in deep despair.
ClearIAS.com: Can you share a little bit about your background? (Family, School, College, Work etc.)
I am basically from Kannur district in Kerala, where I did my education till 12th in PES Vidyalaya near Payyannur. Then I moved to Thiruvananthapuram to do my graduation in mechanical engineering. Later I did my M.Tech from IIT Kanpur.
After my post-grad, I was associated with L&T defence & aerospace dept for a short while of about 2 years. In December 2015, I resigned from the post of Sr. Engineer and moved to Thiruvananthapuram where I pursued my Civil Service dreams.
ClearIAS.com: How can you correlate you graduation background, work experience (if any) and entry into civil services? Can you brief us your thoughts, views, and ambitions when you climbed each position on the ladder of your life?
Life, for me, is not a computer program of 'if, than and elseif'. I prefer to live my life my way, pursuing the dreams I catch on the way and trying to find happiness deliberately in everything I do, rather than attaching happiness to a dream which I might achieve at some point of my time.
My post-grad times and corporate experience did help me in molding such a thought process. The stress situation I had to go through during my M.Tech period was indeed manifold than my UPSC preparation times. So I used to think, "if I can get through that alive and happy, why not this…??".
ClearIAS.com: Do you feel that the competition level of UPSC Civil Services Exam is on a rise? It seems that there is an increasing trend of candidates from IITs, IIMs and AIIMS attempting and clearing this exam. Is Civil Service the final destination /ambition of Indian youth, in this age of lucrative private sector jobs?
In my opinion, civil service should not be compared with most other private sector jobs. After all, this is not a job based on any professional course. It is more like a realization when you understand the society better. One should try to compare and match the demand of the profession with his/her own skill set and aptitude and then reach a matured conclusion, rather than jumping into civil service preparation at 21 or even lesser an age…!!!
Study Plan
ClearIAS.com: What is the secret of your success? How did you approach this exam? What was your strategy in general (Prelims, Mains, and Interview)?
For me, I was able to enjoy the entire process of preparation (despite the stress and frustration at times) and that, I guess, is the secret behind my success as well. After all, how can u do something good if you are not enjoying it…??
I did not have any separate strategy for prelims, mains and interview. It was all the same, with slight modifications. Primarily, I keep myself open to all kind of sources of information – people I meet, places I travel, random books (including novels, stories etc) I read, movies I watch, music I hear etc are all my study materials and my best teachers. This indirectly helps to broaden my perspective and I guess paid off well in my mains and interview.
And for prelims, I had a set of fixed resources, the ones I have relied for the last 3 years. I keep this source limited and try to revise them to help my short term memory (because I acknowledge that it is my weak spot).
ClearIAS.com: How long (Years/Months) have you been preparing before you gave this attempt? Also, on an average how many hours did you put on a daily basis? How did you manage time?
3 years and 3 attempts it has been for me to realize this goal. However, I try never to micromanage my time. There were days I studied nothing, but there were also days when I efficiently spent 6-7 hours as well. But on top of that, I make sure to engage myself in all kinds of cultural and sporting events happening in and around Thiruvananthapuram, which was an important part of my life as well as my preparation. Even during the days before the examination, I used to have my badminton sessions, which I felt was very important.
ClearIAS.com: Were you a person who studied alone? Or a person who favoured the combined study approach?
Nothing specific. I go with the flow and do what I feel is most appropriate at that point in time. When I feel lazy, I drag myself across and get me to some reading spaces/study groups. But otherwise, I sit and do things on my own. So ultimately it is about realizing and acknowledging the then state of mind and doing accordingly.
ClearIAS.com: Did you attend any coaching institute or subscribe to mock tests for prelims or mains? If yes, can you provide the details for each stage (Prelims/Mains/Interview)? How helpful were the coaching institutes?
I joined Kerala State Civil Service Academy in 2016 January and attended a few months' classes there. I took my prelims mock test also there. In 2017, I gave no prelims mock test.
In mains preparation, I was associated with Pala academy Thiruvananthapuram campus, where I was also a faculty. Mentoring from Arun sir and Remya ma'am was also of great help. With respect to my optional preparation (Malayalam Literature), in 2017 I gave my mock tests mentored by Arunsir (different from the Arun sir mentioned before).
ClearIAS.com: What websites (online preparation websites or government websites) will you recommend for future aspirants for UPSC preparation?
Nothing specific as such, since I never had a set pattern or specific sites for reference. But I guess that the sites like ClearIAS, pmfias etc could be handy for factual information and last minute revision materials.
ClearIAS.com: What is your opinion/feedback about the ClearIAS.com website/ClearIAS app?
From my limited acquaintance with the website, I have always felt it handy to use and easy to move along. The materials with respect to history, geography etc are well organized such that it could even help self-study to a large extent.
ClearIAS.com: Please mention the programs of ClearIAS which you used:
I have gone through the study material compilations provided in the ClearIAS website and felt it quite useful, particularly for my final revisions.
ClearIAS.com: Did you use Social Media like Facebook, Twitter or other forums for UPSC Preparation? Or did you say goodbye to the social media during preparation days? Any technology-tips (Eg: Mobile apps, Note making software etc.)?
FB, Whatsapp etc continued to be a part of my life during the preparation period as well. However, I seldom used them deliberately for any preparation, though my discussions and debates there might have indirectly helped me in mains and interview preparations.
ClearIAS.com: What were the Newspapers and Magazines (Eg: Yojana, Kurukshetra etc.) you followed? How many hours did you devote for newspapers? Any tips on newspaper-reading?
Absolutely no magazines, but have been quite regular with 'The Hindu'. But again, newspaper for me is not a source of current affairs information, but it serves in building up my perspective. Also, no specific time devoted to them.
ClearIAS.com: What was your preference: Reading online (Laptop/Tablet/Mobile) or reading the traditional way (Books)? Or a mix of both?
A mix of both as and when comfortable. I believe that one should not confine himself/herself to any particular style/method alone. Be like water….
ClearIAS.com: Can you elaborate your daily timetable (When will you wake up, study, sleep etc. )
No specific pattern per say. Be healthy…be happy…be comfortable…reinforce with positive feedback and do course corrections as and when required. That is all…!!!
ClearIAS.com: How did you keep yourself motivated for this one-year-long exam?
I kept myself engaged as much as possible, thus leaving no room for idleness. This helped me keep myself away from negative thoughts, depression etc. It also kept me healthy and broadened my thought spectrum. Teaching also had a fair share in keeping me going, both financially and with respect to my personal preparation. I believe that the best way to learn and revise is to teach.
UPSC Prelims
ClearIAS.com: Can you elaborate on your preparation strategies/approach and study materials and books used for Prelims Paper 1 and Paper 2? (Please mention books/materials used for each subject)
I made sure to keep my sources limited, 1 book per subject so that revisions would become easy and efficient.
Books/Study Materials for History: R S Sharma, Bipan Chandra
Books/Study materials for Geography: 11th, 12th NCERT and my own notes for specific topics
Books/Study materials for Polity: Lakshmikanth
Books/Study materials for Economics: My own notes
Books/Study Materials for Science and Technology: My own notes
Books/Study materials for Environment: Shankar IAS material
Books/Study Materials for Current Affairs: Newspaper and Vision compilations
Books/Study materials for General Studies Paper 2 (CSAT): None, since that's an area I am comfortable
ClearIAS.com: Any tips/pieces of advice especially for UPSC Civil Services Prelims?
1) Have a minimum of 80+ attempts
2) Be willing to take guesses (mock exams can hone this skill)
3) Be cautious on blanket statements (all, none etc) in options and keywords of questions (correct, not correct etc)
4) Be logical
5) For CSAT, don't keep cut-off as target attempt. Try to attempt all 80 questions.
UPSC Mains
ClearIAS.com: Can you elaborate on your study materials and books used for each topic of Mains Papers? (Please give a detailed view, especially for sub-topics in all the general studies papers like books/materials used for each subtopic like Disaster Management, Internal security, Indian Society, Biodiversity etc.)
Mains examination is about our individuality, perspectives, analysis and uniqueness in answering. It is not about cramming up with facts, figures, stats etc.
So open and wide reading and newspapers are what I would primarily recommend for mains exam preparation.
Books/Study materials used for Essay Paper: None, but newspaper reading could help indirectly.
Books/Study materials used for General Studies 1 (Indian History, World History, Indian Society, Indian Geography, and World Geography): RS Sharma, Bipan Chandra, Wikipedia, CCERT website, NCERT 11th and 12th Geography
Books/Study materials used for General Studies 2 (Constitution, Polity, Governance, Social Justice, Foreign Relations, and International Affairs): Lakshmikanth
Books/Study materials used for General Studies 3 (Indian Economy, Biodiversity, Science and Technology, Internal Security and Disaster Management): Ramesh Singh
Books/Study materials used for General Studies 4 (Ethics + Case Studies): None
Books/Study materials used for Optional Subject Paper 1: Standard references with respect to Malayalam literature paper 1
Books/Study materials used for Optional Subject Paper 2: None except the literary works themselves
Books/Study materials used for Regional Language (Compulsory): None
Books/Study materials used for the English Language (Compulsory): None
ClearIAS.com: ClearIAS.com: Did you prepare hand notes or participated in mock answer writing before mains? What was the strategy for preparing current affairs topics in general?
Yes, I did have mock answer writing practices, but no hand notes of any kind.
Newspapers, discussions and debates used to be my best source for current affairs preparation. Vision IAS compilations were also of great help.
ClearIAS.com: What are the government reports that aspirants should go through, before giving the Mains Exam?
I would personally choose not to go into detail of any reports. But if aspirants are particularly interested, Economic Survey could be a good take.
ClearIAS.com: What was the colour of the pen you used for writing mains (Blue Ink/ Black Ink)? Also, the company and brand name of the pen used:
Pilot V5 blue ink pen, since I felt it comfortable for my speed and finger pressure.
ClearIAS.com: What were your writing style in GS and optional subject? Bullet Points/ Essay style or a mix of both styles?
A blend of the both as and when required. But invariantly, there should be an essay style intro and conclusion to the answers.
ClearIAS.com: What are your suggestions to aspirants for improving the score in essay paper? What were the essays you choose to write? Did you use sub-heading/points/graphs in your essay paper?
Remember an editorial article in 'The Hindu'. That could be an ideal essay. The features could be-
1) It should engage the reader and remain interesting.
2) There should be a good flow.
3) Concept/undercurrent should be constant and clear without any ambiguity.
4) There should be no over-emphasizing on facts.
5) The transition from one paragraph to another and from one point to another should be very smooth and organic.
What are your suggestions to aspirants for improving the score in GS1 paper (History, Geography, Society etc?
The following could help in this regard-
1) Factual precision and examples.
2) Unique, but reasonable ideas, if any.
3) Figures when absolutely necessary.
4) Excerpts from current affairs wherever possible.
What are your suggestions to aspirants for improving the score in the GS2 paper (Polity, Constitution, Social Justice, International relations etc?
1) Conceptual clarity in polity and remembering some important articles, amendments etc.
2) A clear idea on issues and other current affairs involving polity, constitution etc
3) Keen awareness of international issues, India's stands etc.
4) Knowledge of international organizations, particularly those in news.
What are your suggestions to aspirants for improving the score in GS3 paper (Economy, Environment, Science and Tech, Internal Security, Disaster Management etc?
1) Be aware on the fundamentals of economics and their implications with respect to current affairs.
2) Documents like economic survey, broad idea on Indian economic growth path, govt policies etc are necessary.
3) Keep a tab on recent advancements in S&T as well as basics in domains like space and defense.
4) For internal security and disaster management, newspaper analysis is sufficient.
ClearIAS.com: What are your suggestions to aspirants for improving the score in GS4 paper (Ethics paper)? Can you brief on how you attempted the Ethics paper? Please explain the strategies and writing the style for Ethics case studies.
1) I personally went for no book-based studies for GS4
2) Be conscious of what you write, do logical substantiation of the same.
3) Never go for idealized answers, the evaluators will know that it need not be genuine.
4) Case studies should be done comprehensive, exploring all options and for that sufficient time should be allocated.
ClearIAS.com: What was your optional subject? Please give our readers detailed insights on your selection and strategies regarding your optional subject. We are sure that there will be many who take the same optional subject as yours in the future.
The parameters for choosing optional should be-
1) personal ability for prolonged study and writing ability in that subject
2) availability of materials
3) availability of guidance, if necessary
4) availability of peer group.
Mine was Malayalam literature. However, my parameter was that I should be able to do it all by myself. Retrospectively thinking, this was an incorrect parameter, making optional my weakest paper and costing me marks and a year.
ClearIAS.com: What was your exam hall strategy for mains: attempting all questions even at the cost of compromising quality or writing only quality answers compromising on the number of questions attempted?
I believe that it would always be better to attempt the maximum number of questions. This could be done without doing any compromise, but by structuring the answers and ensuring that only things necessary are written.
Additional efforts to better an answer might fetch half mark or one mark on an average. But if the same time could be used to pen down some ideas (relevant enough) for even otherwise uncomfortable questions, it might fetch more marks. And the moment a question is left unanswered, the max marks itself comes down.
But this is a very personal suggestion, varying from candidate to candidate.
UPSC Interview
ClearIAS.com: Can you elaborate on your approach and preparation for Interview? Did you attend any mock interviews?
My approach to interview was-
1) be ready for an open and engaging conversation.
2) be frank, tell "I don't know" if that is the case.
3) never bluff, but take permission to guess, if necessary.
4) remain logical always and apologize in case of a mistake.
5) prepare a list of questions anticipated and be well prepared on the personal, academic and job-related background if any. This helped me remain confident.
And yes, I attended mock interviews to work on these parameters and improve myself in the process.
ClearIAS.com: Can you elaborate a bit on the things mentioned in your DAF (Detailed Application Form) like your hobbies, extracurricular activities or prizes won:
Hobbies included air rifle shooting, mixed martial arts etc. And extracurricular activities had music, badminton etc as a part of it.
These should all be genuine and care should be taken to have a deeper knowledge in these areas. Else it would land the candidate in deep trouble.
ClearIAS.com: What was your interview dress?
I was in 3 piece lounge suit- black blazer and trouser, sky blue shirt, red striped neck-tie and black formal shoes.
The suit could be avoided by the candidate, but that should not cost him his confidence, particularly seeing all/most others in the suit.
ClearIAS.com: Who was the Chairman of the board you faced? How long was the interview?
The panel which took my personality test was chaired by Air Marshal AjitBhonsle. I guess the interview lasted for about 30 minutes.
ClearIAS.com: Can you share with our readers your UPSC Interview experience? Our readers would be really happy to hear those questions and replies in the UPSC Topper's Interview.
Following were some of the questions put to me (paraphrased, keeping the idea intact)-
1) On my hobbies, how creating writing fits in as a hobby for a person from a technical background, explain the nuances of the working of air rifle etc.
2) From where I am coming, to which, when I answered Thiruvananthapuram, the panel asked me the major issues faced by Thiruvananthapuram as of now.
One of my answers was waste management and pollution control, where I even mentioned AttukalPongala for the quantum of pollution it causes.
3) There were questions on core aerospace engineering, since it was my area of academics and corporate experience and since the panel chairman shares the interest.
4) There were quite some random factual questions, one of them being a question on the subsets of 'Ayushman Bharat' scheme to which I said that I did not remember.
5) There were more random questions by another member, one of which was on 3 things that Kerala could give as a message to the rest of India. Sustainable development was an answer of mine, to which I was quizzed on carbon emission of Kerala in metric tons. I said that I did not know and to this the member said smilingly that he did not know as well.
6) There were questions on women empowerment and their safety and the idea of feminism from the lone woman member of the panel.
7) There were questions based on situations, largely to test the presence of mind etc.
8) Chairman concluded the interview, revisiting the 2nd question and taking the cue from my answer, he asked what I would do to control the pollution related to Pongala if I was in charge of Thiruvananthapuram.
ClearIAS.com: Were you happy after the interview? Did you expect good marks?
Yes, I was happy after the interview though expectation on the mark was not very prominent. However, I did hope that it would be an above average one.
ClearIAS.com: Any tips for aspirants going for UPSC Interview?
1) be ready for an open and engaging conversation.
2) be frank, tell "I don't know" if that is the case.
3) never bluff, but take permission to guess, if necessary.
4) remain logical always and apologize in case of a mistake.
5) prepare a list of questions anticipated and be well prepared on the personal, academic and job-related background if any. This will help the candidate remain confident.
Do you think that there is a relation between the profile of the candidate (age or education background) and interview marks? At a time when lot many candidates from top institutes like IIT, IIM or AIIMs appearing this exam, is there any matter of worry for other candidates from state colleges or those without work experience?
No.
However, having a good DAF has its own share of the first impression. But at the same time, it will also demand that quality to be reflected by the candidate in the interview as well.
And a rich DAF automatically provides a lot of avenues for questions. But if DAF is not that strong (if the candidate feels so), s/he should put effort to provide such avenues for more questions by building up a conversation.
Previous Attempts/ Backups/ Others Jobs Qualified
ClearIAS.com: Comment on your previous attempts on UPSC Civil Services Exam, if any? What have you learned from the mistakes/failures?
My 1st attempt was in 2015, while I was still working. Missed prelims, primarily because I did not do my work proper with respect to current affairs.
2016 attempt was good, however, a very low score in optional left me 2 marks short of getting shortlisted.
ClearIAS.com: What was your backup plan in case you didn't qualify?
Teaching is something I have loved always and during my preparation too I developed a special liking for teaching. Hence, teaching was one thing I considered as an alternative.
ClearIAS.com: Did you write/clear any other exams (like Bank exams/State PSCs/ Private Jobs) during the preparation period or before:
No.
More on Work Experience
ClearIAS.com: Details of your organisation, name of the post and the duration of experience:
Organization: Larsen & Toubro Ltd
Independent Company: Heavy Engineering (now Defense)
Dept: Product and Technology Devt Centre, Defense & Aerospace dept.
Post: Senior Engineer
ClearIAS.com: Did you leave the job to prepare?
Yes, I resigned.
ClearIAS.com: What is your advice to working professionals who're preparing for IAS exam simultaneously?
Cross-check the decision based on parameters of time, necessity and priority.
Marks – Prelims, Mains, and Interview
Preliminary Exam (Just for Qualification)
General Studies Paper 1: (Out of 200) – Doesn't  remember exact marks now
General Studies Paper 2: (Out of 200) – Doesn't remember exact marks now
Mains and Interview:
I don't remember the exact marks, as I didn't keep the screenshot of marks. The written total was 852. Got 193 for the interview. Below is the approximate marks as per my memory.
Essay (Out of 250): 145
GS1 (Out of 250): 120+
GS2 (Out of 250): 110+
GS3 (Out of 250): 110+
GS4 (Out of 250): 90
Optional Paper 1 (Out of 250): 137
Optional Paper 2 (Out of 250): 125
Written Total (Out of 1750): 852
Interview (Out of 275) – Marks for Personality Test: 193
Final Marks (Out of 2025): 1045
ClearIAS.com: After looking at the mark sheet, suppose if you are going to write prelims and mains this year, what changes will you make in your preparation, answer writing, and interview?
I would have put more effort with respect to my optional paper.
Success
ClearIAS.com: What do you think of as the main reason for your success?
Family, Teachers and Friends for sure….
ClearIAS.com: What preference in services have you opted for? Is there any particular reason for that priority? What are the novel ideas you have for the country, to be implemented once you get into civil services?
I have opted for IFS and has got allocated into the same.
Chose IFS for the following reasons-
1) The spectrum of activity broadens with time and expertise.
2) Ever growing globalization and chaotic world order provides ample scope for activities of both national and transnational importance.
3) The possibility of a wider range of deputations in UN, IMF etc.
ClearIAS.com: Did your life change after success/attempt in UPSC Civil Services Exam? If yes, how?
No, except that it gave a better glimpse into the psychology of people around.
ClearIAS.com: Does the educational or financial status of the family of the aspirant impact the UPSC preparation and result?
It could, but it need not as well.
A good educational background (not just in terms of degrees, but in terms of the quality of thought it has imparted to the candidate) can help the candidates in their preparation.
A sound financial status could give more time for the candidate to dedicate for full-time preparation.
But these need not be the case always, depending on the perseverance and conviction of the candidate.
ClearIAS.com: Any tips on Civil Services exam preparation and other priorities in life (Financial security, Higher Studies, Marriage, Family life etc.)
What matters is conviction and perseverance. One should not have a regret, "I could have done better…". So give the best, but life is bigger than UPSC, and hence one should never sacrifice life for UPSC. (remembering the suicide of the candidate who was not permitted to sit for 2018 prelims)
ClearIAS.com: What is your advice to the freshers who are going to appear in this exam?
UPSC is a marathon, never a sprint. So take it steady, be patient, have perseverance and enjoy the process. If you are serious, the preparation itself will make you a better person.
ClearIAS.com: What is your advice to all those candidates who didn't succeed in this exam yet?
UPSC is a milestone…but road never stops at a milestone; life is indeed bigger than UPSC, never forget that.
Be patient, have perseverance and be confident
Treat life simple and logical and it should take you a long way in life.
ClearIAS.com: We like to express our heartiest congratulations once again for this grand success. We are happy that you chose ClearIAS.com to share your happiness on this special occasion. ClearIAS.com sincerely thank you, on behalf of our readers and ourselves, for the spirit and benevolence to find time to write answers to our detailed questionnaire. Wishing you, all the very best in career and life.