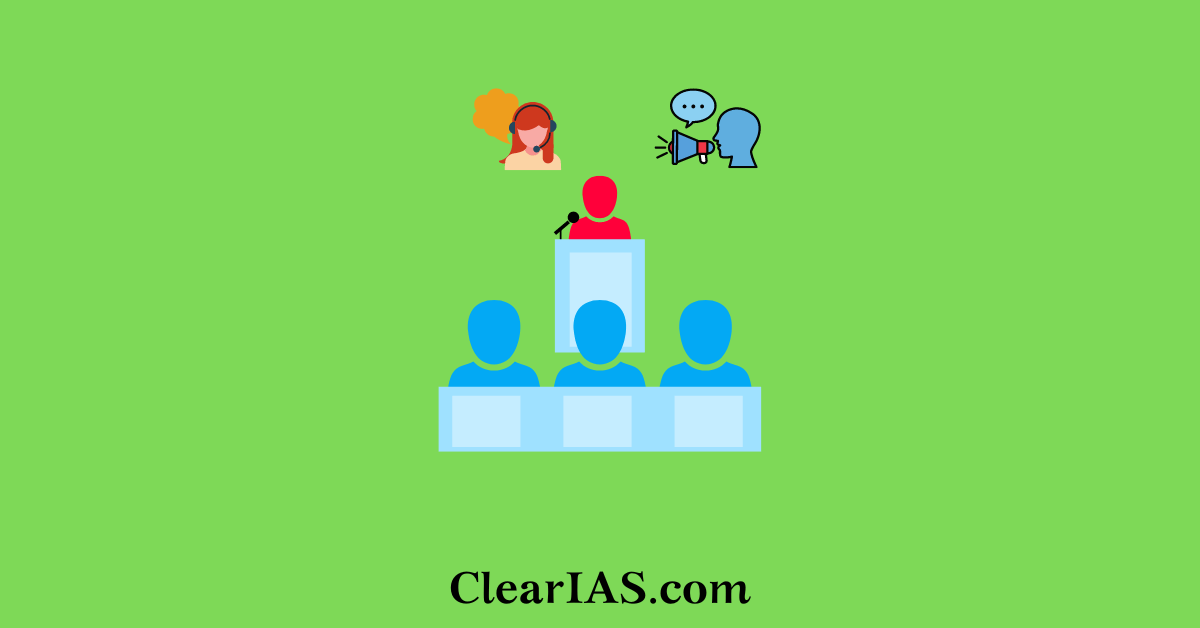 What are social influence and persuasion? How does it help in governance and administration? Read further to know more.
The tendency for people to adopt the attitudes and behaviors of their social circle is referred to as social influence. Contrarily, persuasion refers to the skill of persuading others to act in accordance with your preferences and/or desires.
Both ideas are frequently referred to as having different dimensions of impact and rely greatly on one another to function effectively. They may, however, be used alone as well.
How does social influence work?
The process by which people are exposed to persuasive communication and, as a result, acquire and alter their attitudes, beliefs, intentions, and behaviors are referred to as social influence.
When people construct their beliefs based on the opinions of others rather than independent reasoning, social influence is more prevalent.
Social Influence Determinants
Social influence is the purposeful or inadvertent change in behavior that one person brings about in another as a result of how the affected person sees themselves in relation to the influencer, other people, and things in their surroundings.
You can use persuasion to convince someone to modify their behavior or views or to win their acquiescence. Some of the crucial elements affecting social influence include the ones listed below:
Reciprocity
When someone has recently complied with their demands, people are more likely to do the same for them. People also feel compelled to return favors if they believe they owe the other person something.
Because it causes guilt feelings when someone does not reciprocate when expected, reciprocity is an important consideration in decision-making.
Additionally, it results in a perpetual circle of reciprocal generosity in which people continue to do favors for one another.
Dominance
People in positions of power are less likely to be persuaded by reason than by threats and other forms of coercion.
Physical attractiveness: According to some research, people who are physically appealing are more persuasive than others, even if they don't appear to be more knowledgeable or competent.
People who are attractive are more likely to be accepted, praised, and liked. Other research demonstrates that while women find males wearing red shirts more attractive, men find women wearing red apparel more attractive and sexually desirable.
According to research, this may be the result of unintentional links between the color red with romance or love.
Scarcity
When we think of something as scarce, we typically want it more than when we think of it as plentiful.
Three Social Influence Areas
The following are the three areas.
Conformity
When we conform, we follow the rules and standards of a situation or a group. We may act in this manner out of social conformity or because we think it is morally appropriate.
Study on the #SelfieWithDaughter Case
Parents from all over the nation who were celebrating the birth of their kids were featured in the selfie campaign. Most people wanted to fit in, thus an increasing number of parents shared selfies of their daughters online.
The #SelfieWithDaughter campaign was started by a proud father in a village in Haryana, and it quickly gained international attention.
Compliance is consenting to carry out a request made by another person. When we obey, we carry out their instructions.
Usually, we do this in order to avoid punishment or to get something in return. For instance, we might cooperate with a request to do something because we want a buddy to or we don't want to get in trouble. Modifying one's behavior after receiving a clear request from friends, neighbors, family, etc.
In this, people pretend to agree with one another in public while keeping their disagreements to themselves.
Obedience is an action taken in response to a command from someone in a position of authority over us, such as a police officer. Most of the time, the person giving us the command utilizes some kind of force to persuade us that what they are asking us to do is vital.
Justifications for Obeying
Visible Badges
To remind people who are in charge, the General's badges are distinct from the Captain's.
Responsibility Diffusion / Transfer
Diffusion of responsibility when working in a group and transfer of accountability when you are told to complete the task by a superior or another person in authority.
Persuasion: What Is It?
One type of social impact is persuasion. It is the act of persuading someone to accept a viewpoint or take an action. There are various ways to employ persuasion, but they all have the same goal: persuading someone to agree with you.
The sender (the person giving the message), the recipient (the one being convinced), and the circumstance all play a role in persuasive messaging (the environment in which messages are delivered).
Persuasion occurs in three stages
Pre-suasive conditioning is the term used to describe the initial step of persuasion. This occurs when someone is exposed to a message repeatedly over time until they start to accept it as the norm and grow accustomed to it.
The central route to persuasion is the name of the second phase. This occurs when a person thoroughly considers the arguments being made to them and makes a decision regarding whether or not to accept them based on logic and reason.
The peripheral road to persuasion is the name of the third step. This occurs when a person accepts what is being stated without giving it much thought by focusing simply on a few key points of the argument or perhaps just one word in a sentence.
Persuasion Theory
By utilizing written or spoken words to convey knowledge, sentiments, or logic, or a combination of these, one might persuade the Target group to change their attitudes and behaviors toward an event, an idea, an item, or another person (or people).
Persuasion is a Receiver Centric Exercise, it should be noted. It is what the receiver understands, not what the source says, that matters.
There are four components to persuasion.
Which party is the information's or message's original source?
Recipient / Target Audience: It is given the data provided by the source.
Convincing Message: Appeal made by the source channel or medium that transmits the message or information to the recipient
It can be summed up as – Who says, what, to Whom through what means
Persuasion theories: Robert Cialdini's six principles of persuasion are the most widely used persuasion theory.
The principle of reciprocity holds that we should return favors in kind. For instance, we feel obliged to repay someone who has given us a present.
Our desire to be consistent with our prior behavior is referred to as commitment and consistency. When we make a commitment to something (like starting a diet), it is challenging for us to change our minds.
This concept can be used against you if someone urges you to refrain from doing something again after you have already committed not to.
It might be challenging for you to refuse to do X if they demand that I stop sharing your secret if you don't do X because of your prior agreement. People will continue to act as long as a reward or penalty is attached to it, thus it can also go the other way. Humans are believed to practice operant conditioning in these situations.
Social proof is based on the idea that people would look to those around them for indications of how to act in a particular circumstance. An excellent illustration would be the attire worn to a party.
To know how to dress appropriately for the event, one may think about observing what other people are wearing before determining what to wear.
This idea is used by authorized persons to persuade an audience by depending on their credibility. Similarly to this, businesses frequently rely on celebrity endorsements to spread their message. The belief is that if a well-known individual like a product, then consumers would as well.
When people like another person or business, they are more inclined to comply with their wishes. This is known as like.
Celebrities are frequently thought to only support brands they firmly believe in due to their celebrity and riches, however, it has recently become clear that 50% of the time they do so unpaid!
When something becomes widely accessible, people tend to want it less, which is known as the scarcity principle.
Limited-edition products and sales are examples of things that are scarce. Limited offers are a common strategy used by businesses to entice potential buyers to choose their products over those of rivals.
Persuasion's results
People are susceptible to a variety of impacts from persuasion. It has the power to alter how individuals feel, think, and act. It has the power to affect people's opinions and decision-making processes. Persuasion can also result in more submission and obedience.
Persuasion can also change someone's perspective. For instance, some people who are persuaded by a public speaker could experience a boost in self-confidence or a sudden need to take action (source).
Effects of Persuasion
According to Miller (1980),  Persuasion can shape, reinforce, or modify reactions. These are three different persuasive effects.
Creating pleasant associations between a thing, a person, or a concept "shapes" attitudes.
Contrary to popular belief, many persuasive messages are intended to support rather than change the opinions of the audience.
When we think about persuasion, this is perhaps the most significant persuasive impact and the one that comes to mind first. Attitudes can and do change as a result of communication.
Persuasion styles
There are primarily two styles of persuasion:
Methodical persuasion
The use of logic and reasoning to persuade someone is known as systematic persuasion. Heuristic persuasion relies on emotions, but systematic persuasion is based on logic, reason, and evidence.
Heuristic influence
When you utilize emotional appeals to persuade someone, you are using heuristic persuasion. An advertisement for a horror film is an illustration of heuristic persuasion in action. Giving a rational justification for why people should support your political party would be a persuasive message with systematic persuasion.
Persuasion's elements include
Persuasion is primarily composed of three elements: source, message, and recipient. The one or thing persuading is called the head. The source's attempt to convince the recipient by what they say or do is known as the message.
The target of persuasion is the recipient. Credibility, knowledge, and reliability are examples of source factors. A coherent and well-reasoned argument supported by evidence is one of the message factors.
Strong feelings can also be persuasive since they draw attention to themselves and prevent listeners from considering excuses for not complying. The degree to which people's needs are addressed in response to requests and how open they are to receiving messages are both considered reception elements.
Social Influence's Function in Persuasion
Social influence is the process by which other people's attitudes, ideas, and behaviors have an impact on a person. When someone tries to persuade another person to alter their attitude or conduct, persuasion is a type of social influence that takes place.
To persuade someone, the persuader may employ a variety of strategies, such as posing a threat or offering a reward.
What distinguishes persuasion from social influence?
One person tries to persuade another to change their attitude or conduct through the one-way process of persuasion. Social influence, on the other hand, is a two-way process in which both parties attempt to influence one another.
Two friends trying to convince each other to quit their relationship with their current partner is an example of social influence. In this instance, they make an effort to socially sway one another by utilizing logic and feelings to decide.
It is conceivable for the two persons to differ over whether one friend should remain with their partner or break up with them. In the absence of conflicts, it would be considered persuasion as opposed to social influence because there was no difference in the participants' opinions.
conclusion
The ability to employ social influence for good or harm makes it a potent instrument. It has the power to influence individuals to take actions they might not otherwise take or to comply with demands. Understanding how social influences operate may help you make wiser decisions in your life because there are many different methods to affect other people.
Click here to read more such notes.
Article written by: Atheena Fathima Riyaz