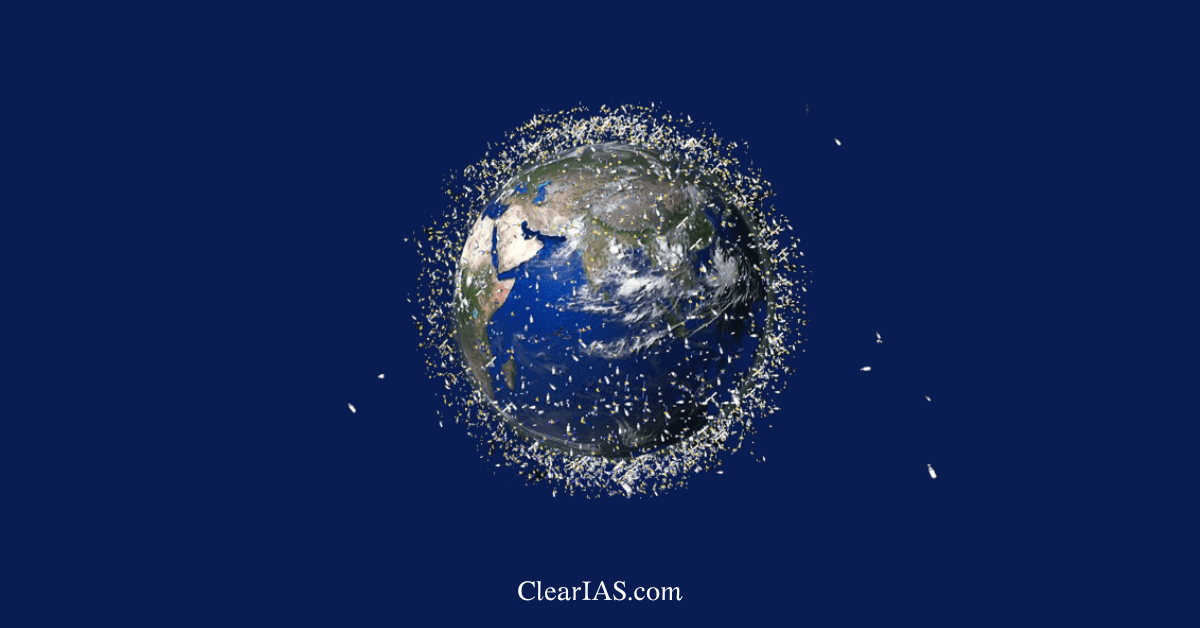 Once in space, the biggest threat to astronauts and spacecraft is space debris. In this article, you can read about space debris and the impacts which they make.
There are many threats in space.
Do you know what are these?
Presently, space debris is one of the main threats. This is an important topic in science and technology.
What is Space debris?
Space debris, in its broadest sense, refers to both the natural micrometeoroid and artificial orbital debris components of the space environment.
Over 7,500 items of space junk that are at least 4 inches wide are currently in orbit, according to the European Space Agency.
For operational satellites, this free-floating space debris poses a risk, and hitting it can render the satellites inoperable.
Is "Kessler Syndrome" describe this condition? Yes
The National Aeronautics and Space Administration (NASA) scientist Donald Kessler coined the term "Kessler Syndrome" in 1978 to describe this condition.
According to the report, if there is too much space junk in orbit, it could cause a chain reaction where more and more objects collide and produce new space junk in the process until Earth's orbit is rendered useless – a Domino Effect.
In news 
A Chinese military satellite named Yunhai 1-02 collided with a piece of debris from a Russian rocket launch in 1996 in March, creating a trail of debris high above the Earth.
These debris pieces are of varying sizes:
Some 23,000 pieces are larger than a softball, according to the US government.
About 0.5 million pieces are over 1cm.
100 million pieces are 1mm and above.
Space is getting more crowded and more commercialized. The privatization of space may lead to a growing risk of collisions between satellites and space junk.
Causes of Space Debris
Inactive satellites: Satellites have a finite amount of useful life, and once their batteries run out or they malfunction, they are left floating around in space.
Missing equipment: During spacewalks, astronauts occasionally lose equipment or other items. Heidemarie Stefanyshyn-Piper, an astronaut, for instance, lost a box of tools in 2008.
stages of a rocket: Shortly after launch, some rocket stages are lost in low orbits and come to rest on Earth. However, because they contain fuel remnants, the higher ones are left to drift in space and occasionally explode. Thousands of fragments are produced in these explosions.
Weapons: In the 1960s and 1970s, tests of anti-satellite weapons were carried out by both the Soviet Union and the United States. One of these weapons, such as Mission Shakti of India, was used by the United States in 1985 to destroy a one-ton satellite (Sol wind).
Impacts of micrometeoroids: Some waste is naturally produced by the collisions of micrometeoroids, which are dust-sized pieces of asteroids and comets.
Impacts of Space Debris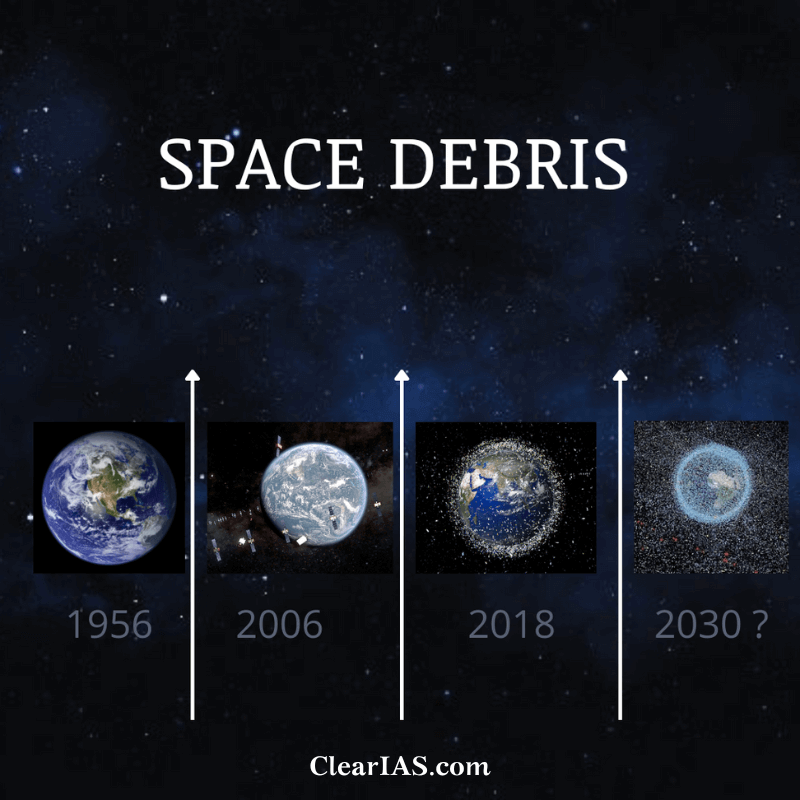 The functioning of satellite and space stations is affected: Increased risk of collision with and damage to operational satellites and the International Space Station will have an impact on their performance (ISS)
Increase the risk of further collisions: Future space exploration is greatly endangered by an increase in the likelihood of collisions (Kessler syndrome). For example, the collision between Cosmos 2251 and Iridium 33
Impact on earth's atmosphere: A portion of the debris in low Earth orbit will gradually lose altitude and burn up in the atmosphere of Earth.
Impact on earth's natural environment
On rare occasions, larger debris may strike Earth and harm the environment. For instance, the Altai region of eastern Siberia is covered in Proton rocket debris from Russia.
Titanium, steel, ceramics, and other materials with a high melting point, as well as large or densely built objects, can withstand atmospheric re-entry to impact the earth's surface.
Affect the navigational and communication systems: Its performance is impacted by collisions with navigation and communication satellites.
Impact on the life of astronauts: Space debris may threaten the life of astronauts in the space station.
Measures Taken
United Nations Committee on the Peaceful Uses of Outer Space (UNCOPUOS)
The General Assembly established it in 1959 with the goal of regulating space exploration and utilization for peace, security, and economic development for the entire human race.
Inter-Agency Space Debris Coordination Committee (IADC)
IADC is an intergovernmental forum that was established in 1993 with the purpose of coordinating actions to deal with debris in Earth's orbit. 3. NEO-01
China has launched the "NEO-01" prototype of a low-Earth orbit robot.
It has a large net that allows it to collect space debris left over from other spacecraft.
Remove the DEBRIS mission
The goal of this satellite research project was to showcase different space debris removal techniques. The mission was overseen by the Surrey Space Center from the University of Surrey, and Surrey Satellite Technology Ltd. produced the satellite's platform (SSTL).
Kounotori experiment
It is a Japanese experiment using an innovative technique to remove space debris that is orbiting the earth.
Way Forward
Orbit changes
A lot of contemporary satellites are launched into elliptical orbits with perigees inside the Earth's atmosphere, which eventually leads to their disintegration.
Self-destruction
Consists of programming the satellite to leave its orbit at the end of its useful life and be destroyed when it comes into contact with the atmosphere.
Passivation
It is the removal of any remaining internal energy in the vehicle at the end of its useful life. Although the chassis remains in orbit, the risk of explosions is reduced. The same is true for the rocket stages.
Reuse
These rockets return to Earth intact. These are used by Space X, the aerospace company owned by Elon Musk.
Laser
consists of stopping the fragments by using a strong laser to vaporize their surface, stopping them and causing them to fall?
Use of nontoxic materials for building satellites
Even wooden spacecraft are being tested by Japanese researchers in an effort to reduce the amount of toxic debris that is released into Earth's upper atmosphere when spacecraft deorbit.
Protection of satellites
The goal of protection is to shield spacecraft and employ clever design techniques to reduce the effects of debris impact.
We need to be coordinated, cooperative efforts on several fronts to both remove the current space debris and stop the generation of future debris in order to keep space junk to a minimum and enable us to effectively use Low-Earth orbit for future exploration.
International Space Law points out that if a satellite becomes dysfunctional, then the satellite should deorbit and its re-entry into the earth should be carried out.
Article Written by: Remya