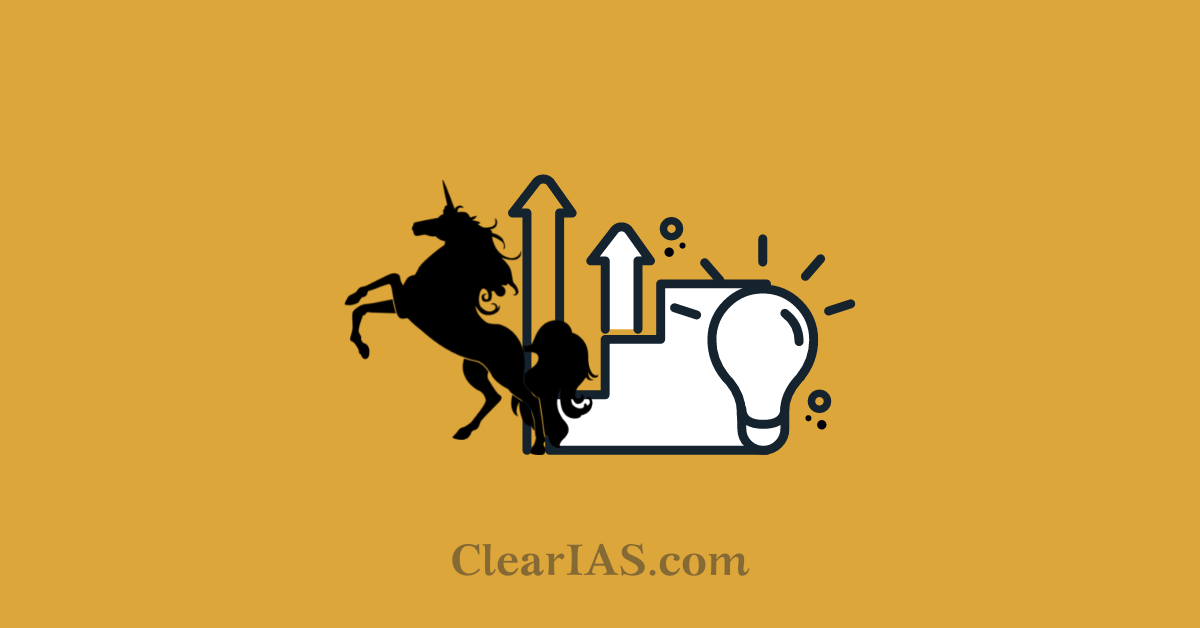 India is witnessing a boom in startup companies and a unicorn revolution in recent years. Read here to know about the trend.
The end of the 20th century saw India rising as the 'software hub' of the world. It started a tech revolution resulting in multiple Indian start-ups involved in innovating cutting-edge technologies. Soon, some of these start-ups evolved and became Unicorns. Today, India ranks third, just behind the USA and China when it comes to the number of unicorns.
What is a Unicorn?
A unicorn is any privately owned firm with a market capitalization of more than $1 billion.  It denotes new entities dedicated to offering creative solutions and new business models, among other things.
There are several categories like fintech, edtechs, B2B companies, etc.
Common features of unicorns
Disruptive innovation: Mostly, all the unicorns have brought a disruption in the field they belong to, for example, Uber transformed commuting.
Technology-driven: The business model is driven by the latest technological innovations and trends.
Consumer-focused:  Their goal is to simplify things for consumers and be a part of their day-to-day life.
Affordability: Keeping things affordable is another key highlight of these startups.
Privately owned: Most of the unicorns are privately owned which gets their valuation bigger when an established company invests in it.
Software-based: A recent report suggests that 87% of the unicorns' products are software, 7% are hardware and the rest 6% are other products & services.
Startups and Unicorns in India:
India has become 3rd largest start-up ecosystem in the world after US and China. The number of newly recognized start-ups increased to over 14000 in 2021-22 from 733 in 2016-17.
44 Indian start-ups have achieved unicorn status in 2021 taking the overall tally of unicorns to 83, most of which are in the services sector.
The growth of Unicorns in India has been phenomenal in the past two years. In 2018, there were 17 Unicorns, and then the number went up to 38 in 2020, and it's 71 and counting in 2021. Many of these unicorns, which have cumulatively raised more than 9 billion dollars to date, have also seen a surge in valuations. This data was mentioned in the Economic Survey 2021-22 as well.
Some of the successful Indian unicorns are Lenskart, Cred, Meesho, PharmEasy, Licious, Grofers, etc.
Fintech was arguably the biggest contributor to the unicorn universe. CRED, Groww, Zeta, BharatPe, Mobikwik, Upstox, Slice were the fintech additions to the unicorn list.
Edtechs like Byju's, Eruditus, upGrad, and Vedantu also got added to the list.
India, in particular, has seen such rapid growth in unicorns due to several strategic as well as conditional reasons:
The pandemic accelerated the adoption of digital services by consumers helping start-ups and new-age ventures build tech-focused businesses for customers.
Many Indians moved to online services exploring a host of services ranging from food delivery and Edu-tech to e-grocery.
The Work-from-home culture helped increase the number of start-ups' user base and expedited their business expansion plans and attracting investors.
The growth of digital payments is another aspect that aided the unicorn the most.
The GBF (Get Big Fast) strategy is being pushed by several investors under which businesses strive to develop quickly by raising significant amounts of money and lowering prices to outperform their competitors in the market.
Many startups become unicorns as a result of buyouts from major public corporations that prefer to focus on acquisitions to grow their business rather than investing in internal growth.
Challenges to startups
Lack of financing: Availability of sufficient finance is critical for start-ups.
Infrastructure: There is a lack of infrastructure like incubators, science and technology parks that play a significant role.
Regulatory bottlenecks: The number of permissions required from government agencies to start a business is still a hurdle.
Compliance: Bureaucratic inefficiencies are a major challenge to start-ups.
Lower success: Several start-ups have failed to capture the fundamentals of business.
Lack of business innovation: Indian start-ups are still behind when it comes to innovative models.
Non-competitive Indian Markets: Most startups serve only the fraction of Indians who live in urban India.
Digital divide: The majority of Indians who live in rural areas and small towns remain untouched by most startups.
Behavioral changes: Inducing changes is costly for new businesses since they must keep the clients interested throughout. The change in consumer behavior affects a startup both positively and negatively.
Consumption of Services: It appears that corporations and valuation experts assume exponential demand growth over longer periods which may be an overestimation.
Government initiatives for helping start-ups
MUDRA Scheme: Through this scheme, start-ups get loans from the banks to set up, grow and stabilize their businesses.
SETU (Self-Employment and Talent Utilization) Fund: Government has allotted Rs 1,000 Cr to create opportunities for self-employment and new jobs mainly in technology-driven domains.
E-Biz Portal: It is India's first government-to-business portal that integrates 14 regulatory permissions and licenses at one source.
Credit Guarantee Fund: The Government of  India launched this to make collateral-free credit available to the micro and small enterprise sector (MSME).
Fund of Funds for Start-ups (FFS): 10,000 Rs corpus fund established in line with the Start-up India action plan under SIDBI for extending support to Start-ups.
Tax Sops: Tax exemption on Capital gain tax, Removal of Angel tax, Tax exemption for 3 years, and Tax exemption in investment above Fair Market Value.
In news
Paytm IPO: Recently, the largest-ever initial public offering (IPO) in India collapsed on the stock exchange, with shares trading for less than 27% of the IPO price.
On the other hand, India has the second-largest number of unicorns and is only behind the United States (US). It is now home to 71 unicorns.
Way forward
The Indian economy is in expansion mode and the start-ups are slowly gaining their footing all across the country. The unicorns are the best examples of how to capture the consumer base effectively for longer periods. More start-ups can become unicorns if the right lessons are learned and implemented.
More consumer-centric models need to be innovated to capture a larger population base. The target shouldn't be limited to urban areas but to reach rural India too, hence addressing the digital divide in the process.
Proper branding and strategy, use of deep technology, consumer acquisition strategy execution will lead to attracting venture capitalists and more investments which are the bedrock of any startup.
The Indian government's policies like Make in India, Digital India, Atmanirbhar, etc show the enthusiasm to attract talents that should be taken advantage of by early-stage startups.
"Innovation and economic growth depend on being able to produce excellent individuals with the right skills and attitudes to be entrepreneurial in their professional lives."
UPSC Mains probable question:
A 'Unicorn revolution' is being witnessed as India is fast emerging as a hotbed for investments in startups. However, there needs to be the right regulatory direction and policy support to ensure they realize their potential amidst the hype. Examine. (250 words)