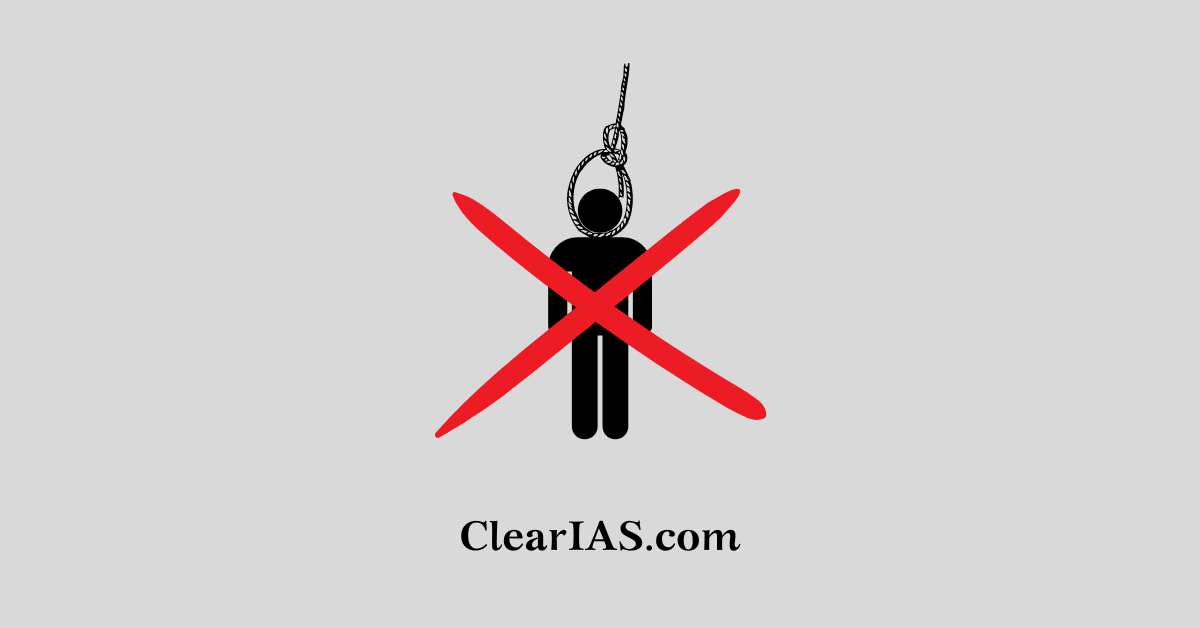 The Ministry of Health and Family Welfare launches India's first Suicide Prevention Policy.
It is the first of its kind National Suicide Prevention Policy with time-bound action plans and multi-sectoral collaborations to achieve a reduction in suicide mortality by 10% by 2030.
Suicide Prevention Policy
Suicide Prevention Policy is basically a National Suicide Prevention Strategy that seeks to establish effective surveillance mechanisms for suicide within the next three years.
According to the strategy, within the next five years, psychiatric outpatient departments would be set up to offer suicide prevention services through the District Mental Health Programme in all districts.
It will also help to integrate a mental well-being curriculum in all educational institutions within the next eight years.
It also calls for creating standards for ethical media coverage of suicides and limiting access to suicide means.
The policy is in line with the WHO's South East Asia Region Strategy for suicide prevention.
What is the Need for Suicide Prevention Policy?
The first step in this direction has been the decriminalization of suicide through the Mental Healthcare Act 2017 (MHCA). This opens the door for the Ministry of Health and Family Welfare to make suicide prevention a priority.
According to WHO estimates, suicide is the second most common cause of death globally for people aged 15 to 29 years as well as for females aged 15 to 19 years.
In India, more than one lakh lives are lost every year to suicide. According to a report, the suicide rate increased from 10.2% to 12% per 100,000 population in the last three years.
The most common reasons for suicide mainly include illness and family problems of all suicide-related deaths.
NCRB Report 2021 on Suicide in India
As per the NCRB data, more than 1,00,000 people commit suicide every year in our country. There are various causes of suicides professional or career problems, sense of isolation, abuse, violence, family problems, mental disorders, addiction to alcohol, financial loss, chronic pain, etc. NCRB collects data on suicides from police-recorded suicide cases.
In a research published in the Lancet in 2021, it was stated that "India records the largest number of suicide deaths in the world."
Out of the total deaths in India, 12.0% or 1,64,033 suicides were reported in the country during 2021 showing an increase of 7.2% in comparison to 2020.
The majority of suicides were reported in:
Maharashtra 13.5%
Tamil Nadu 11.5%
Madhya Pradesh 9.1%
West Bengal 8.2%
Karnataka 8.0%
Major Causes of Suicide:
Family Problems 33.2%
Illness 18.6%
Alcoholic Addiction 6.4%
Drug Abuse/Alcoholic Addiction 6.4%
Marriage-Related Issues 4.8%
The highest percentage increase in suicides compared to 2020 is reported in Telangana (26.2%), followed by UP (23.5%).
8% of students died by suicide (one of the highest increases). 1% of the cases were due to exam failure.
Mariwala Health Initiative's report
Suicide prevention requires a psychosocial approach, where interventions provide both psychological support through counseling and facilitating access to social benefits like employment, health services, and education, among other things. This is stated in the report Suicide Prevention – Changing the Narrative by Mariwala Health Initiative.
For Example: In order to lower the number of fatalities among students, it will be necessary to raise knowledge about supplemental examinations so that students' anxiety will be reduced, in addition to having helplines available to support them during emergencies or board exams.
National Mental Health Survey
As per the National Mental Health Survey conducted by the National Institute of Mental Health and Neurosciences (NIMHANS):
The prevalence of mental morbidity is high in urban metropolitan areas.
Mental disorders are closely linked to both causation and consequences of several non-communicable disorders (NCD).
Nearly 1 in 40 and 1 in 20 persons suffer from past and current depression, respectively.
Neurosis and stress-related disorders affect 3.5% of the population and were reported to be higher among females (nearly twice as much in males).
Data indicate that 0.9 % of the survey population was at high risk of suicide.
Nearly 50% of persons with major depressive disorders reported difficulties in carrying out their daily activities.
Way Forward
Decriminalization and policy for suicide prevention are positive steps toward dealing with the condition of suicide in India, but there is more to go.
Raising Awareness: The National Suicide Prevention Policy (NSPP) should work for the need to raise awareness about suicide as a social issue and lessen the stigma attached to it.
Community-Based Approach: The NSPP should also support community-based suicide prevention initiatives, which refer to services provided by locals who are aware of the individual's situation and are culturally sensitive.
Sensitizing Different Sections of the Society: Medical professionals, police, and the judicial system need to be sensitized, too. This will lead to better treatment and sympathetic discussions about suicide. It will assist in changing the perspective on suicide from one that sees it as a medical-legal problem to one that acknowledges the social structures- such as those based on gender, caste, religion, class, or sexuality, that negatively affect some groups and contribute to suicide.
Focus on Prevention: It is important to focus on suicide prevention for marginalized groups because they are more likely to commit suicide and engage in self-harm. This will also highlight the fact that suicide is a social issue that calls for a psychosocial solution rather than a personal matter.
Better Data Collection: In addition, we require extensive, accurate data that highlights suicide's causes, including information on both attempted suicides and suicide deaths. The level of care provided to those who have suicidal thoughts or suicide survivors will ultimately improve as we gain more information about the factors that contribute to suicide. That will lead to creating more practical methods to prevent it.
Conclusion
Suicide prevention must now be prioritized as a matter of public health. Suicides affect all facets of society, necessitating coordinated efforts from individuals and the general public. The fact that the administration has admitted there is an issue with suicide is what matters most. We currently have a strategy, a very well-conceived strategy involving multi-sectoral partnerships, because a strategy can only be successful when it encompasses a variety of sectors.
The strategy should now be given to the States so they can create action plans that are appropriate for their own local contexts, and then the district, primary health, and community levels should be notified.
Article Written By: Priti Raj