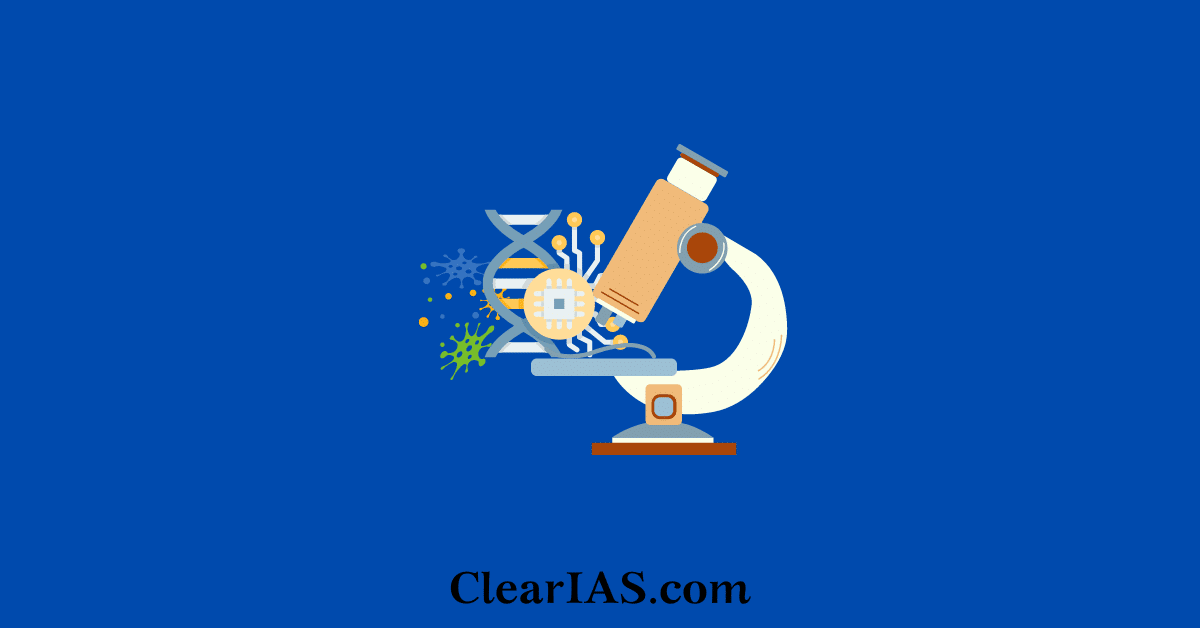 What is Synthetic biology? What are the applications of Synthetic biology? How do they negatively impact you? Read here to know more
The Ministry of Science & Technology's Department of Biotechnology recently released a draft foresight paper on synthetic biology.
Energy, agriculture, and biofuels are just a few of the industries where synthetic biology is used. As a result, there is constantly a perception that components could release into the open environment.
In order to strengthen India's stance on the matter, the document emphasises the need for a national policy.
What is Synthetic Biology?
In 1980, Barbara Hobomin coined the term "Synthetic Biology" to describe bacteria that had been genetically modified using recombinant DNA technology.
The science of synthetic biology involves using genetic editing, sequencing, and modification to produce artificial organisms or organic molecules that can interact with living systems. With the aid of synthetic biology, researchers can create brand-new DNA sequences from scratch.
The term was used to describe the synthesis of unnatural organic molecules that function in living systems.
More broadly in this sense, the term has been used with reference to efforts to 'redesign life'.
What are the Applications of Synthetic Biology?
There are many potential applications for this, including the following:
Production of biofuels: Could be used to design microorganisms that are capable of efficiently producing biofuels from renewable feedstocks such as plant material or waste products.
Natural Product Synthesis: Engineers microbes to produce all of the necessary enzymes and biological functions to perform complex multistep production of natural products.

For e.g, Microorganisms harnessed for bioremediation (use of living microorganisms to degrade environmental contaminants into less toxic forms) to clean pollutants from water, soil and air.

Medicine: Synthetic biology could be used to design and produce new drugs and therapies, such as vaccines or cancer treatments.
Industrial chemicals: Could be used to produce industrial chemicals such as plastics or detergents in a more sustainable and cost-effective way.
Applied Protein Design: redesign existing biological parts and expand the set of natural protein functions for new processes.

For e.g, Modified rice produces beta-carotene (a nutrient usually associated with carrots), which prevents Vitamin A deficiency.

Environmental cleanup: This could be used to design microorganisms that can clean up pollution or restore damaged ecosystems.
Agriculture: Synthetic biology could be used to improve crop yields, create drought-resistant crops, or develop crops that are more resistant to pests and diseases.
Synthetic Genomics: design and construct a 'simple' genome for a natural bacterium.

For e.g, Yeast is engineered to produce rose oil as an eco-friendly and sustainable substitute for real roses that perfumers use to make luxury scents.

Research and development: Synthetic biology can be used as a tool to understand fundamental biological processes, which can lead to new insights and innovations in a variety of fields.
Standardised Biological Parts: identify and categorise standardised genomic parts that can be used (and synthesised quickly) to build new biological systems.
Also read: DNA Cloning
What are the challenges associated with Synthetic biology?
There are several challenges associated with synthetic biology:
Technical challenges: This involves the design and construction of complex biological systems, which can be technically challenging. There is a need for improved tools and technologies to enable the precise and reliable design and construction of synthetic biological systems.
Regulatory challenges: There is a lack of clear and consistent regulation for synthetic biology, which can make it difficult for researchers and companies to navigate the field.
Ethical challenges: This will raise a number of ethical concerns, such as the potential for negative impacts on the environment or concerns about the ethical implications of creating genetically modified organisms.
Societal challenges: There is a lack of public understanding and acceptance of synthetic biology, which could hinder its development and implementation. There is also the potential for synthetic biology to have negative impacts on industries or job markets, as well as to exacerbate existing socio-economic inequalities.
Funding challenges: This research can be expensive and time-consuming, and securing funding can be a challenge.
Intellectual property challenges: The field of synthetic biology is rapidly evolving, and there is an ongoing debate about intellectual property rights and who should have access to the technologies and tools developed in the field.
What are the negative impacts?
There are potential negative impacts of synthetic biology that need to be carefully considered. These include:
Safety: There is the potential for synthetic biological systems to behave in unexpected ways, which could have negative consequences. For example, genetically modified organisms (GMOs) used in agriculture could have unintended effects on the environment or other organisms.
Negative Environmental Health: The intentional or accidental release of genetically engineered organisms into the environment could have significant negative impacts on both human and environmental health.

Misuse of these technologies and a failure to account for unintended consequences could cause irreversible environmental damage.

Security: Synthetic biology could potentially be used for malicious purposes, such as the development of bioweapons.
Ethical concerns: There are ethical concerns surrounding the use of synthetic biologies, such as the possibility of creating genetically modified organisms that could have negative impacts on biodiversity or the fear that it could lead to "designer babies."
Do-It-Yourself Biology: It's a movement of "citizen scientists" interested in synthetic biology experiments that have become an international phenomenon over the last decade.

Often with little prior knowledge of the field, enthusiasts meet in makeshift labs to take crash courses in biotechnology and conduct hands-on experiments.

Socioeconomic impacts: There is the potential for synthetic biology to have negative impacts on industries or job markets, as well as to exacerbate existing socioeconomic inequalities.
Ethical Concerns: Many of the ethical questions relevant to synthetic biology are similar toethical discussions related to genome editing like:

Are humans crossing moral boundaries by redesigning organisms with synthetic biology techniques?
If synthetic biology yields new treatments and cures for diseases, who in our society will have access to them?

Public acceptance: There is a lack of public understanding and acceptance of synthetic biology, which could hinder its development and implementation.
Way Forward
The way forward will likely involve a combination of research, development, regulation, and engagement with stakeholders. Some specific steps that could help to advance the field include:
Investment in research and development: Continued investment in research and development is needed to improve the tools and technologies used in synthetic biology and to address technical challenges.
Development of clear and consistent regulation: Establishing clear and consistent regulation for synthetic biology will be important for ensuring the safety and ethical use of the technology.
Guidance for the private sector for future research and all considerations will be undertaken related to relevant policy frameworks, including those in intellectual property rights. How India will regulate the development and use of this technology, considering issues related to environment and socio-economics. While making a national strategy India should consider the Principles of International Law which are:

The precautionary principle
State sovereignty and prevention of transboundary harm.
State responsibility and Environment Impact Assessment
Principles of access to information, public participation and access to justice
People's right to self-determination and free prior informed consent
Sustainable development and inter-generational equity

Engagement with stakeholders: It will be important to engage with a wide range of stakeholders, including the public, industry, and policymakers, to ensure that the potential benefits and risks of synthetic biology are carefully considered and addressed.
Education and public outreach: Efforts to educate the public about synthetic biology and address misconceptions will be important for building public acceptance and support for the field.
International collaboration: International collaboration will be important for advancing the field of synthetic biology and addressing global challenges such as climate change and food security.
Article written by: Remya