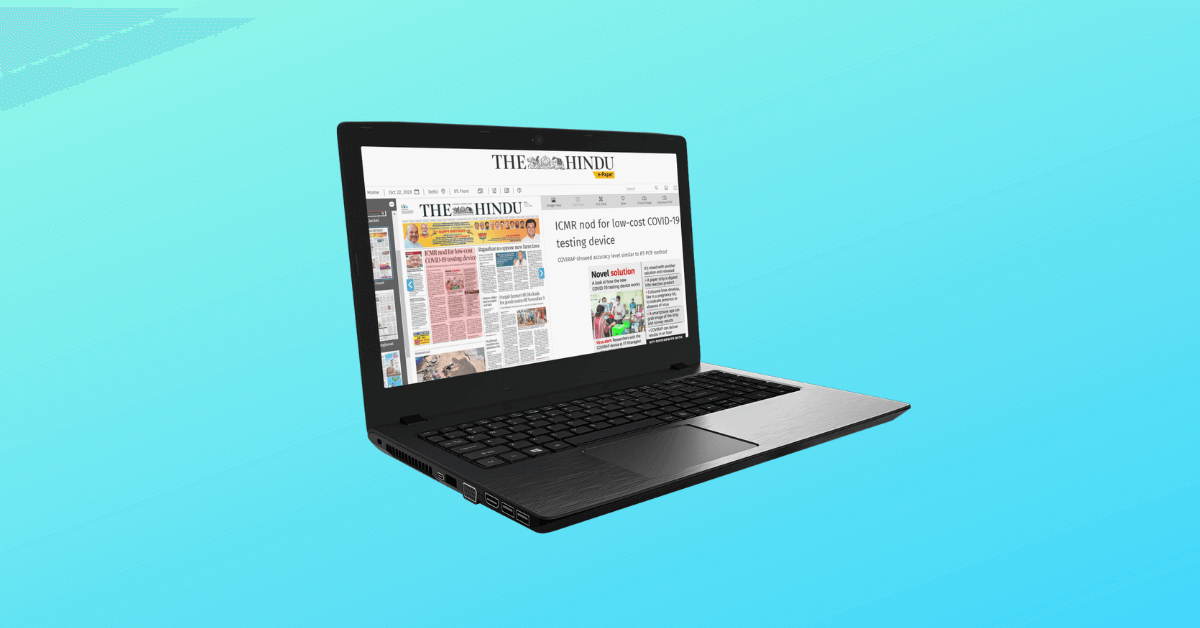 How to download The Hindu ePaper as PDF? Check The Hindu ePaper – the smart choice of UPSC aspirants.
'The Hindu' is the favourite newspaper of lakhs of IAS aspirants. If you wish to download The Hindu as a PDF, now you can do that – with the TheHindu epaper.
E-paper not only provides you with the option to download as a PDF but also the facility to flip pages as in a real newspaper.
The Hindu E-Paper (Subscribe and Get Upto 78% OFF)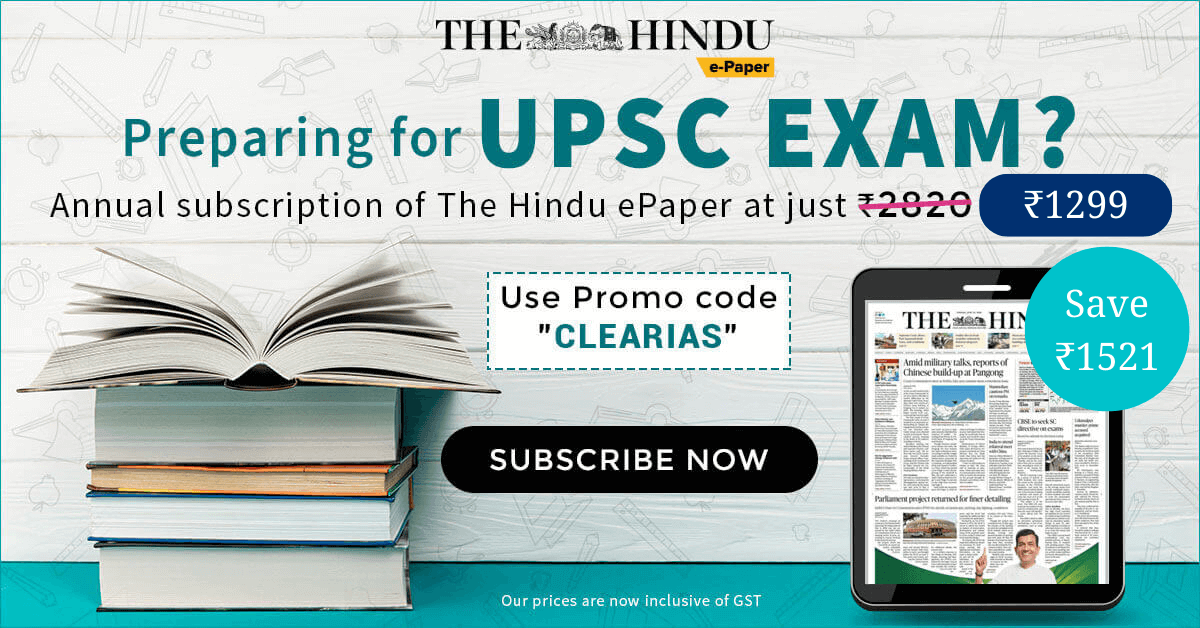 ClearIAS users can get up to 78% OFF on 'TheHindu ePaper'. To get the benefit of this offer, all you need to do is to apply the promo code CLEARIAS while purchasing The Hindu epaper subscription from this link.
Get The Hindu E-paper Discount
No need to worry if you missed the paper copy!
One of the biggest worries of many IAS aspirants is that 'The Hindu' newspaper (paper copy) is not available in their city or village.
For some others, keeping track of the various sections in The Hindu is a concern.
We get emails from aspirants asking 'how to download The Hindu as PDF?'.
The Hindu epaper comes up with a 'Download as PDF' option. This is really useful for aspirants who wish to save newspapers for future reference.
Get The Hindu E-paper Discount
Smart aspirants now subscribe to 'The Hindu e-paper' to read the newspaper across all device sizes – laptops, tablets, or mobile phones. This choice is not only cheaper and environment-friendly but will also help you remain organised. You can take a free trial now!
Why should you start thinking of The Hindu epaper in the online age?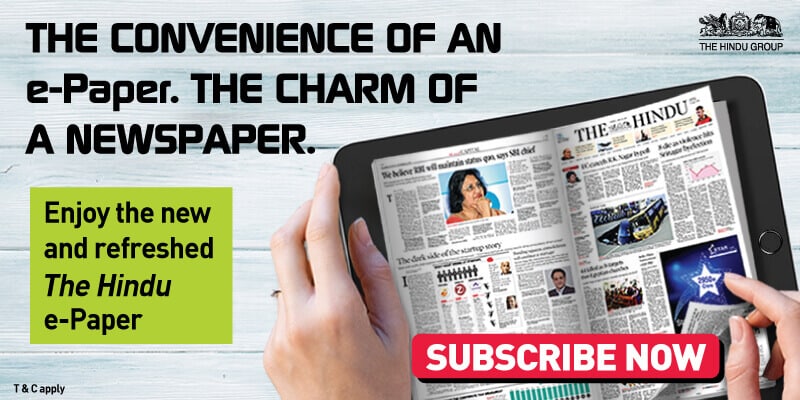 Many sections in 'The Hindu' like editorials, op-eds, national news, international news, science and technology etc are mines of information. They provide a lot of value addition not only for those who prepare for various competitive exams but also for anybody who is interested in getting a real perspective on things happening around him or her.
There are many advantages of The Hindu e-paper. A few of those –
1. Get the same feeling as the physical newspaper – it's almost like the paper one but a lot handier!
The Hindu epaper is a newspaper replica. You can read the exact replica of your daily newspaper in a clean digital format.
2. You can download 'The Hindu' as a PDF for reading later!
PDF is the prefered option for many students. With the e-paper, you can download 'The Hindu' as a PDF to keep your newspapers organised in a folder on your laptop or mobile. Now the burden of managing piles of physical paper is an old story!
3. e-Paper is cheaper!
1-year subscription to the Hindu e-paper would cost you just Rs.1299. It's much cheaper, and hence you can save a lot of money.
4. You can save articles for future
Were you cutting articles from the newspaper for reference before? No need anymore. If you like an article, you can save it as a favourite. The article will then be available for your future reference at a click (saved articles will be available for 60 days).
There is also a 'Read Offline' feature to download the entire edition in one go which can be preserved for future reference.
5. You will get access to archives
Missed your morning newspaper? With e-paper, you can experience 'The Hindu' anytime anywhere. Just select the date and get the archived newspaper for up to 60 days.
You may also note that with the PDF download option, in effect you will have more archives with you, though not online :-).
How can you download The Hindu epaper as PDF?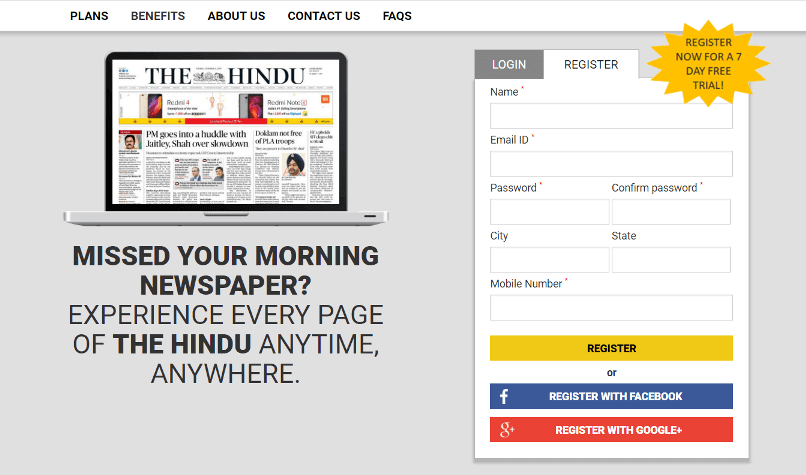 You need to register at https://epaper.thehindu.com/ using your email id. Options are also given for registering using either Facebook or Google+.
If you wish to experience the refreshed feel of The Hindu e-paper, you can take a free trial for 7 days.
Note: During the trial period, users cannot download the full newspaper pages and edition, while they can download individual articles in both HTML and PDF formats
Which plan is best for Civil Service Aspirants?
Considering 1-year advance preparation, and 1-year Civil Service Exam cycle, we recommend 1-year or 2-year subscription for aspirants. This will save you from future price hikes as well.
Why should IAS aspirants read the Hindu?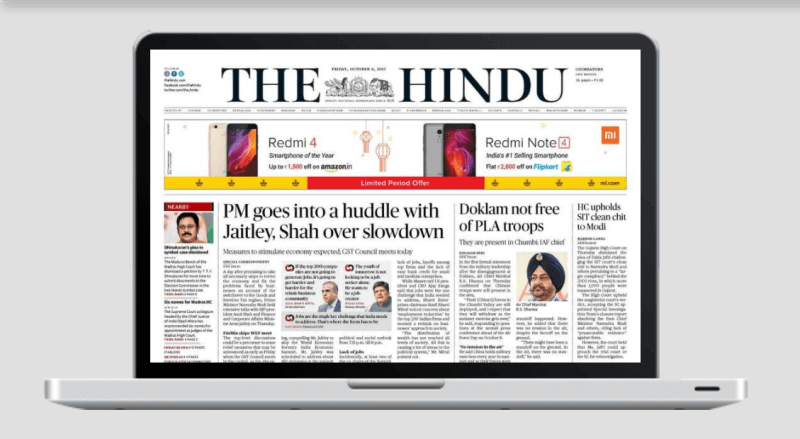 As we noted in one of our previous articles on how to read The Hindu effectively, 'The Hindu' distinguishes between news and opinion very well.
Reading 'The Hindu' newspaper as a daily habit has multiple benefits.
The 'pictorial memory' would be of immense help in Prelims, Mains, and Interview. There would be a lot of improvement in your vocabulary and communication skills.
And finally, getting multiple perspectives and dimensions will help a lot in your path, growing as a well-educated person. This is a trait UPSC specifically looks for in all the future civil servants they recruit.
The Hindu e-Paper Review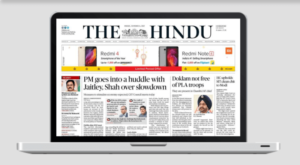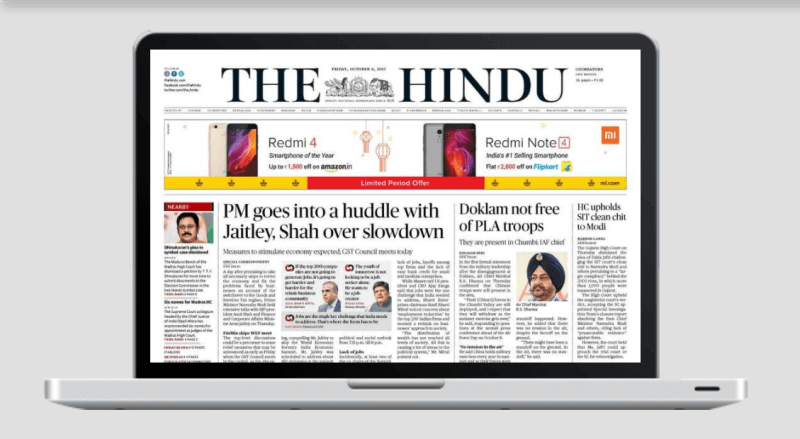 Product Name: The Hindu Epaper
Product Description: The Hindu EPaper is a digital product. This is a replica of the physical newspaper in a digital format.
Price: 1299
Currency: INR
Availability: InStock
User Experience

Price

Archives Option

Search Option

Image and Text Option

Sharing Option

Save as PDF Option
Summary
The Hindu epaper is a smart choice for smart IAS aspirants who prefer to read online. This is also a great boon for all those who don't have access to the physical newspaper. The Hindu e-paper can be downloaded as PDF too.