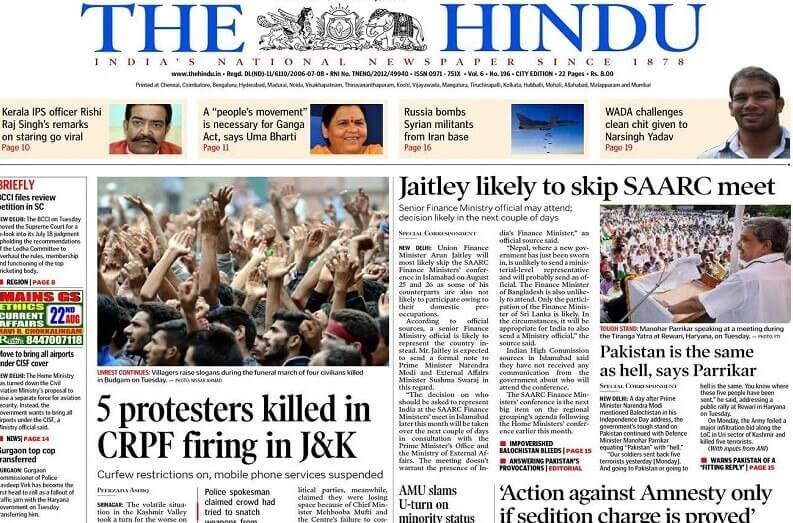 The Hindu is the most recommended newspaper for UPSC aspirants. However many are confused about how should they finish 'The Hindu' in minimum time covering the priority areas.
Almost every IAS aspirant know the importance of reading newspapers for UPSC Civil Services Exam preparation.
Among the newspapers in the market, 'The Hindu' is the most recommended newspaper, primarily for its high standards. You can either read the paper version OR the digital version (e-paper).
The Hindu E-Paper (Subscribe and Get 60% OFF)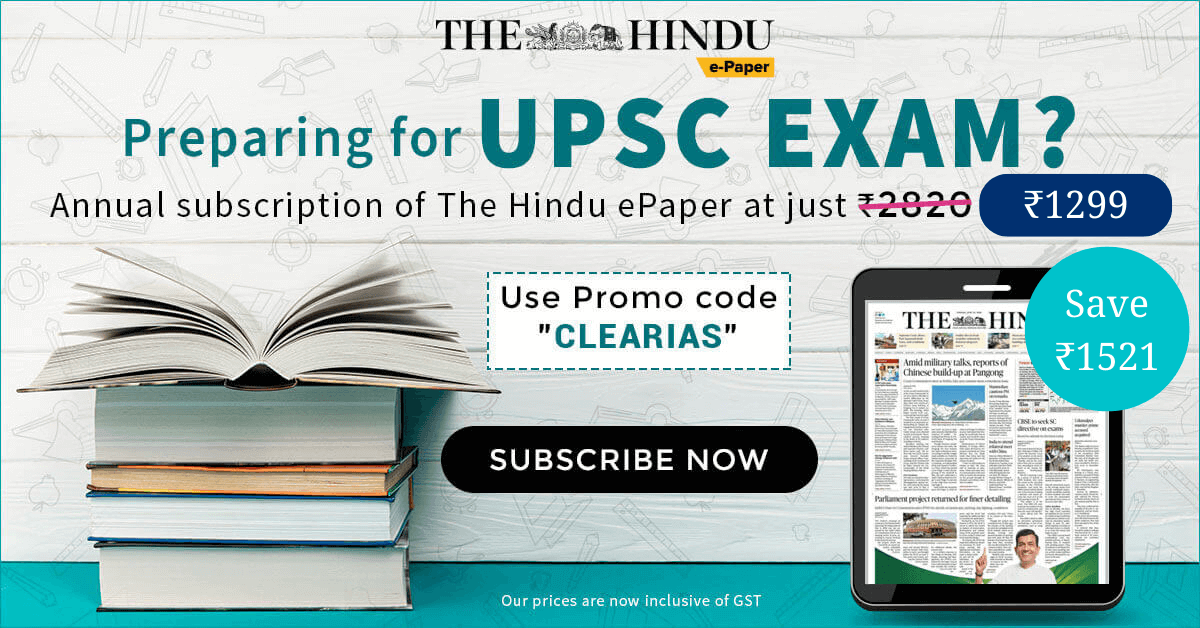 ClearIAS users can get up to 60% OFF on 'TheHindu ePaper'. To get the benefit of this offer, all you need to do is to apply the promo code CLEARIAS while purchasing The Hindu e-paper subscription from this link.
Get The Hindu E-paper Discount
Why is reading 'The Hindu' important?
'The Hindu' distinguishes between news and opinion very well.
Also, it gives priority to areas of national concern and usually avoids trivial issues/masala items.
But reading 'The Hindu' completely may require at least 4-5 hours daily. With plenty of other books and materials to complete, devoting this much time daily for newspaper reading is not a good idea.
Then, how should an aspirant proceed?
How to read 'The Hindu' effectively in less than 60 minutes?
By the proper practice of effective reading you can capture everything necessary for the UPSC exam from the 'The Hindu' in less than 60 minutes. This is by focusing on important areas and just skimming over non-priority pages.
Tips for Effective and Faster Reading of the 'The Hindu' newspaper
Here are the tips for effective reading. Practice the below tips daily. You will see that your speed of reading and comprehension improves.
Page 1: You just need to skim through the news headlines. Don't waste too much time on the front page.
Pages 2-6: Pages 2 – 3 usually carry only regional news (which varies from city to city) while pages 4-5 deal with news from respective states. As these are not so important from the UPSC exam point of view, you can skip these.
Page 7: Page 7 is important as this deals with the nation. Focus on Supreme Court and High Court verdicts, Parliamentary debates, Government orders etc. here.

Editorial Page (Usually Page 8):

This is the most important page of 'The Hindu' newspaper from the UPSC Exam perspective. Carefully read the two 'editorials' given on the left margin. Then move to the 'Lead' article. This usually would be an excellent analysis of a current issue. Finish this page, by reading the 'Letters to the editor' as this would give different opinions on the same issue. But don't get biased. Note: Try to finish everything up to this page within 30-40 minutes.

Perspective Page (Usually Page 9):

This is where you see the op-ed. An 'op-ed' (originally short for "opposite the editorial page") is a written prose piece typically published by a newspaper or magazine which expresses the opinion of a named author usually not affiliated with the publication's editorial board. 'The Hindu' names these articles as 'comment'. Read this to get a different perspective on current issues.
Page 10-11: These pages deal with the news in general. There is no need to go deep into political news or issues, just have a superficial knowledge of what is happening around.
World (Page 12): This page would be useful for the International Relations topic which is part of the UPSC syllabus. Spend some time here, if you find any major happenings.
Business (Pages 13-14): Focus on trends, growth parameters and issues here. Read issues connected with Fiscal and Monetary Policy. If you find socio-economic issues related to women, education or health, read in-depth.
Sports Page and Life Page: Ignore. Sports news is not generally asked in UPSC CSE.
Extra Tip: Don't miss Thursday's edition of Hindu Science and Technology. It covers many questions both in prelims and in the mains exam as well.
What should be focused on?
Good analysis of current issues (Editorial page or Op-Ed page).
Supreme Court and High Court verdicts.
Issues of national and international importance.
Parliamentary Debates.
Government policies and orders.
Extra Tip: Make notes on the hot topics (See sample notes on GST, Paris Agreement etc. You may make notes on all recent bills, recent Supreme Court orders etc)
What should not be the focus?
Local news.
Political news.
Masala items like film reviews, wardrobe malfunctions (which you won't find in 'The Hindu), celebrity interviews etc.
Trivial facts like sports titles, awards, personalities in news etc.
Extra Tip: Beginners may keep the UPSC mains syllabus in front of them while reading the newspaper. This would help you concentrate on areas of importance (Eg: NGOs, Self-Help Groups etc. as they are mentioned in the UPSC CSE syllabus)
Can an aspirant succeed in the IAS exam without reading 'The Hindu' newspaper?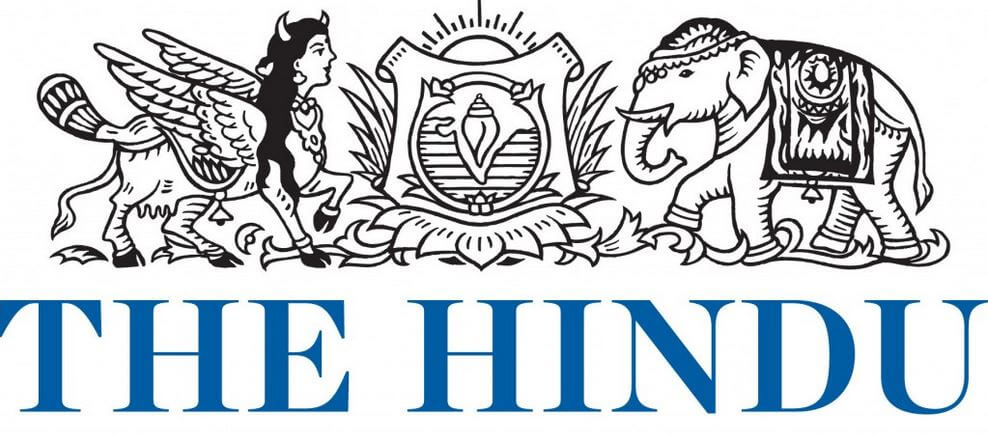 The answer is yes. There are always substitutes – other newspapers, magazines, current affairs capsules, mobile apps and so on.
But we advise 1 hour reading of 'The Hindu' newspaper as a daily exercise for all aspirants as this has multiple benefits. The most important of the benefits would be the 'pictorial memory' which would be of immense help in Prelims, Mains, and Interview.
Also, there would be a lot of improvement in your vocabulary and communication skills.
Conclusion
The importance of reading the newspaper for Civil Services has increased tremendously.
The crux of these tips is not to waste time over trivial issues (unimportant for the UPSC exam) and focus on areas where it matters.