What is Quadrilateral Security Dialogue (QUAD)? What is the purpose of QUAD? Which are the QUAD nations? Read to know more.
China's rising economic power undermined the traditional role of the United States of America in the Asia-Pacific region since the early 2000s.
Even though the United States had strategic preoccupations with Afghanistan and Iraq, China remained a major powerhouse in the region.
The United States came up with a policy of soft containment of China by organizing strategic partnerships with major democracies in the Asia-Pacific region.
The Quadrilateral Security Dialogue (QSD, also known as the Quad or QUAD) is a strategic dialogue between the United States, India, Japan and Australia – in this background.
What is QUAD?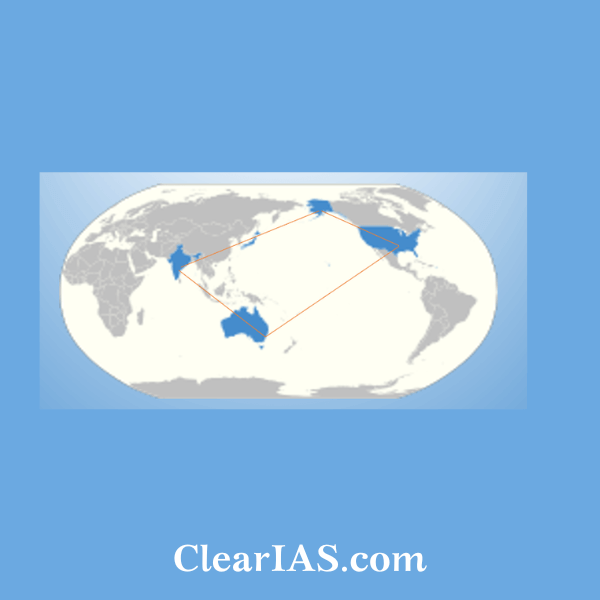 Timeline of Quadrilateral Security Dialogue (QUAD)
The timeline includes 2007, 2012, 2017, 2020 and 2021 QUAD summit.
2007
Initiated in 2007 by Japanese Prime Minister Shinzo Abe, with the aid of U.S. Vice President Dick Cheney, Australian Prime Minister John Howard, and Indian Prime Minister Manmohan Singh.
The diplomatic and military arrangement was unanimously viewed as a reiteration to increased Chinese economic and military regression.
China responded to the Quadrilateral dialogue by declaring formal diplomatic protests to its members and calling it a "Closed Clique"!
The Quad paused following the withdrawal of Australia during Kevin Rudd's tenure as prime minister.
However, India, Japan, and the United States continued to hold joint naval exercises under Malabar.
2012
Shinzo Abe again emphasized the framework of Asia's "Democratic Security Diamond" involving Australia, India, Japan and the US to safeguard the maritime interests stretching from the Indian Ocean to the Western Pacific.
2017
After a ten year hiatus, during the 2017 ASEAN Summit in Manila, all four former QUAD members led by Shinzo Abe, Australian Prime Minister Malcolm Turnbull Indian Prime Minister Narendra Modi, and US President Donald Trump agreed to revive the quadrilateral alliance to counter China following the South China Sea.
The diplomatic tension between Quad members against China was widely dubbed as "New Cold War'' in the region and branded the group as an 'Asian NATO'.
2020
All Four Quad Countries – Japan, India, Australia, and the USA participated in the Malabar Exercise, an annual trilateral naval exercise between the navies of India, Japan, and the USA which is held alternately in the Indian and Pacific Oceans.
2021 QUAD SUMMIT
In March, the Biden Administration organized a virtual ministerial meeting where the leaders of the four Quad countries issued a "Spirit of the Quad" joint statement promoting a free, open rules-border, rooted in international law to advance security and combat threats both in the Indo-Pacific and beyond.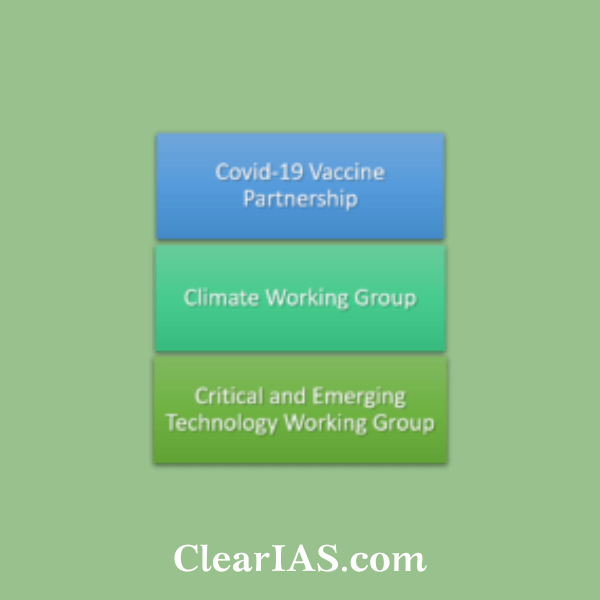 In September, the White House hosted the first-ever in-person QUAD Summit attended by PM Narendra Modi that sent a powerful signal to its adversaries that QUAD is here to stay.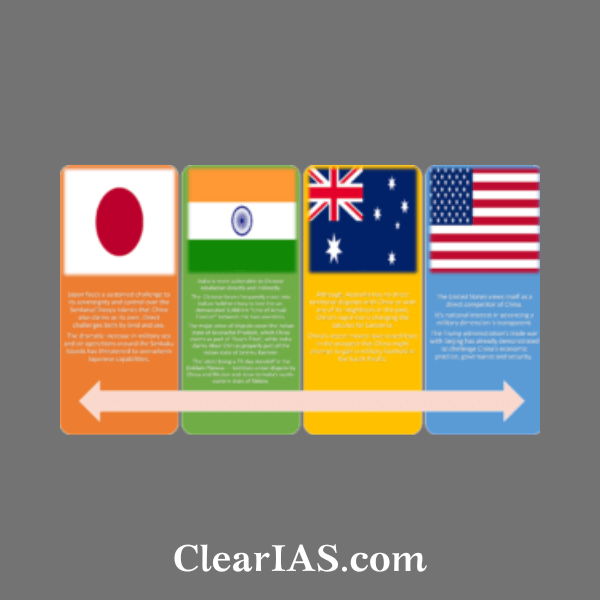 Key Highlights of the QUAD Summit
Highlights of this summit includes health security, clean hydrogen partnership, Quad fellowship, Schmidt Futures, semiconductor supply chain initiative, cyber security, space, 5G deployment and diversification.
Health Security
The Quad commits to better preparing the countries for the next pandemic and assures them to conduct at least one pandemic preparedness tabletop or exercise in 2022. It also raised support call for a "global pandemic radar" and
guaranteed to improve viral genomic surveillance Green Shipping Network the Quad will launch a Shipping Task Force that aims to establish two to three Quad low-emission or zero-emission shipping corridors by 2030.
Clean Hydrogen Partnership
To strengthen and reduce costs across all elements of the clean-hydrogen value chain, leveraging
existing bilateral and multilateral hydrogen initiatives.
Quad Fellowship
The Fellowship will sponsor 100 students per year—25 from each Quad country—to pursue masters
and doctoral degrees at leading STEM graduate universities in the United States.
The fellowship will bring together the top minds of Australia, India, Japan, and the United States.
Schmidt Futures
A philanthropic initiative was launched to administer the fellowship program in consultation with a non-governmental task force, comprised of academic, foreign policy, and private sector leaders from each QUAD nation.
Semiconductor Supply Chain Initiative
A joint initiative of QUAD nations to map and identify vulnerabilities and bolster supply-chain security for semiconductors and their vital components. This aims to secure critical technologies essential for digital economies globally.
5G Deployment and Diversification
To foster and promote a diverse, resilient, and secure telecommunications ecosystem, the Quad has launched a
Track 1.5 industry dialogue on Open Radio Access and Network (RAN) deployment and adoption, coordinated by the
Open RAN Policy Coalition.
Cyber Security
To launch a Quad Senior Cyber Group that will meet regularly to advance work between government and industry on driving continuous improvements in areas including adoption and implementation of secured cyber standards; development of secure software and trustworthy digital infrastructure.
Space
QUAD nations share Satellite Data to Protect the Earth and its Waters. In order to mitigate climate-
change risks and the sustainable use of oceans and marine resources and to build capacity in other
Indo-pacific states in coordination with QUAD Climate Working Group.
Challenges of QUAD
 The divergence in geographic areas of maritime priority among the four nations is considered as a weakness of the Quad.
The differences between the four Quad countries in terms of military capability, strategic culture, and the capacity to bear the costs of potential Chinese retaliation are generally wide.
A direct countering of Beijing's 'win-win' Belt and Road Initiative exposing the economic, political risks and
From a strategic perspective, the prime intent of QUAD is to deter Chinese aggression and further change the status quo.
But India is reluctant to advance the strategic rules-based order, having learned lessons from the South China Sea and Doklam conflicts.
Once a change has been triggered, the outcome cannot be reversed without an outright war, a toll that no Quad nation is currently prepared to bear.
Conclusion
Given the maritime threats and challenges, the priority should be enhancing the interoperability of maritime forces. India must allow Australia to be an official observer of the Malabar exercises. Such exercises should be considered to take place in the Indian Ocean rather than the South China Sea making sure not to over provocate China.
Similarly, they should focus more on cooperation and coordination in the provision of disaster relief and humanitarian assistance. QUAD is not an alliance but a progressive diplomatic bond with escalation remaining flexible and responsive to Chinese actions and building the capability and interoperability to counter jointly when the need arises.