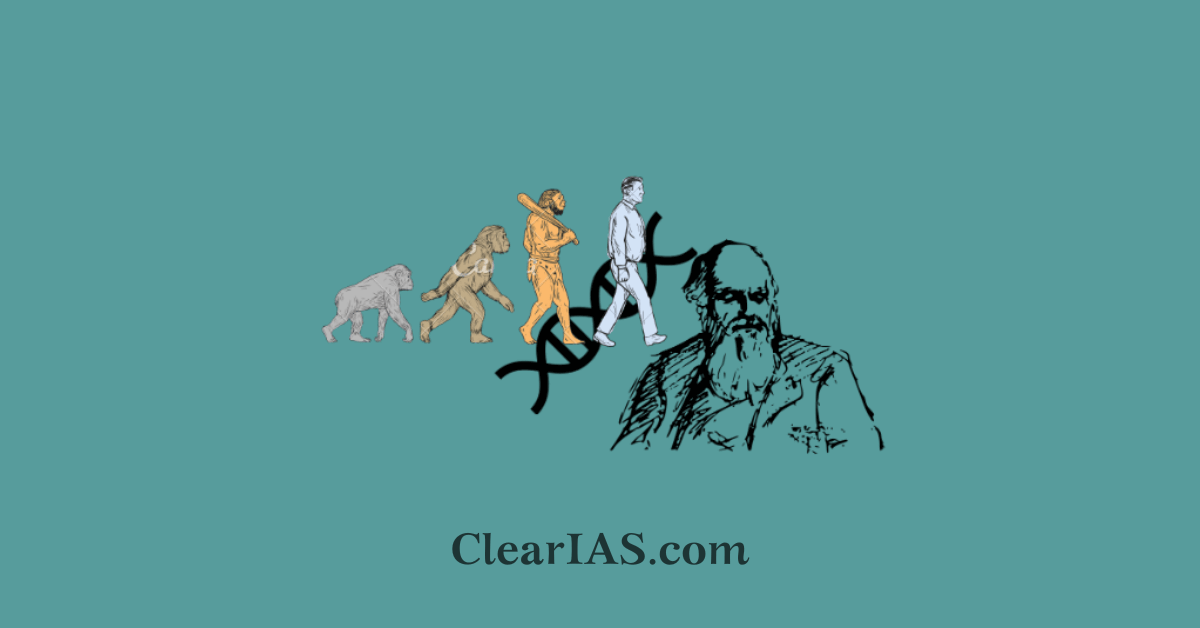 The theory of evolution is a shortened form of the term "theory of evolution by natural selection," which was proposed by Charles Darwin and Alfred Russel Wallace in the 19th century. The theory was first published in his book 'On the origin of Species' in 1859. Read here to learn the theory of evolution.
Charles Robert Darwin, an English scientist, geologist, and biologist who lived from 12 February 1809 to 19 April 1882, is well recognized for his contributions to evolutionary biology.
Due to his involvement in the development of the idea of evolution, Darwin is referred to as the "father of evolution."
The term "Darwinism" was created to describe Charles Darwin's theory of the genesis of species through natural selection.
Natural selection according to Darwin is supported by a number of evidence, observations, and deductions. Darwin wrote a book named "The Origin of Species" in which he first presented his theory of evolution.
Theory of Evolution
A theory is a hypothesis about how something in nature functions that has undergone extensive testing through observations and experiments intended to establish the validity of the hypothesis.
Numerous scientists and philosophers have put forth numerous ideas on the evolution of life, including Erasmus Darwin, an English physician who lived in the eighteenth century.
But it wasn't until Charles Darwin, the more well-known of Darwin's grandson, released his renowned book On the Origin of Species that evolution was recognized as a legitimate scientific theory.
Darwin and Alfred Russel Wallace, one of his scientific contemporaries, claimed that natural selection, or evolution, is the result of this process.
The theory of evolution states that 'Individuals that have the ability to adapt to their surroundings will help them survive and produce more children, who will inherit those characteristics.'
Less adaptable people are less likely to live and pass those qualities on. The population will alter or evolve through time as the qualities that allow species to live and reproduce become more prevalent.
Theory of natural selection
Darwin developed the idea of natural selection after a five-year voyage to study plants, animals, and fossils in South America and on islands in the Pacific.
Natural selection is the process through which populations of living organisms adapt and change.
Individuals in a population are naturally variable, meaning that they are all different in some ways.
This variation means that some individuals have traits better suited to the environment than others.
Individuals with adaptive traits that give them some advantage are more likely to survive and reproduce.
These individuals then pass the adaptive traits on to their offspring.
Over time, these advantageous traits become more common in the population.
Through this process of natural selection, favorable traits are transmitted through generations.
Natural selection can lead to speciation, where one species gives rise to a new and distinctly different species.
It is one of the processes that drives evolution and helps to explain the diversity of life on Earth.
At that time, Darwin wasn't aware that genes existed, but he could see that many traits are heritable, passed from parents to offspring.
Natural selection is sometimes summed up as "survival of the fittest" because the "fittest" organisms-those most suited to their environment are the ones that reproduce most successfully, and are most likely to pass on their traits to the next generation.
Darwin's examples of natural selection
The Galapagos finches provide a superb illustration of natural selection. Finches of several species have short, thick beaks. They are used to consuming buds, fruits, and seeds. The beaks of certain others are long and straight. They mostly live off of floral nectar. A quick shift in environmental conditions may favor some traits over others.
The finest illustration of natural selection is the alterations that took place in the moth population in various parts of England. Tree trunks were lighter and there were more light-colored moths before industrialization. There were a few dark-colored moths, but they weren't many. Pollution brought on by industrialization caused tree trunks to become darker. As a result, the light-colored moths were easier for birds to see and were thus consumed by their predators. Due to this, ordinary light-colored moths were nearly entirely replaced by the black type by the end of the 19th century.
Importance of the theory of evolution
The idea that species evolved by natural selection is recognized as a significant development in the field of evolutionary theory.
By describing the diversity of living things and emphasizing the crucial role of natural selection, Darwin made a significant contribution to our current knowledge of biological evolution.
He shared the ignorance of most nineteenth-century scientists on heredity and the transmission of certain features from one generation to the next.
His hypothesis lacks an understanding of contemporary genetics. However, the origins of differences between species were described by the mutation hypothesis.
The genetic laws of inheritance were eventually proposed by Gregor Mendel in 1866.
Four of Darwin's contributions to evolutionary biology are particularly significant since they had a momentous impact outside of that field as well.
The first is the current understanding of evolution itself or the instability of species.
The second is the idea of branching evolution, which postulates that all species of living creatures on Earth descended from a single original source in common.
Prior to 1859, all theories of evolution, including those of the biologist Jean-Baptiste Lamarck, advocated a teleological march towards greater perfection known as linear evolution. This idea had been popularised by Aristotle's Scala Naturae (the chain of being) theory. Darwin added that there should be no significant interruptions or discontinuities in the course of evolution.
Finally, he concluded that natural selection was the process of evolution.
Conclusion
Darwin's theory of evolution was not absolute and does not answer many variations seen during the evolutionary process. But his work laid the foundation for more biologists to research further on the facts.
Because it challenges claims about the literal reality of the Bible and the biblical creation myth, the Darwinian theory of evolution has been the subject of intense debate and is still rejected by certain religious people.
All of the traditional, outdated notions that the emergence of distinct species was a supernatural occurrence or an act of God were disproved by Darwin's theory of evolution.
A more logical explanation for how new species are created was found in Darwin's evolutionary theory of natural selection.
­-Article written by Swathi Satish