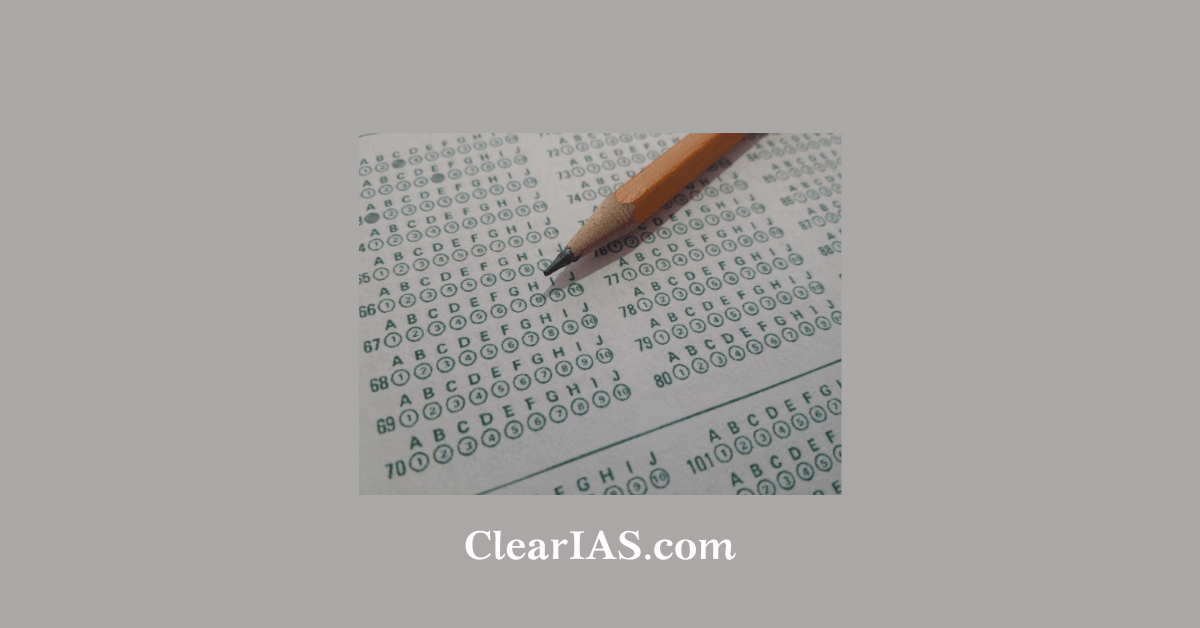 UPSC Civil Services Prelims exam 2023: A Slight Change in the Pattern: What kind of changes are seen in this year's paper? A breakdown of the question paper along with further details is provided in this article.
The Union Public Service Commission (UPSC) successfully conducted the UPSC Civil Services Exam (CSE) Paper 1 and Paper 2 on May 28, 2023.
The written exam was held in two shifts – General Studies in the morning from 9:30 am to 11:30 am, and the Civil Services Aptitude Test (CSAT) in the afternoon from 2:30 pm to 4:30 pm.
According to the initial feedback from IAS coaching centre experts, this year's paper was rated as moderate to difficult. Candidates who appeared for the exam mentioned that this year's Prelims exam was tougher than expected.
Also read: UPSC Prelims 2023 Questions: General Studies Paper 1
What Kind of Changes Dominated GS-I?
The pattern of the UPSC CSE GS-I question paper remained the same. As in previous years, there were 100 MCQ questions – each question worth 2 marks with a negative marking of -0.66.
However, the major change was with respect to the way questions are framed.
Earlier, UPSC used to ask 'Which of the following sentences are correct?'. Instead of this, UPSC has now started phrasing the same question in a different manner. Many questions were framed in the following manner: How many of the following sentences are correct?
Post-exam, many candidates were able to recognise this change as only a slight deviation.
However, in the exam hall, many candidates found this change surprising and challenging.
This to an extent, points to the spoon-feeding by coaching institutes and the lack of ability of candidates to adapt themselves to the changing trends.
Also read: UPSC Prelims Question Paper 2023 [GS Paper I and II]
What Kind of Changes Dominated CSAT?
If we talk about the qualifying paper, aspirants with creative, and logical thinking are expected to succeed in this qualifying paper.
The UPSC CSAT question paper was dominated by the comprehension and reasoning section. Understanding the core idea in the Comprehension section took a considerable amount of time of aspirants. The reading comprehension section was lengthy but not unattainable.
Breakdown of the Question Paper
Regarding the Constitution, most questions were directly from the textbook, requiring minimal thinking. Only 1-2 questions demanded a deeper level of analysis.
In the economics section, there were only a couple of questions that seemed challenging at first glance. However, applying common sense and logical reasoning made them relatively easier to comprehend. For example, one question is based on Infrastructure Investment Trusts (InvITs) and their tax exemption along with their treatment as borrowers can be solved using common sense.
Questions in geography and environment were asked from textbooks as well as from current events. There was a slight change in the question pattern compared to previous years as well.
One notable difference was that in multiple-choice questions, instead of asking which options were correct, candidates were required to determine the number of correct options.
A hint regarding this pattern was already provided in UPSC Prelims 2022, as UPSC has asked similar questions in the 2022 prelims paper as well. This year such types of questions dominated the paper.
Along with that, some general questions relied on common sense. For example, there was a question about the extent of preventive care in the Indian healthcare system, which some candidates may have found misleading. However, the answer is actually false because India has an effective network of vaccines that contribute to preventive care.
Can a candidate crack UPSC Prelims without coaching?
Even though some coaching institutes were clueless with respect to the changing nature of UPSC CSE Prelims, it was much more difficult for aspirants who prepared without any coaching.
It can be seen that success in every competitive exam is high with candidates who take proper coaching and guidance.
There may be exceptions, but candidates who succeed without coaching are a minority. However, it is not an impossible task either.
The attainment of success in the UPSC CSE Prelims 2023 without coaching largely depends on the efficient use of online resources like the free study materials and guidance provided by websites like ClearIAS.com.
With the availability of the right resources, study materials, and UPSC-related guidance, candidates can easily broaden their knowledge base.
Nevertheless, it is important for aspirants to extend their preparedness and their progress periodically. In this regard, mock tests and practice papers play an important role.
Mock tests make you aware of the actual exam environment, which helps in time management as well as in identifying areas that require further improvement.
ClearIAS offers various programs to help aspirants improve their performance in the UPSC journey. The platform provides not only detailed study materials but also, online and offline courses, and mock tests specifically designed for UPSC CSE preparation.
Conclusion
There is a trend of increased difficulty of UPSC CSE.
The UPSC CSE exam undergoes changes over time. This year as well, we have witnessed different types of questions in the exam paper.
Both the content and form of questions underwent changes. However, the shift in pattern started last year and seems to be continuing. It is fair to say that merely memorizing content and techniques would not have been sufficient for this year's UPSC paper.
In this year's paper, the elimination method was not as helpful as that used to be, and the General Studies question paper was comparatively lengthy. But aspirants with a strong hold on Current Affairs had great chances of scoring well in Paper 1.
Also, this year's paper has made this clear that UPSC can ask any number of questions from any section. As, in this year's paper, candidates get fewer questions from modern history compared to previous years.
In the UPSC Civil Services Prelims exam 2023 question paper, we saw a slight change in the way questions are framed.
Candidates' chances of success in the UPSC Civil Services Prelims 2023 will depend on their understanding of fundamental concepts, up-to-date knowledge, and the ability to apply logical reasoning and common sense in the paper.
Article Written By: Priti Raj