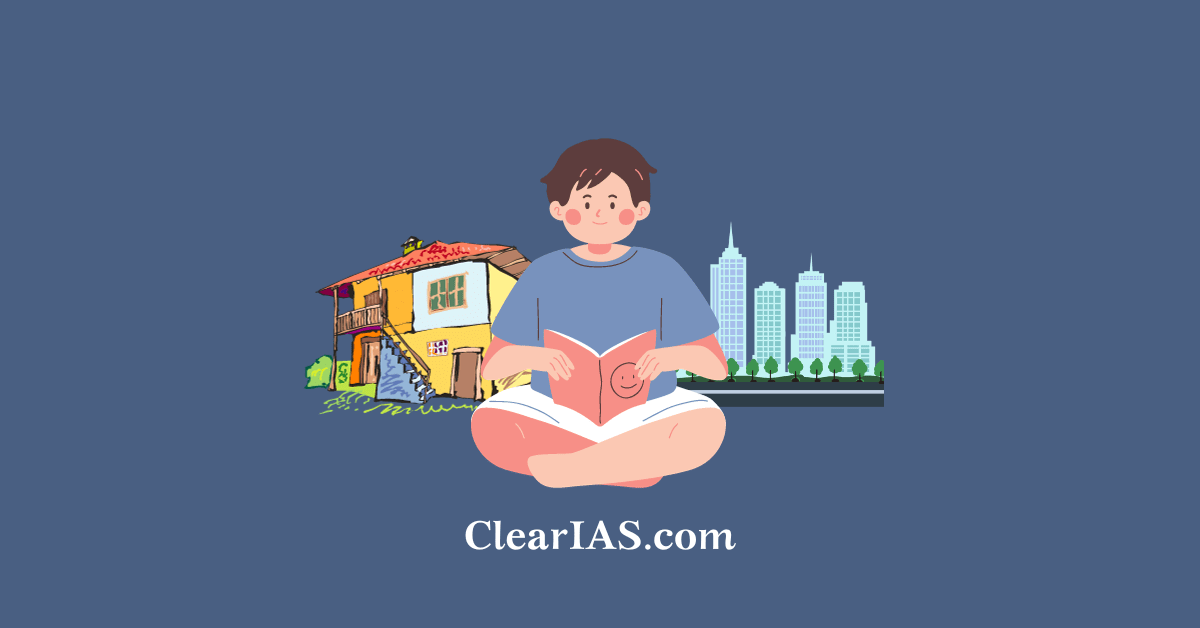 UPSC CSE: Strategies for Rural and Urban Candidates
The Civil Services Examination (CSE) conducted by the Union Public Service Commission (UPSC) is one of the most prestigious and competitive exams in India.
Every year, thousands of aspirants from diverse backgrounds and locations attempt this examination with the goal of becoming an Indian Administrative Service (IAS) officer or securing other prestigious civil services positions.
One significant distinction among aspirants is the environment in which they come from, i.e., rural or urban backgrounds. Both rural and urban candidates face some different challenges when preparing for UPSC CSE that require different strategies.
In this article, we will discuss the challenges and strategies for rural and urban candidates who want to prepare for the UPSC CSE.
Challenges Faced by Rural Candidates During UPSC CSE
UPSC CSE examination in itself is considered tough. But, for aspirants who belong to rural backgrounds, it becomes more challenging for several reasons.
Limited Access to Resources: Rural candidates often face challenges related to limited access to educational resources, coaching centers, and study materials. This lack of infrastructure can impact their preparation efforts.
Socio-Economic Factors: Socio-economic disparities can make it difficult for rural candidates to afford quality coaching and study materials, as they may come from economically disadvantaged backgrounds.
Lack of Exposure: Rural candidates may have limited exposure to current affairs, competitive exams, and the English language (which plays an important role in Prelims GS paper 2). This means the exposure to the diverse subjects required for the UPSC CSE can be lacking.
Infrastructure: Inadequate internet connectivity, frequent power outages, and substandard libraries or reading areas can be major hurdles to a rural candidate's study routine.
Strategies for Rural Candidates
Though there are challenges but where there is a will there's a way. So, if a candidate is determined and focused towards their goal, certain strategies will help them overcome above mentioned challenges and also help them clear the exam.
Utilize Online Resources: While internet connectivity may be unreliable, rural candidates should still make the most of online study materials, YouTube tutorials, and websites like UPSC's official site, and ClearIAS website for syllabus, notifications, notes, tests, current affair compilation, etc.
Self-Study: Self-study is the key to success. Rural candidates who cannot afford coaching fees should focus on self-learning, using books, notes, and digital resources to create a detailed study plan with the help of online resources.
Community Support: Seek out local study groups or communities that can provide emotional support, and resources, and help with doubt resolution. Remember to join any such group if you are sure about its productivity. Try and stay away from unnecessary discussions and distractions.
Financial Planning: Plan your finances carefully, and look for scholarships, free online courses, or low-cost coaching options if possible. For this, ClearIAS, a renounced platform has come into the limelight for providing quality materials, online coaching, and mock tests at very affordable prices. This initiative is taken to ease the financial burden of the UPSC CSE aspirants.
Regular Mock Tests: Regularly attempt mock tests to adapt to the examination environment. You can also check it on the ClearIAS website. As it provides reliable, updated and trend-aligned questions along with explanations.
Challenges Faced by Urban Candidates During UPSC CSE
Like rural candidates, urban candidates also face several challenges. Though they are different than what urban aspirants usually face, but still a challenge is a challenge that needs efforts to overcome.
Competitive Pressure: Urban candidates often face intense competition from peers, which can lead to stress and anxiety.
Distractions: The bustling urban lifestyle with its many distractions can make it difficult for candidates to maintain a disciplined study routine.
High Expectations: There is often pressure from family and society for urban candidates to perform exceptionally well, which can lead to added stress.
Lack of Time: Urban candidates may have jobs or other commitments that limit the amount of time they can dedicate to UPSC preparation.
Strategies for Urban Candidates
Urban candidates can also prepare effectively for the UPSC CSE with dedication. For this, they majorly need a lifestyle change and dedication. Below we have mentioned a few strategies that will help you overcome such challenges.
Time Management: Effective time management is important during UPSC CSE preparation. Create a daily schedule and stick to it religiously. Prioritize your studies and allocate specific time slots.
Join Reputed Coaching Centers: Access to quality coaching centers in is a distinct advantage. If you feel that you need assistance and guidance in your preparation, you can enroll in a coaching institute as well. It will not only help you with the right guidance but also provide you right study resources.
Financial Constraints: Urban or rural, UPSC CSE coaching expenses are a burden for both of them. At this time, the coaching fees are touching the skymark. So, if you are looking for economical and effective coaching options, ClearIAS would be a better option. Their online courses can be accessed from anywhere at any time. That will help aspirants to plan their classes timing as per their convenience.
Stress Management: Urban candidates must focus on stress management techniques like meditation, exercise, and hobbies to maintain mental well-being.
Stay Focused: Avoid getting distracted by the urban environment by creating a dedicated study space that is free from distractions.
Set Realistic Expectations: Manage the expectations of family and friends by explaining the difficulties and challenges of UPSC preparation. Set realistic goals and communicate openly.
Conclusion
While preparing for the UPSC CSE, both rural and urban candidates have their unique sets of challenges. It's important to remember that success in this examination is ultimately determined by one's dedication, hard work, and smart strategy.
Whether you hail from a rural or urban background, following the right approach and adapting it to your circumstances will be the key to success. By overcoming their challenges and capitalizing on their strengths, aspirants from all backgrounds can fulfill their dream of serving the nation through the civil services.
Article Written By: Priti Raj