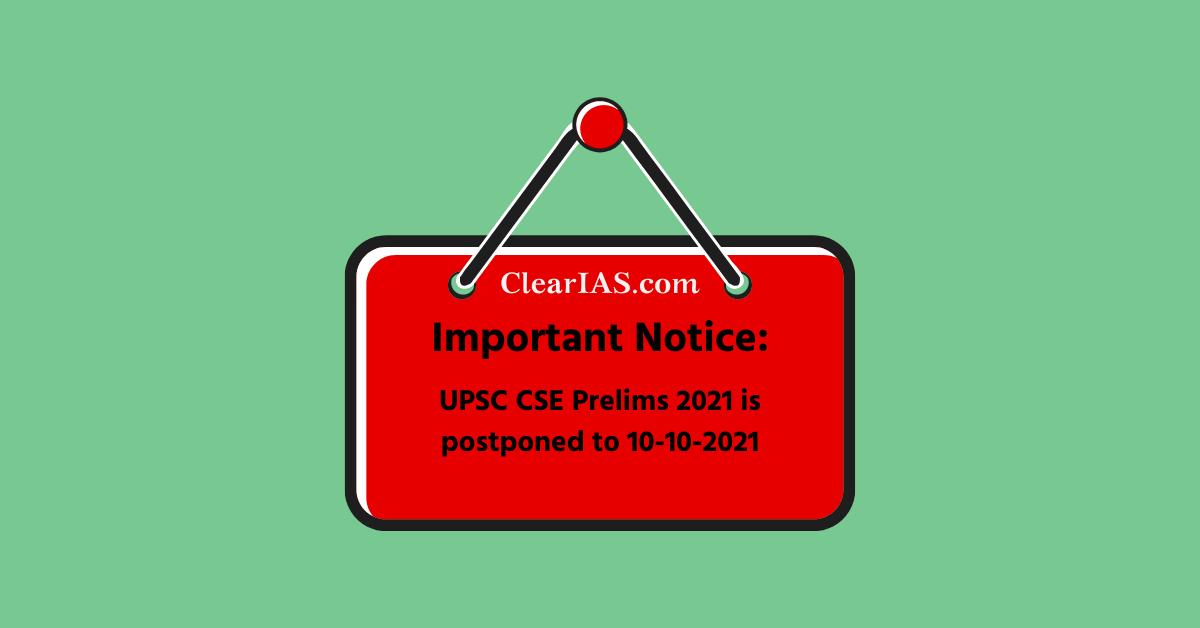 UPSC has postponed Civil Services Examination (CSE) 2021 from 27th June 2021 to 10th October 2021.
Providing huge relief to lakhs of IAS and IPS aspirants distressed by the Covid19 pandemic, the Union Public Service Commission (UPSC) has rescheduled the Preliminary Examination of CSE 2021.
The Commission has also announced the new date, ie. 10th October 2021.
The date of Mains 2021 is not announced yet. However, aspirants may expect Mains 2021 to be conducted around Jan 2022, if last year trends are to be followed.
Important Notice from UPSC: Prelims 2021 Rescheduled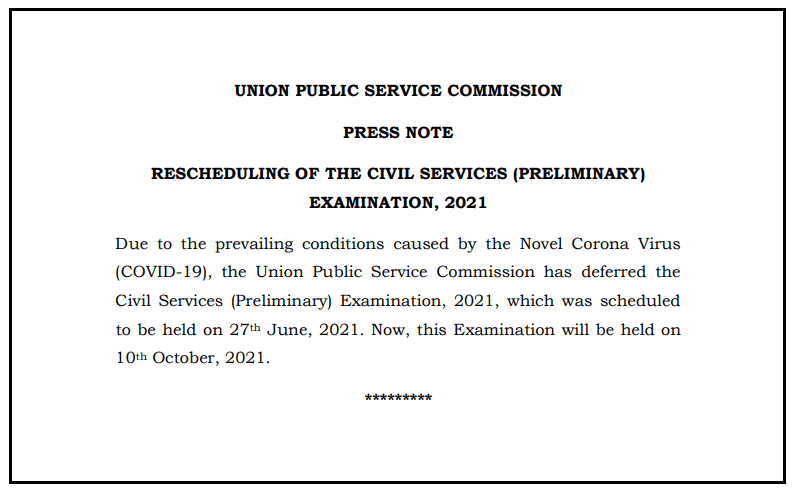 Due to the prevailing conditions caused by the Novel Corona Virus (COVID-19), the Union Public Service Commission has deferred the Civil Services (Preliminary) Examination, 2021, which was scheduled to be held on 27th June 2021.
Now, this Examination will be held on 10th October 2021.
Prelims and Mains were postponed last year too!
This is not the first time UPSC has rescheduled the Preliminary Examination.
Last year, during the time of the first wave of Covid19, UPSC had postponed Prelims and later successfully conducted the exam when the number of cases decreased.
Aspirants: Be safe and self-motivated
In this hard time, we advise aspirants to remain safe inside your house. Motive yourself. You have a long road to travel.
Use the additional time you get for in-depth online preparation.
The whole ClearIAS Team is with you. We will be publishing more online notes, videos, guidance articles, and exams that will help you succeed.
Validity of ClearIAS Prelims Test Series 2021 extended!
The validity of the ClearIAS Prelims Test Series is now extended until the new date of Prelims 2021, ie October 10, 2021.
If not yet joined, enrol in ClearIAS Prelims Online Mock Test Series 2021.
Preparing for UPSC 2022?
ClearIAS will be starting programs, including online mock test series for UPSC CSE 2022 soon.
Stay tuned for more updates from us.