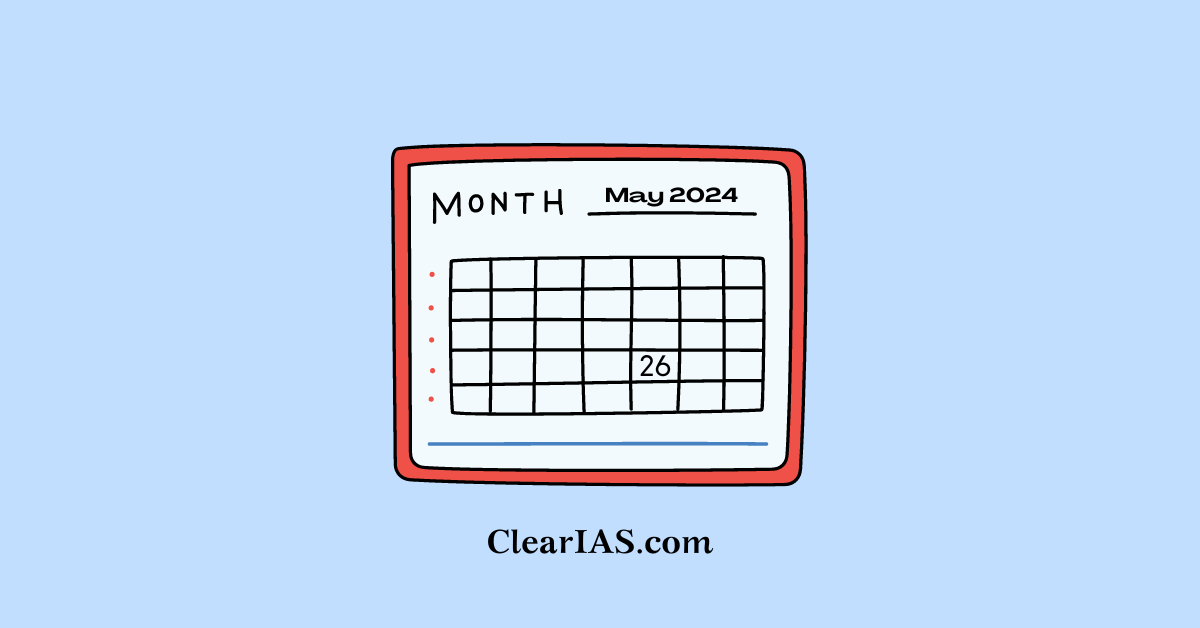 What is the UPSC Civil services Prelims Exam Date 2024? When the online application for the UPSC CSE exam will start? What is the Selection process?
The Union Public Service Commission (UPSC) has released the official calendar for exams about to be conducted in 2024. Through the calendar, UPSC has officially announced the date for the UPSC Civil Services Preliminary Examination for the year 2024.
UPSC Civil Services Prelims Exam Date 2024
The UPSC Civil Services Examination is one of the most prestigious and sought-after exams in India, attracting thousands of aspirants every year. The UPSC Civil Services Prelims Exam is scheduled to be held on 26th May 2024.
When the Application Process for the UPSC CSE Prelims Exam Will Start?
The application process for the UPSC Civil Services Preliminary Examination 2024 will commence on 14th February 2024, providing candidates ample time to submit their applications and complete the necessary formalities.
Aspirants must note that the application process will close on 5th March 2024. It is advised to submit their application form as soon as possible to get their nearby exam center because UPSC follows a first come first serve process.
UPSC Civil Services Post List
There are three categories of UPSC jobs: All Indian Civil Services, Group A Civil Services, and Group B Civil Services. We have provided a list of all 24 positions available after the Civil Services Examination (CSE). Further details are provided below.
UPSC Posts List: All Indian Services
Indian Administrative Service (IAS)
Indian Police Service (IPS)
Indian Forest Service (IFoS)
UPSC Posts List: Group A Civil Services
Indian Foreign Service (IFS)
Indian Audit and Accounts Service (IAAS)
Indian Communication Finance Services (ICFS)
Indian Postal Service (IPoS)
Indian Railway Traffic Service (IRTS)
Indian Revenue Service (IRS)
Railway Protection Force (RPF)
Indian Civil Accounts Service (ICAS)
Indian Railway Accounts Service (IRAS)
Indian Railway Personnel Service (IRPS)
Indian Trade Service (ITS)
Indian Corporate Law Service (ICLS)
Indian Defence Accounts Service (IDAS)
Indian Defence Estates Service (IDES)
Indian Information Service (IIS)
Indian Ordnance Factories Service (IOFS)
UPSC Posts List: Group B Civil Services
Armed Forces Headquarters Civil Service
DANICS
DANIPS
Pondicherry Civil Service
Pondicherry Police Service
UPSC Civil Services Selection Process
There are three stages in the selection process for the UPSC CSE Examination.
Prelims
Mains
Interview
Candidates willing to secure a job through UPSC must have to clear all three stages.
UPSC CSE Prelims Exam Pattern
UPSC CSE prelims exam contains two papers i.e., GS-I and GS-II. Further details related to the prelim exam are mentioned below.
The UPSC Prelims comprises two papers.
Paper I: General Studies- In Paper I of the UPSC exam, called General Studies Paper I (GS-I), candidates are assessed on their overall knowledge and understanding of various topics including current events, history, geography, Indian Polity, environment, technology, and economics.
Paper II: CSAT- Paper II, known as General Studies Paper II (GS-II) or the Civil Services Aptitude Test (CSAT), focuses on evaluating the candidate's aptitude in areas like logical reasoning, comprehension, problem-solving, and decision-making.
UPSC Civil Service Exam Pattern: Prelims
Paper
Type
No. of questions
UPSC Total Marks
Duration
Negative marks
General Studies I
Objective
100
200
2 hours
Yes
General Studies II (CSAT)
Objective
80
200
2 hours
Yes
Note: GS Paper II is qualifying in nature with minimum qualifying marks fixed at 33%
UPSC CSE Mains Exam Pattern
The second phase of the selection process for the UPSC CSE is the mains examination. This involves a written test that assesses the candidate's understanding and knowledge across various subjects, inculcated in different papers.
The main examination consists of nine papers, with two qualifying papers (Paper A and Paper B) that primarily focus on language proficiency.
The exam pattern for UPSC 2024 Mains is as follows:
UPSC CSE Exam Pattern: Mains
Paper
Subject
Duration
IAS Total marks
Paper A
Compulsory Indian language
3 hours
300
Paper B
English
3 hours
300
Paper I
Essay
3 hours
250
Paper II
General Studies I
3 hours
250
Paper III
General Studies II
3 hours
250
Paper IV
General Studies III
3 hours
250
Paper V
General Studies IV
3 hours
250
Paper VI
Optional I
3 hours
250
Paper VII
Optional II
3 hours
250
How to prepare for UPSC CSE Prelims 2024?
To increase your chances of success in the exam, it is recommended to utilize a wide range of resources like books, study materials, online courses, and mock tests.
A better understanding of the subjects covered is crucial for effective preparation for the preliminary examination.
To complete your preparation on time and cover the UPSC syllabus entirely, it is advised to take the help of an online course that covers the syllabus in a systematic way.
Candidates can also practice multiple-choice questions, set by a reliable institution.
Article Written By: Priti Raj