Ishita Kishor topped UPSC CSE 2022. Read the article below to know more about UPSC Topper Ishita Kishor's Marksheet and exam journey.
Ishita Kishore, A graduate of Shri Ram College of Commerce, Delhi University, achieved the first rank in the 2022-23 Civil Services Exam conducted by the UPSC.
The final result of the UPSC CSE 2022 exam was announced in May 2023 which shows that she scored exceptionally well in all the papers of general studies and optional subjects, as well as in the interview/personality test.
27-year-old Ishita Kishor who failed in her two prelims earlier scored overall 1094 marks and secured first place. Even after failing twice in her first two attempts, she always had the option of continuing her promising corporate job as a risk analyst but Ishita has this determination and desire to help people by becoming an IAS officer. This thought of her motivated her throughout her journey and helped her attain her dream.
Journey of Ishita Kishor
Ishita Kishore, a remarkable individual, recently made headlines by achieving the top rank in the highly competitive 2022 Civil Services Exam conducted by the UPSC. A 26-year-old graduate from the esteemed Shri Ram College of Commerce (SRCC) at Delhi University has shown tremendous dedication and perseverance throughout her journey.
Despite facing setbacks in her previous two attempts, where she failed to qualify for the interview round, Ishita remained undeterred. In a recent interview, Ishita Kishore expressed her heartfelt appreciation for the constant support she received from her family during her entire journey.
Her mother, who is a school teacher, her brother, who is pursuing a career in law, and her late father, who was an Indian Air Force Officer and served as her main source of inspiration, all played significant roles in her life. Ishita considers herself fortunate to have such a supportive and inspiring family by her side.
Ishita's hard work and commitment paid off, as she emerged victorious in her third attempt, securing the coveted All-India Rank 1. Along the way, her impressive mock UPSC interview garnered tremendous attention, amassing over a hundred thousand views within hours of the results being announced.
Ishita's remarkable journey serves as a testament to the power of resilience and the invaluable support of loved ones in achieving one's goals.
Marksheet of UPSC CSE 2022 Topper Ishita Kishor
Ishita's mark sheet reveals that she scored a total of 1,094 marks. Out of this, she got 193 marks in the interview round and 901 marks in the written exam. Her optional subjects were Political Science and International Relations (Papers VI&VII). In which she scored exceptionally well marks.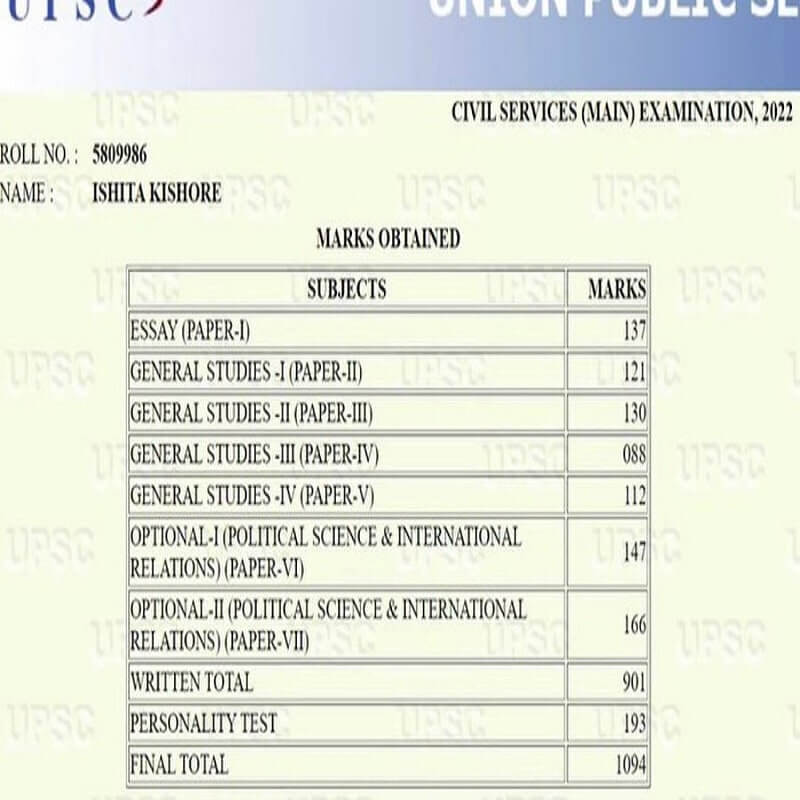 Ishita Kishor's marks are as follows:
Essay (Paper-I): 137
General Studies-I (Paper-II): 121
General Studies-II (Paper-III): 130
General Studies-III (Paper-IV): 088
General Studies-IV (Paper-V): 112
Optional-I (Political Science & International Relations) (Paper-VI): 147
Optional-II (Political Science & International Relations) (Paper-VII): 166
Written Total: 901
Personality Test: 193
Final Total: 1094
It is worth noting that this year showcased a remarkable achievement as girls secured the top four positions. Ishita, who secured the first position, was followed closely by Garima Soni in second place. Uma Harathi N. claimed the third spot with great accomplishment, while Smriti Mishra proudly secured the fourth position.
Also read: Pradeep Singh Marksheet: UPSC Topper Secures 52.9% Marks
Article Written By: Priti Raj