Pradeep Singh Marksheet: UPSC Civil Services Examination (CSE) 2019 All India Rank 1 secured 52.93 per cent marks.
UPSC Civil Services Examination is always a low-scoring exam with tight evaluating standards.
At a time when the NEET toppers scored 720/720 (100%), the UPSC topper's mark is 1072/2025 (52.9%).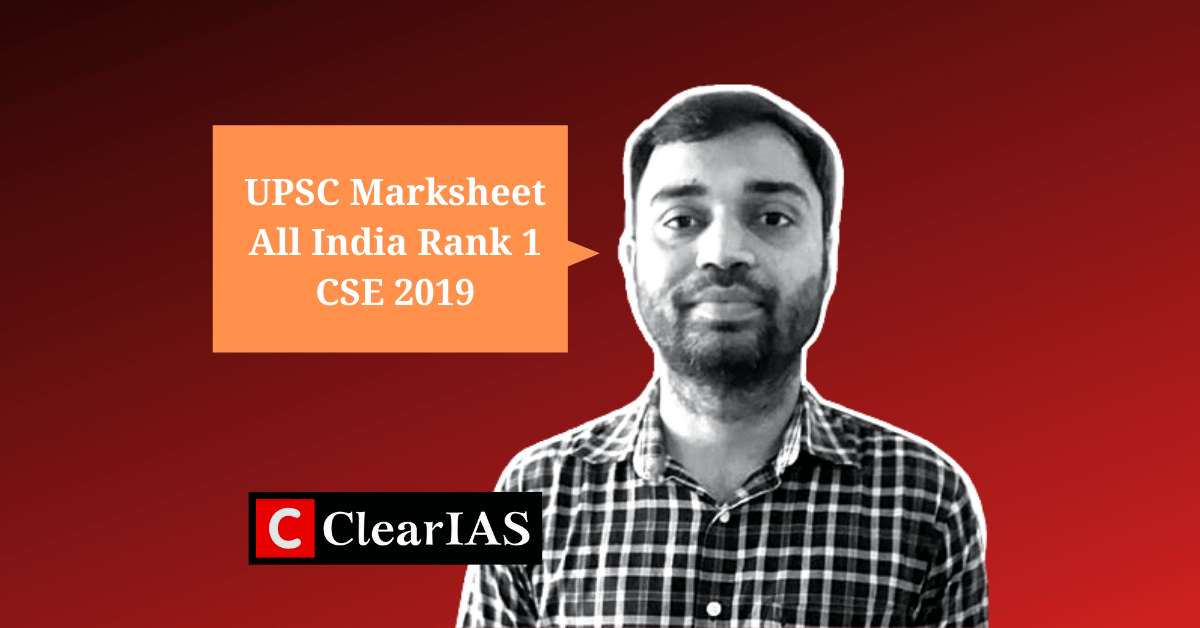 Marksheet of Pradeep Singh: UPSC CSE 2019 Rank 1
Pradeep's Singh's UPSC Marksheet is given below:
Essay Paper – 140/250
GS1 – 108/250
GS2 – 115/250
GS3 – 101/250
GS4 – 157/250
Optional Paper 1 – 148/250
Optional Paper 2 – 145/250
Interview – 158/275
Total – 1072/2025
Pradeep Singh: All India Rank 1 in the 4th attempt
Pradeep Singh from Haryana's Sonepat topped the UPSC Civil Services Examination, 2019.
This was his 4th attempt.
He had previously cleared the Civil Services Examination and was working in the Indian Revenue Service (IRS).
As he improved his rank this year, he will be allocated to his dream service – Indian Administrative Service (IAS).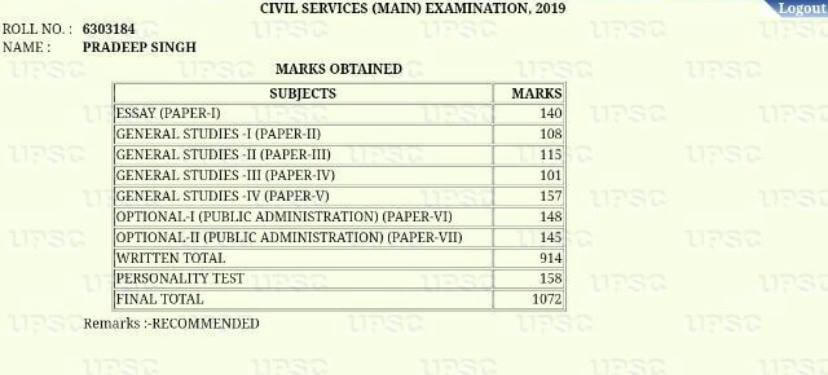 47.5 % marks: Cut-off score to get selection into Civil Services!
The percentage of marks scored by the last recommended candidate in UPSC CSE 2019 was 47.5%. This was for the General Category.
The cut-off score for other categories like EWS, OBC, ST, and SC is even lower.
For the EWS category, the final cut-off score was 44.88%. The cut-off marks were 45.67% for OBC. The SC and ST cut-off was 44.34 and 44.09 respectively.
Know more about the UPSC Cut-Off Marks 2019 here.
Previous Year UPSC Toppers' (Rank 1) Marks
Also read: UPSC Topper Ishita Kishor's Marksheet