Recently a bill was introduced in the Lok Sabha to provide consistency in the implementation of the law governing inland waterways and national navigation. Which are the major national waterways of India?  What are their benefits over other types of transportation? Read the article to know more about the waterways of India.
 Transportation is critical to our country's development, has a significant impact on a developing country, and is a significant source of employment. With its vast land area and diverse topography, India boasts of its ability to support numerous modes of transportation.
What are the steps to boost the effectiveness of waterways?
Waterways are the most cost-effective mode of transportation for carrying big and heavy cargo as well as passenger services. It is not only fuel-efficient but also incredibly eco-friendly.
There are two kinds of water transportation:
Oceanic Waterways
Inland Waterway
Let us explore more on them.
Inland Waterways
India has about 14500 kilometres of navigable waterways, although they only contribute to around 1% of the country's transportation. Canal backwaters, rivers, and creeks, among many other sorts of water bodies, are included.
Although 3700 km of major rivers are navigable by mechanised flat bottom vessels, only 2000 km are currently utilised. Mechanised vessels utilise only 900 km of the canal's 4800 km navigable length. These canals move around 180 lakh tonnes of goods.
Oceanic Waterways
The inland waterways authority has identified ten additional inland waterways. Kerala's backwaters have a special significance as a mode of transportation as well as a popular tourist attraction. The Nehru Trophy Boat Race is also held here.
India's coastline is over 7,517 kilometres long, making huge vessels easier to convey. The country has 12 main and 185 small ports that provide vessels with the necessary infrastructure.
The Oceanic routes also support 95% of India's foreign trade by volume and more than 70% by value, which goes from India to other countries. They also provide access to the islands.
The National Waterways Act aids in the management of the country's waterways. It became effective in the year 2016. In addition to the pre-existing one, the act suggested 106 national waterways and consolidated 5 existing statutes that had designated the 5 national waterways.
Out of the 111 national waterways proclaimed by the National Waterways Act, 13 are active for shipping and navigation and are used by cargo or passenger vessels. The government of India established the Inland Waterways Authority of India (IWAI) in accordance with the National Waterways Act to regulate and develop the inland waterways used for navigation and shipping.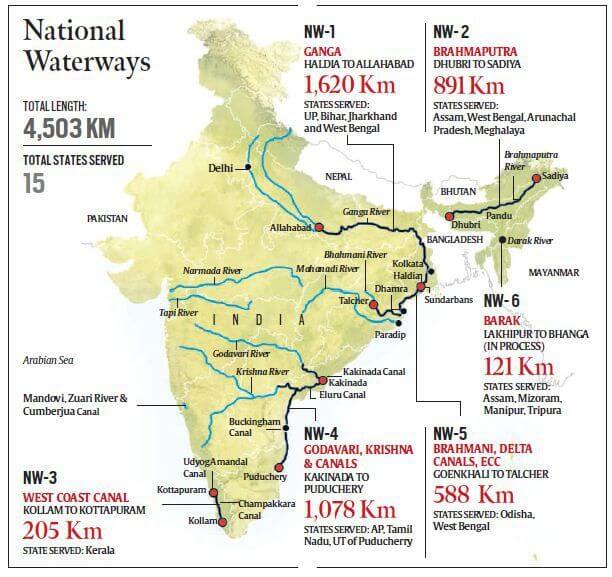 Advantages
Savings on costs.
It is fuel and energy efficient when compared to other forms of transportation, such as rail and road.
The cost of building waterways is substantially lower than rail and road.
Transport and transition losses are reduced.
Friendly to the environment.
Fuel consumption per tonne-km is the lowest.
Trucks emit 50% of carbon dioxide.
In comparison to rail and road transportation, there is no need for land.
Reduces road and rail congestion.
Reduces traffic congestion and accidents on the road.
Combining river transportation with other modes will produce an optimal modal mix.
It contributes to the creation of seamless interconnectivity by connecting hinterlands along navigable river coasts and coastal roads.
Inland Waterways have enormous possibilities for domestic cargo transportation, cruises, tourism, and passenger travel.
Inland waterway development will develop new job opportunities take place.
Disadvantages
As they have slow transport speeds, they are unsuitable for situations where time is of the essence.
It has a limited operating area due to infrastructural constraints and the depth of the waterways.
They do not provide door-to-door cargo transportation.
Disruptions in operations.
Weather is a significant disadvantage.
National Waterways in India
| | | | | | |
| --- | --- | --- | --- | --- | --- |
| No. | NW Number | River System | Route | Length (in km) | Locations |
| 1 | NW – 1 | Ganga-Bhagirathi-Hooghly | Prayagraj – Haldia | 1620 | Uttar Pradesh, Bihar, Jharkhand, West Bengal |
| 2 | NW – 2 | Brahmaputra | Sadiya-Dhubri | 891 | Assam |
| 3 | NW – 3 | West Coast Canal, Champakara Canal, and Udyogamandal Canal | Kottapuram – Kollam | 205 | Kerala |
| 4 | NW – 4 | Krishna and Godavari | Kakinada–Puducherry stretch of canals, Kaluvelly Tank, Bhadrachalam – Rajahmundry, Waziraba–Vijayawada | 1095 | Andhra Pradesh, Tamil Nadu, and Puducherry |
| 5 | NW – 10 | Amba River | | 45 | Maharashtra |
| 6 | NW – 83 | Rajpuri Creek | | 31 | Maharashtra |
| 7 | NW – 85 | Revadanda Creek – Kundalika River System | | 31 | Maharashtra |
| 8 | NW – 91 | Shastri river–Jaigad creek system | | 52 | Maharashtra |
| 9 | NW – 68 | Mandovi – Usgaon Bridge to the Arabian Sea | | 41 | Goa |
| 10 | NW – 111 | Zuari– Sanvordem Bridge to Marmugao Port | | 50 | Goa |
| 11 | NW – 73 | Narmada River | | 226 | Gujarat and Maharashtra |
| 12 | NW – 100 | Tapi River | | 436 | Gujarat and Maharashtra |
| 13 | NW – 97 (Sundarbans Waterways) | Namkhana to AtharaBankiKhal | Indo-Bangladesh Protocol Route | 172 | West Bengal |
Government Initiatives
The Inland Waterways Authority of India Act, 1985
The Act establishes an Authority for the management and development of inland waterways for the purposes of shipping and navigation, as well as things relating to it. The Inland Waterways Authority of India was established in 1986. Through a grant from the Ministry of Shipping, it implements initiatives for developing and maintaining IWT infrastructure on national waterways.
The Indian Vessels Act of 1917 (as revised in 2007)
It is concerned with the survey and registration of inland vessels, the elimination of barriers in navigation, the carriage of goods and passengers, the prevention and management of pollution, and so on.
 Inland Water Transport Policy 2001
The policy states that IWT is a cost-effective, fuel-efficient, and environmentally benign means of transportation. It encourages large-scale private sector participation in infrastructure development and fleet operations.
Jal Marg Vikas Project (JMVP)
It aims at capacity augmentation of navigation on National Waterway-1 (NW-1), along the river Ganga. It is being implemented at a cost of Rs 5369.18 crore with the technical assistance and investment support of the World Bank. The Project is expected to be completed by March 2023.
Project Arth Ganga
With the local community's help and an emphasis on economic activities in and along the Ganga River, Project Arth Ganga aims to re-engineer the JMVP. As part of the "Project Arth Ganga" to revitalise economic activity in Uttar Pradesh, Bihar, Jharkhand, and West Bengal, small jetties along the Ganga will be constructed to enhance local economic activities.
 The National Waterways Act of 2016
The National (inland) Waterways Act designated 111 rivers or river sections, creeks, and estuaries as National (inland) Waterways. It permits the Central Government to regulate the growth of these waterways in terms of shipping, navigation, and transport via mechanically propelled vessels.
Inland Vessels Bill 2021
The bill proposes to replace the Inland Vessels Act of 1917. It establishes a national regulatory framework for inland vessel transportation. It aims to increase openness and accountability in inland water transportation administration, as well as to tighten procedures governing inland vessels' construction, survey, registration, manning, and navigation.
Sagarmala Project
In addition to developing coast trade routes, the Sagarmala project aims to expand inland waterways to drive industrial development. It intends to save logistical costs by tripling the number of domestic waterways in the modal mix from the existing 6%. (PIB)
Through navigation, the initiative is projected to provide potential benefits to the transportation sector.
Conclusion
Strengthening public-private partnership has a key role to play in developing the inland waterways sector. Private players can undertake terminal development, cargo and passenger handling, and building low-draft vessels and related repair facilities.
Measures should be taken to develop basic infrastructure, address technological bottlenecks and maintenance of rivers to ensure year-round navigability
Measures should be taken to ensure the availability of seamless, multimodal last-mile connectivity to and from the hinterland to reduce trans-shipment costs and make inland water transport economically more viable.
Article Written By: Atheena Fathima Riyas