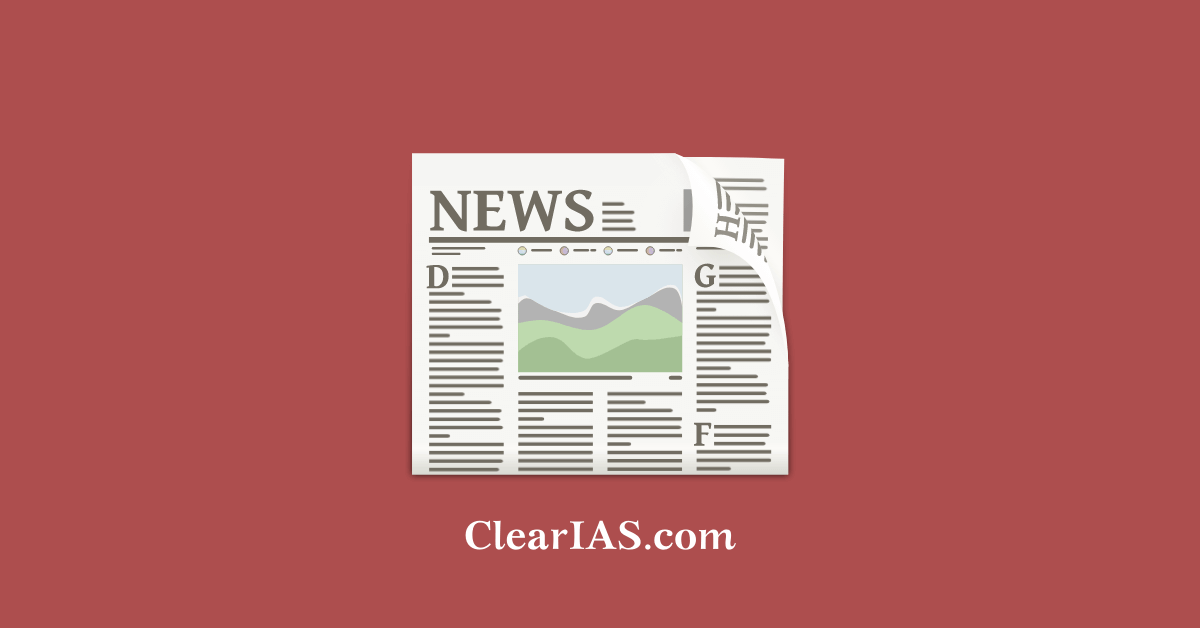 Confused that which newspaper is best for UPSC CSE Preparation? Read this article to learn about the best newspapers for preparation along with effective newspaper reading tips. 
Newspapers are an invaluable source of information for UPSC CSE preparation, keeping you updated with current affairs, government policies, and socio-economic developments.
There are a few newspapers that are considered most reliable by UPSC aspirants.
Which Newspaper is Best for UPSC CSE Preparation?
There are several newspapers in the market with their qualities and drawbacks but the UPSC Civil Services Examination needs some specific details according to its syllabus and that requirement is fulfilled by a handful of newspapers only.
That makes The Hindu and The Indian Express, the two most prominent choices of the aspirants preparing for the UPSC exam.
Here are some important points to consider while choosing the newspaper for UPSC preparation:
The Hindu
The Hindu is a top choice for UPSC CSE Preparation among aspirants. There are a few points that need to be kept in mind before choosing the Hindu newspaper for preparation.
It offers extensive coverage of national and international news, editorials, and analytical articles. Here's why The Hindu is a top choice:
Comprehensive Coverage: The Hindu covers a wide range of subjects, including politics, governance, economics, science, and international relations. Its extensive coverage helps aspirants stay updated with important events and issues relevant to the UPSC CSE syllabus.
Unbiased Reporting: The Hindu is known for its unbiased reporting, providing factual and conceptual information without a significant ideological bias. This enables aspirants to develop a balanced and detailed understanding of current affairs.
Editorial Analysis: The newspaper's editorials and opinion pieces offer in-depth analysis and diverse perspectives on important topics. Reading these editorials helps aspirants develop critical thinking and analytical skills, essential for answering UPSC's mains questions.
The Indian Express
The Indian Express is another popular newspaper choice for UPSC CSE preparation. It offers a unique perspective on current affairs, and its coverage includes in-depth reports, analyses, and investigative journalism. Here's why The Indian Express is considered reliable:
Investigative Reporting: The Indian Express is known for its investigative journalism. It uncovers issues of public interest, corruption, and governance, providing aspirants with valuable insights and a deeper understanding of the socio-political scenarios.
Opinion and Analysis: The newspaper features articles by renowned columnists, offering diverse opinions and analyses over several important topics. This helps aspirants develop a broad understanding of different perspectives on current issues.
Other Newspapers and Sources for UPSC Preparation
Apart from The Hindu and The Indian Express, aspirants can also refer to other newspapers like The Times of India, The Economic Times, and Business Standard, which provide valuable insights into the business and economic sectors.
In addition to newspapers, aspirants should also consider referring to government publications, PIB (Press Information Bureau) releases, and magazines like Yojana and Kurukshetra, which provide in-depth analysis of socio-economic issues and government initiatives.
How to Choose the Best Newspaper?
It is important to keep a few factors in mind while choosing the newspaper for UPSC CSE preparation.
Relevance to the UPSC Syllabus: Look for a newspaper that covers a wide range of topics relevant to the UPSC exam. Ensure that the newspaper provides comprehensive coverage of subjects that are part of the UPSC CSE syllabus.
Quality of Editorial and Opinion Pieces: Consider the quality and depth of editorial and opinion articles in the newspaper. These pieces offer expert analysis, diverse perspectives, and critical insights on important issues.
Easy and Understandable Language: Choose a newspaper that uses language that is easy to understand. Clear and concise writing allows you to understand complex topics more effectively.
Availability and Accessibility: Consider the availability and accessibility of the newspaper. Choose a publication that is easily accessible in your region or can be accessed online.
Personal Preference: Ultimately, choose a newspaper that goes with your personal reading preferences. It should be engaging for you to read regularly. Remember that developing a habit of reading the newspaper consistently is crucial for UPSC CSE preparation.
Also read: The Hindu ePaper – Get Extra OFF; Apply "CLEARIAS" Discount Code
Why it is Important to Read Newspaper during UPSC CSE Preparation
Newspaper reading is an important aspect of UPSC CSE preparation for staying updated with current affairs. Here's why reading newspapers is important for UPSC aspirants:
Current Affairs Coverage: Newspapers are a primary source of information for current affairs. UPSC exams, especially the prelims and mains, place significant emphasis on current affairs knowledge. Newspapers provide a detailed overview of national and international events, government policies, social issues, and economic developments, helping aspirants stay informed on important topics.
Understanding of Government Policies: Newspapers provide insights into government policies and initiatives. Aspirants can gain a deep understanding of government schemes, their objectives, implementation challenges, and potential impacts. This knowledge is important for answering questions related to governance, social welfare, and economic policies in the UPSC exams.
Editorial and Opinion Pieces: Newspapers feature editorial and opinion articles written by experts and renowned columnists. These articles offer diverse perspectives, analysis, and critical insights on significant issues. Reading editorials helps aspirants develop analytical and critical thinking skills, enabling them to form informed opinions and enhance their answer-writing abilities.
Essay Writing and Answer Preparation: Newspapers serve as a valuable resource for essay writing and answer preparation in the mains exam. They provide a broad range of topics and opinions that can be incorporated into essays, enhancing the aspirant's understanding and argumentative skills.
Current Affairs Integration: UPSC exams require candidates to integrate current affairs knowledge with traditional subjects like history, geography, polity, and economics. Newspapers help aspirants connect contemporary events with relevant subjects, facilitating a comprehensive understanding of the UPSC syllabus.
Tips for Effective Newspaper Reading for UPSC CSE
Below, we have provided some effective tips that one can follow while reading the newspaper, especially from an exam perspective.
Read newspapers regularly to stay updated. Consistency is key.
Focus on relevant sections like national news, international news, editorials, and opinion pieces.
Take notes of important facts, figures, and analysis for future reference.
Analyze news articles critically, understanding different perspectives and potential biases.
Develop a habit of cross-referencing information and verifying facts from multiple sources.
Connect current affairs with the UPSC syllabus and make notes accordingly.
Article Written By: Priti Raj