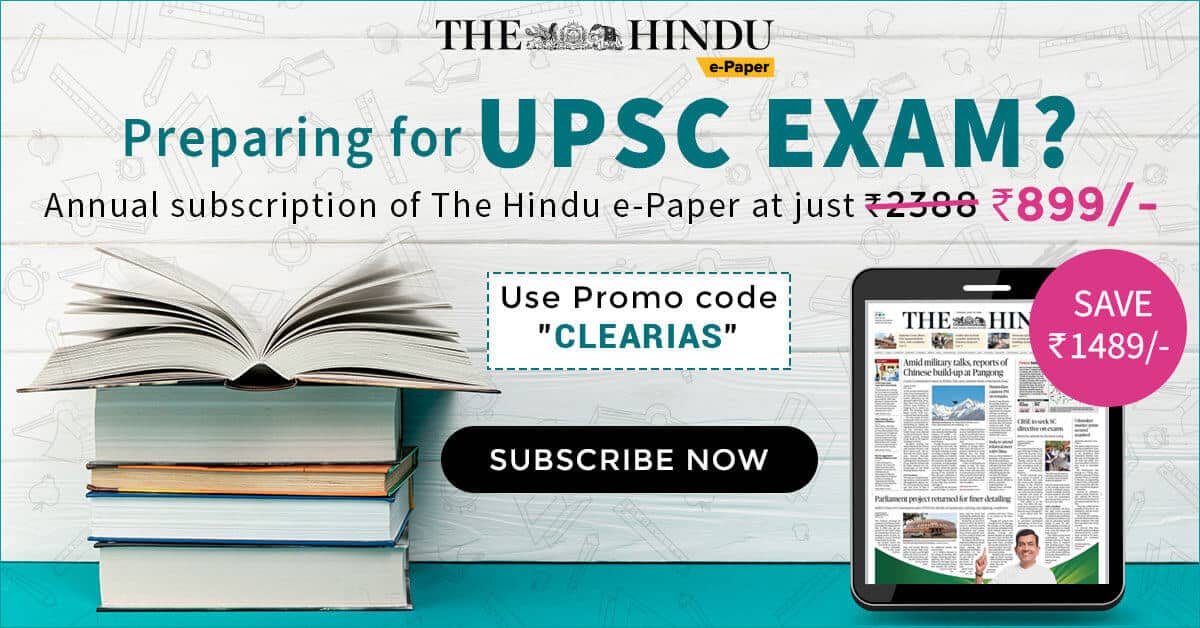 Now, you can get up to 78% OFF on 'TheHindu ePaper'. All you need to do is to apply the discount code "ClearIAS" while subscribing.
ClearIAS has now partnered with The Hindu to bring the 'TheHindu epaper' at a highly discounted rate to our followers.
Aspirants who wish to subscribe TheHindu e-paper should use this opportunity to get The Hindu at never-before rates.
To get the benefit of this offer, all you need to do is to apply the promo code CLEARIAS while purchasing TheHindu epaper subscription from this link.
Limited Period Offer: Extra-discount on TheHindu epaper
TheHindu epaper is one of the most sought-after digital newspapers in India. It is much appreciated for the great user experience, almost similar to reading the paper newspaper.
TheHindu epaper has 4-subscription options available – from 1 month to 1 year. The most popular option among UPSC aspirants is the 1-year subscription option.
Note: The Hindu pricing plan changes often. The current discount offer is a limited period offer exclusive for ClearIAS users who apply the ClearIAS promo code.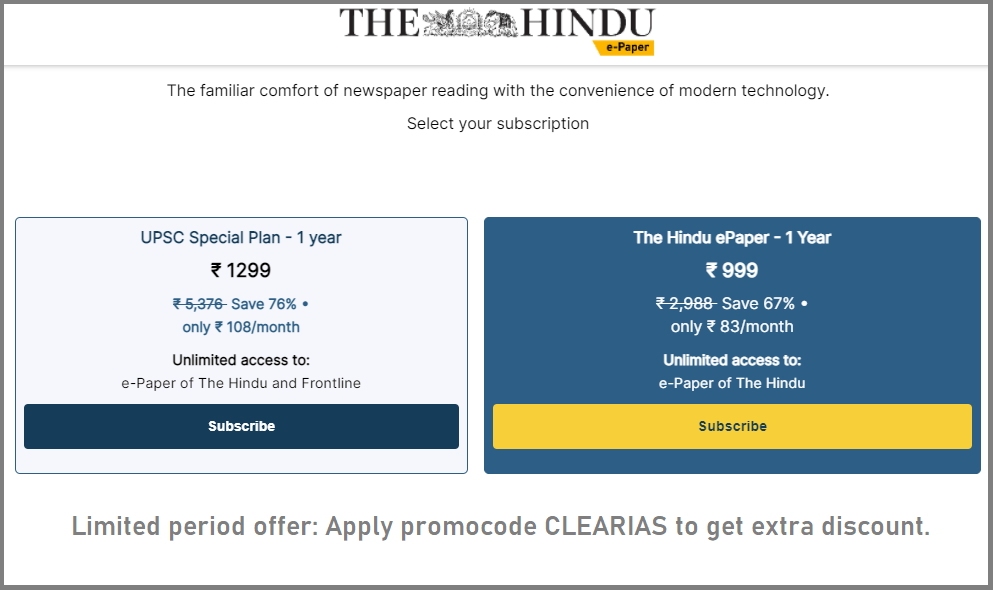 Get The Hindu E-paper Discount
The UPSC Special Plan: TheHindu ePaper + Frontline (12 months)
The 'UPSC Special' subscription plan by The Hindu includes 12 months of:
TheHindu epaper
Frontline Digitial magazine
This combo offer can be availed by all ClearIAS followers at just Rs.5376 Rs.1199 if you enter the code "ClearIAS" in the subscription link.
The Annual Plan of TheHindu epaper (12 months)
The 1-year Annual Subscription plan is worth Rs. 2820 can now be purchased for just Rs.899 if you apply the discount code – "ClearIAS" on this The Hindu subscription link.
This means a whopping 70% discount! Prices are inclusive of taxes.
Subscription now must for exclusive content!
If you have browsed 'TheHindu' website or mobile app recently, you might have noticed that the number of articles you can read for FREE in a month is now limited to 10.
You need to pay the fees to access all the contents.
We advise against unethical practices like depending on pirated copies of the digital paper. Apart from being unethical, it harms quality journalism. Most importantly, this can result in copyright violation cases against the user.
If you are a serious aspirant, subscribe The Hindu e-paper to get unlimited access to the contents, which includes PDF version of the newspaper. Luckily, this will not cost you much – only around Rs.3 per day, if you apply the ClearIAS discount code.
Clearly, The Hindu e-paper is cheaper than traditional newspapers. With ready access to archives, the digital version helps in quick note-making. Besides, it is environmentally friendly.
The Hindu e-Paper has turned into a must for UPSC aspirants!
Probably every UPSC aspirant knows the importance of reading 'The Hindu' newspaper.
Even if you get many monthly magazines that cover current affairs, every day at least 30-minute reading of The Hindu Newspaper is recommended.
Reading The Hindu not only improves your knowledge, but also your communications skills, answer writing skills, and comprehension.
'The Hindu' newspaper is like a Bible for aspirants preparing for various competitive exams.
Earlier IAS aspirants read The Hindu newspaper printed on paper. However, now most aspirants prefer e-paper (digital paper) due to its convenience and attractive features.
The Hindu e-Paper Review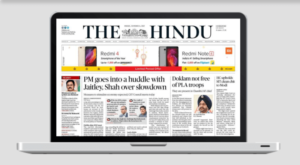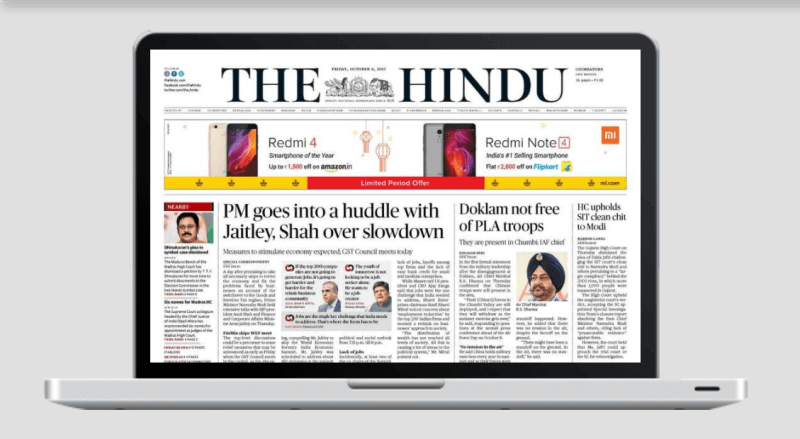 Product Name: The Hindu epaper
Product Description: The Hindu epaper is a digital product.
Price: 899
Currency: INR
Availability: InStock
User Experience

Price

Archives Option

Search Option

Image and Text Option

Sharing Option

Save as PDF Option
Summary
TheHindu epaper is a great choice for smart IAS aspirants who prefer to read online. This is also a great boon for all those who don't have access to the physical newspaper. Subscribers are provided an option to download the newspaper as PDF.