'Aadhar' in Hindi means base or foundation. But ever since Aadhar card was introduced in India, with a unique identification number in it, there is no end to controversies. The main issue connected with Aadhar is Right to Privacy. Can Aadhar and Right to Privacy co-exist? Let's see.
What is an Aadhaar?
An Aadhaar is a 12-digit random unique identification number issued to Indian citizens by the Government of India.
The Unique Identification Authority of India (UIDAI) is the issuing and managing agency of the Aadhar Card (which contains the 12 digit Aadhar number and other personal information).
Is it mandatory to get Aadhar?
Any individual, irrespective of age and gender, who is a resident of India, may voluntarily enrol to obtain Aadhaar number.
It is not mandatory to enrol for Aadhar.
Aadhar was primarily introduced for direct transfer of subsidies into citizens bank account.
But now the government has widened the scope of Aadhar. Now, there are many compulsions to link Aadhar to Bank Account, link Aadhar to Mobile Number, link Aadhar to PAN etc.
Is Aadhar an Identity Proof or Address Proof or Both?
Aadhaar card is issued after recording and verifying every Indian citizen's details including biometric and demographic data.
Aadhaar may be used as a primary identifier to roll out several Government welfare schemes and programmes for effective service delivery thereby promoting transparency and good governance.
Aadhar is accepted as a proof of address by Securities and Exchange Board of India (SEBI) for investing in stock market.
Will Aadhar replace existing identity proofs?
The existing identification documents like PAN, passport, driving license etc. won't get replaced by Aadhaar. However, it can be used as a single identification document.
Aadhar number is unique and robust enough to eliminate a large number of duplicate and fake identities in government and private databases.
An individual needs to enrol for Aadhaar only once and after de-duplication, only one Aadhaar shall be generated, as the uniqueness is achieved through the process of demographic and biometric de-duplication.
What are the benefits of Aadhar?
JAM trinity –  Jan DhanYojana, Aadhaar and Mobile numbers – This will make the government support to poor more targeted and less distortive.
Identification of the beneficiaries of the government's welfare schemes – Aadhar will help to remove fake and duplicates identities. It can be used to filter the list of beneficiaries and stop the leakage of public money.
To tackle the black money issue – Use of Aadhar in financial transactions can reduce the menace of black money in the country.
In Income tax return – Use of Aadhar in income tax filing will reduce the number of documents needed. It can make the process more efficient and cost-effective way.
In Opening a bank account – There is no need to collect multiple identity proofs or run around for documentation. Your humble Aadhaar Card is ample proof of your identity and address.
In getting subsidies directly to the bank account – By linking Aadhar with bank accounts, subsidies like LPG will get credited to bank account directly.
To get pension money on time – By just registering with the Aadhaar number, pension-related documentation process will be eased and a timely payout of pension money can be ensured.
The issue of digital Life certificate – Aadhar number can be used to get a digital life certificate. It will help pensioners without the hassle of physically going to the bank and submitting the life certificate.
Easy Provident Fund disbursement – The Aadhaar will ensure that the Provident Fund money is not diverted and is disbursed directly to the pensioner's account.
Accepted as a proof of address by Securities and Exchange Board of India (SEBI) for investing in stock market.
Mapping development parameters – In critical sectors of the country like healthcare and education, Aadhar can be used to map the development process.
It can help to map skilled manpower, based on the vocational training acquired by the individual, to suitable job vacancies/ skill requirements of the State.
What are the issues with Aadhaar?
Questionable Legal Backing: The current legal backing of Aadhar is via a money bill. The Aadhaar (Targeted Delivery of Financial and other Subsidies, benefits and services) Act, 2016 came into force in 2016, but this is now challenged in the Supreme Court. (Reference: Livemint)
Issues with sharing information collected under Aadhaar – The provisions in the Aadhaar (Targeted Delivery of Financial and other Subsidies, benefits and services) Act, 2016 Act with regard to the protection of identity information and authentication records may be affected by recent verdict by Supreme Court that Right to Privacy is a Fundamental Right.
Violation of rights – It was argued that the UIDAI might share the biometric information of people with other government agencies and thus would violate people's right to privacy. They also thought that using the biometric data, people might be singled out, tracked, harassed and have their rights violated. A five-judge bench of the apex court will test the validity of Aadhaar from the aspect of privacy as a Fundamental Right soon.
Has potential to profile individuals – The Act does not specifically prohibit law enforcement and intelligence agencies from using the Aadhaar number as a link (key) across various datasets (such as telephone records, air travel records, etc.) in order to recognise patterns of behaviour. Techniques such as various computer programmes across data sets for pattern recognition can be used for detecting potential illegal activities. However, there may be chances that innocent individuals can be identified incorrectly.
Discretionary powers of UIDAI – The Act empowers the UID authority to specify demographic information that may be collected. The only restriction imposed on the authority is that it shall not record information pertaining to race, religion, caste, language, records of entitlements, income or health of the individual. This power will allow the authority to collect additional personal information, without prior approval from Parliament. Furthermore, UID has exclusive power to make complaints and the courts cannot take cognizance of any offence punishable under the Aadhaar Act unless a complaint is made by the UID authority.
The time period for maintaining authentication records – The bill does not specify the maximum duration for which authentication records may be stored by the UID authority. Instead, it allows the UID authority to specify this through regulations. Maintaining authentication records over a long time period may be misused for activities such as profiling an individual's behaviour.
The government of India initiatives connecting Aadhaar 
Aadhaar card is to be linked with caste, domicile certificates to curb harassment faced by citizens to obtain these certificates. It will also help to the timely grant of scholarship to students belonging to the Scheduled Castes (SCs) and Scheduled Tribes (STs) without any delays.
BHIM-Aadhaar platform, which is merchant interface of the BHIM App that has been launched for making digital payments using the Aadhaar platform. It enables citizens to make digital transactions in a much more easier way.
The government has made Aadhaar mandatory for opening bank accounts as well as for carrying out financial transactions above of Rs 50,000. In addition, the government has asked all the existing account holders to link Aadhaar numbers to their bank accounts by December 31, 2017.
The government has made compulsory the submission of Aadhaar number or the applicant's Aadhaar Enrollment ID  for the filing of income tax returns as well as for applications for PAN from July 1, 2017.
The Unique Identification Authority of India (UIDAI) has launched 'mAadhaar', a new mobile application for syncing Aadhaar data on mobile phones. The application allows users to have their Aadhaar profile on their mobile as a quick and convenient identification proof. It also lets users lock/unlock their biometric data that are linked to Aadhaar via the app to secure their personal data.
Aadhar Card and Right To Privacy – Can They Co-Exist?
In its zeal to aggregate data in electronic form and target subsidies better, the government cannot ignore its responsibility to protect citizens from the perils of the cyber era.
Legislation- it is imperative that the Union Government enact a privacy legislation that clearly defines the rights of citizens and it should be consistent with the provision of the Constitution.
The government should factor in privacy risks and include procedures and systems to protect citizen information in any system of data collection.
It should create an institutional mechanism such as the Privacy Commissioner to prevent unauthorised disclosure of or access to such data.
Our national cyber cell should be made well capable of dealing with any cyber-attack in the shortest time.
We need to educate people on the risks involved and highlight examples of ID thefts and fraud.
The government should recognise all dimensions of the right to privacy and address concerns about data safety, protection from unauthorised interception, surveillance, use of personal identifiers and bodily privacy.
We need to take a level-headed approach and ensure that ample safeguards are put in place for data protection and privacy.
Data Protection Bill 
After a landmark judgment by the Supreme Court on the right to privacy, Ravi Shankar Prasad, Minister of Electronic and Information Technology, has indicated that the data protection law would be in place by December. The union minister said that the new bill would be drafted keeping the recent right to privacy judgment in mind.  The bill will be drafted taking key inputs from the former Supreme Court Judge, BN Srikrishna.
Update (September 26, 2018): Aadhar Scheme Valid, but some provisions invalid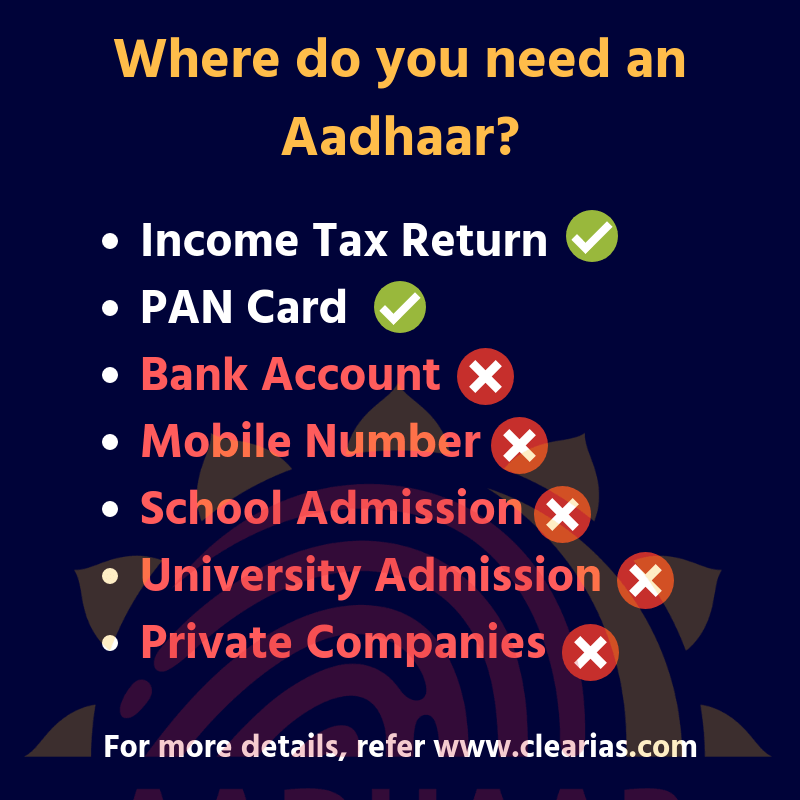 The Supreme Court today declared the Centre's flagship Aadhaar scheme as constitutionally valid. The apex court, however, struck down some of its provisions including its linking with bank accounts, mobile phones and school admissions.
A five-judge constitution bench headed by Chief Justice Dipak Misra held that Aadhaar would remain mandatory for the filing of IT returns and allotment of Permanent Account Number (PAN). But, it would not be mandatory to link Aadhaar to bank accounts and also telecom service providers cannot seek its linking for mobile connections.
Aadhaar would not be mandatory for school admissions, as also for the examinations conducted by the Central Board of Secondary Examination, National Eligibility cum Entrance Test for medical entrance and the University Grants Commission.
The bench struck down the national security exception under the Aadhaar (Targeted Delivery of Financial and other Subsidies, Benefits and Services) Act. It said Aadhaar is meant to help the benefits reach the marginalised sections of society and takes into account the dignity of people not only from personal but also community point of view. The top court said Aadhaar is serving much bigger public interest. Aadhaar means unique and it is better to be unique than being best.
Note: Three sets of judgements were pronounced on the issue. The first one was pronounced by Justice A K Sikri who wrote the judgement for himself, the CJI and Justice A M Khanwilkar. Justice Chandrachud and Justice A Bhushan, who are also part of the bench, have written their individual opinions
Article by: Arun Kumar and updated by ClearIAS Team