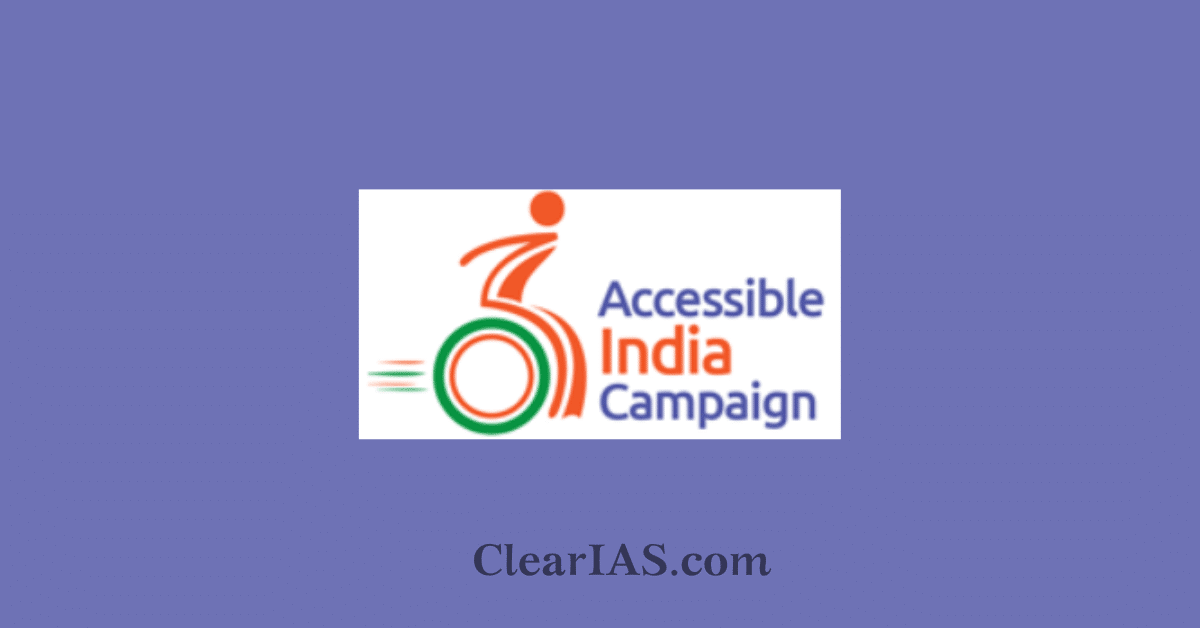 Accessible India Campaign (Sugamya Bharat Abhiyan) is going to complete 7 years in December 2022. The Campaign aims to make a barrier-free and conducive environment for Persons with Disabilities (PwDs) all over the country. Read here to know more about the campaign and accessibility.
An accessible physical environment benefits everyone, not just persons with disabilities. Measures should be undertaken to eliminate obstacles and barriers to indoor and outdoor facilities including schools, medical facilities, and workplaces.
These would include not only buildings, but also footpaths, curb cuts, and obstacles that block the flow of pedestrian traffic.
Department of Empowerment of Persons with Disabilities (DEPwD) has launched the Accessible India Campaign (Sugamya Bharat Abhiyan) as a nationwide Campaign for achieving universal accessibility for Persons with Disabilities (PwDs).
Accessible India Campaign (AIC)
Accessible India Campaign (AIC) was launched by the Prime Minister of India on the International Day of Persons with Disabilities on 3rd December 2015.
AIC is the nationwide flagship campaign of the Department of Empowerment of Persons with Disabilities (DEPwD), Ministry of Social Justice and Empowerment.
The vision of the Accessible India Campaign is to create a barrier-free environment for an independent, safe and dignified living of Persons with Disabilities.
The Vision statement declares: "Accessible India. Empowered India."
The 1995 Persons with Disabilities (Equal Opportunities, Protection of Rights and Full Participation) Act expressly prohibited discrimination in the built environment and transportation.
In order to comply with the United Nations Convention on the Rights of Persons with Disabilities (UNCRPD), the Rights of Persons with Disabilities Act, of 2016, replaced the PwD Act, of 1995.
India is a signatory to the UNCRPD, which imposes obligations on the governments for ensuring people with disabilities have access to:
Information
Transportation
Physical Environment
Communication Technology
Accessibility to Services as well as emergency services
Components of the Accessible India Campaign (AIC)
Part A: Built Environment Accessibility
Objective: Enhancing the proportion of accessible government buildings
An accessible government building is one, where persons with disabilities have no barrier to entering it and using all the facilities therein.
This covers the built environment – services, steps and ramps, corridors, entry gates, emergency exits, and parking – as well as indoor and outdoor facilities including lighting, signages, alarm systems, and toilets.
Part B: Transportation System Accessibility
Objectives:
Enhancing the proportion of accessible airports
Enhancing the proportion of accessible railway stations
Enhancing the proportion of accessible Public Transport
Part C: Information and Communication Eco-System Accessibility
Objectives:
Enhancing the proportion of accessible and usable public documents and websites that meet internationally recognized accessibility standards
Enhancing the pool of sign language interpreters
Enhancing the proportion of daily captioning and sign-language interpretation of public television news programs
Making India Accessible: Features
The following aspects have been focussed on in the AIC-
Built-up environment:
Identifying accessible buildings requires annual accessibility audits that determine if a building meets agreed standards.
Standards of accessibility should be as consistent as possible with international standards, such as those of the ISO, taking into account the local context.
Transport systems:
Well-lit streets and bus shelters
Raised pedestrian crossings to facilitate barrier-free movement with differently textured paving material to make the crossing more perceivable
Footpaths with even surfaces for movement of mobility aid users and continuous tactile pavers along the entire stretch for persons with visual impairment
Special white lighting for footpaths maintains color contrast from the road and ensures that the tactile pavers are visible at night
Audible light signals that beep when the light is green
Bus shelters with barrier-free access having defined boarding gates with warning tiles
Folding ramp inside low-floor buses allows access to mobility aid users
Space to park wheelchairs with the provision of safety belt to secure during journey inside the buses
Provision of Braille signage and audible messages on signage panels
Metro stations and coaches with accessibility features
ICT Ecosystem:
Access to information creates opportunities for everyone in society. Access to information refers to all information.
People use information in many forms to make decisions about their daily lives.
This can range from actions such as being able to read price tags, physically enter a hall, participate in an event, read a pamphlet with healthcare information, understand a train timetable, or view webpages.
No longer should societal barriers of infrastructure, and inaccessible formats stand in the way of obtaining and utilizing information in daily life.
Sugamya Bharat App:
Helping in crowdsourcing grievances of accessibility being faced on the ground in infrastructure and services and forwarding for redressal.
Helpful in creating sensitization and awareness generation about the importance of accessibility.
COVID-19-related complaints which are meant only for Divyangjans (PwDs) are being given top priority.
Other government initiatives for PwDs
Assistance to Disabled Persons Scheme: The ADIP Scheme is in operation since 1981 with the main objective to assist needy disabled persons in procuring durable, sophisticated, and scientifically manufactured, modern, standard aids and appliances that can promote their physical, social and psychological rehabilitation by reducing the effects of disabilities and enhance their economic potential.  Assistive devices are given to PwDs to improve their independent functioning and to arrest the extent of disability and occurrence of secondary disability.
DeenDayal Disabled Rehabilitation Scheme: The approach of this Scheme is to provide financial assistance to voluntary organizations to make available the whole range of services necessary for the rehabilitation of persons with disabilities including early intervention, development of daily living skills, education, skill-development oriented towards employability, training and awareness generation.
National fellowship for students with disabilities: In this, the University Grants Commission (UGC) on behalf of the Department of Empowerment of Persons with Disabilities (DEPwD), Ministry of Social Justice & Empowerment invites applications from eligible candidates for National Fellowship for Persons with Disabilities (NFPwD).
Unique ID for Persons with Disabilities project is being implemented with a view of creating a National Database for PwDs, and issuing a Unique Disability Identity Card to each person with disabilities.
Way forward
There are an estimated 40 to 80 million Persons with Disabilities (PwDs) in India, according to the World Bank. There is a family member with a handicap in one in every twelve families. However, PwDs continue to be the most marginalized element of Indian society as a result of poor literacy rates, social stigma, and a lack of opportunity. Additionally, India lacks a thriving market for inclusive solutions and assistive technologies (AT) that support and empower PwDs.
-Article written by Swathi Satish