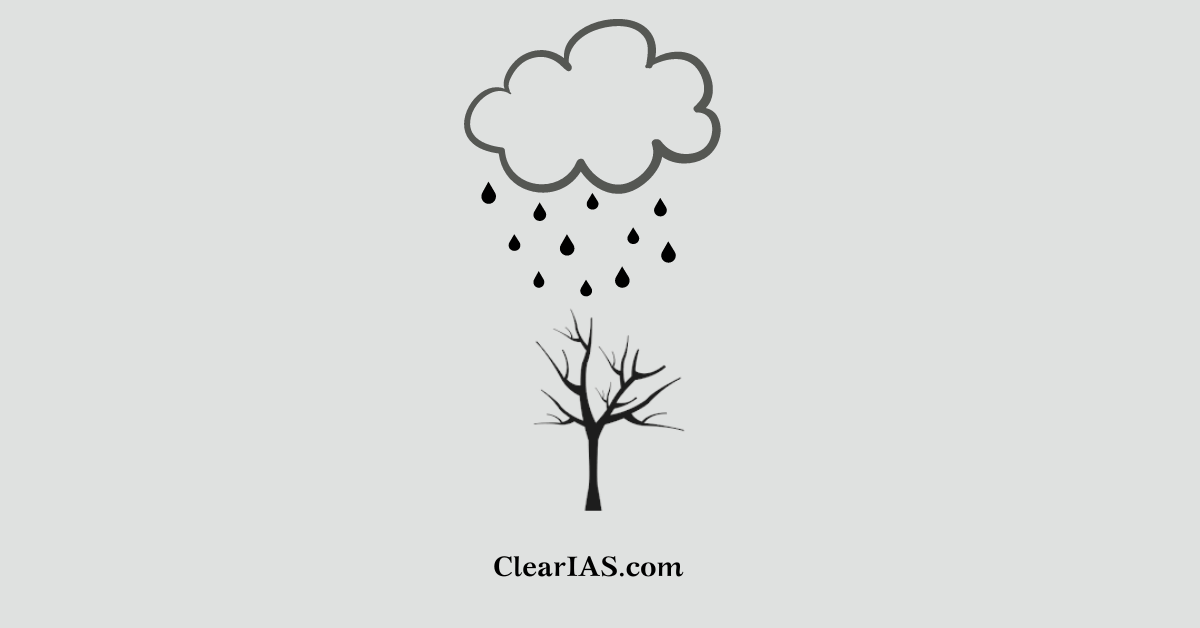 What is Acid Rain? How it is formed? What caused Taj Mahal's discolouration? Read here to know the answers.
The term "acid rain" refers to the precipitation of acid in the form of rain. Acid Rain occurs when atmospheric pollutants such as oxides of nitrogen and sulphur, interact with rainwater and fall as a result.
Oxides of Sulphur and Nitrogen reaches the atmosphere from vehicular emissions, Industrial outlets…etc.
There are two methods for acidic deposition: wet and dry.
The type of precipitation that removes acids from the atmosphere and deposits them on the earth's surface is referred to as wet deposition.
Dry deposition of harmful gases and particles binds to the ground through dust and smoke in the absence of precipitation.
According to the Royal Society of Chemistry, The word "acid rain" was invented by Scottish chemist Robert Angus Smith in 1852.
Causes of Acid Rain
Acid rain is caused by particles of sulphur and nitrogen that mix with rain.
The particles of sulphur and nitrogen that mix with water can be generated by two sources: either man-made emissions from industries or natural events like lightning strikes that release nitrogen oxides and sulphur oxide, into the atmosphere.
Chemistry of Acid Rain
Six basic steps are involved in the formation of acid rain:
Both natural and artificial sources contribute sulphur and nitrogen oxides to the atmosphere.
Either close to the source or some distance away, some of these oxides return to the ground as dry deposition.
In the atmosphere, sunlight encourages the production of photo-oxidants like ozone.
These photo-oxidants interact with the sulphate and nitrate oxides of nitrogen and other gases (such as NH3) to form sulfuric acid (H2SO4) and nitric acid (HNO3) through oxidation.
Acid rain that includes the ions hydrogen, sulphate, nitrate, and ammonium falls as moist deposition.
2SO2 (g) + O2 (g) + 2H2O (l) → 2H2SO4 (aq)
4NO2 (g) + O2 (g) + 2H2O (l) → 4HNO3 (aq)
Actual Case Studies
One of the seven wonders of the world, the Taj Mahal, is significantly impacted by acid rain.
Numerous industries in the city of Agra release sulphur and nitrogen oxides into the atmosphere. This issue is made worse by the continued use of firewood and poor-quality coal for domestic purposes.
The Statue of Liberty, which is constructed of copper and has also been harmed by the cumulative impact of acid rain and oxidation for over 30 years, is turning green as a result of the production of calcium sulphate.
Harmful effects of acid rain
Acid precipitation has negative impacts on both aquatic and terrestrial animals, as well as on structures like monuments and buildings.
Impacts on humans
Some immediate effects include cancer, pulmonary emphysema, chronic bronchitis, decreased visibility, and irritation of the skin, eyes, and respiratory system.
Impacts on soil
Making the soil infertile, by exchange of nutrients like potassium and magnesium in the soil causes the leaching.
The pace of decomposition is slowed down by an increase in ammonia in the soil as a result of a decline in other nutrients. It is also discovered that the soil's nitrate content is dropping.
Impacts on aquatic life
  Fish, frogs, and other aquatic creatures' eggs and sperm are sensitive to pH fluctuations, and as a result s acid rain causes ecological imbalance.
Acidic lake waters have the potential to destroy bacteria and microbes and make them unproductive.
Impacts on terrestrial life
Acidic environments encourage the leaching of heavy metals including aluminium, lead, and mercury. Such metals have an impact on soil microflora and fauna when they seep into groundwater.
Acidic rain damages the cuticle of plant leaves and decreases photosynthesis.
The loss or modification of food and habitat resources are additional indirect effects of acid rain on wildlife.
Impacts on microorganisms
The growth of any microbial species depends on pH.
Near neutrality is the pH where most bacteria and protozoa thrive.
Acidic environments are preferred by most fungi.
Alkaline environments are preferred by the majority of blue-green microorganisms.
The result is a delay in the decomposition of soil organic material as microbial species in the soil and water switch from being attached to bacteria to fungi.
Impacts on buildings, monuments and materials
Acid rain has a negative impact on many old, historic, and ancient structures as well as works of art, textiles, and other materials. Acid rain also erodes marble and limestone
 Acid vapours in the air lead them to gradually erode or flake away from the surfaces of many structures and monuments, including the Taj Mahal in Agra (Marble Cancer).
Acid Rain Areas in India
Bombay, India, reported acid rain for the first time in 1974.
Metropolitan cities have reported experiencing acid rain.
There have been reports of lowering soil pH in portions of Orissa, West Bengal, Bihar, coastal Karnataka, and Kerala.
Also read: Climate change: Causes and effects, Global warming: Impact on the global climate
How to control acid rain?
Minimizing the levels of sulphur dioxide and nitrous oxides
Acid rain incidences can be decreased by using low-sulfur fuel, natural gas, or washed coal (removing Sulphur content) in thermal plants.
Scrubbers can be placed at the power plant to remove sulphur dioxide from gases leaving the smokestack.
Acid neutralizer
Buffering: Increasing the pH of acidified water by adding a neutralising substance. Typically, calcium oxide and calcium carbonate, both forms of lime, are used.
Liming: is the application of calcium- and magnesium-rich substances, such as marl, chalk, limestone, burnt lime, or hydrated lime, in a variety of forms since these substances generally react as a base in acid soils and neutralise acidity
Stream liming: This involves adding fine-particle lime or other buffering minerals directly to a stream or river waters, allowing for fast acid neutralisation and a corresponding increase in water pH.
Cleaner Cars
One of the technologies utilised in cars is the catalytic converter. This piece of machinery has been used to reduce the amount of nitrogen oxides produced by vehicles for more than 20 years.
Cars can also run on cleaner fuels, such as natural gas, and electric vehicles.
Flue Gas Desulphurization
Flue-gas desulfurization (FGD) is a group of technologies used to remove sulphur dioxide (SO2) from the exhaust flue gases of fossil-fuel power plants as well as from other sulphur oxide-producing processes, such as waste incineration.
It has been tried to remove fly ash and SO2 in a single scrubbing vessel.
Most FGD systems feature two stages: one for removing fly ash and another for removing SO 2.
One great way to stop acid rain is to produce energy without using fossil fuels. As an alternative, people can use sustainable energy sources like wind and solar energy. Renewable energy sources contribute to a reduction in acid rain since they generate significantly fewer pollutants.
Article written by Aryadevi